Leading Android App Development Company
Android activations have been doubling on a yearly basis and currently there are 1 billion active devices and counting that are being used around the world. Smartphone applications are all about delivering profound experiences through social interactions, entertainment avenues, knowledge sharing and monetizing their own business.
The main reason as to why Android is a popular mobile operating system is due to it being an open-source OS which makes it extremely easy to use and implement. Our main focus is to create powerful native apps, hybrid apps and customization of the operating system to perfectly fit the end user's need.
What Android Application Development means to us?
Android devices possess the fantastic ability of providing customization to end users and organizations. We are among the earliest application developers for Google Android and our highly qualified Android app development team has developed a variety of applications across many platforms.
Utilizing the complex Google Android SDK platform, our developers explore the unlimited possibilities of Android through its comprehensive set of development tools.
What do we offer?
We start from scratch right from the conceptualization of the app to its deployment and back-end support as well. Our vision is to help you build an Android application that is scalable, robust and provides brilliant user experience as well. Mobisoft offers the following services for Android OS and tablet customization as well:
Android Native Apps Development
Android has a powerful development framework and SDK to create native apps for Android. Native apps are mainly built on Android smart phone's core features like GPS, SMS, Email etc. with rich UI interface. When we build apps for Android, we make complete use of Android's functionality.
The best feature about Native Apps is that they drive enhanced user experiences and they are completely optimized for speed and performance across devices. We offer services for:
Custom Android Phone App development

Custom Android Tablet App Development

Android App development for wearable devices

150 clientele

6 years

300+apps

100+cloud

175+ team
Android Hybrid Apps Development
Open source nature of Android has given immense flexibility to create apps for Android smart phones. This brings concept of hybrid apps. Hybrid apps are developed based on web technologies typically HTML5, JavaScript and CSS. Hybrid apps can be built by writing single code base once in web technology and wrapped in Android native app to give cross platform application which can run on wide range of smart phones with minimum efforts.
Hybrid apps overcome limitations of web technologies and wrapper of native SDK gives flexibility to integrate core features of smart phone to create cross platform hybrid apps which can work on many devices irrespective of platform and OS. We offer services for:
Hybrid Android Phone App development

Hybrid Android Tablet App Development

Android App development for wearable devices
Android OS customization and Device interaction
Android devices possess the amazing ability of customization to end users, and organizations. The organizations can customize their devices to follow the standards and policies. Companies can white label the devices by providing a customization layer on top of off the shelf devices to stand out from the competition.
Institutions can create their own devices for their students to distribute the study material and to keep the institute on top of learning curve. Thus, we offer services for:
Android tablet boot logo, boot animation

Android tablet pre-installed apps

Android OS customization
Our USP is
We are among the early application developers for Google android and with our experience of developing applications on wide variety of platforms. Utilizing the complex Google Android SDK platform, our highly qualified Android application developers explore the unlimited possibilities of Android through its comprehensive set of development tools.
Real time GPS tracking with battery optimizations

Social (chat, message, calls)

Creating apps that interact with Hardware devices
And anything which is challenging!
Android App Development Process of Our Company

Discovery
Requirement Analysis
Competitive App Analysis
App requirements
Clickable wireframes
Functional specification

Design
Design Research
Concept creation
Visual Mockups
GUI testing
Functional specification
Development
Programming
Iterative Build
Offline caching

QA
Validation Testing
System Testing
Interoperability Testing
Glocal Testing
Functional Testing

Deployment
Application Submission
Product Server Config
Firewall and SSL
Server Monitoring
Post deployment support
Technical specifications about Android apps we make
Native app creation using Android SDK

Google APIs

Location based services

Push notifications (Google Cloud Messaging)

Customizing media and camera, customizes media player etc.

Sensors like shake to buzz, motion sensors etc.

Rich user interface with differentiated animations

Hardware interaction like bluetooth, wi-fi networks, USB etc.
Google Play APIs for in app billing (Monetizing through android app)

Facebook, twitter, Google plus and Linkedin integrations

Admob integration

Third party SDKs integration

Cloud back-ends using Amazon EC2, and other service providers

Backup and restore facilities

GIS enabled databases (PostgreSQL, MySQL)
We believe in developing mobile applications that create an impact and truly matter. We understand the need for an app to be engaging, visually appealing, and business centric all at the same time and our team at MI is capable of providing you the same. Our main strength lies in our skilled resources armed with the exceptional use of technology.
Resources
Our recent perspectives on the latest updates in the Android world. Scroll further: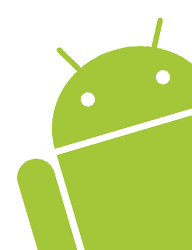 CONTACT US
We build extraordinary and fast Android applications for your business by providing rational solutions. . Let's work at crafting your next success story. Get started!
PROJECT PLANNER
Use our project planner to estimate the deliverables and pricing for your product needs.