Say hello to the latest rideshare app that helps you find passengers to share a ride with at unbelievably low rates! Our ride sharing app solution enhances passenger transport by connecting drivers and passengers in real-time. Now unlike other ride sharing apps and car sharing apps, you no longer need to plan out your journey way in advance as our solution operates just like any find a ride app or carpooling app, it works in real-time and GPS guidance technology, which makes it easy for the driver to locate their passenger's whereabouts.
Similar to apps like lyft or any find a ride app, all you have to do is call up your driver by typing your destination and you can also find other members who are heading towards the same destination. Hit a share request to them or accept a sharing request so as you use the carpool app you can travel at effective rates and cover you fuel costs too.
Moreover, with this ride sharing app, you wouldn't want to travel long distances with empty seats, just share your journey with passengers & travel economically. If you are looking at developing the next big car share app or trending apps for car rides, you have arrived at the right destination. The carpooling app solution provides you the following:
Save on fuel expenses as you can travel together
With a single tap of a button, request a ride
To get another member simply click-to-call
Access the details of your journey at any time.

Easily communicate with your travelling member via the app.
Search for your travel destination even at last minute.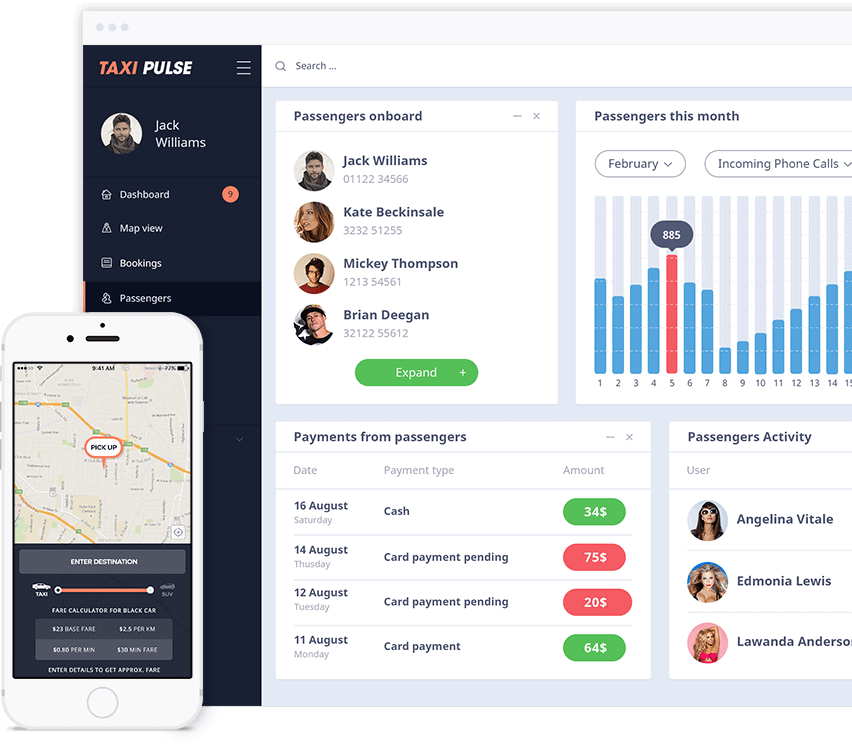 Key Features
Time:Within 48 hours, you will have your application up and running! You can start using it from the third day itself.
Geo-Location:You can keep a tab on nearby rides according to your location. In case you do not wish to use your current location, there are other options too.
Scalable:The system is scalable. You may use it as it is and launch it to start earning commissions or use it as a base to develop your huge system on top of it.
Customization– Our app solution is 100% customizable and can be customized according to your business needs.
Admin- Our system is 100% dynamic and allows one to administer all sections and features of the site from Admin panel.
Advanced Reports- Our Admin Panel has reports section that allows one to view all Rides and their detail. It also calculates the earned commission and produces Daily/Weekly/Monthly/Yearly Reports.
Automated: The system is fully automated and doesn't require any constant manual checks. All you have to do is launch the site once and earn commissions.
Google Maps: A must-have in any rideshare app, we have Google Maps feature integrated which allows visitors to view the exact address or pickup location of the app user from the map.
Pricing: No hidden charges or extra pennies to shell out at the end of your ride. Our car sharing app solution an automatic price calculator that suggests a price per passenger that drivers can then adjust.
Multilanguage Support: Taxi pulse supports Multilanguage, where world's well-known languages are supported. The User can choose the language in which the site should be displayed by default.
Multicurrency: Taxi pulse supports all major currencies in the world such as British Pound, Euro, Norwegian Krone, Swedish Krona, Danish Krone, Polish Zloty and Russian Ruble.
Benefits
Save more as all riders split expenses
Making your nation a better place with better usage of infrastructure
Ride comfortably with your co-riders at the cost of a bus ride!

Strive for a greener city as ridesharing means lesser pollution
Expand your network and make new friends
Open to Customization
We help personalize your brand through your own custom design and business requirements that best fit your business processes
Design Customization
App Customization
Backend customization

Business rule engine customization
Deployment
Why Choose Our Solution?
When you opt for transportation programs and develop a rideshare app, it immediately reduces traffic congestion, slashes down greenhouse gas emissions and can also save millions of dollars that are wasted in daily commuting as well as parking expenses. However, we also understand that as you develop a car sharing app or a carpooling app, it gets tough to keep a track on thousands of travelers, the required reports and these tasks can be time-consuming and challenging.
Thus, whether you decide to build a share a ride app or a Lyft taxi app clone for a group of people, an office or an entire region, Mobisoft's ride sharing app solution uses enhances passenger transport by connecting drivers and passengers in real-time.