Enabling Productivity, Quality, Consistency, and Speed All Together!
Combining the DevOps approaches, best practices, CI/CD processes, and transformative digital capabilities, we facilitate more effective ways to manage all aspects of your software development. Our DevOps engineers have proven expertise in DevOps and automation, DevOps architecture, DevOps infrastructure automation, DevOps automation testing, configuration management, deployment, continuous integration & continuous delivery (CI/CD), cyber security, and cloud migration.
Reap the Benefits of Our DevOps Automation Services
Speed up the process of building, deploying, monitoring, and delivery of your software

Create a collaborative culture with transparency, shared responsibility, and trust

Leverage the best DevOps automation tools for the whole team and manage unplanned work

Implement your own disaster recovery plan and ensure instant availability of DevOps services

Secure and stable environment with automated deployments

Out of the box DevOps solutions and services to complex problems
Our World-class DevOps Automation Services
Our profound knowledge, experience, and technical expertise in DevOps automation can help you simplify your DevOps transformation journey. We can help you at each stage of development and help you grow.
Scalable & Reliable DevOps Tools and Other Technology Stack We Use
CI/CD
Jenkins
BitBucket Pipelines
Azure Pipelines
AWS Code Build
Kubernetes 7
Docker and Docker registries
Maven
Selenium
SonarQube
Databases
PostgreSQL
MySQL
MongoDB
MS SQL Server
System Monitoring
Amazon Cloud Watch
DataDog
Zabbix
Nagios
Testing
JUnit
TestNG
Selenium
Jmeter
Blazemeter
Content Delivery Networks
Amazon CloudFront
MaxCDN
Cloudflare
Applications & Web Servers
Cloud Service Providers
Amazon Web Services (AWS)
Google Cloud Platform
Microsoft Azure
Digital Ocean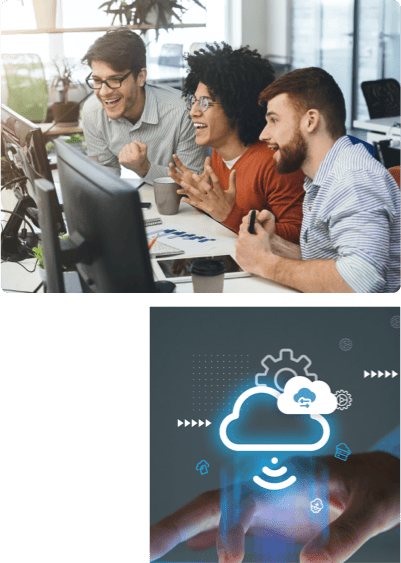 Cloud Consulting for Powering Digital Transformation
Taking a consistent and fresh approach to bringing the most out of your cloud transformation journey. We help businesses tap the full potential of the cloud, optimize IT environments, automate functions, build cohesive teams, and expand virtually while eradicating inefficiencies of operating models. Our cloud DevOps consultants can help you launch innovative products and services with the right mix of industry know-how, technology stack, best practices for cloud transformation, and cloud engineering capabilities.
Explore Our Latest DevOps Projects with Big Brands
Landmark
A HIPAA compliant platform to streamline and scale home-based medical care to individuals with multiple chronic conditions designed using tech stacks like Maven, Jenkins, and AWS cloud.
Global Sporting Event Transportation
Developed a secure and highly scalable cloud-based event transportation automation solution for the prestigious tennis tournament using AWS, Jenkins, and Maven with 24x7 support.
Recuro Health
Designed a HIPAA compliant digital healthcare solution using BitBucket Pipelines and MedStack to offer in-person proctoring and virtual proctoring services to healthcare professionals, and business associates.
RxCap
A HIPAA compliant CI/CD setup designed to manage premium medication adherence data and related workflows using Google Cloud Serverless Platform (Google Cloud Functions).
Hire DevOps Engineers from Mobisoft
Extend your team with our talented DevOps automation engineers to build scalable digital solutions. With our DevOps consulting services, you can streamline the DevOps tasks, improve cross-functional collaboration, and move ahead to achieve your business goals faster.
Web Performance Matters!

Initiate Your DevOps Transformation Journey with Mobisoft
Explore Our Other Hiring Services