Nurses as a community are a stretched lot and many a times have to work against time and patiently deal with irritable patients and overworked doctors. This situation often leaves them frustrated and wanting to have a fall-back friend who understands them and makes their day. The Scrubs magazine with a huge fan following in the nursing community came up with the idea of a mobile app – Code Happy, which would help connect the nurses with one another. It would be a platform for them to meet online, share and exchange their feelings and frustrations, trade shifts, share tips and positive thoughts and go back to work, happy.
The Prescription
The client was ready with Version 1 of Code Happy, but it lacked interactivity. It was a post-only platform, where nurses could post their feelings, thoughts and messages on a wall, but would never receive any responses, as the app was not configured to generate responses.
V2: Mobisoft Infotech thus got a prescription to create a healthier Version 2, in which more interactivity was planned. Here, nurses could log in, have their own identity and have a Support Circle Group. They could not only post, but message, comment and add friends to their circle. This version also carried relevant news, information, articles and entertainment for nurses.
V3: Version 3 brought in more interactivity and engagement for nurses. Its key feature was a game that increased nurse interaction and their time on the app.
Our Challenge
The 'Rather …Or…' Game
The game-in-the-app was a complex build. The game called for a dynamic module that enabled the client to manage, edit and change the questions/ game through the back end. This involved building a robust CMS, which could be entirely controlled by the client.

The Chat Server
The Chat Module was founded on a powerful Chat Server, which we built. This had to be engineered to work in real time and handle continuous chatting by the ever-growing nurse community.
The MOGIC (Mobisoft Logic)
Our Approach
The CMS
The CMS was built for the client so that he could have complete control over platform management and keep the front end dynamic. Modules like dashboards, reports and trends were included in the CMS.
Universal app for iPhone and iPad
This is a rare development which we accomplished by writing a single code for both. The result was a huge saving in development hours.
Rotational mode
For iPhone, Code Happy was supported in rotational mode so it could be operated in portrait as well as rotated to landscape mode.
Custom-built APIs
We developed custom-built APIs for client-server communication.


Design Process
The design strategy was based on user profiling, aligned to deliver a great User Experience. The UI was simple but attractive. Animations like the floating bubbles were added to evoke interest and attract users. The bubbles replaced the plain vanilla, default 'profile list' screen. The Call Code which nurses immediately connect with was another UI feature and was designed exactly like the Hospital Call Code – the red button.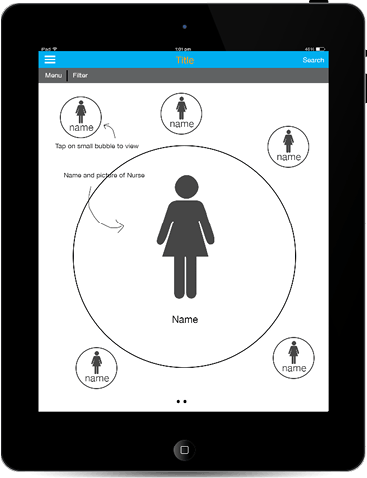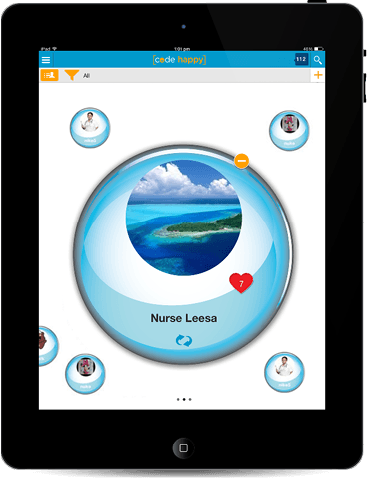 App Features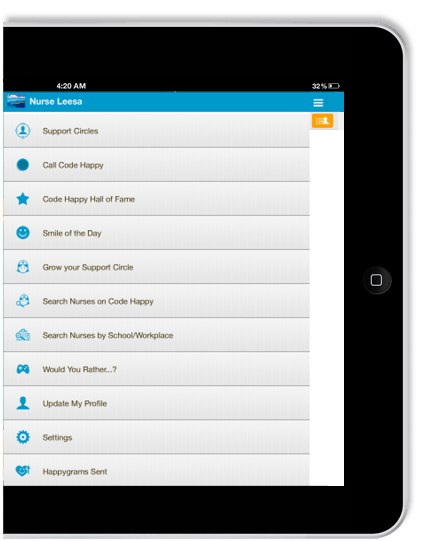 Support Circle Group: This is an online community app for the nurses, where a Support Circle Group is created.
Call Codes: A set of 30 predefined messages are built in; nurses can choose from them or write a custom message. Messages are the 'Call Codes'. The UI for the 'Call Code' is a red button that resembles the Hospital Call Code.
Notifications: When a nurse posts something, the Support Circle Group gets a notification.
Floating-Bubbles Screen: The UI for the nurse profiles has 'animated bubbles'. This adds more spark to nurse interaction with the app
HappyGram: This is one of the key features - a set of animated predefined messages that go as positive messages to a member. The members can choose from about 300 animation styles to go with their messages.
The App at a Glance
The Code Happy App is specifically for the nurse community that empowers nurses to call for support, trade shifts, and send messages to fellow nurses with animated 'Happygrams.'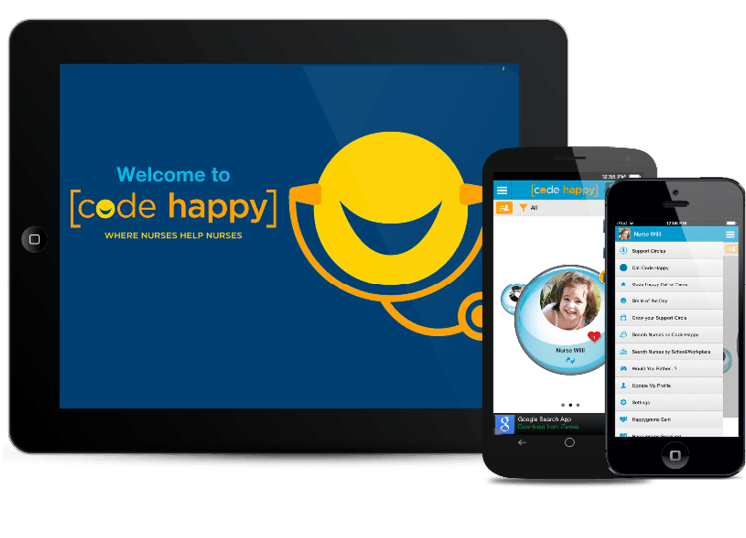 Quotes
What a unique take on nurses and happiness. Love this app.
– SummersHere
Love this app! It is so inspirational and I always feel better after I check in. I've been telling all my friends and coworkers about it too. Thanks for creating this.
– Mom 300