The systems in healthcare have been a fortification against the COVID-19 pandemic. The two years of the pandemic have seen hospital staff working longer shifts to provide coverage for quarantined patients. They have been at the prime of experiencing burnout and exhaustion due to the complications of COVID-19. The highly experienced staff members are retiring to avoid getting infected and like every other economy is facing staffing shortages in healthcare.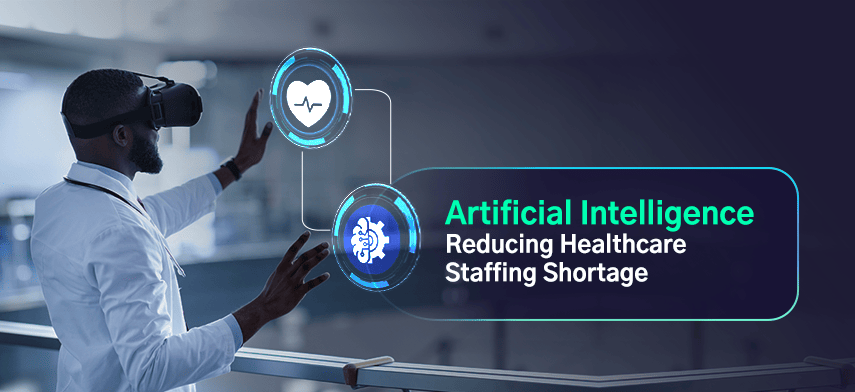 This healthcare staffing shortage has accumulated various backlogs during the years of the pandemic. Routine checkups, screenings, elective surgeries, and other essential healthcare procedures have been delayed and it resulted in early technological interventions to provide utmost care to patients. According to research reported by Mercer, within five years, healthcare demands and retirement of staff have continued to outstrip the recruits in the healthcare sector. The US healthcare system has been observed to be at least a 3.2 million staffing shortage in 2020 and 2021.
The advancement in technology for medicine, healthcare, and surgeries has continually revolutionized in offering the best possible patient outcomes. The introduction of AI automation in healthcare has reduced the load on healthcare staff members, hence, curbing the challenges caused by a healthcare staffing shortage. AI in healthcare has proven its efficiency in various sectors of healthcare.
Providers in Healthcare Face Healthcare Staffing Shortage
The healthcare industry is among the top three sectors impacted by the Great Resignation where many healthcare providers and professionals resigned from their positions to improve their work-life balance. Healthcare organizations are facing a turnover, and according to a study by the American Medical Association, one in every fice physicians and two out of five nurses tend to leave their present practice within two years.
This resulted in a fast-paced healthcare staffing shortage as a number one concern in US hospitals. Other countries like Australia, the UK, Germany, and Singapore are visibly affected by this exodus in the healthcare staffing shortage. This has potentially affected the quality of care provided to patients.
Automation in Patient Management
One of the major distinctions in solving the healthcare staffing shortage has fallen under the label of automation. Healthcare was one sector that was slower towards adopting the automation process. Healthcare automation tended more focus on manufacturing pharmaceutical procedures and easy computer-assisted diagnosis or CADe tools. The 21st century enabled AI automation in healthcare organizations. The AI technology in healthcare has incurred new solutions that emerging regularly to automate the procedures in healthcare organizations and facilities. Taking off certain medical procedures has reduced the burden on healthcare staff members. The AI application in healthcare that has improved automation includes AI-aided documentation for reimbursement and regulatory services to improve patient-provider communication.
Easing Workflows with AI Automation in Healthcare
We are right now witnessing an urgent increase in liberating healthcare providers from strenuous and repetitive work. This allows them to focus on the main goal to provide medical guidance to patients. This transforming healthcare with AI automation has made this possible to automize healthcare procedures. By shifting this pressure of tedious and manual work from humans to machines, AI enables healthcare providers to apply their time and efforts toward the patient instead of delivering cumbersome procedures.
Imaging technologists face a regular challenge in achieving the top quality for first-time scans even with the staffing shortage in healthcare. Patients often too are anxious which adds to the pressure on the technologists to get the exams done efficiently. The variabilities in experience and training can further impact staff and patient outcomes. With AI automation in healthcare can save up on the time-consuming tasks that were previously performed manually. This automation can improve focus on the patient and enhance consistency simultaneously. Studies have found that having support from AI technology in healthcare improves staffing efficiency.
The new AI-enabled camera technology comes in handy when unwanted increases n radiation doses occur when administered to a patient. Wireless, touchless, and smart sensing technology assists technologists in automatically monitoring patient vitals while keeping a caring focus on the patient. Artificial intelligence in healthcare and the enabled systems provides the appropriate protocol for every healthcare exam and automates the screening, planning, and processing time. With the healthcare staffing shortage, AI automation has made it easier to have equipment settings dedicated to providing better attention to the patients.
Human-centered Artificial Intelligence in Healthcare and its Requirement
Technology can be effective retention for staff to mitigate their burnout strategies. AI has a long way to go towards enabling the improvement in human experiences in healthcare. It can improve the efficiencies of healthcare workflow and augment expertise in clinical studies and research.
To curb the exhaustion when healthcare staffing shortages are no more a challenge, AI automation in healthcare can revive the joy of the field. Developing digital health tools provide support to the relationship between patients and providers rather than creating any sort of hassle. It has been seen through studies, that the main workflow integration remains a barrier in wider between healthcare and AI. The point of care directs toward a more human-centered approach. By putting patients in the center, AI-based solutions can be developed with unobtrusive assistance. This can further support providers during a time of crisis.
Even though there has already been a staffing shortage in healthcare, there is no other way to have a healthcare facility without exceptionally engaged health providers.

Bottomline,
The crisis environment caused by the pandemic and the healthcare staffing shortages might improve the internal and departmental efficiencies, but there can always be risks that can be limited to just the organizational boundaries of a local healthcare organization. AI solutions that are triaging towards a solution for artificial intelligence can be done more efficiently. Even though the prioritization impacts the departments in a healthcare organization positively, the actual impact depends on the treatment of patients and the response of the team members.
In the longer run, AI in healthcare will continually serve a valuable role beyond the level of an individual patient or a singular department. The entire hospital's enterprise-grade AI services and solutions might be complicated but ultimately they will be an integral part of supporting healthcare organizations and clinicians in a more holistic approach. We know for a fact that AI will continue to even out the healthcare staffing shortage and become the backbone for all hospital operations and workflows. Hence, automating the process in the healthcare operating system by taking the burden from the healthcare professionals and providers.
Author's Bio

Shailendra Sinhasane (Shail) is the co-founder and CEO of Mobisoft Infotech. He has been focused on cloud solutions, mobile strategy, cross-platform development, IoT innovations and advising healthcare startups in building scalable products.