The latest Android 13 update is steadily rolling out to all the best Android phones available across the market. Changes in this release are much different from the ones that Google made in its Android 12 update.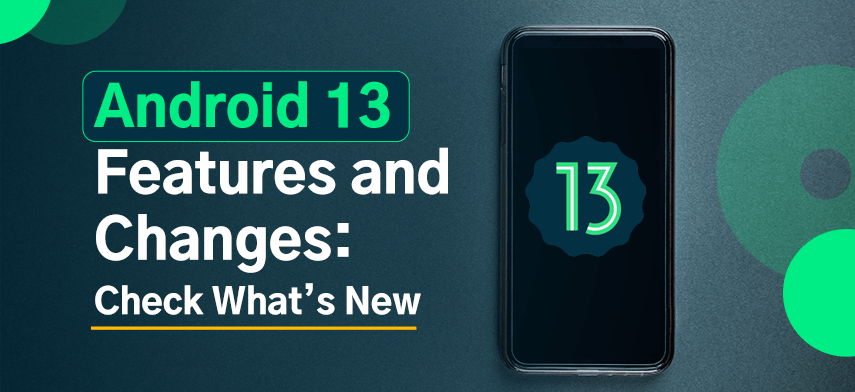 Android Tiramisu, aka Google Android 13, is focused more on user-facing features, functions, themes, privacy, security, and Android developers' productivity. Google has enhanced its capabilities to better enable an ultimate personalized user experience.
Let us explore what's new in Android 13 in detail.
#1 Personalization The Way You Want
Material You was the major overhaul of Android 12. Google has refined certain aspects of it with a new look and style. Now, even third-party apps can easily access the complete suite of Material You tools.
You can customize the home screen and lock screen of your smartphone by setting the wallpaper of your choice and changing the Android 13 theme, color, and language of each app. Let's see how you can better personalize your phone.
New Themed Icons

Make your home screen unique by customizing your app icons with the tints and colors of your phone wallpaper or theme. This is applicable to all Google apps as well as non-Google apps. You can create a uniform design for your home screen by dipping most of your apps into the same theme.

To customize your smartphone, follow the below steps:

Tap and hold on to your Android 13 home screen
Select "Wallpaper & style,"
Turn on themed icons.


You will see a beautiful color palette to pick from.

There are 16 different color themes for a single wallpaper. By choosing a particular theme, you can set the user interface as per your requirements without changing your wallpaper.

Resolution Switching

Resolution switching is one of the top Android 13 features introduced by Google in the Settings app. You now get a new Screen resolution page under 'Display', which helps you choose between the two most common screen resolutions (QHD+ 1440p or FHD+ 1080p) for supported tablets and handheld devices.

Tailored Look of Media Player

Experience a revamped look of your media player that puts music or podcast art on full display and a dancing playback bar. When you play music, you will see the album art and playback bar dancing as you progress further. This works as well when you play via Chrome.

Per-app Language Preferences

This is one of the best Android 13 features for those who know and speak multiple languages and want to use the app in a language other than the system language. Android 13 has added a new panel in Settings called "App Langauge."


You can set specific languages for individual apps in Settings, i.e., you can set "Google Maps" app language in your native regional language and set "Chrome" language as English (United States). Use your apps in different languages the way you want.

To customize app language, head to Settings >Languages & input > App Languages > Change the language of each app based on your needs

Android 13 has introduced faster hyphenation, which makes it easier to read wrapped text and makes the interface more adaptive. Predictive back gestures are placed to optimize text inputs across large-screen and foldable devices. Besides, the display of non-Latin scripts is also improved.

Better Control for Smart Home Devices

Our list of Android 13 best features would be incomplete without mentioning the extended capabilities to control smart home devices. You can now control such devices without unlocking them. You can manage them without authentication and even set their behavior according to your preferences.
#2 Stay Protected With Updated Privacy & Security Features
Seven-day Privacy Dashboard

Android 12 had a privacy dashboard that gives better visibility across the information that your apps have accessed over the last 24 hours. Android 13 has taken this feature to newer heights. Now, you can access this dashboard to view data for the past seven days and even understand how your personal information is used by your apps.

From the moment you update your device with Android 13, you will see more privacy controls to protect the information of your apps.

No More All Media Access

Google has added a new system of Photo Picker that enables users to protect local and cloud-based media files, including photos and videos. Simply put, you do not need to share entire media files when you use any app. Now, with the Android 13 update, you can select specific images or videos that you want to share with a particular app. More control is on your hands now.

All Clear Clipboard History

Same privacy update with the clipboard. When you copy and paste any personal data like mobile number, email address, or login credentials, Android will automatically send an alert and clear the clipboard history after a period of time to prevent unwanted access.

Permissions on Notifications

Keep notifications of all apps under your control. You will get notifications from those apps you ask for. The new apps you download from the Play Store need permission to send notifications.
#3 Enhanced Device Experience
Google did major changes related to daily user experience only in the Android Tiramisu update and has come up with updated Android 13 features as mentioned below –
Messaging App Streaming

With the Android 13 update, you can send messages even if your phone is out of reach. That means you will be able to use your messaging app directly on your Chromebook to send and receive messages whenever you are working on your laptop and don't want to interrupt your workflow with your phone.

Cross-device Functionalities

Already built the foundation with Fast Pair and Chromecast, Google intends to extend cross-device functionalities with the latest Android 13 release. You can easily enable casting from PCs, TVs, and phones, to new devices and even specific cars. If you get a call on your smartphone while watching a video on a tablet, your headphones can switch audio automatically.

Moreover, you can copy the content from your phone, like a website URL, text, picture, or video, and paste it onto your connected or nearby device, such as a laptop or tablet. You can even edit the image or text and share it directly with utmost ease.

Enhanced Spatial Audio

Enjoy an immersive listening experience with Spatial Audio that enables you to enjoy the sound based on the movement of your head using the head-tracking enabled headphones. Android 13 supports Bluetooth Low Energy (LE) audio that provides better sound quality and allows you to broadcast your audio to multiple devices simultaneously.

Audio Description

Android 13 has come up with a system-wide accessibility preference that helps you enable audio descriptions across all or specific applications. It assists you in understanding what's happening on the screen while experiencing pauses in particular audio.

HDR Video Support

One of the android 13 new features is the support for high dynamic range (HDR) video capture. This feature helps you preview and record HDR video content with your device's camera. It offers an array of colors and maximizes luminance thereby gathering lively yet natural visuals.

MIDI 2.0 Support

If you're a musician, you will be excited to hear that Android 13 changes have brought in dedicated support for the musical instrument digital interface (MIDI) 2.0. With this feature, you can easily control and add 32-bit audio.

Improved Digital Wallet

Migrating to Android 13 is a way to support digital forms of identification via Google Wallet. It helps you take full advantage of contactless, near-field communication (NFC) support for work profiles.

With Google Wallet, you can use digital hotel room keys, office badges, car keys, and more at your convenience. This functionality will soon be integrated with other Google apps. For instance, displaying your subway card balance while searching for directions on Google Maps.

Apart from all this, Google has started working with the respective governments across the globe to ensure support for imperatives like driving licenses in the Google Wallet.

Multi-tasking with Tablet

With the Android 13 update, Google redesigned the tablet taskbar, allowing users to view all apps simultaneously. With drag-and-drop functionality, you can work on a split-screen view from the taskbar. If you are using the tablet for writing or drawing, then you will have to register your palm and stylus pen as separate touches, reducing the number of accidental stray marks.
Furthermore, we all know that core user interfaces are part of every update, so you will find a few tweaks and turns for a cohesive experience on primary interfaces apart from the above-mentioned top Android 13 features. With the Android 13 update, you will likely encounter the following user-facing changes in your Google Pixel phone –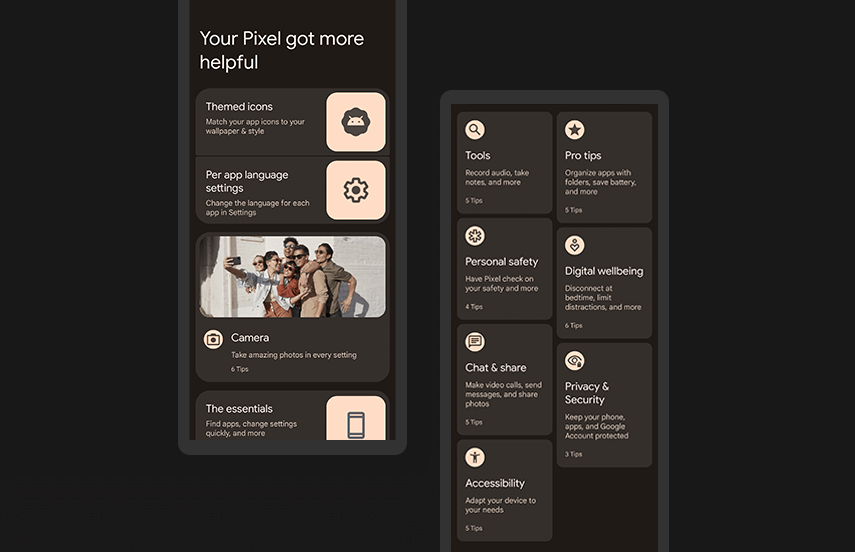 Pill-shaped buttons in Settings
Battery saver raised to 10% from 5%

Receive a high battery usage notification in the Settings section

Redesigned Vibration menu with additional options
A new menu with combined display size and text
Redesigned screen saver menu
A quick tap with a flashlight toggle option
Predictive back gestures
Improved hyphenation performance
Dark theme in color and motion settings
Altered Swipe unlock registration and entry
A new menu consisting of privacy and security
Updated Pixel Launcher with multiple layouts
Taskbar adds extra slots – 6-icon slots
A new app drawer button for big screens and tablets
Power menu and Settings shortcut at the bottom-right of the Quick Settings panel
Android app developers can discover a detailed list of Android 13 features and changes here. Whereas businesses that want to integrate these features into their ongoing or next Android app development project have to partner with a trusted Android app development company. As a result, you will be able to create apps that users love.
Along with the aforementioned features and changes, Android 13 migration is backed by quarterly platform release (QPR) Beta 2 enhancements. The fixes include automatically connecting devices to a 5G connection and dropping/resenting an existing, encrypted Bluetooth connection.
That's it!
Our blog on android 13 what's new is all about discovering the new features and changes in the Android ecosystem. The latest Android 13 OS update has emphasized dynamic improvements. It aims to provide users with more stable, consistent, and revamped daily experiences.
Currently, it is available for Google Pixel devices. The rest of Android devices like Samsung Galaxy, OnePlus, Oppo, Vivo, Asus, iQOO, HMD (Nokia phones), Motorola, Realme, Sony, Tecno, Xiaomi, and more, are in the distribution phase or will be able to update their OS this year. Stay tuned for more updates!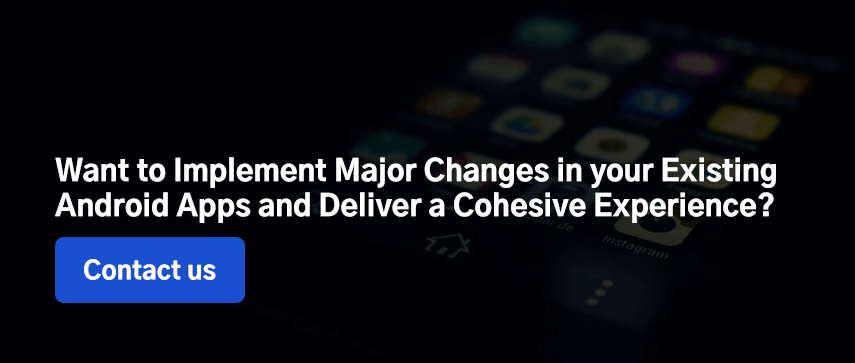 Author's Bio: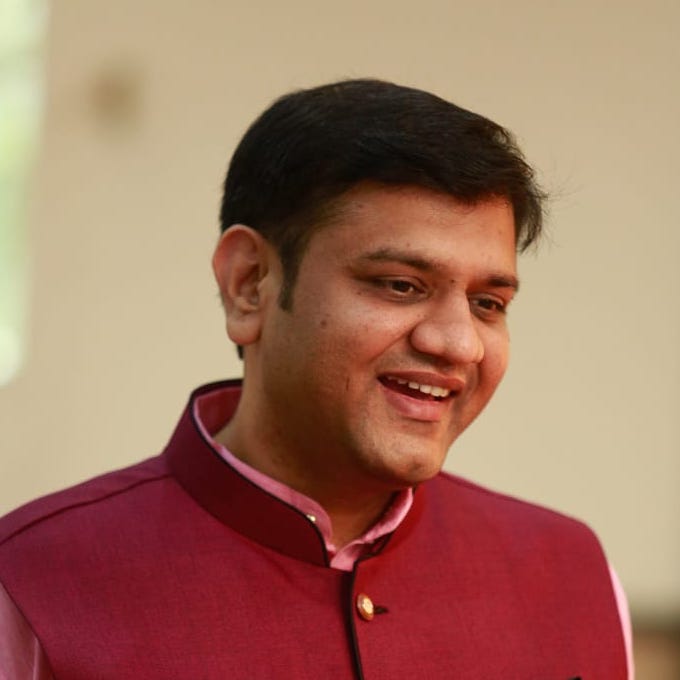 Pritam Barhate, with an experience of 14+ years in technology, heads Technology Innovation at Mobisoft Infotech. He has a rich experience in design and development. He has been a consultant for a variety of industries and startups. At Mobisoft Infotech, he primarily focuses on technology resources and develops the most advanced solutions.