The healthcare realm has been on a drive for innovation. The technology in healthcare is creating an impact in every direction including affordability, accessibility, predictiveness, safety, and security. Now conversations related to healthcare often involve discussing IoT, AI, blockchain, and cloud computing in healthcare. Cloud health technologies have become the backbone for the next generation innovations in healthcare and it is topping the charts when it comes to technological trends in healthcare.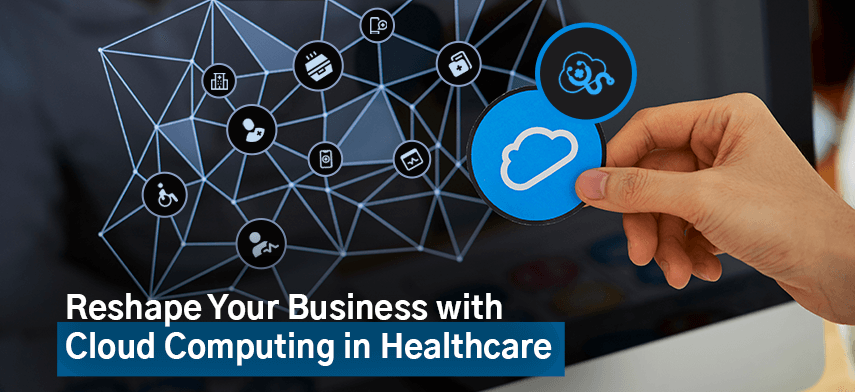 As we enter the next phase in 2022, the pandemic is still at large and creating an exhausting toll on economic and human terms. We have observed the steady adaptation of technology in healthcare within months of the onset of COVID-19. The technologies and tools that have been lingering at the fringes of the healthcare industry practically changed overnight from the periphery to the core of healthcare IT. The rapid research and groundwork for epidemiology, rerouting to remote work, integrating, telemedicine system, and quick development and deployment of vaccines became pressing necessities for public health. All of this was enabled with assistance from cloud computing in healthcare that supported integrated operations, increasing on-demand computational requirements, and data sciences.
Why Cloud Computing in Healthcare is Required?
Cloud computing advancements in healthcare created a much-needed shift in consumption, creation, sharing, and storage of medical and healthcare data of patients and providers alike. With the complete digitization in healthcare data integration, the industry has improved its data management and optimization approaches. Cloud technology in healthcare has helped in implementing remote servers accessible through the internet for storing, managing, and processing healthcare data. This is completely different from the on-site centers that are known for hosting data on personal desktops and computers, offers an agile and flexible healthcare cloud solution for stakeholders in the industry. This helps the healthcare stakeholders in remotely accessing the servers where the necessary data is being hosted.
The shift to a cloud solution in healthcare has a two-fold advantage that exists for providers and patients. From the business perspective, healthcare cloud computing has helped in lowering the costs of operations while allowing providers to deliver customized and high-quality services and patient care. Patients are accustomed to the rapid delivery of care and healthcare cloud solutions have improved patient engagement by providing access to their health data, resulting in enhanced patient outcomes. The benefits of cloud computing in healthcare have expanded and will keep growing beyond limits.
Classification of Cloud Computing Technologies
Before we discuss the benefits attached to cloud computing in healthcare, we need to delve into how cloud computing technologies have been classified. Cloud computing in healthcare operates in two defined models Distribution and Deployment.
1
Cloud Computing Model: Deployment
There are four approaches to this model of cloud computing. It includes:
Community:

A cluster of healthcare providers and entities can access the data stored in the cloud

Private:

The private approach provides the data to only one particular healthcare chain or firm that can use the cloud computing facility.
Public:

the public model of deployment includes accessibility of the cloud that is open for all healthcare stakeholders.

Hybrid:

This model of deployment combines the elements of all of the above deployment models for better accessibility to the healthcare data.
2
Cloud Computing Model: Distribution
The model of distribution in cloud computing has three approaches including:
SaaS Distribution:

Software as a Service or SaaS providers offer an IT framework where the client can deploy their applications
IaaS Distribution:

an Infrastructure as a Service provider offers the IT groundwork and operating system that helps the client deploy their applications.

PaaS Distributions:

Platform as a Service provider delivers the IT groundwork, the operating systems, necessary applications, and all the components required and ready to use as a platform.

Why Application of Cloud Computing in Healthcare is Important?
Cloud health technologies cover and answer almost every aspect that adults look for when engaging with their healthcare provider. The benefits of cloud computing in healthcare include:
Reduced cost for healthcare

The most important premise of healthcare cloud computing is the availability of computer resources like data storage and the power of computing in real-time. Healthcare providers and hospital facilities are free from the responsibility of purchasing data storage software and hardware. Moreover, with cloud computing in healthcare, the charges only paid for resources that need to be used. Applications based on cloud computing advancements provide providers with optimum scalability at reduced costs. Healthcare apps, EMRs, and other wearable devices make the environment for cloud computing to offer better storage capabilities at much lower costs.

Simple interoperability

Healthcare interoperability has concentrated on establishing better data integration throughout the entire healthcare workflow, irrespective of where the data is stored or its origin. Interoperability integrated via cloud technology in healthcare eases the availability of patient data for distribution purposes and retrieving insights for healthcare delivery services. Cloud health technology helps providers to retrieve and access patient data from various sources, share the data with necessary stakeholders, and deliver on-time protocols.

Patients ownership of data

The blend of healthcare data and cloud computing advancements gives patients the ability to have better control over their health. It helps in growing the participation of patients in making decisions for their health. This tool enhances better patient education and engagement. The necessity of cloud computing in healthcare can be well determined by the medical data that is archived and retrieved easily when stored on the cloud. As the system uptime increases, the redundancy of data diminishes by a large extent and data recovery becomes simplified.

Improving collaboration capabilities

Implementing cloud computing in healthcare plays a crucial role in enhancing collaborations. Saving the electronic medical records or EMRs on the cloud makes patients more independent in carrying their healthcare records for every visit to the doctor. Providers can easily view this information and analyze the outcomes of previous interactions. This can help in sharing the information with other healthcare organizations in real-time. Having this information enables the providers to offer more accurate and precise treatment regimens.

Better patient experience

With assistance from healthcare cloud solutions, providers have better power in enhancing patient engagement by providing real-time access to test results, medical data, and doctor's notes. Cloud computing advancements give patients ownership to their health data and gain better control of their health outcomes via educating themselves. Cloud solution in healthcare check for overprescribing or unnecessary testing of patients which can be found through EMRs. Thus, enhancing patient experience by many folds.

Introducing blockchain for health data protection

Healthcare records are more centralized and blockchain is decentralized, meaning it makes it more simplified to understand the importance of blockchain technology in healthcare growth. Blockchain is well recognized for its premium form of security and saves maximum management time. It also compromises the advanced cryptographic aspect to maximize better healthcare data protection of patients.

Seamless operations in hospitals

Healthcare cloud computing assists healthcare companies and organizations in speeding up the necessary processes, gaining enhanced efficiency, accuracy, security, and reduced cost for labor. Providers can prevent any unnecessary readmission to the emergency room and save upon a lot of expenses for patients.

Remote care for patients

EHRs that are cloud-based enhances patient safety drastically. Cloud computing in healthcare enables providers to gain access to insights into past patient interactions. Having the data from previous providers help providers offer high-quality care delivery services to the patients without having them visit the hospital facilities.
In Conclusion
Cloud technology in healthcare has improved the protection of patient data and enhanced healthcare delivery services. Cloud computing technologies help in securing this information and enable providers in delivering digitally advanced patient care and better experiences. Cloud computing technology and healthcare are interconnected to provide better health outcomes and create a feature-rich experience for both providers and patients. Thus, digital technology companies are assisting healthcare businesses and organizations to thrive with better cloud-powered progress in their journey of providing better care delivery.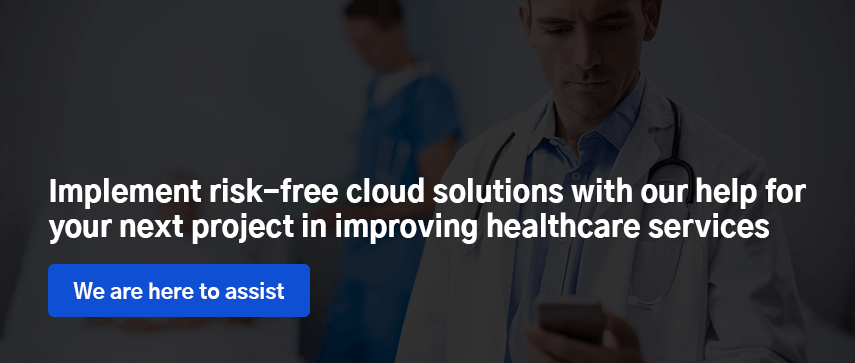 Author's Bio

Shailendra Sinhasane (Shail) is the co-founder and CEO of Mobisoft Infotech. He has been focused on cloud solutions, mobile strategy, cross-platform development, IoT innovations and advising healthcare startups in building scalable products.