The popularity of working remotely is increasing day by day. People of almost all professions around the world are giving importance to remote working. From flexible work schedules to the absence of daily commute, remote working has numerous perks. But remote employees are not the only ones getting benefits from this process. Companies that build remote teams have great benefits too than the ones that still continue keeping all their work in-house. Especially after many reputed organizations have adopted remote working and improving employee engagement and productivity, many small business owners have also started following the path.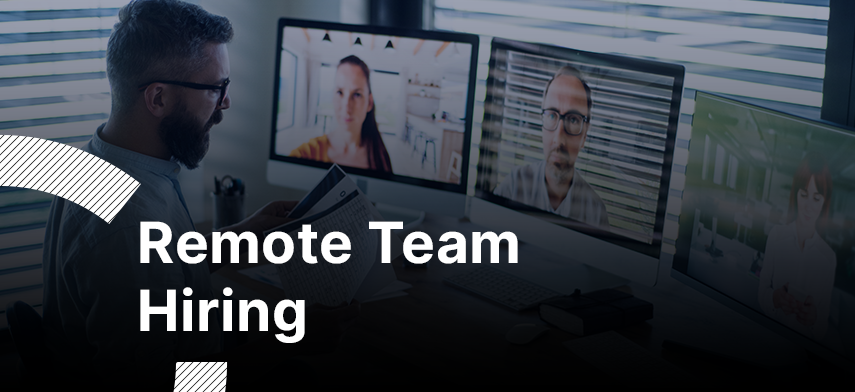 In fact, according to statistics, around 83% of people worldwide work remotely, and 6% are small business owners.
But what does a remote team mean? Today's post will give a detailed insight into hiring a remote team and its growing popularity among employers and employees. So, without further ado, let's dive into the discussion. Let's start by telling you what a remote team is and why companies are focusing on remote team building and management.
What Is the Remote Team?
A remote working team includes employees or contractors from different geographical locations, working for a company. Companies who hire remote workers give less importance to employees' locations and put more focus on their skill set as well as the ability to work independently while managing communication and maintaining productivity for the long term.
But Why Are Companies Focusing on Creating a Remote Team?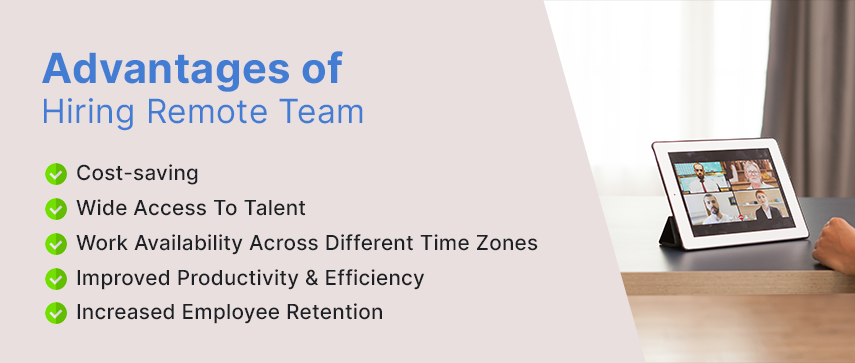 Companies teaming up with remote workers can get great productivity benefits, sometimes more than from those who continue maintaining all work in -house. The major benefits for which nowadays, globally many companies are focusing on creating remote team are:
1
Cost-saving:
Hiring new employees and training them can take a huge toll on employers. Moreover, sometimes, sending them on paid vacation or training can cost a lot for companies. But by hiring a remote team or remote employees, companies can bring a significant difference in spending. They can save money in the recruitment and training process. Also, there will be no paid vacation.
2
Wide Access to Talent:
Companies that hire remote workers do not have to stick to the process of finding workers based on nearby locations. They have access to talented people from anywhere in the world. Therefore they can focus on picking the best one without thinking where that person is actually based on.
3
Work Availability Across Different Time Zones:
If a company hires remote workers from different places around the world, the employees work in different time zones. As a result, that company can have somebody available always to work or manage things while others are not awake. This way, workflow gets improved.
4
Improved Productivity & Efficiency:
74% of employees in the US confirmed that remote working is best for maintaining good work and personal life balance. In fact, 70% of them agree that working remotely reduces their stress level, enabling them to take leaves. Also, there's no time wasted in daily commutes, thus they can get more work done than usual. So, it is vivid that remote working increases productivity and improves work efficiency, directly benefiting the companies.
5
Increased Employee Retention:
As remote working gives comfort and convenience to the employees, for companies, it becomes easier to retain good employees. Usually, replacing a good employee is always colossal. Recruiting a new one, giving training, and helping him or her to become the exact replacement is not a matter of joke. But by hiring remote workers or hiring a remote team, most companies often do not have to face such issues.
In a nutshell, focusing on remote working in today's world is a wise decision to take for companies. Therefore, the number of companies opting for this option is increasing. Hiring a remote team has become a growing trend now.
How Can Companies Adopt Remote Working – The New Trend?
If you want to adopt remote working in your business, the first and foremost thing you should remember is there are multiple challenges ahead. Only by using the right tools, and following the correct methods, you can get your remote team onboard successfully. Here are a few ways you can follow while adapting this new trend to your company:
Design Routined Activities

Ensure all the members from your remote team participate in group calls, video conferences, or any other information-sharing activities on a daily or weekly basis. This will help in creating bonds between team members and helping them feel a part of your organization.

Maintain Work Calendar

Maintaining a team calendar that tracks everyone's work and availability helps in team synchronization.

Use the Right Tools

Using the right tools for communicating, managing projects, tracking time, and sharing data is the key factor in managing a remote team.

Improve Communication

If you are planning to hire remote workers, you must be prepared to use some advanced software and tools to have clear and smooth communication with your future workers.

Managing a remote team successfully can give you great benefits in return. These advantages have already been discussed in the previous points. But there are some disadvantages too in remote working. Let's have a look, what disadvantages your company may get by following a remote working trend.
Cons of Adopting Remote Working
Juggle Between Different Time Zones

Remote hiring allows you to have access to a wide talent pool around the world. But sometimes, to manage work or conduct a live meeting with all your team members, you need to follow the time zone where your employees live, even though it is your bedtime.

Absence of Real-time Collaboration

If most of your remote employees in the same teamwork from different time zones, sometimes you may find difficulty conducting meetings where all of the team members can contribute. This affects real-time collaboration.

Probability of Miscommunication

In a company, miscommunication usually occurs due to a lack of understanding of each other in a specific way that leads to the progress and growth of the company. Facing challenges in communication is a common factor when companies start working with remote teams. And usually, the damage from such miscommunication can become more intense.

Lack of Trust Due to Limited Control Over Employees

If you will not be able to monitor the day-to-day work of your employees, it leads to mismanagement and trusting issues. In a remote working environment, this challenge can be faced by companies that do not use project management and time tracking tools.

The Need for Various Tools, Techniques & Training

To teach your remote employees about company culture, help them know each other, boost their productivity, improve their involvement, and promote business growth, you need to use the right tools. These tools help you manage remote teams seamlessly. Also, you should conduct training programs, introduce new wellness policies for them. Doing these adds extra cost to your yearly expenditure.

Well, discussing the disadvantages of remote hiring does not mean I am here to discourage you from building a new remote team for your company. Working remote comes with many perks when you hire and manage with proper plans and strategies.
The Checklist to Remember While Hiring a Remote Team for Your Company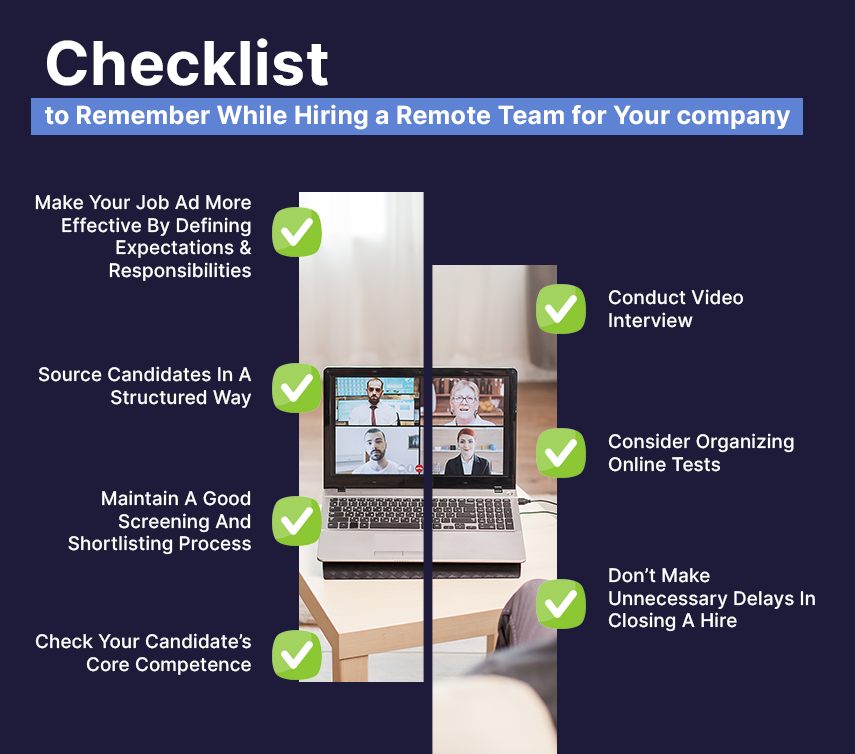 Below are step-by-step methods discussed to help you manage the entire remote recruitment process seamlessly.
i
Your Job Ad Should Define The Expectations & Responsibilities Thoroughly:
While hiring you should always create an accurate and engaging recruitment ad, especially when you are planning to hire remote workers. Make sure your ad has thorough outlines of job responsibilities and your expectations from the candidate. You can also mention how your company works well in a remote-friendly environment, whether you have a headquarter or a completely remote company. Required working hours can also be added. Moreover, you can consider taking your advertisement into video or adding a video to the job description as well. In such a video, you can include existing employees' testimonials, share why they chose to work for your organization, and cherish it. Include glimpses into the perks an employee can get from your company. Add information about interesting projects employees can work on after being part of your company.
ii
Source Candidates in a Structured Way:
As I mentioned earlier, hiring a remote team enables companies to get access to a wide talent pool; you should be proactive in finding the best talent that rightly fits your job requirement. You should consider remote team building by sourcing diverse candidates regardless of thinking about which places they are based on. Top 3 places where you can source candidates are:
iii
Your website:
If you are giving a recruitment ad on your website, make sure you have a separate page for it. The page should include all the details of the job. Also, your website should have a good about us page, showing details about your organization's culture, mission, and vision.
iv
Social Media:
Social media platforms like LinkedIn, Twitter are great places where you can start sourcing candidates. Make sure your company or you as an individual has a strong social presence. This will help in building brand recognition. And eventually, you will get to drive the attention of talented people globally.
v
Job Boards:
People who look for remote jobs, often browse some particular portals that advertise remote recruitments only. Also, there are some gender-specific job portals. So, other than posting your ads on reputed common job boards, you can try these portals as well to extend your search.
vi
Maintain a Good Shortlisting Process:
Maintaining a seamless shortlisting process helps you manage the hiring process efficiently. Be clear about what qualities you want to see in your candidates. After that, identify how your existing or future remote setup will leave an impact on the candidates. You can even maintain a scorecard to assess and compare applicants easily. You can also conduct pre-employment evaluation tests to find out their technical expertise, cognitive capabilities, personality, and more. And finally, once you are done with shortlisting the candidates, proceed with the further interviews.
vii
Check Your Candidate's Core Competence:
As remote work comes with some lucrative perks, thus many people often take an interest in applying for such jobs. But only willingness doesn't make a person fit for a remote job. Someone who is proactive, self-disciplined, and capable of managing his/her own psychology is often a good fit for a remote team. Also, the person should have analytical thinking ability and be suitable for your work culture. Above all, while interviewing, you need to talk about the pros and cons of remote working. The feedback you get about this topic from the candidates plays an important role in evaluating their competence during the hiring process.
viii
Conduct Video Interview:
Conducting video interviews is the best way to hire a remote worker. It helps you get a complete picture of a candidate. Use multiple interviews, both one-way and two-way, in different stages of the whole process. One-way virtual interviews are like phone screening. On the other hand, a two-way interview can replace a face-to-face interview. Following these processes will help you evaluate the candidates' communication skills. Ask thoughtful consistent questions. To be extra careful, just check your internet connection before starting the process and keep a phone nearby as a backup plan in case the internet starts being unstable. There is various advanced software through which you can conduct a video interview.
ix
Consider Organizing Online Tests:
This is an important step while hiring a remote team. A test, including questions that portray real-world situations, can help you assess candidates and build a remote team for your company in a much easier way. Create an assignment with a specific time limit. The assignment should be relevant to the candidate's job responsibilities. Make sure you are responsive to any query of the candidate. Keep such an online test project as the final step after taking multiple interviews. Paying candidates for spending their time taking the test is also a good idea.
x
Don't Make Unnecessary Delays in Closing a Hire:
Once you make the final decision of hiring somebody, proceed with it quickly. Mostly good candidates often apply for multiple jobs, and when you are planning to hire them, they may already grab another offer too. Remember, the way you organize a hiring process leaves an impression on your applicants too. If you are not responsive or make delays in extending an offer, the candidate may possess a bad impression of your organization. And this especially is relatable when it comes to building a remote team when you will never wish a candidate to feel detached from a flow of undeviating communication.
In a nutshell, being able to hire people from anywhere in the world and create a team of people with diversity and excellent expertise is certainly a privilege. But it comes with challenges throughout the hiring process if you are unaware of the right tools and techniques. I hope the above discussion has enlightened you in some way about hiring a remote team.
Now, let's come to the point of managing remote employees. Remote team management is not a matter of joke. You need to build a company culture with your team, maintain steady communication, handle conflicts, and manage growth effectively in order to successfully manage a remote team.
How Can You Build Company Culture With a Remote Team?
Below are a few tips to follow for building a corporate culture in your remote team and manage it successfully:
Welcome New Team in front of Your Existing Employees

Most companies introduce new hires to existing employees. When it comes to hiring a remote team, the same should be followed. You can do this via mail or video conference. Encourage new hires to be part of meetings with people from different departments. This way, they will learn more about company culture from the existing employees. They will get to know everybody in your company and have a better understanding of who has what type of responsibility in a team. Focusing on team bonding for new hires is important.

Share Your Organization Value

Your values are an important part of company culture. The values you possess, act as the foundation of your company, and thus each employee of your organization should keep these in mind. When you hire remote employees, by understanding your company values, they will have a solid understanding of how your business works and how a work environment is maintained. So, to drive their attention towards your organization's values, you can mention that on your website. Share mail to employees mentioning how they can merge company values to their workflow. Reward the employees who your team thinks emanate company values the most.

Give Importance to Shared Leadership

Following a solid leadership strategy can help you define success to your remote team. Shared leadership works wonder in this case. This style of leadership allocates leadership responsibilities among people within the same team or company, and those people lead each other. In a nutshell, you should allow your employees to help themselves by helping each other instead of delegating all tasks by yourself without letting them take initiatives.

Prevent Isolation

Most remote employees often think they will not have social stimulation while working, and that can gradually make them feel lonely and isolated. You can prevent your team from facing such situations by building camaraderie among them, start chat channels where remote employees can virtually bond over their common interests, and also organize fun video chat sessions once work is done to let them celebrate a party or enjoy the game night. And if all your team members are from the same time zone, conduct wellness activities during lunch breaks.

Train Employees to Establish Positive Team Culture

Proper training from time to time can make employees from different teams and places united. So, do not forget to conduct online training programs for maintaining team-building culture. Make sure your training programs are well-organized and engaging. These training sessions should encourage the employees to work together and do their best for the company's well-being. You can also use some tools and create discussion forums and webinars to help your employees learn from each other.

Create Environment of Open Communication

Maintaining all the communication channels open and clear improves transparency. And this will encourage more team members to communicate. Your communication channels should encourage participation from each of your team members, not just a specific group of extrovert ones. Transparency in communication methods and equal encouragement to all will enable even the quiet ones to participate in any discussion and share views.

Improve Communication

Give importance to both synchronous communication, like live chat, video conferencing, etc. and asynchronous communication, such as email, posting updates on various project community platforms like GitHub, project management platforms like Basecamp, etc. Adapt remote team management tools, like Zoom, Slack, etc. to make the remote teamwork setting easy and build an environment that enables better collaboration.

The way you communicate with your remote team helps a lot in making the company culture alive among them. Let's talk about effective ways to communicate with a remote team in detail.

How Can You Communicate With Your Remote Team?
Below are five essential tips that you should follow to make the communication with your remote team better.
Be Clear & Concise in Your Email or Direct Message

When you are mailing or leaving a message on a platform for your remote workers, make sure your written language is not being misinterpreted. Also, you should watch your tone; make sure it does not appear as rude or angry.

Use the Right Tools

Use various communication tools, like Google Hangouts, Skype, Microsoft Teams, etc., shared information platforms like Cloud storage, Dropbox, etc., and project management tools, like Trello, Basecamp, etc.

Set and Discuss Your Goals & Expectations Clearly

Remote workers often face procrastination. To avoid such situations, discuss your project expectations with your team and set clear deadlines. Make sure your goals are achievable and clearly understood by your team. Don't forget to do frequent check-ins and get regular updates from time to time.

Keep the Team Up to Date With Company Developments

Your team should always be aware of your company's vision, mission, and developments. They should know how their roles fit into your company goals. This helps in positive employee engagement. Video conferencing is an effective way to boost employee engagement.

Keep Your Team on The Same Page

Keeping communication solid is the most important step while managing remote employees. Make sure all the members of the same remote team are always on the same page. Open, transparent, and effective communication can lead you to achieve that.
But What about Conflicts in a Remote Team? How Can You Handle That?
You should never ignore the conflicts. Always take concrete steps to solve the situations. Here are a few ways to do that:
Find Out the Gaps Between the Remote Communication

Conflicts among remote employees often come due to a lack of transparency in communication. Also, if your messages are constantly being misunderstood or misinterpreted, conflicts can occur. So, you need to identify where your communication methods are failing and work accordingly.

Protect Data Privacy

You should protect the privacy of the information shared by your team members in various shared platforms, virtual workstations, online discussion boards, etc. Doing that will help your team members trust you.

Don't Devalue Small Issues

Many times, small conflicts among employees lead to major business problems. Thus, being a leader, you should never devalue any team members' issues, even the ones that appear insignificant. Learn the right way to address problems and mediate. Train your employees to be better in communication and solving problems.

Keep Conflict Management Clear & Organized

When you are handling conflicts, never panic. First, find out the core issue. Schedule a time to discuss the issue further. Encourage the employees that are having problems to address their conflicts clearly. Go through all the dynamics and find out the right way to compromise or clarify the issue. Once you come up with a final agreement, keep it in writing and share it with team members for future reference.

Develop Team-building and Employee Engagement Opportunities

To manage a remote team, you should always create an environment where team building and engagement becomes smoother. Whenever you communicate with your employees, make them feel that they belong to each other. Encourage your employees to contribute equally to weekly calls, help them address their queries and problems, and make them feel a part of your organization and team.
How Can You Handle Growth Management?
When your remote team starts growing with more members, you need to be completely prepared to follow new strategies and adapt the changes. Here are some essential tips:
Be Organized With Structural Changes

Make sure your company has a specific work structure where every employee is aware of their tasks and responsibilities. Moreover, everyone should be clear about whom to contact when there is any problem. The more your team grows, you should stop micromanaging everything. Focus on shared leadership.

Use New Tools

Not all tools that you used to rely on earlier to manage a small remote team will benefit you the same way when a team grows. You need to find out whether in any way your remote team management lacks something. Then opt for the best tools that can solve the issues. Do proper research, take expert advice, and then use the right tools.

Prevent Burnout

Always stay aware of the workload your team is handling. If you find out that they are facing challenges managing the work, it is clear that there is a shortage of time or equipment. Discuss with your team members about the problems and find out the actual reason. If you need to hire more people, do not hesitate to start the hiring process again. If your current employees are not well-equipped with the work they are getting, organize training programs.
Wrapping it up,
Remote working is here to stay. Globally, companies are accepting this new trend of hiring a remote team. It is proven that a remote team can be as productive and efficient as an in-house team, and sometimes, even more, helping companies save time and money while ensuring business growth. So, are you up for hiring a remote team and managing them successfully? Discover how we can help you meet your goal.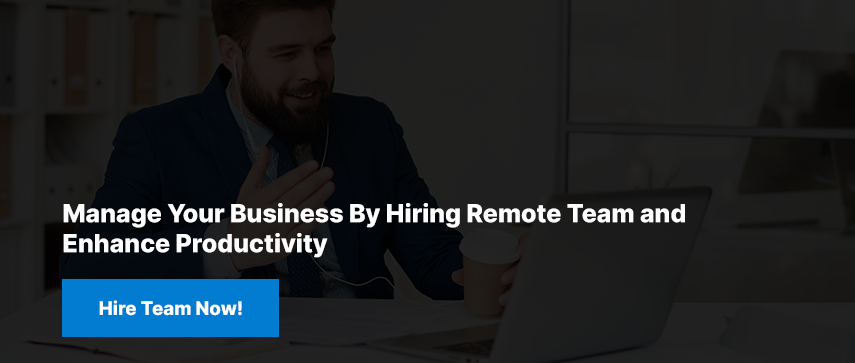 Author's Bio

Nitin Lahoti is the Co-Founder and Director at Mobisoft Infotech. He has 15 years of experience in Design, Business Development and Startups. His expertise is in Product Ideation, UX/UI design, Startup consulting and mentoring. He prefers business readings and loves traveling.