Effective compliance training for employees is a prerequisite for any organization. It refers to the process of educating the employees about the laws and regulations, including the specific company policies pertaining to their job responsibilities.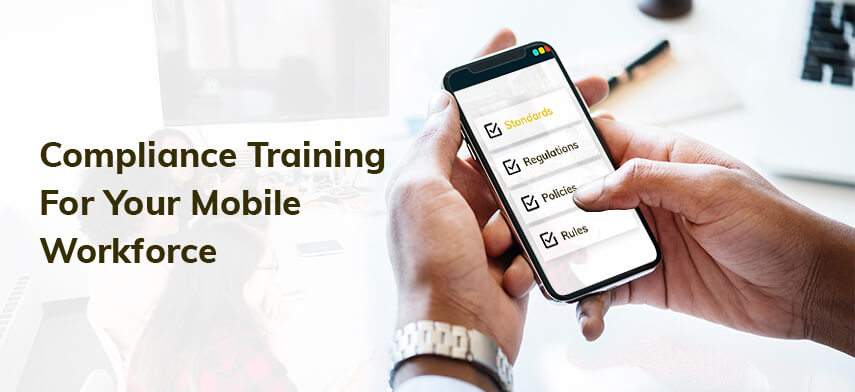 A failure of proper compliance training can lead to penalties and, furthermore, hamper the reputation of the business. A report from IBM states that the average cost of a data breach is $3.86 million. Hence, it becomes a top priority for the management to ensure that the employees are well-aware about the policies, standards, and regulations even when they work out of the office.
However, it is a challenge for the training managers to make certain that each of the employees properly complete the necessary compliance training courses. That is where mobile learning solutions can come in handy.
The role of mobile in compliance training is being widely appreciated across industries, especially the highly regulated ones. Continue reading to get a better understanding of how mobile apps can transform corporate compliance training and help businesses overcome the challenge of ensuring that their employees are up-to-date with the latest compliance regulations.
What is compliance training?
Compliance training is an essential part of risk management and mitigation for any organization. It is a wider term that explains the processes of educating the workforce on the laws and regulations relevant to their particular job functions. These include the legal obligations enforced by the state authorities with regards to a particular industry and the specific rules and regulations set by the management.
Compliance training is not always mandatory by law. However, it is a liability of the management due to the following reasons.
To reduce organizational risks.
To avoid any breach in the law that may lead to hefty penalties and legal actions. It may even lead to cancellation of the operating license.
To encourage a better workplace culture.
To improve business efficiency and productivity.
Types of compliance training
There are various types of compliance training sessions that organizations offer to their employees. Out of it, safety training and security training are the most distinguishable types.
Safety training
Safety training refers to educating employees about the workplace safety standards while they execute their job responsibilities. Safety training is very important to ensure the safety of the employees as well as to facilitate the smooth functioning of the business. The level of safety training depends on the possible risks factor associated with a particular industry.
Security training
It refers to the training given to educate employees about ensuring their safety when an emergency situation occurs. It prepares them to face an unforeseen crisis. Security training is applicable to every industry.
A few examples of compliance training
Workplace violence and harassment prevention training
Diversity training
Ethics and anti-corruption training
Environmental training
Training related to the code of conduct of the company
Disaster safety training
Data security training
Compliance training needs in some highly regulated industries
There are certain industries where compliance training is mandatory by law.
Healthcare laws and regulations
Compliance regulations are comparatively high in the healthcare sector owing to its high-risk nature. The healthcare compliances are applicable to hospitals, pharmaceutical companies, and extend to most of the related stakeholders. For example, the norms of the Clinical Establishment Act 2010 and Clinical Establishment Rules 2012 are applicable to clinical and healthcare-related establishments in India. For running a web-based business in the healthcare sector, they need to comply with data protection laws, cyber laws, encryption-related compliances, and more. Examples of healthcare regulations in the U.S. include the Health Insurance Portability and Accountability Act 2003 (HIPAA), Patient Safety and Quality Improvement Act 2005 (PSQIA), Hospital Readmissions Reduction Program (HRRP), etc.

Environmental laws and regulations
The Clean Air Act of 1970 contains provisions to regulate air emissions from different sources in the United States. The Environment Protection Agency of US ensures that all organizations work in compliance with the environmental laws. For any industry in India, there is a huge set of environmental compliance laws which they need to strictly adhere. National Green Tribunal Act of 2010, which is a conglomeration of the other environmental laws, is one of the latest in the list. Other examples of environmental compliance regulations include Water Act 1974, the Environment Protection Act of 1986, the Biological Diversity Act of 2002, the Forest Conservation Act of 1980 etc.
Storage and handling of customer data
While we refer to compliance laws related to storage and handling of customer data in India, the top in the list is Information Technology Act of 2011. It is aimed at regulating the disclosure, collection, and storage of 'protected data' or 'sensitive personal data or information'. The privacy policy states that any corporate organization engaged in the collection, storage or handling of protected data is required to issue and implement a privacy policy. The European Union has introduced the General Data Protection Regulation recently which is a comprehensive set of regulations for protecting data privacy of its citizens. The Children's Online Privacy Protection Act of 1998 (COPPA), Fair and Accurate Credit Transactions Act of 2003 (FACTA) etc., are examples of information laws in the U.S.
Food preparation, storage, and transportation rules
The food processing industry is regulated by an enormous set of laws in India. The Food Safety and Standard Rules of 2006 tops the list in the country. Apart from the specific safety, sanitation and security norms, the food industry businesses need to comply with the Prevention of Food Adulteration Act of 1954 as well. The Food Safety Modernization Act (FSMA) by the Food and Drug Administration in the United States is aimed at promoting public health.
Benefits of mobile learning approach to compliance training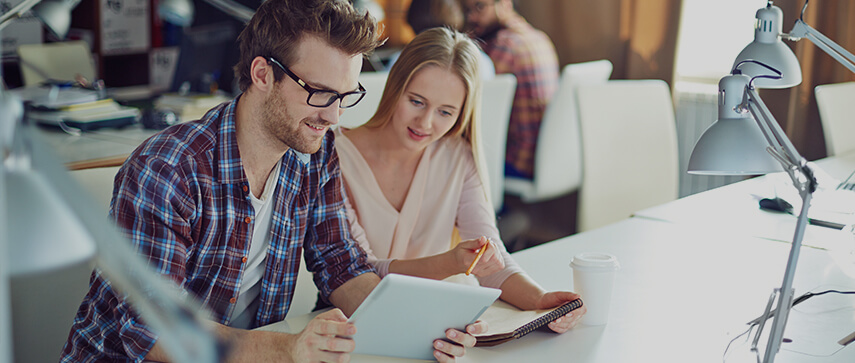 In this mobile age, compliance training has become a lot easier than before for the L&D management. Adopting a mobile learning strategy for compliance training is beneficial in multiple ways. Here are a few ways mobile apps can contribute to a successful corporate compliance training program.
Mobile learning makes compliance training engaging
Mobile apps enable organizations to introduce creative ways of compliance training for employees. It is a major challenge for the management to make the learning process engaging for the employees and mobile apps are handy in this regard. By incorporating gamification or by adopting a storytelling approach, organizations can make compliance training creative, engaging and easier to understand.
Reinforces compliance training
Generally, organizations provide compliance training for a few days every year in which employee participation is mandatory. But the employees hardly retain much of the information that is shared during such training sessions. Mobile apps can enhance the same information delivery by taking advantage of multimedia formats like podcasts, infographics, videos and more.
Improves compliance training ROI for training managers
A lot is at stake when the management spends huge sums of money for compliance training and there is no visible benefit from it. In a mobile learning approach, short nuggets of information are created which can be reused multiple times. Apparently, the cost involved in mobile app-based compliance training is significantly lower and the management can expect better ROI.
Training on the go

Providing handbooks on compliance training is an old-school concept. The millennial workforce hardly goes through the handbooks. They prefer to have information on their mobile phones which enable them to have access to compliance rules and regulations anywhere, anytime. It will be well-appreciated by the new-age working class if the management provides compliance training through such mobile apps.
What are some important features of any good compliance training app?
A compliance app is beneficial in multiple ways for the management as well as employees. The employees have access to the regulatory information in a comprehensive and easy-to-read manner, hence they can act quickly when a situation demands. It can be personalized to meet the requirements of a particular employee, that pertains to his/her job responsibility. Given below are some key features a good compliance training app should have.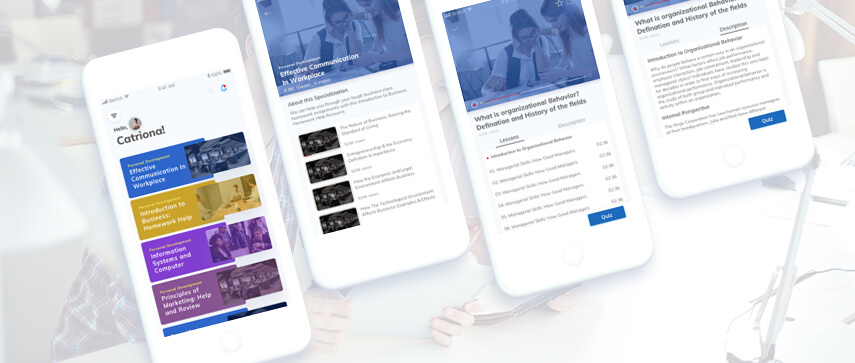 Task-based quizzes
One of the best reasons to switch to compliance training apps is that it makes learning interactive. The information can be broken down into tasks based on day-to-day situations and expressed in a quiz-based format. The concept of microlearning brings in decisive advantage in compliance training.
Gamification
Features like points, grades, etc., can be used in compliance training apps in order to bring in a sense of achievement for the users. They can view their achievement level, compare the score with their teammates and more.
Timely quizzes
Employees can be encouraged to answer questions in a cascading format in training apps. They can train themselves in the areas that they are not aware of. The quiz-based approach will encourage employees to understand the compliance rules in a better way.
Availability of information offline
A compliance app should make it easier for the user to access compliance laws and regulations anywhere and anytime on their phones. Employees get the flexibility to access information in even when there is a poor internet connection like during travel.
Data collection and analytics
Compliance training apps enable the management to track the progress and measure the knowledge of employees with regards to the compliance norms.
Completing this course
It is the 21st century and the advent of mobile technology has given rise to smarter workspaces. Life is fast-paced and people prefer to consume informational content on the move. As per Smartinsights.com, 91% of time spent on the internet is accessed through mobile phones. It is the age where people can stay up-to-date much more effectively through mobile learning solutions.
In compliance training, mobile apps can play a larger role in ensuring access to laws and regulations for the employees. This helps them to avoid mistakes and work in alignment with the company's goals and principles. With better compliance training, an organization can decrease the risks of data breaches, costly litigations, negative publicity, and legal penalties. Furthermore, effective compliance training paves way for enhanced productivity and boosts the overall performance.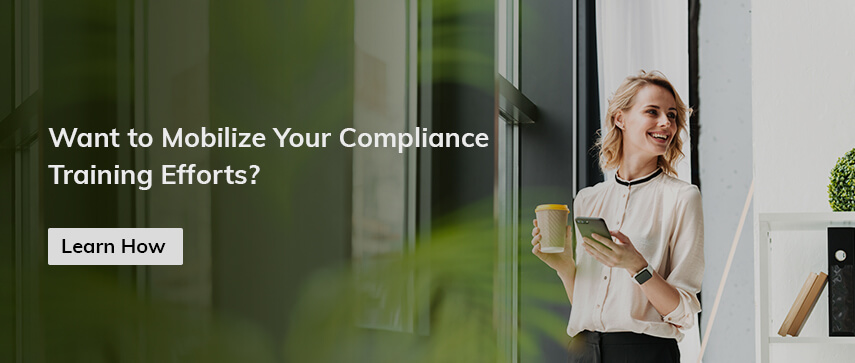 Author's Bio

Nitin Lahoti is the Co-Founder and Director at Mobisoft Infotech. He has 15 years of experience in Design, Business Development and Startups. His expertise is in Product Ideation, UX/UI design, Startup consulting and mentoring. He prefers business readings and loves traveling.