A year past the first federally mandated deadline, many home health care, hospice, and community care providers are still struggling to meet the new electronic reporting requirements of the 21st Century Cures Act (enacted in 2016).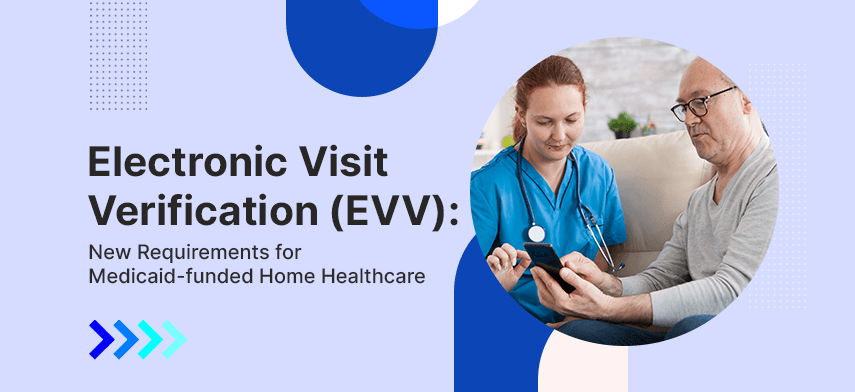 Known as Electronic Visit Verification (EVV), these federal reporting regulations require states to put a reporting system in place for electronically verifying every home health care visit that is paid for by Medicaid. Home health care providers are required to use their state's EVV reporting system to document and report their Medicaid-funded home health care visits or choose their own EVV vendor that meets the state's regulatory requirements.
Medicaid Home Health Care Visits to be Documented in Real-Time
Providers have to document their home health, hospice, and community care visits while in the field by reporting the required data in real-time using their state-approved EVV reporting system.
For each Medicaid-funded health care visit the provider must collect, at a minimum, the following data:
The date the health care visit was provided
The location where the health care visit was provided
The type of service(s) performed
Who received the service(s), i.e., the individual patient
Who delivered the service(s), i.e., the individual healthcare professional
The actual start and end times for the health care visit
These Medicaid reporting requirements were put in place to stop Medicaid fraud and waste. By requiring real-time reporting from the field and confirming key information electronically (for example, using GPS to confirm location and cell phone timestamps to confirm visit start and stop times). EVV reporting systems make it difficult to report incorrect or fraudulent data to the state's Medicaid agency.
Reporting Responsibilities for Home Health Care Providers
Any healthcare provider who delivers home health, hospice, or community care that is paid for by Medicaid must collect this data and submit it to their state's Medicaid agency using the state-approved EVV reporting system.
The federal regulations allow states to set their EVV requirements and choose the reporting systems that they use—as long as they meet all federal requirements. States also have the option of requiring more data to be reported than what's mandated by the federal government. Because of this, EVV reporting requirements and systems can vary from state to state.
It is the healthcare provider's responsibility to understand and meet the EVV reporting requirements for each state it delivers care in. For those providers who deliver home health care services in more than one state, this may mean using a different EVV solution reporting system or having to collect additional data, depending on the state where the care was provided.
States Determine the EVV Reporting System Used
Each state must implement an EVV reporting system by the federally mandated start date or face possible penalties.
States were mandated to have an EVV system up and running for all Medicaid Personal Care Service (PCS) by January 1, 2020. The mandated start date for Medicaid Home Health Services (HHCS) is January 1, 2023.
The penalty for missing these mandates is having the state's Federal Medical Assistance Percentage (FMAP) reduced by up to 1%. States can apply for an exemption from this reduction if they have made a "good faith effort" to get an EVV reporting system up and running and have encountered "unavoidable delays." Several states have applied for this exemption.
Federal regulations do not mandate that states adopt a specific EVV reporting system. Each state decides what system it will use to satisfy the federal reporting requirements.
A few states have chosen to implement a single, specific EVV reporting system that their home health care providers must use. This is referred to as a closed system approach. For example, Texas and Kansas have chosen this approach.
Most states, however, have chosen to use an open approach to their EVV reporting system. These states accept data from a variety of reporting systems, as long as that reporting system meets the state's requirements. Missouri is a state that has adopted the open approach, allowing providers to choose the EVV system vendor that best meets their needs.
The Challenges of EVV Compliance for Providers
Home health, hospice, and community care providers face several challenges in complying with these Medicaid reporting requirements.
As with any regulation, providers need to understand the requirements and the best way to meet them. In deciding what is best, providers should consider how to integrate EVV reporting in their established home health care delivery process to minimize any disruptions to their current workflow.
Consider how the health care professionals will collect the required data while in the field. Will they use an app or tablet? Can the data captured be easily shared with the care scheduling and delivery and EHR systems that are in place? For providers who operate in more than one state, will you have to use separate apps for reporting to different states? Will the health care team need to be trained on more than one EVV reporting system?

RainbowCare's EVV Solution for Home and Community-Based Services
RainbowCare's EVV solution gives home health care professionals an easy-to-use HIPAA-compliant app for capturing and reporting all the in-home, hospice, and community health care visit data required by your state's Medicare agency. Providers offering Personal and Attendant Care, Case Management, Care Coordination, Meals, Transportation, Durable Medical Equipment & Supplies can use RainbowCare's EVV solution with the below capabilities:
Clock-in/out with Web and Mobile Application
Check-in/check-out even when an active internet connection is unavailable
Ensure field staff safety and adherence to appointment schedule via GPS
Voice, Photo, & Client Signature Verification at point-of-service
Possible video consultation and collaboration with another provider
Record appointment notes easily and securely
Dynamic calendar-based scheduling
Multiple views for schedulers, staff & other individuals
Bulk import schedules
Manage Prior-authorizations, eligibility, and service limits
Create Electronic Billing Claims from EVV Data
Reporting: Scheduling, EVV, Utilization & Payroll reports
Configurability to meet agency-specific documentation needs
Designed to meet the CMS rules
RainbowCares EVV solution supports the entire home health, hospice, and community care delivery process in real-time to address your compliance, communication, documentation, reporting, and billing needs making it effortless to capture and report the accurate data needed by states.
Wrapping Up,
RainbowCares EVV solution is HIPAA-compliant, integrates with established EHR systems, and can be customized to meet individual state's EVV reporting requirements, and provides training to help you onboard and meet the EVV mandate for better delivery of care.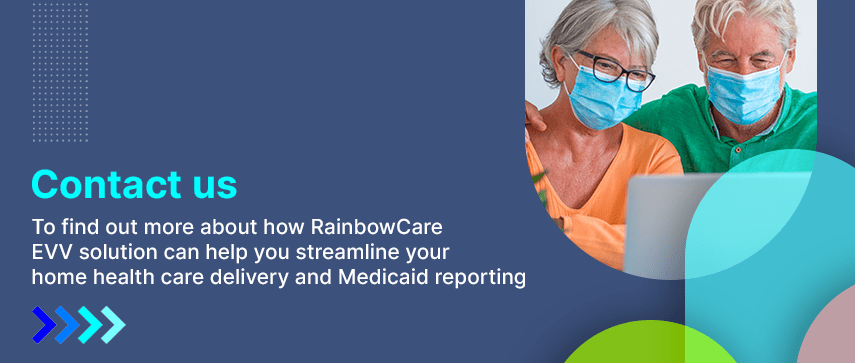 Author's Bio

Ayushi Patel is the Director of Strategy & Innovation at Mobisoft Infotech. She leads the strategic partnerships and initiatives in the healthcare division. Her experience includes healthcare administration, business development and sales, and customer success management.