Technology is a crucial requirement to improve performance in any field in the 21st century. Similarly, it has become a necessity in the medical field. Over the years, hospitals have adopted new technological developments but have failed to produce the desired positive results. They need to reframe their problem-solving approach and make it more responsible.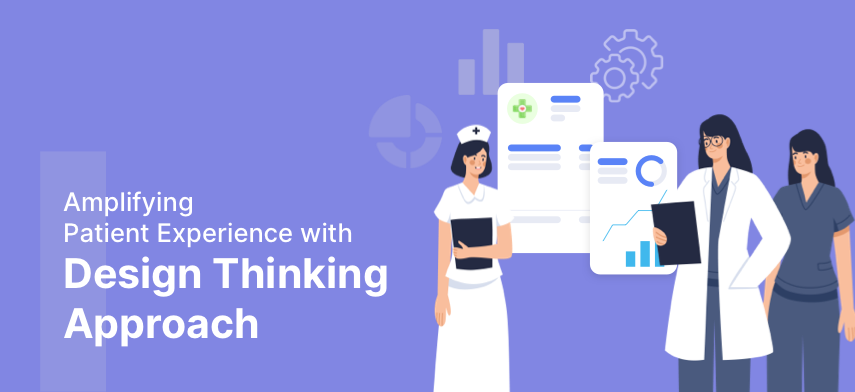 Healthcare design needs a radical change to help bridge the gap between innovation and outcomes. The design thinking approach is one such method that can help the healthcare system with its human-centric developmental strategies. It is an approach that has gained popularity among different sectors because of its promising results in solving problems and assisting organizational goals. Research shows that design thinking in healthcare systems with its key phases also assists in improving patient experiences.
Key Phases of the Design Thinking Approach
The design thinking approach is a process specifically drafted to resolve complex issues in any sector. Unlike quality improvement approaches which focus on minor issues, design thinking can bring about sweeping changes affecting the whole system. This is important for our present medical system.
1
First Phase
The design thinking phases are human-centric and put patients first. The first phase of the process is to carry out focused surveys and observations to determine patients' issues and their reasons. You can begin implementing this approach in the healthcare system by appointing a multi-disciplinary team to identify the issues of a hospital's patients.
2
Second Phase
Digital design thinking creates solutions that focus on what helps the patients. So, in the next phase, your design team needs to understand the causes and brainstorm ways to solve the problems. Then, they can create prototypes like a physical mock-up, test, modify, and later implement to help patients. With design thinking, the healthcare system can create focused approaches to solving patients' issues, leading to improved patient experience.
Three-Pronged Approach of Design Thinking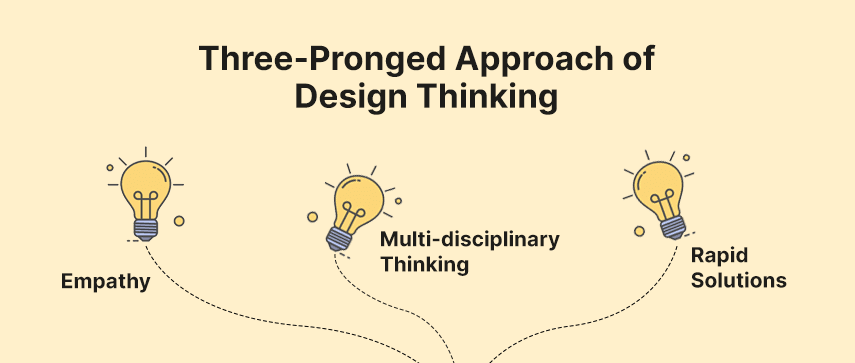 Customers in every sector are becoming accustomed to more personal approaches to problem-solving. The medical field also demands the same. Patients require humane and personal attention to solve their varying issues. Design thinking uses the three-pronged approach to help create a personalized problem-solving environment within the healthcare system.
1
Empathy
Design thinking is a human-centric approach, which means it caters to the specific needs and demands of the customers. Unlike other process development strategies, this method removes the element of assumption from the equation. It bases its problem-solving attitude on the actual feedback of patients. It relies on empathy – the process of listening and relating to the issues of the patients.
Identifying the target audience, their problems, the solutions they need – these are the main components that can guide innovation in any sector. The design thinking human-centered approach goes this way:
Ask questions to the consumers.

Observe their behaviors.

Engage with them periodically.
The design team needs to engage and understand their experiences and create solutions according to their stated problems.
2
Multi-Disciplinary Thinking
Multi-disciplinary thinking is another approach through which design thinking works. Let's think about the example of patients missing appointments regularly. To efficiently figure out the issues, understand them, and solve them, we need different people from different sectors, such as patients, call agents, doctors, the management team of the hospital, front-desk receptionists, and the design team.
What the design thinking approach does is define and solve issues with a broad space in mind. The changes brought about by this care-based thinking can solve problems for the patients in question and the medical sector's management. This approach depends on brainstorming sessions involving people from various disciplines. Being multi-disciplinary, design thinking works more comprehensively and can help you solve broader management, development, and innovation issues.
3
Rapid Solutions
The first two design thinking approaches are human-centric, focusing on using empathy and brainpower to help solve consumer problems. The third prong is about speedily making custom solutions work, testing their reliability and efficacy, and making changes to them if necessary. The right way to go about it is to create prototypes of the solutions.
Prototypes can range from physical prototypes to digital ones. Your team can then show these to a group of stakeholders for feedback. For instance, let's say you design a new mobile app to improve healthcare by providing doorstep medical facilities, including home appointments and delivery of medicines. The design team can open the app to beta users for feedback. Accordingly, they can make necessary changes and finally work towards rapidly implementing the solutions.

Opportunities and Challenges of Implementing Design Thinking Approach
Challenges
Like any other innovative development strategy, we can face several challenges when implementing a design thinking approach in the medical field.
1
Misunderstanding
What the medical sector forgets is that their service is not limited to clinical help. It needs to look after the patients' well-being, which goes beyond medicines. You need things like clean waiting rooms and accessibility for people suffering from chronic or terminal illnesses. Design thinking can be challenging if your design team lacks communication regarding patient needs.
2
Short-Term Thinking
Most design approaches become short-term solutions to problems at hand. If a patient issue arises, the management often deploys a team to solve that specific problem, resulting in short-term crisis handling. Then the entire purpose of design thinking fails.
3
Diversity of Consumers
The healthcare system serves diverse people with varying needs. Effectively gathering information about their problems, requirements and brainstorming to solve each issue can become challenging if you don't have an efficient design team.
4
Perfectionist Block
Designers often try launching perfect products at the first chance. This can lead to perfectionist block and poor quality services – a significant roadblock to the design approach. The designers have to understand that they need to launch a product that is open for feedback and future developments. It doesn't need to be perfect at one go.
Benefits
Design thinking, being human-centric, focuses on consumers as human beings and not merely as collective users of facilities. We can create an emotional yet rational approach to problem-solving with the help of this process. Let's talk about the benefits of this approach.
1
Opportunities for Everyone
Being multi-disciplinary, the design thinking process creates opportunities for everyone. Be it your patients or your employees, this approach makes products simpler and usable and can develop better opportunities for all.
2
A Future Roadmap
Design thinking allows your company to create a roadmap for the future in the rapidly evolving world of technology. With the correct implementation of this technology, you can help visualize a better future for your medical company and bring it to life.
3
Better Customer Relations
When you spend a considerable amount of money and time bettering customer experience, you will automatically improve consumer relations. If your design team helps identify the issues with the patients at your hospital and solves them efficiently, you will be a reliable name for medical help among people.
4
Solves Multiple Issues
This technology is the best for a holistic approach to solving issues involving multiple spheres. With this process, you can combine societal and business needs and create a link between the industry and the individuals. The design thinking approach serves the purpose of uniting patient-provider concerns seamlessly across multiple healthcare platforms.
The Importance of Empathetic and Multi-Disciplinary Approaches
The empathetic approach is to create an environment where the patient can freely and safely express their concerns. When a patient comes into a hospital, someone else is likely to accompany them. Providing a good service like a clean waiting room and friendly staff who can help with their queries can make the patient experience design better.
Empathetic and multi-disciplinary prongs of a digital design thinking approach are essential because they can help solve hospitality issues. Only if your team is multi-disciplinary can they see beyond the clinical aspects of the healthcare system.
Understanding The Value of Design Thinking to Different People
Design thinking benefits more than the patient community alone. With the implementation of this approach, you can provide better opportunities for innovation to your designers and technologists. They can fuel their creativity with this approach. You also need to remember that this is an era of rapid technological development.
It's important to gather consumer data frequently and update and upgrade service policies to benefit the consumers regularly. Without that, your service can become unreliable and unnecessary. For a medical body, it is imperative to stay relevant to people. Adopting this care-based thinking approach helps bring innovative developmental strategies to improve the health system design.
Final Thoughts,
The design thinking approach is a way to care for your team and your patients. By implementing this approach, you have a chance to save the healthcare system from collapsing under the present technological demands. It's time to throw out the archaic feedback methods and bring in a completely new human-centric, care-based digital design thinking framework.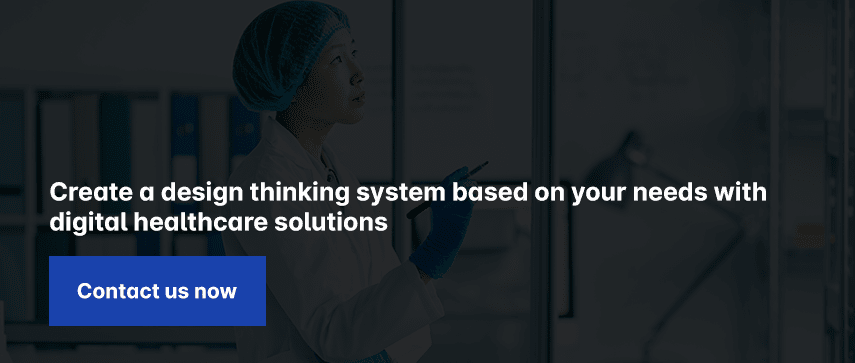 Author's Bio

Shailendra Sinhasane (Shail) is the co-founder and CEO of Mobisoft Infotech. He has been focused on cloud solutions, mobile strategy, cross-platform development, IoT innovations and advising healthcare startups in building scalable products.