When it comes to buying things online, users want a frictionless personalized experience with less-to-no human intervention. They want to be part of a purchase that gives maximum outputs with minimal effort.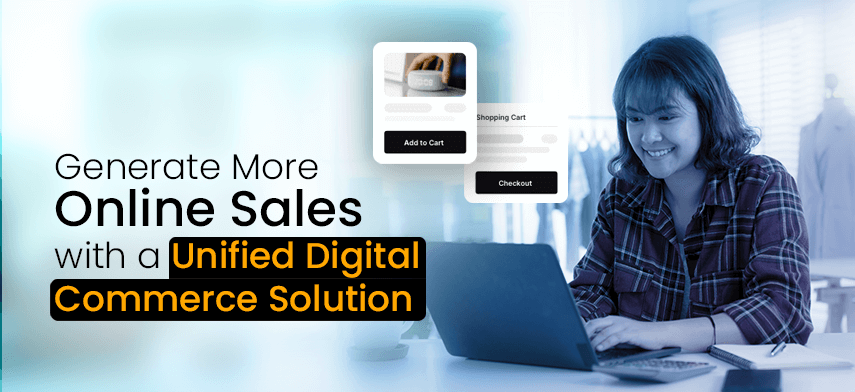 Earlier, curating such a mix of personalization and seamlessness was not easy. But today, achieving this has become much easier for businesses with unified digital commerce solutions.
Many companies have successfully integrated the advanced digital commerce solution into their existing system to overcome the challenges put forth by the global pandemic.
Reliance on the new-age virtual retail business approach helps your retail companies understand customers' needs better and work towards improved ways of operating and managing your business in today's digital era.
In our today's blog, we will explain this emerging approach in the retail industry so as to help you make the most out of your business. First, let us understand what the meaning of digital commerce is.
What is Digital Commerce?
Digital commerce is the process of buying as well as selling goods/services through various digital channels, including websites, apps, and other commerce infrastructure. The transaction may occur online or offline. In other words, it can be defined as the successor to eCommerce that facilitates complete automation, right from sales and marketing to product delivery.
Digital commerce is the process that enables users to purchase goods and services online through an interactive and self-service experience without any human intervention. – By Gartner
Digital commerce examples include customer acquisition, customer retention, pricing, digitizing customer touchpoints, and any other online marketing activities that help generate more revenue.
A digital commerce solution outlines all the components of purchase decisions. These components are essential, and your digital business strategists need to consider them to map the entire user journey and accelerate purchase milestones properly.
These digital commerce elements include the following:
Customer service

Product descriptions, images, and other media

360-degree analytics

Social media engagement and promotional campaigns

Request completion and supply chain management

Content marketing

End-to-end user experience mapping
Digital commerce can be classified into two main categories, and they are as follows:
Active digital commerce,

where companies perform all the commerce operations online – from selling their goods/services online to managing payments.

Passive digital commerce,

where companies market their goods and services through the internet but accept payments offline.
Not to be missed, many businesses misinterpret digital commerce with eCommerce. However, these two terms are different to some extent. Let us understand the difference between digital commerce and eCommerce.
Digital Commerce vs eCommerce: What's the Difference?
The digital commerce vs eCommerce debate often concludes that they have a lot in common. But we cannot deny that both are entirely unique concepts when it comes to execution.
The former satisfies the requirements of buying online goods and services, while eCommerce deals with tangible goods and services in addition to digital ones.
In the case of eCommerce, only single transactions can take place since real products are mainly a part of the catalog. On the other hand, digital commerce can cut out this problem by providing one reusable link for the online storage or transaction page.
Automating the selling process on digital commerce sites is much easier than on eCommerce sites. Similarly, affiliate links can be distributed quickly and frequently when online products are offered.
Basically, platforms limit eCommerce, whereas digital commerce is device agnostic and can be distributed via various platforms such as websites, mobile apps, and other high-end technologies (like AR/VR).
eCommerce is transactional as its success is measured by the gross revenue collected alongside keeping inventory expenses to a minimum. On the flip side, digital commerce is backed by mobile devices and content – its success is measured by determining the Customer Lifetime Value (CLV) or the total generated revenue from the same customer over the brand lifetime.
What Makes a Unified Digital Commerce Solution so Important
According to the report by Forrester Research, 56% of B2B customers would actually pay more for an improved product. It also states that customers are less likely to return to a brand if their first experience is not up to the mark. Plus, digital touchpoints literally influence the purchase decisions of today's tech-savvy customers.
Digital commerce services are much more in demand now as they save time and offer a lot more convenience to customers. These services are essential for any retailer as they create multiple sales opportunities to become visible to the users, such as company websites, mobile applications, social media, and much more.
Independent reports also suggest that 58% of retail sales will be digital by 2023. As such, adopting a digital commerce solution has become the need of the hour. And it will surely help businesses focus more on research so as to offer better products and personalized experiences consistently. That's why this concept is important for retailers.
With technical advancements, the commerce landscape has evolved drastically. Customer behavior, demands, preferences, and other shopping patterns have changed compared to what they used to be earlier, even just 5-10 years ago.
Hence, retailers must look outwards from their comfort zone and focus on building their digital businesses. Being aware of the latest trends related to a digital platform can help you understand users' demands and establish winning digital commerce strategies. Let's understand the same.
Key Digital Commerce Trends to Reshape Your Retail Business Ecosystem
As a business owner, you are well acquainted with some technologies used in the retail industry, such as IoT, artificial intelligence, AR/VR, computer vision in retail, etc., but what else can help you understand your target audience in a better way and shape your retail business ecosystem further.
Here's a primer for you – a compiled list of key digital commerce trends to keep an eye on.
User Analytics

Gathering and analyzing user data is essential to digital commerce. Some technologies and practices allow maintaining customers' privacy while collecting such metrics. Businesses need to start using data analytics to fine-tune their services to unique consumers. They also need to determine the technologies and data that are used to give a tailored online experience.

Personalization

Personalization is one of the key trends in digital commerce that customers expect the most. As a business owner, you need to ensure that the experience for every customer is personalized.

That means it should be relevant to their demands and previous experience on your website or application. This is achieved through suggested items, searches, landing pages, and targeted ads.

API-based Commerce

If you're still reliant on monolithic architecture and backdated app designs for business, you should seriously consider switching to API-based commerce. It helps you separate your retail business operating models into several accessible interactive models and help you achieve omnichannel content where the different branches are all at par.

As a retailer or an online business owner, you can save your time and money, and the entire process of accessing content is smoother for the users.

Artificial Intelligence (AI)

Investment in artificial intelligence is booming with each passing year, and if you want to ensure that your online presence is the best it can be in the years to come, you need to integrate AI into your retail ecosystem.

Some of the benefits that you can expect from such an integration project are automation of your retail business processes, customization, site search optimization, etc. With machine learning and logic-based learning also a part of the expansion project, you can ensure that user analytics would no longer be a troublesome process.

Omnichannel Content and Commerce

As a digital commerce professional, you need to ensure that every channel interacting with your end customers promotes a meaningful experience. It is necessary for your brand to keep track of your content via cross-channel analytics.

You should take the required steps to create and distribute relevant content to the right place, to the right people, and at the right time. This not only increases brand awareness but also helps you maximize user understanding.

Enterprise Marketplace

Customers who emphasized convenience and prices to buy a product earlier are now shifting to options that satisfy their preferences and interests. As such, vendors and service providers have to take full advantage of user data and analytics to advance their service offerings.

This is where an intelligent enterprise marketplace acts as a catalyst in bringing various suppliers on one platform and helping them deliver quality services through a detailed analysis of user interests.

Progressive Web Apps (PWAs)

Another significant trend that you need to know while approaching a digital commerce solution is PWAs. What makes it so important is its immediacy of use.

Companies are widely adopting these apps to showcase their products and services better and in the easiest way possible. With these apps, you get the privilege to re-engage with your one-time customers/past users via specific reminders and offers.

Subscription Commerce

It is a digital commerce strategy where users receive products and services on a recurring schedule, and businesses can generate profitable outcomes in the long run.

This trend is catering to the requirements of various industries like F&B, Healthcare, Automobile, etc. Besides, giant companies like Netflix and Spotify are using it to deliver quality services and grow exponentially.

Augmented Reality (AR)

Facebook and L'Oreal are the best examples of companies that are using this technology to their fullest. The right application of AR in digital commerce can help you establish an emotional connection with your target audience.

It triggers the need of your users to buy a specific product by highlighting real-life effects, images, sounds, etc., via smartphones or computers. Users can interact with their most preferred products before purchasing them, thus saving your time, resources, and capital.

We believe an earlier adopter of the key digital commerce trends can establish a successful retail business strategy, reshape the entire retail ecosystem, expand business reach, and form life-long bonds with customers.

However, there are some challenges when you proceed further with the integration of a digital commerce strategy in your legacy system, which you can not ignore at all. Let's discuss it.
Challenges Faced by Retailers While Integrating a Digital Commerce Solution
It can be quite challenging for a monolithic retail business to digitize all touchpoints with digital commerce on the first go. Let us make it a little bit clear and give you a more clear picture. Here's a list of the top 3 challenges retail businesses face when they switch over to a digital framework.
#1 Consistent Experiences
The expectations of your customers will keep on changing with time. For companies, the challenge is to create an online experience that evolves alongside their online activities.
If businesses can't do that, customers would anyway explore the different options available to them before committing to one. So, delivering a consistent experience becomes difficult for the first-time digital retailer.
#2 Technology Advancements
Devices are constantly being upgraded, which means that your online experience needs to be available flawlessly on every device. A digital solution, be it a website or mobile app, with older technology stacks for marketing would struggle to appeal to the audience.
Your application should work seamlessly without any crashes to meet the customers' demands. Hence, investing heavily in the latest tech stacks is of utmost importance and challenging, especially for mid-sized retail businesses due to budgeting issues.
#3 Converting and Retaining Customers
For most digital commerce platforms, generating leads and converting them into sales is one of the primary challenges to tackle. So, as a business owner, you need to focus on converting your leads into sales.
In addition, you also need to retain the customers that have purchased from you before to achieve recurring growth. For this, you need to have proper resources, including manpower, technologies, tools, etc., used to retain customers. So how can you overcome these challenges? Let's get to know the solution.
Ways to Overcome Challenges Mentioned-above
Now that we have addressed the main problems while approaching digital commerce solutions, let's look at the different ways to tackle them.
#1 Personalized User Experience via AI
A personalized user experience for customers elevates the overall quality of your product or service. This can be achieved through automating marketing operations, i.e., shoppable posts, conversational marketing, visual searching, etc., which is possible through AI.
When a customer receives recommendations related to your brand or products that they have browsed, they are more likely to remain engaged and also buy from the brand. This way, you can convert new customers and also retain the old ones.
#2 Collaborating With Influencers to Generate Traffic
Advertising and marketing have come a long way when it comes to generating traffic and leads. Simple video ads are no longer enough to convert a significant amount of people. Collaborations with established and well-known influencers or partnering with affiliates for awareness are the ways to go ahead. This collaboration is made easy with digital commerce.
#3 Engagement With the Audience
Engaging with the audience can be carried out in several ways when it comes to digital marketing. You can have contests, giveaways, or online polls to stay engaged and have some input from your audience.
This way, you can have a more active audience that would respond to offers and products when they are announced. Digital commerce solution lets you increase that engagement with your customers.
#4 Expand Your Business With the Right Tech
Email solutions, CRM software, and analytics tools are some of the modern tech tools or, say, marketing automation tools that are helping businesses to expand their business reach.
Remember, you must invest in the right tools that make your process more streamlined instead of tools that clog up the process.
When you keep a note of your consumer behavior, you can implement the right tech stacks for your business. Some of these could be increasing engagement, having more personalized offers or updating your product from time to time, etc., via a digital commerce platform backed by the latest tools and third-party integrations.
#5 Automated Processes
Asking your customers to opt-in for a subscription or a long-term deal is a great way to streamline processes on both ends. The customer loyalty built as a result helps the business prosper in the long run since the consumer does not have to go through the hassle of ordering a new product every time they run out of supplies.
Automating this process from the backend in conjunction with the tips for tech mentioned earlier is a great way to streamline digital retail.

What is the Importance of a Digital Commerce Solution?
As a retail business owner, you would be looking forward to discovering the usefulness of the digital commerce solution for your business and your customers. For this, you need to build and implement a strategy that helps you take full advantage of this solution. Here're the benefits this strategy would bring to your business.
An Improved User Experience

Today, people prefer buying goods and services online, and the digital shift is going to stay here for a long time. Hence, we can see that going to physical outlets and sorting through the offerings is becoming less popular. This is being replaced by home delivery services and online substitutes for tangible goods.

Thanks to digital commerce solutions, shoppers do not need to deal with salespeople; they can shop from the comfort of their homes, browse, purchase, make payments, return, and exchange easily. Furthermore, state-of-the-art technology allows you to track customer behavior and provide personalized experiences.

Simplified Development of Your Business

It is much easier to upscale and improve a digital commerce solution than a physical store, which is limited to location and (higher) cost constraints. For service-based businesses, online expansion is the way forward since their services do not need a physical outlet to showcase themselves.

Upscaling apps and websites is a much more cost and time-efficient process that lets businesses and customers enjoy a much smoother transaction.

Make Futuristic Decisions using Customer Data Insights

Despite being in-person, physical sales do not allow you the luxury of having an insight into the data of your customers. Through an eCommerce digital strategy, you can monitor customer interactions and keep track of their buying frequency as well.

Even if they don't buy a product, with a digital commerce solution in place, you can analyze what they searched for and inquire about a product; these metrics can help you generate personalized content for them so that they find a product or service that they might want to buy from you.

Decreased Operating Costs

Since the product is stored online, there is little need for storage houses or even transport. Businesses can also save on staff salaries and office rent, along with establishment costs.

Since they don't have to employ people to take care of the office, needed in the case of a formal establishment, they have a reduced cost of operation with a unified digital commerce solution. Not only is the profit margin increased, but the likelihood that the money reinvested into affordable online marketing is also higher.

Correspondingly, online visual ads are more targeted and cost much less; they can reach more people and help you gather more leads than a physical ad such as a billboard, pamphlet, or newspaper print. Incorporating all these costs, the total money spent would be much less when the entire process is online.
How can Mobisoft Help Your Retail Business?
Experts at Mobisoft have an in-depth understanding of the trends in the digital commerce market and ever-evolving consumer shopping behavior. The team is proficient enough to understand your unique business requirements and offers you the right suite of digital commerce solutions that will not only help you grow digitally but also generate a higher ROI.
With such combined expertise and experience of software development professionals, you can have the best digital commerce solution in place that benefits all the stakeholders. You will have the privilege to successfully optimize your website or mobile app to launch future-ready products and services.
Altogether, team Mobisoft provides an all-inclusive solution to boost your user engagement with its latest technology integrations and cognitive capabilities.
Wrapping it up,
Adopting the right digital commerce solution is a way toward business agility. It ensures a great online experience backed by an even mix of customized content and centralized commerce.
You can efficiently incorporate a full-fledged supporting framework for your sales opportunities now and in the future. Just make sure that you have the best resources in place to make the most out of this solution and create a digital environment that converts.
Get in touch with our experts to know how to integrate the digital commerce platform and maximize online sales.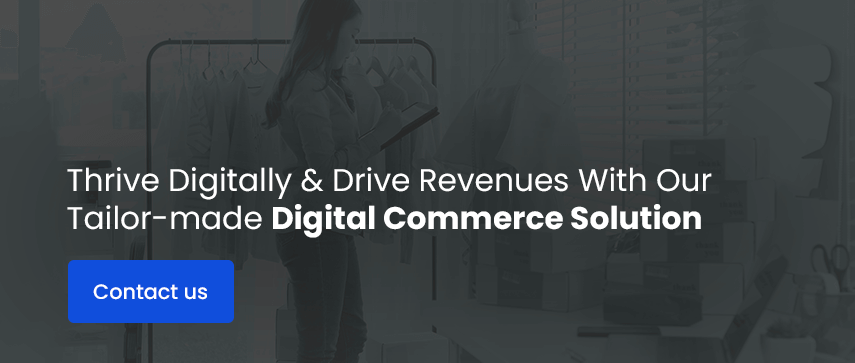 Author's Bio

Nitin Lahoti is the Co-Founder and Director at Mobisoft Infotech. He has 15 years of experience in Design, Business Development and Startups. His expertise is in Product Ideation, UX/UI design, Startup consulting and mentoring. He prefers business readings and loves traveling.