One of the most essential healthcare organization tools is the availability of a website. Healthcare web development is invaluable and is becoming more necessary in the upcoming years.
Medical information and healthcare-related data are now a perpetual requirement for people as more than 80% of them search for it on digital platforms. People are preferring digital modes for communicating and appointment booking with their providers. Having an organized medical website keeps new information stored digitally, resulting in healthcare web development gaining popularity.
For example, if you have around 500 patients with specific health tests scheduled at similar times, having a healthcare web app will ensure time-saving and assistance to patients automatically and remotely.
In this blog, we shall explain the detailed nuances of healthcare web development and discuss the main healthcare website design trends. This will help you navigate medical website development more maturely.
Prerequisites to Integrate Healthcare Web Development
Before we jump into understanding the development, it is necessary to understand the why of it. So let's look at the prerequisites reasons for integrating healthcare web development into your system. Three big factors cater to the prerequisites of medical web development.
For several patients, their providers remain the most trusted source for gaining information. According to various resources, web users search for providers and medical professionals online, and a segment of people choose providers over a strong digital presence. So to exist in the healthcare website development sphere, you need to have a strong online and offline presence, and to gain that credibility, medical web design is a core necessary to enhance your business.
People will require 24/7 assistance when it comes to healthcare services. Whether it is in the middle of the night or the early hours of the morning, hospitals and healthcare organizations should always work around the clock. It is especially common in the hospital environment since patients require medical assistance or care service guidance as soon as possible in case of emergencies. Having a healthcare web app initiates the process of letting patients know that your care delivery services provide round-the-clock service and support. This directly defines booking appointments, accessing information, and getting the necessary consultation in just a few minutes without having to go to a clinic or hospital.
Incorporating a Competitive Edge
TO have the ability to be competitive in the healthcare market, providers are required to meet patients' needs at a lower or average cost in comparison to their competitors. And having a web design healthcare platform is a significant prerequisite in the care delivery process. A majority of patients choose one provider over another based on their strong online and offline presence. Additionally, healthcare startups are becoming a fast-growing industry when it comes to the volume of investments they are making to digitize the entire healthcare delivery system. So being in a competitive market provides your business with the necessary edge and creates a prospective alliance in years to come.
After understanding the three key prerequisites of why healthcare web development is significant for your business. Let's take a look at healthcare web design trends.
Healthcare Web Development Design Trends to Follow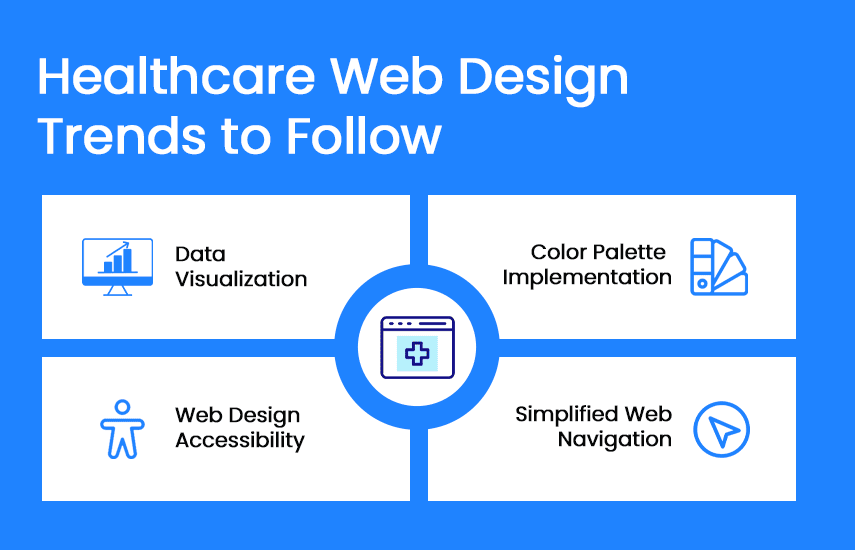 Healthcare web development is next to impossible without healthcare web design. Being a healthcare web design company means that there should be elements for delivering value-based care to patients instead of having complicated ways that confuse both patients and providers. Healthcare web design can be confusing, so we will be providing you with some trends that you can follow to create the best hospital web design for your business.
Having the capability to showcase a dynamic range of treatments and showing test results is excellent and exponentially required for developing web design healthcare platforms. One of the few things that can differentiate your website from other healthcare web platforms is the data visualization in a well-designed, clean, informative, and value-based way.
You can show only useful and tactical information to your users without having too much screen cluttering. Have a design that provides clear, simple, clean, and defined data visualization segments. It is imperative to use already working healthcare delivery solutions instead of reinventing the wheel completely. Having a data description is useful and recommended. Keeping these factors in mind, partner with a medical web design company to turn your data visualization into reality.
Integrating Accessibility in Healthcare Web Design
Utilizing assistance from healthcare developers, developing a healthcare web app that is tailored to people with chronic conditions and various impairments gives you a competitive edge. Having website accessibility allows people with certain impairments to browse through your website without any struggles.
To clarify further, you can integrate voice readers, adjustable text formats, HTML tags and captions, text transcripts, alt text on images, color contrasts, and many more. You can follow the checklist for ADA compliance to integrate a good website design healthcare platform. You can also follow Web Content Accessibility Guidelines as per-requisites for your healthcare web development project considering the target audience. Additionally, have frequent optimization of your healthcare web design to mobile and other devices.
Significant Contrast to Color Palettes
Introducing bright color palettes is of paramount importance, while using pale colors may influence your healthcare web app to implement more user engagement and conversion rates. So, for your healthcare development, direct the website designer to utilize high-contrasting color palettes and select simplified and large text formats that are easier to read and understand with lower contrasts. You can use a combination of two or three colors to keep your website consistent without further complications and the colors should be of a lower-contrast level to determine more user engagement.
Simplified Website Navigation
By now, you know that patients use healthcare web apps for various purposes. But to determine complete patient engagement with your web app, they should have access to information swiftly and simply. A majority of people find websites more engaging when the navigation is simplified. You can integrate a menu that directs your users to important pages like services and solutions, and it is imperative to have clear and clean CTAs to improve website navigation.
After navigating through the healthcare web design trends, let's understand why healthcare web development is necessary for 2023.
Healthcare Web Development: Why It is Necessary for 2023?
Every healthcare organization, pharmacy, clinic, or hospital understands that digital presence is necessary to attract target audiences. Having healthcare web services provides a virtual mirroring of your healthcare establishment, what digital healthcare services you practice, and the tools and technologies to gain your healthcare web development goals. It enables patients to find answers to their diagnoses through a user-friendly framework, and healthcare managers controlling the care delivery establishment framework understand that efficiency and straightforwardness are mandatory when providing telehealth website development services.
To implement such effectiveness in the healthcare secretary, medical organizations are introducing web app development solutions to monitor daily healthcare workflows. It helps in automating the routine and scheduled actionable items. By administering findings for statistical understanding through the internet, the patient's journey usually begins by browsing through healthcare specialists on the website for resources. This identifies top healthcare service organizations and clinics.
Having a high variable of research and reviews depending on the healthcare specialists, a large group of patients continues to get acquainted with providers digitally or connect with a specialist through telehealth web development services. So, integrating medical website developers is equally essential to gain visibility through digital presence to attract potential patients for care delivery services.
Having a healthcare website with high and trusted reviews about provider work and accessibility to concerning health issues and treatments, provides an informative overview that brings uniqueness, 24/7 support and services, patient loyalty, and organizational authority. Therefore, having healthcare web services improves your holistic healthcare solution presence and it will remain a significant path in 2023 to keep your business afloat.
Moving on, there are several steps to developing healthcare websites. We will be exploring them one by one.

Healthcare Website Development: How to Start the Process to Develop Healthcare Apps
Healthcare app development is not about ticking boxes and checklists. You may find various approaches and methods to healthcare web development services, but there are 5 distinct approaches one must follow to implement successful healthcare web services.
Understanding Your Market
Healthcare web development begins with intensive and thorough market research. There are a few key questions you need to ask yourself as a healthcare business before implementing a healthcare web app and medical web developers.
What are the problems my business will be solving?
Are people looking for a service or solution?
Do people have the budget to invest in our services?
This is the initial discovery phase where you acquaint yourself with the users and derive their needs from them. Our telehealth web development services for both aggregators and providers assist in doing thorough market research and analysis of competitors and finding the target audience for your business. Our project and product managers work with the design teams to create prototypical personas that help in understanding the type of customers for your business. It is imperative to understand your customer base and identify their deeper insights via user interviews. Additionally, having an analysis session for user experience and behavior is another essential step in this phase.
Test Prototypes and Medical Web Design
After finding new and improved information about the healthcare market, users essentially refrain from sharing anything new or insightful with you, so it is the perfect opportunity to design and test web prototypes. But this doesn't indicate that your business should stop all sorts of research. It is necessary to devote at least 20-25 percent of your resources towards research and development of prototypes.
To develop the best hospital web design, your healthcare web app prototype should already envision the essential infrastructure of the product. It is important to create an embodiment to integrate the basic functionalities that can be tested on real users. It is not only the involvement of healthcare website design but also the basic general business functionalities like
Understand payment methods
Verification of patients
Best ways to improve patient-provider communication
To test these theories, we can find a target group of healthcare web app users and test the prototype to understand the prerequisites. The key is to keep it as objective as necessary and refrain from predefining user insights by speaking of initial assumptions in the decision-making process.
Designing and Developing the Healthcare Web Application
Medical web design has a certain weight in the process of healthcare web development. It is necessary to hire experienced UI/UX designers who can play a significant role in both development and design. Design is all about understanding the user experience and research. We truly believe in creating an intuitive and consistent healthcare web design for enhancing your business in care delivery services. This enables users to seamlessly reach the endpoint and reduce any app cognitive loads to a bare minimum.
Coding takes place in two forms backend and frontend development. Choosing the right tech stack is important as it affects efficiency, time, and quality. Also enables the ability to develop scalable and cost-efficient applications. Hiring professional healthcare web developers will help in choosing the right tech stack to build your web design healthcare platforms.
Maintaining Healthcare App Development Compliance
When investing in healthcare web development, it is necessary to follow the HIPAA compliance guidelines. HIPAA compliance essentially implements a protective and secure way for patients and providers to exchange information. Having the right set of compliances in place, which has now become mandatory, we excel in HIPAA consulting services to ensure your web development projects don't face any setbacks. Data privacy remains our top priority.
Deployment, Maintenance, and Support
This is the final phase of healthcare web app development. Product deployment is where you receive the maximum of insights that are significant towards improving your healthcare web services. You need to consider the following points:
Analytics to consider for your healthcare web app
The significance of usable features in your system
The next steps to support your app versions.
It is recommended to keep a track of all essential feedback and reviews to proceed with the maintenance and support phase. This stage will help youtube improvise the web app's functionalities in the existing system.
Final Thoughts,
Healthcare web app development is not as simple as it sounds. Several steps, phases, testing, analysis, and deployment are integrated to create that perfect medical web design for business. It is necessary to track the details in such a competitive market. Additionally, it is necessary to implement all the necessary healthcare compliance and guidelines to avoid any setbacks in the process of deployment.
Healthcare development has gained a lot of popularity over the years, and partnering with a medical web design company can ensure your business's revenue generation and improvements in user experience. Having the guided expertise of healthcare web developers and forming a consistent professional team can help in guiding you in the right direction. Our expertise is invaluable in these circumstances as we bring your ideation to reality.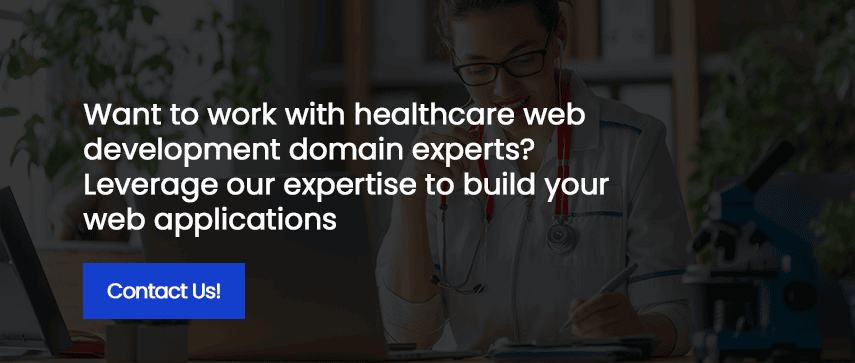 Author's Bio

Shailendra Sinhasane (Shail) is the co-founder and CEO of Mobisoft Infotech. He has been focused on cloud solutions, mobile strategy, cross-platform development, IoT innovations and advising healthcare startups in building scalable products.