With the healthcare & life sciences industries undergoing monumental changes, companies are able to develop patient-driven technologies that will benefit the medical industry. It is shifting from the old fee-for-service models to value-based patient-centered services that are not only affordable but also have long-lasting effects. Different stakeholders of the industry including pharmaceutical companies, care providers, insurers, and hospitals are all benefiting from this era of digital health along with patients.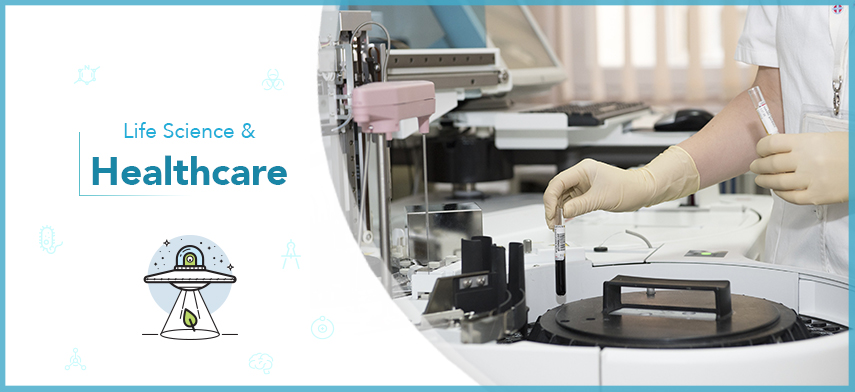 Gaining a new perspective into Life Science solutions
As of 2018, the average life expectancy in the US is 78.7 years, while it is 83.98 years in Japan, which is the highest across the globe. The abundance of highly effective medical technologies has improved life expectancy by at least five years compared to the late 20th century. The life sciences industry is transitioning to personalized medicine, health wearables, and connected health as the cost of fee-for-service is on the rise. Despite the transition, the industry is facing a huge challenge of managing the cost of raw materials and regulatory compliance. Also, regulations change from country to country, making it essential for the healthcare life sciences companies to ensure compliance.

They need a combination of data consolidation, analytics, infrastructure services, and modernization to overcome the challenges of a constantly evolving healthcare and medical industry. As the companies adopt digitization, they need to concentrate on offering better service to their patients and customers to reach business goals, which they can achieve by offering integrated services.

New elements of the healthcare industry are encouraging people to have more control over their health. These mobile devices and sensors are easy to access and understand. While innovation is the core of the transition, companies have to take care of things like cybersecurity, medical product security, and general security, which wasn't a part of their responsibilities earlier.
Top six predictions for 2022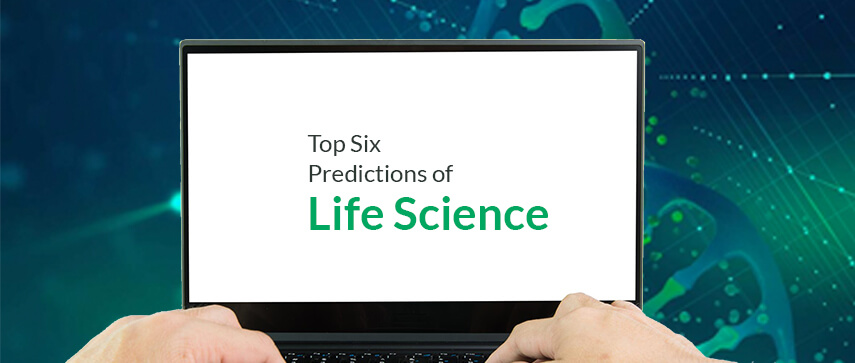 This brings us to the topic everyone is curious about. How will the innovations and advanced technologies of the life science domain influence 2022? We are only three years away from them actually happening and to understand them, we must first know that these predictions are a combination of evolutionary and revolutionary sciences.

1. Digital technology transforms traditional healthcare methods
According to this prediction, healthcare will no more be institutionalized as patients can undergo most of the procedures in the comfort of their home. Doctors and patients will contact with each other using specialized communication methods. Hospitals will only deal in trauma and emergency surgeries and there will be special long day care facilities that will handle elective surgeries. On the other hand, communities will take of patients with chronic conditions. All of this will not only cut costs but also reduce the time spent traveling.

There will be a new type of care facility called accountable care that analyses the population risk and offers care to those in need. To fund the facility, the model will use a blend of pooled budgets, year-of-care tariffs, and personal health budgets. Patients will have complete control over their data as the delivery models will become outcome based.

Key technologies that we will see in 2020

Scarless surgeries – surgeons will use the esophagus entry rather than making skin incisions to conduct a surgery
3D printing of organs and medical devices – people will no longer have to wait for organ transplants and hospitals won't experience a shortage of devices
Nerve cell transplants – it will improve the functionality of paralysis, heart failure, and stroke patients
2. The life science industry undergoes major industrialization
In 2022, the life science domain will adopt a number of transformative technologies through creative partnerships, which are driven by an open and transparent relationship between different stakeholders including regulators, patients, and advocacy groups. They will use a new form of revenue model that will make the service outcome-driven. Patients will have more access to drugs and an increase in gene and cell therapies, which will affect traditional trade unions.

Digitization will be the core of the industrialization process but companies will need to develop management frameworks to combat cyber risks. In that process, they will understand more about patient expectations and experiences.

Key changes that we will see in 2020

Increased investment in research and development – life science services will focus more on research and development while entering new markets, licensing, and mergers
Companies will focus on core therapies – companies will strategize to offer service that has expertise in and reduce assets to offer patients a wonderful experience
A new wave of startups and tech giants – most of these companies will offer gene-based therapeutic solutions to form a whole new industry with unique innovative skills
3. Self-awareness of the genome generation
With the entry of companies like 23andMe, people have become more aware of their genetic predispositions for genetic disorders like Alzheimer's and breast cancer. By 2022, the genome generation will become more informed and manage their health in a more effective way. It will make way for precision medicine that will help companies develop therapies according to their genetic profile. As of 2019, treatments available are as per population average. But in just three short years, the life science and healthcare industry will have the right technology to crunch data and offer personalized solutions.

Key changes that we will see in 2020

Data management companies – there will be a rise in companies that manage big data to ease the transformation
Precision medication – personalized medicine will be developed to fit a person's genetic profile. It omits allergies and strengthens the immune system
4. Data takes over as the new healthcare currency
Countries use healthcare data as a tool for attracting funds. Hospitals and healthcare providers use patient data to develop improved diagnostic methods and streamline treatments. In 2020, pharmaceutical companies will collaborate with patients and hospitals to offer better treatment. It will not only boost the health outcome but also release medications faster.

By 2020, the healthcare and life science industry will overcome data infrastructure issues to store personal health data. Healthcare providers will be able to receive real-time data from their patients and use artificial intelligence tools to analyze information and diagnose conditions.

Key changes that we will see in 2020

Personal health data – people will understand the importance of personal health data as it will help in better diagnosis
Improved fitness trackers – fitness trackers will be able to produce more authentic data
Collaboration with pharmaceutical companies – hospitals will collaborate with pharmaceutical companies to develop new diagnostics, private and public care provision, and data analytics methods
5. Rapid developments blur out healthcare boundaries
In 2022, healthcare will reach new heights. Even though diseases will never be completely eliminated, the life science industry will be able to diagnose them earlier through a combination of technology, science, and data. Wearables are going to the highlight of 2022 and improve clinician/patient partnership. They will improve awareness, develop prevention strategies, and self-management, which will replace the traditional setting, which is existent today. They will help get recordings of everything from brain activities to posture. These biosensing devices will worth with each other to develop in-depth medical literature.

Researchers will undertake exclusive clinical trials to not only check efficacy and safety but also how a device improves the quality of life. Customers and patients will be able to evaluate a particular app or technology using set standards.

Key changes we will see in 2022:
Non-traditional health technology advancement – wearables will become everyone's go-to method to record real-time health data
In-depth research – scientists and researchers will benefit from the real-time data to offer better patient care
6. Life-extending technologies shine in the limelight
New technologies will help you focus more on wellness in the future. They will play an active role in managing chronic conditions to keep it from progressing. Patients will have access to devices that can constantly monitor their heart rate, weight, breathing, activity levels, and blood pressure. The major change that we will see is a real-time diagnosis, which will be directly sent to the care team. Healthcare will shift the focus from attending an emergency situation to ensuring wellness to prolong the onset of age-related disorders.

Key technologies that we will see in 2022

Robots for medical help – we have already developed robots to make food, so it won't be long before robots will be used to take of ill people.
Robots working with health professionals – machine and health professionals will work together to offer better care
Nanomedicines – in the next five years, nanomedicines will become a reality. It will treat a variety of genetic disorders including genetic blindness, cancer, and type 1 diabetes mellitus, thereby extending life expectancy
Surviving in the future with advanced technology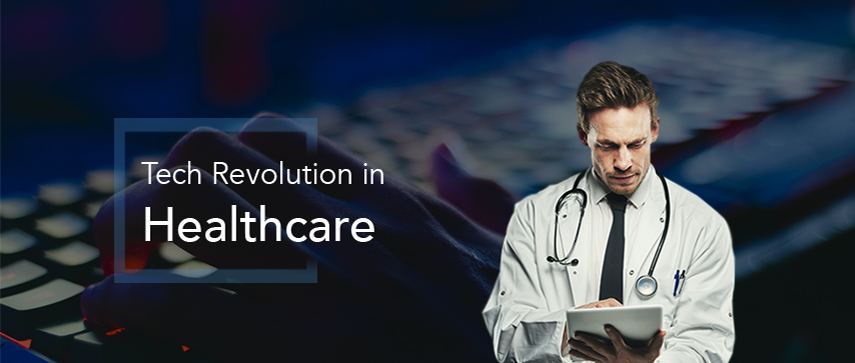 1. Recruiting and training new talent
Until now, the life science and health industry focused on hiring healthcare professionals with skills limited to the domain. But with the onset of digital health, it is essential for them to possess analytical and digital skills. Training will become an important part of the recruitment process as employees will have to meet certain demands of the organization.
2. Adopting advanced innovative and creative digital technologies
The healthcare industry has always been slow when it comes to analyzing data because the system was very disconnected. With the entry of advanced technology, organizations are adopting a patient-centric, outcome-based methodology.
3. Develop a new approach to regulations
Healthcare and life science industry no more have to worry about regulations and they are collecting evidence today to showcase how the future will look like.
2019 Life Sciences Regulatory Outlook

Regulations are in place to ensure that companies offering life science services fulfill their mission of serving the public and making it a better place for everyone. The only organizations can progress and find new innovations is by thinking forward and developing practices and technologies that comply with present and future standard regulations. There will always be a need for technological advancements, which encourage organizations to modernize.

Compliance modernization is no more an option as it has become essential in taking your company off the ground. The best time to engage in the requirement is when the regulations are newly introduced and the current ones are scaling themselves according to new discoveries and international standards. You have time and the right resources to stay in compliance rather than taking the wrong decision in a hurry later.
Conclusion!
While companies innovate and grow, managing corporate reputation will become more important than ever. Conducting a life sciences industry overview is essential in understanding where your company stands. We are interested in how these six healthcare and life sciences predictions will turn out in the next three years. It would be a real challenge for companies to work with an aging population and chronic diseases.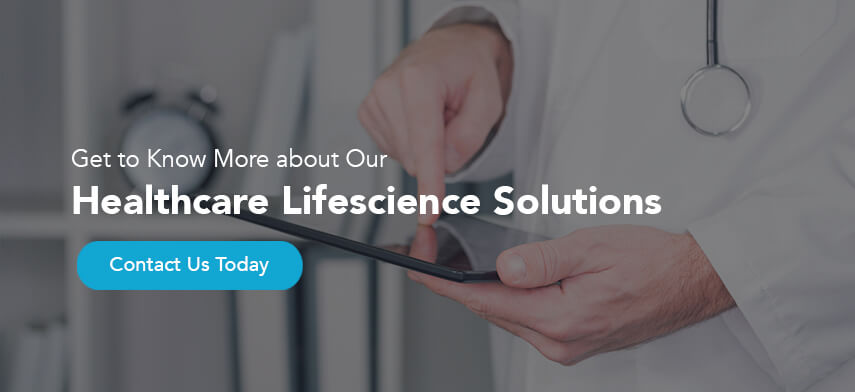 Author's Bio

Shailendra Sinhasane (Shail) is the co-founder and CEO of Mobisoft Infotech. He has been focused on cloud solutions, mobile strategy, cross-platform development, IoT innovations and advising healthcare startups in building scalable products.