Health care organizations and facilities are always looking for ways to resolve interoperability challenges and finding ways of sharing patient data securely to exchange records with other healthcare organizations. Providing quality healthcare services, accurate patient information, in the cost-effective, secure and compliant way is of utmost importance. EHR integration with medical devices and other healthcare solutions ensures better workflow in healthcare organizations and having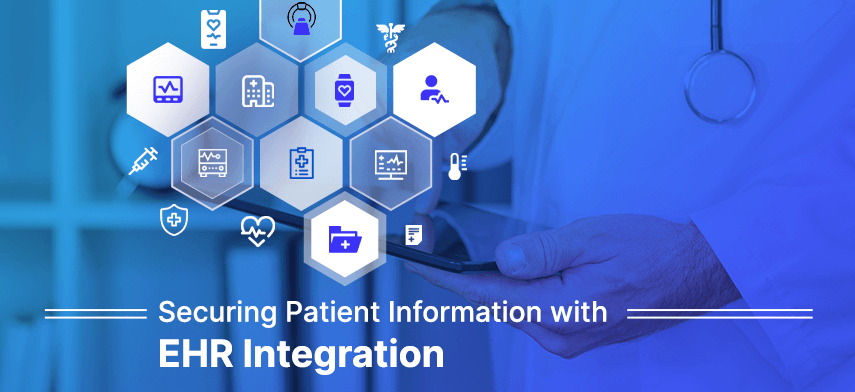 In recent times, telehealth providers have readily integrated EHR software into their existing system. The use of virtual integration healthcare solutions has seamlessly processed patient health data transfer to different interfaces. Pairing telehealth with EHR integration services surmounts significant improvement in care delivery.
Without further ado, let's delve into understanding what EHR integration is and how it is improving healthcare interoperability services.
The Significance of EHR Integration Services in Refining Healthcare Interoperability
Electronic Health Records, commonly known as EHR, associates with the digital version of a patient's medical history. It includes all clinical data relevant to that patient under a specific healthcare provider.
Telehealth has become a service that is necessary to be incorporated in health facilities, especially during the pandemic. With the advent of technology, many people prefer to stay home and consult over a screen. Hence, organizations have to improve patient information access to providers for better analysis and diagnosis.
There are several capabilities and functionalities in EHR integration services that adhere to care delivery management, such as:
Simplified data entry

When providing telehealth services, every consultation with a patient is summarised into the system. If the telehealth software is not integrated into the existing system, all the information will be stored twice in both the existing and telehealth systems. By integrating the two software – the telehealth software and the existing software currently being used it can reduce the chances of mistakes taking place. Therefore, reducing the manual input time into the system.

Access to real-time health information

Using the existing system, the healthcare facilities and organizations will be able to access information existing in the system. It will not have access to real-time information which is in the EHR software. If the two systems are not integrated, the healthcare provider will not be able to access this important real-time information about the patient. By integrating the two systems in one, the providers can easily access the EHR records of the patient allowing them to provide an efficient care delivery service.

Synchronize patient insurance information

In the current state of the pandemic, insurance providers are covering telehealth services. Managing and identifying a patient's insurance coverage insurance can be difficult if insurance information isn't available. Synchronizing the insurance information with the available patient data in the system improves workflow in healthcare organizations. By integrating the two systems, the healthcare provider will be able to verify a patient's insurance before they set up a consultation. Thus, avoiding unnecessary delays in providing enhanced primary care delivery.
Technology-driven Integration Currently Existing in the Healthcare Sector
The technological advancement and use of digital tools and services have improved over a long period. With such deliberate chances, health facilities are implementing enhanced digital integrations into their systems. Let's have a look at these integrations:
1
Enterprise Resource Planning or ERP Integration
This is the process of integrating the existing ERP (Enterprise Resource Planning) software with other applications. Similar to the EHR integration solutions, the goal is to share data between the two systems for improved productivity and quality of healthcare.
2
HL7 Integration
Health Level 7 (HL7) is a standard set in the states that regulate the sharing and integration of electronic patient data. These standards need to be adhered to by all hospitals. A personalized solution that includes these standards can reduce the problems that come along with integrating new systems.
3
MU2 Compliant Integration
The emphasis and importance of privacy and security of data have been mentioned previously. This integration means compliance to use the data that you collect in a meaningful way while ensuring the safekeeping of said data. By upgrading the compliance of the present EHR system, these measures can assist in avoiding future disruptions to the workflow technology in healthcare.
4
RFID Data Integration
RFID technology uses radio waves to identify and work with other items/applications. This integration allows you to transfer data from the EHR to other recognized and approved applications. Once done, one can view and analyze the data with the patient and/or other customers.
5
EDI X12 Base Integration
Using EDI X12 base integration, the healthcare sector can gain the added benefit of automating its communication throughout healthcare management systems. It will streamline communication by cohering to certain US-based EDI standards like EDIFACT and GS1-128 LABELS.

Obstacles and Opportunities of EHR Integration Services
EHR Integration Challenges:
Due to the lack of technology integrations in many healthcare organizations, without a proper EHR system may experience challenges with patient information and data security.
Managing large data volumes

With the advancement in technology and the amount of data stored, there will be a colossal amount of information in the future that needs to be processed in the EHR system. To process all of this information, vast investments for top-notch hardware need to be in place. Hence, causing disruptions in cost-efficiency.

Management of unstructured data

The unstructured data signifies any data that cannot be entered directly into a pre-specified section of the software. This includes images, brief notes, etc. When you have this data, there comes the problem of sharing and exchanging data with other systems and interfaces. This information will not be used in a meaningful way and may get lost over time.

Guaranteeing data security

As these healthcare systems integrate themselves with other healthcare applications, the chances of data mishandling increase. Due to the rising number of applications being added, the need to protect all this data is quite crucial and critical to be in line with the laws in place.
EHR Integration Opportunities and Benefits
Noting down the opportunities and benefits of EHR integration services into the clinical system workflow of healthcare organizations.
Improved care coordination

Care coordination refers to the different members of a team who need to communicate with each other regarding a patient's care. EHR integration services can assist in the communication process so that providers and patients can communicate all the information they need in real-time without being close to each other. The duplication of tests and unnecessary treatments can be avoided via care coordination. Thus, ensuring on-time and efficient primary care integration for patients.

Improved clinical documentation

By integrating Health IT with the EHR system, you can improve the coding process of a patient's clinical status. For example, using the technology to prompt the healthcare provider for more necessary data can improve the clinical quality in the end. By integrating this workflow technology in healthcare, you can improve the quality of patient care provided while also improving the hospital's overall workflow.
Mobisoft Infotech provides custom technology development solutions for healthcare providers to build digital health solutions. Using both cloud and mobile technologies, Mobisoft has been developing new healthcare technology products to aid healthcare organizations in improving their performance and primary care integration.
Mobisoft specializes in EHR integration services by building healthcare applications that can seamlessly integrate with all the top EHR systems available. Some of the EHR systems they work with are:
FHIR

HL7

Redox Engine

Epic Integrations
Over the years, Mobisoft has developed several custom healthcare solutions for many organizations. These solutions have gone on to help a lot of these businesses to achieve efficient patient care and better health outcomes in the future. Implementing EHR integration services into your business will further improve workflow in healthcare organizations.
Wrapping Up,
By introducing EHR integration services, you improve the sharing of data inside of the business and ensuring maximum security of patient information. As a result, the healthcare providers and patients are better informed about treatment, diagnosis, and prognosis. This will eventually lead to reductions in overall costs and amplify care delivery services.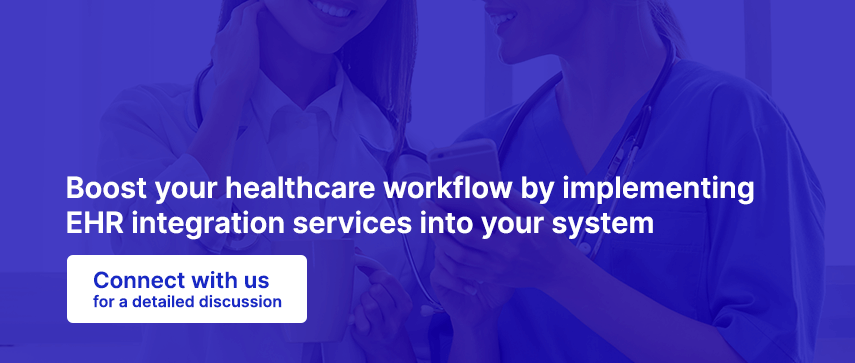 Author's Bio

Shailendra Sinhasane (Shail) is the co-founder and CEO of Mobisoft Infotech. He has been focused on cloud solutions, mobile strategy, cross-platform development, IoT innovations and advising healthcare startups in building scalable products.