This blog series is all about helping current and future business owners understand the mobile app development process effectively. It'll shed light on why you need to invest in mobile apps and what components give them a competitive edge. You'll also learn how to find the right development partner, what changes the mobile app development industry shall witness in the coming times, and much more.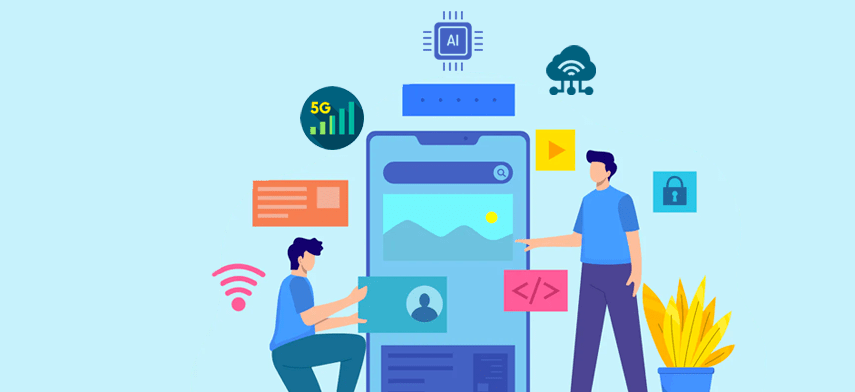 But first, let's take a look at some of the prevailing trends impacting the creation of mobile apps.
The Latest Trends in Mobile Application Development
When it comes to mobile app development trends, you'll not only experience advantageous functionalities but also get to know how they are changing the way businesses operate in this digital age.
1
Cross Platform Apps
For the last few years, the industry is observing a huge shift towards cross-platform technology. Business giants such as Alibaba, Facebook, Pinterest, etc., have successfully leveraged this mobile technology to boost their operational efficiencies. Similarly, in 2021, this trend shall reach new heights by offering speedy development, competitiveness, and high performance.
2
On-demand Apps
On-demand apps are maximizing their reach across the globe. Be it a taxi app or an online food ordering app; this trend is offering an indispensable experience to all stakeholders. It's pushing almost every small as well as large-scale business to earn the needed reputation.
3
Enterprise Mobile Apps
These apps are gaining huge popularity by offering hands-on enterprise mobility solutions to businesses worldwide. They are taking companies towards digital transformation alongside helping to streamline complex processes. Such rising adoption of enterprise apps shall improve employee productivity and satisfaction, boost ROI, and amplify internal communication between companies.
4
Instant Apps
Another trend that is transforming the mobile application development industry is the introduction of instant apps. Users get access to numerous benefits without downloading and installing them. As compared to other conventional apps, these apps are lightweight and can be created at a minimal cost. What makes them more interesting is their speed and storage capabilities.
5
Accelerated Mobile Pages (AMP)
AMP is a wide-ranging mobile app development trend that is enhancing user traffic and engagement like never before. Its highly responsive interface, user-centric appeal, and faster loading times are attracting many business owners. Besides, its ability to increase search visibility and SEO features makes it worth mentioning imperative to achieve customer satisfaction.
6
M-commerce
The onset of the COVID-19 pandemic has helped retailers to comprehend mobile apps and make the most out of them. They are now focusing on the mobile app development process to offer user-friendly mobile commerce solutions. This existing affinity towards mobile apps is here to stay with an aim to accelerate profits and make enough room for unique business opportunities.
Technology Trends Impacting the Mobile App Development Industry
As you have come across most of the current trends in mobile app development, you can now explore the technology impact and how it's changing the industry dynamics.
1
Internet of Things (IoT)
Nobody knew that IoT-enabled mobile applications would impact the livelihoods to this proportion. They are becoming universal with their connected technology features and functionalities. Today, you have the power to lock your house from anywhere with your fingertips, thanks to an IoT mobile application.
2
5G Technology
Apple's latest iPhone 12 facilitates the adoption of this network which is enough to conclude why 5G is the most anticipated technology to hit the market in 2021. In comparison to 4G, it's much faster with added provisions of stability and low latency. These benefits shall surely help developers in building more dynamic apps.
3
Artificial Intelligence (AI) & Machine Learning (ML)
With the combination of AI and ML, businesses can learn app-building processes from previous information while identifying problems and resolving them in real-time. Along with extending the capabilities of existing apps, these technologies shall help smartphones in hosting user forecasts, voice translations, AI-enabled cameras, etc.
4
Augmented Reality/ Virtual Reality (AR/ VR)
ARcore and Facebook Spaces are good examples of the beginning of a mixed reality revolution. This revolution can further depict interactive mobile experiences and build feature-rich AR-based apps that shall prove beneficial for various industries, including marketing, healthcare, education, etc.
5
Beacon Technology
This technology has already become a norm as many museums and hotels have already integrated it into their services. Using Bluetooth Low Energy (BLE) signals, beacons influence versatile mobile app development solutions that guide users through their purchasing journey and location.
6
Blockchain
Blockchain application development is one of the most important technology trends with the potential to build highly secure apps. It creates new opportunities for programmers and increases the scope of Decentralized apps that directly connect the providers with the user base.
7
Cloud Technology
This technology is making its way to the mobile app development arena by introducing cloud-integrated apps that shall benefit all the stakeholders at large. These apps shall provide your company with the needed platform to seamlessly access data and store it securely.
8
Wearables
Wearable technology is already exploiting mobile apps with its unique products, including body sensors, smartwatches, smart jewelry, etc. By 2021, this technology shall capture more markets by getting aligned with IoT. With such integration, you can control your mobile apps even from the remotest of locations.
9
Predictive Analysis
This technology trend is gaining a lot of significance by forecasting future events and augmenting user experiences. Mobile app developers can successfully optimize apps via predictive algorithms. This supports the mobile app development process, increases ROI, and generates repeat customers.
Future of Mobile App Industry
Independent research says that both the number of applications and businesses investing in them shall continue to grow in the coming times. Here's a quick statistics depiction for the year 2022 and beyond to give you a better idea.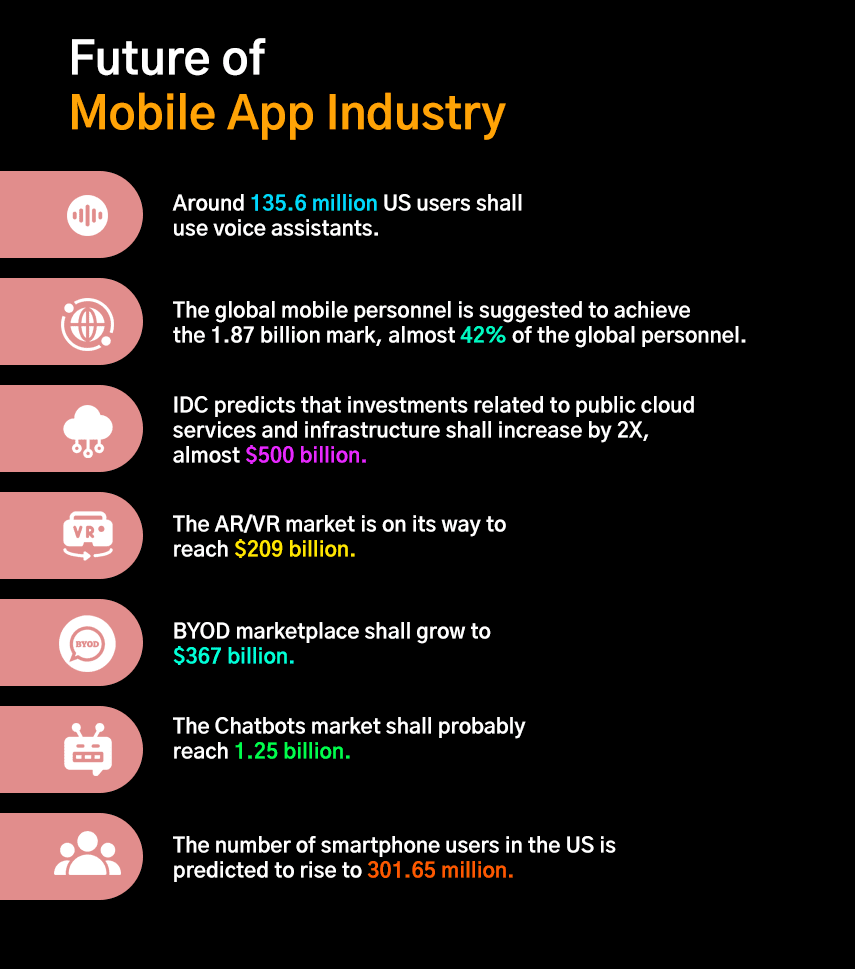 Essential Elements of Mobile App Development
You need to focus on your mobile app development in such a way that it should stand the cut-throat competition put forth by the above set of predictions. For this, you have to successfully justify the below elements:
1
Operating System
Decide initially if you want to build a native app or go for a cross platform mobile app development. Ideally, your app should support both iOS and Android platforms to boost your customer engagement.
2
Security
Your mobile app should facilitate end-to-end encryption. It should be aligned with certain security tools to offer optimum personal information safety. Make sure that the app complies with strict security standards and protocols.
3
Loading Time
Be it a single-page application or a dynamic one; it should be highly responsive to user commands and requests. It should propagate faster loading and should appear on mobile screens in the least possible times.
4
Integrated Feedback Facility
This is one of the essential elements of mobile app development as it specifically represents user intent and liking. The app should enable a feedback system to receive useful criticism and recommendation to improve quality.
5
Offline Functionalities
Nowadays, custom mobile application development services include options to work in offline mode (slow-to-no internet connectivity). Ensure that your app supports at least a few basic features when users are offline.
6
Accessibility
All the sections of your mobile application should be easily accessible to your user base. The app should have a user-friendly interface to improve interaction. You should also consider easy navigation as a part of the development strategy.
Reasons to Invest in Mobile App Development
Investing in the mobile app development process is a win-win if you perform it rightly. Here's a compilation of reasons determining why you should build your own mobile app.
1
Global Reach
A mobile app can help your brand reach every nook and corner of the world. It helps in targeting the right audience, promoting industry expansion, and successfully increasing business opportunities.
2
Brand Reputation
Launching your mobile app on the public app stores like Google Play and Apple, or any other enterprise app store shall earn good popularity, thereby creating a lasting impression on your potential customers.
3
Creating Value
Having an interactive mobile app onboard makes your products, services, and solutions more trustworthy for your user base. It imposes a sense of professionalism and promotes value creation for your business.
4
Customer Engagement
Customers can accelerate their buying process and reach out to your business in just a few clicks. You can take your user engagement and satisfaction to the next level by having two-way communication.
5
Long-lasting Relationship
Investing in an enterprise mobile app development strategy shall boost your customer retention twofold. It lets your business focus on establishing a long-lasting relationship with your customers.
6
Sales and Mobility
Adopting a mobile-first approach gives your company the needed agility to increase sales outcomes. Your company can help your users in reducing their time-to-purchase with mobile app development.
7
Market-ready
Mobile apps can help your brand maintain the right balance between demand and supply. They can collate user data in real-time and help the decision-makers of your company to stay up to date.

Mobile Application Development Process
Now as you know why to invest in mobile apps, let's have a quick overview of the mobile app development process that shall help you in launching a successful mobile app.
1
Ideation and Product Discovery
You need to have a clear idea about your target audience/platform, App USP, budget, and timeline to ensure the success of your product discovery.
2
Strategy and Planning
After putting your initial idea in place, you have to develop a long-standing strategy to support your product roadmap and app development team.
3
Mobile App Design
The next stage determines two crucial factors – UI and UX design. It outlines the wireframes, style guides, mockups, prototypes, etc., for the development.
4
Mobile App Development
It involves deciding the right backend/frontend technology, APIs, programming languages, frameworks, libraries, SDKs, IDEs, code editors, etc., to build an app.
5
Testing and QA
Here, your mobile app is thoroughly tested by leveraging different testing methodologies and a separate team of QA professionals.
6
App Deployment and Launch
At this stage, you need to choose the platforms for publishing your mobile app – Google Play, Apple, or any other enterprise app store.
7
Marketing and Maintenance
After the successful launch, you have to focus on adding new features, functions to keep your users engaged alongside stirring the right promotional tactics.
You'll get to know about each of these stages in detail in our upcoming series, but before that, let's understand some considerations to hire the best mobile app development company to create highly scalable and secure mobile apps.
How to Find the Right Mobile App Development Company?
Often businesses find it difficult to pick a mobile app development company that has the potential to satisfy their unique requirements. But not to worry, we have outlined some key considerations to make this process smoother so that you can choose the right one.
1
Experience and Expertise
Ensure that you evaluate its technical expertise in the first place. The company should be well-versed in more than one development strategy as it can help you execute your idea in a better manner.
2
Reviews and Portfolio
Another way to clear your queries and find the right company is by exploring its existing reviews, ratings, and feedback given by previous clientele. Check out its earlier delivered projects, work portfolio, and apps developed.
3
Mobile Application Development Cost
Do not fall for the lowest price, make sure you receive a complete breakdown of the mobile app development cost. You need to go through the pricing models and choose the one that perfectly suits your requirements.
4
Communication Approach
Your chosen enterprise mobile app development company should have good communications skills for steadfast collaboration. Besides, you also need to consider the communication tools it uses for managing projects.
5
Project Focus
Look for a company that prioritizes your project requirements and is ready to work with complete dedication and niche focus. The company should understand your idea and establish a result-oriented partnership.
Final Words
The mobile app development landscape is continuously evolving to help businesses establish a long-standing relationship with their customers. However, many companies still consider building mobile apps complicated and time-consuming. They are unaware of the benefits a mobile app can bring to their table. If you don't want to fall in the same category, just make sure that you follow the right mobile app development process and considerations as mentioned above.
Author's Bio

Nitin Lahoti is the Co-Founder and Director at Mobisoft Infotech. He has 15 years of experience in Design, Business Development and Startups. His expertise is in Product Ideation, UX/UI design, Startup consulting and mentoring. He prefers business readings and loves traveling.