Before getting into the intricacies of the topic, let me ask you a question. How far is your phone at this very moment? I'm sure it is somewhere within your reach. Or more than likely, you must be reading this blog on your phone. Most probably it's the latter.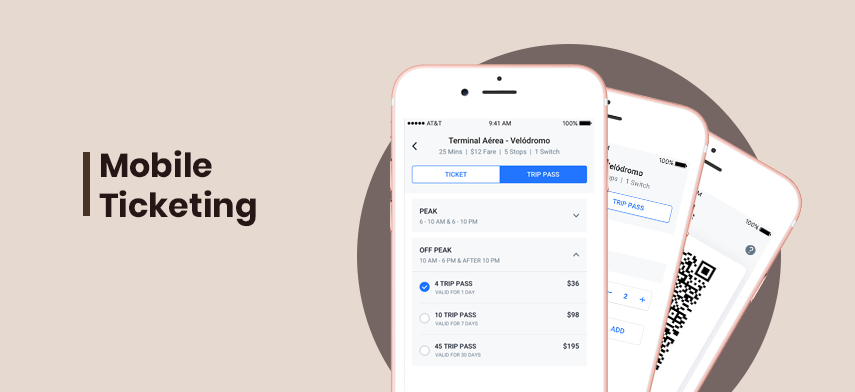 For most of us, smartphones are an inseparable part of their daily lives. Well, why shouldn't it be? Smartphones are helping us with a great significance as an interactive technology medium in every routined activity. This trend has also taken a strong foothold in the transport industry. The mobile ticket booking solutions are providing more convenient ways for passengers to pay and travel. These smart solutions work as a single point of contact for all the transit mediums providing more capacity, better revenue and enhanced personalized journeys.
With the advent of technology, the busy lifestyle of people does not let them think of going to the booking counter, stand in long queues and wait for a long time to get the tickets for their trip. Commuting is a usual practice that unites people and plays a crucial part whether it is for a job, dropping kids to their schools, or going to classes. It also includes traveling across the cities or countries. Everyone is looking for an integrated solution that fulfills their daily requirements with every swipe. This requirement has given rise to mobile ticketing solution.
The mobile ticketing system has gained the trust of daily commuters in a very short span and has turned into a most reliable ticketing system with its smart approach. It allows the user to select their time & place and confirm an order for a multiple number of tickets with the option of online payment.
From providing the convenience to regulating the entire process, a mobile ticket booking app can assist the business owners to get complete control over their ticket booking business.
Mobile Ticketing For Public & Private Transport
Currently, mobile ticket systems are obtaining a large number of overall digital ticket sales in the transport sector. However, metro, bus, taxi, and airline ticketing software are in high demand and have established solutions in terms of user adoption, reliability & deployment, trailed by event ticketing.
Mobile ticketing is simply making your phone a ticket machine, right into your pocket. This eliminates the need for users to carry bills or wait in a long queue to purchase a ticket. With a large scale adoption of mobile ticketing solutions, transport authorities and operators around the globe have succeeded in diminishing the fare collection cost, increasing data insights, and rapidly deployed innovation to their organizations.

Why One Should Use The Mobile Ticketing App?
Mobile ticketing app comes with a set of benefits for the passengers traveling frequently to different cities or countries or daily commuting to work. Let's have a glimpse over the key reasons for using the mobile ticketing:
Effective And Efficient Process:

Effective and efficient process of mobile ticketing system benefits daily passengers and the ones who are planning or scheduling trips frequently.

Growing Demand:

With the top-notch and updated features the software provides, it has been a steady growth in the number of commuters looking for a mobile ticketing platform to reserve their online tickets.

Customer-Centric Functionality:

Mobile ticketing solutions are turning into a reliable and trustworthy ticket booking medium as it targets exactly what customers want and need

.

With its customer-centric functionality, mobile ticketing is becoming an ideal solution for the general public.

Save Time And Money:

Customers no longer have to look for a change or reach the counter before time to get the tickets or worry about tickets getting sold out. Mobile ticketing allows users to purchase tickets for single or multiple fares. This feature saves time & cost and provides great convenience during special events and long journeys.
The Benefits Of Mobile Ticketing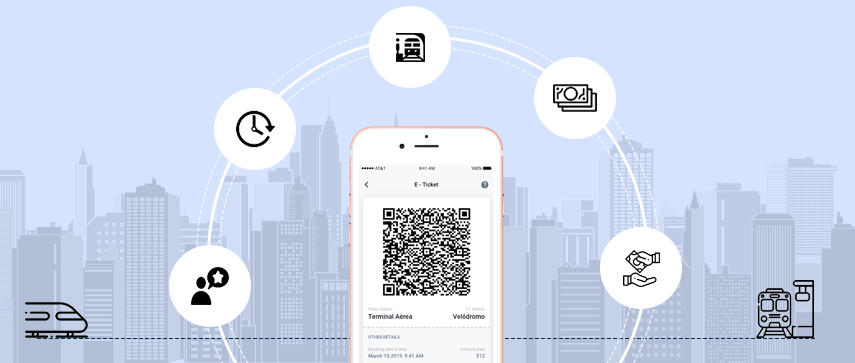 Passenger Satisfaction

Commuters love using mobile ticketing. As they can avoid standing in line at the booking counter or ticket machine. They can just use their phone anytime, anywhere and purchase their tickets with just a tap and take a ride.

Faster Time-to-market

Another advantage of using a mobile ticketing platform is a faster time-to-market. The required step is for users to download the mobile ticketing application in contrast to, let's say, travel smart cards that need more time and effort to be made available for use.

Reduced Boarding Time

One of the key advantages of a mobile ticketing system is reduced boarding time. Commuters save a lot of time with mobile ticketing app and experience lower stress levels. One of the leading bus operators from the UK, First Bus conducted an experiment to analyze the boarding time difference between manual ticket booking and m-ticket booking. This experiment showed some fascinating results as boarding 25 passengers with m-tickets took almost 75% less time than boarding the same number of passengers with a manual ticket system.

Reduction in Cash-handling Procedures

Cash-handling is an expenses issue when transportation is involved, the costs aligned with managing cash is comparatively high. The mobile ticketing system assures a huge reduction in the prices combined with handling cash, a benefit, every transport operator looks forward to.

Pay As You Go

Mobile ticketing solutions work on a Software as a Service (SaaS) basis, users only have to pay for what they use & when they use it.

No (or low) Upfront Costs

Unlike other ticket collection systems, the capital expense for mobile ticketing is either nothing or comparatively very low, based on how you validate a ticket.

Environment Friendly

Mobile ticketing encourages paperless tickets, aka e-tickets, which reduce paper utilization in the manufacturing of paper tickets. Encouraging passengers to go paperless is a great way to show that the transport authority is committed to being environmental friendly.

Future-proof

Technology continues to expand, there's no doubt about that. Just in the past ten years, we've witnessed dramatic advancement in technology with respect to communication, payment gateways, receiving information, and even in our daily lives.

By implementing a mobile ticketing solution on a large scale, transportation authorities can secure their position in today's smartphone era and also retain and improve their ability to remain flexible with upcoming technological advancements.

Better Customer Service

By helping consumers save their time and reducing the stress levels associated with traveling, mobile ticketing solution helps transport authorities provide much better consumer service. This leads to consumer delight and retention leading to better revenues and growth.
New Trends In Mobile Ticketing
1
Smart Tickets
Ticketing system is getting smarter, more accessible, and personal. It would be safe to say that few technology-oriented trends will comprise an expedited adoption of mobile tickets — thanks to a series of new technologies, the usage of the paper tickets will effectively decrease. With the emergence of smart tickets, we are likely to see an improvement in cross-selling services & products, a marketing tactic used by big brands to enhance their customer success rate.
2
Biometric
Biometric refers to the automatic recognition of a person based on their physiological and behavioral characteristics. This system in mobile ticketing helps you by relieving the stress you get in case your smartphone breaks down or you face a network issue. It removes the need to carry your digital or physical ticket. Passengers can use biometric recognition systems right from purchasing their tickets to authenticating them on their fleet. Let's have a look at some key biometric systems:
Fingerprint Recognition –

Having a mobile ticketing solution will help you schedule your weekly or monthly rides by simply punching in and out after a one-time registration of your fingerprint through the app. The system is well known for its reliability and easy operability. Current fingerprint recognition methods operate on optical sensors using CMOS image sensors or charge-coupled device (CCD).

Face Recognition –

It identifies the travelers by the digital snap of their face. Current facial recognition systems use face prints and biometric systems that can identify 80 nodal points on a human face.

Iris Recognition –

This is a new biometric technology that is getting adopted gradually across the globe, trusted for its easy accessibility and high security

.

In mobile ticketing, iris recognition is used to recognize the passengers based on their pupil scan.
3
Account-Based Ticketing
Account-based ticketing (ABT) eliminates the need for passengers to purchase a ticket in advance. They can simply punch in and out on every journey and then get charged for their trip afterward, at the best possible price. Account-based ticketing is already operational in metro cities; the initiation of cloud-based software indicates that ABT will soon be open to transport operators & authorities of all shapes & sizes.
4
NFC & HCE Based Mobile Ticketing
Host card emulation (HCE) for mobile ticketing is an architecture that follows a traditional smart card on smartphones with NFC. HCE simply lets smartphones work as a pragmatic representation of a contactless, transport smart card. This enables the consumers to securely use their phones as a travel smart card as well as a virtual ticket wallet.
Conclusion:
Overall, the mobile ticketing software solution isn't just a ticketing platform, but it lets the passengers access smarter technology. It shows just how easy your travel can be and helps in strengthening a positive outlook toward transportation. Mobisoft Infotech holds expertise in developing software that provides a solution to make your transit very comfortable. It delivers a smooth experience by providing a mobile ticketing solution.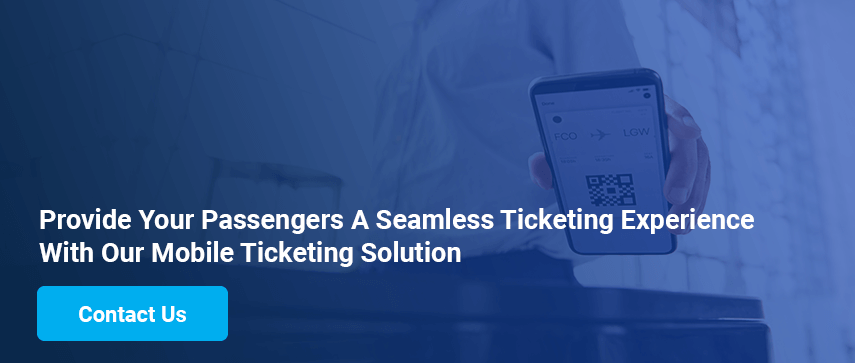 Author's Bio

Nitin Lahoti is the Co-Founder and Director at Mobisoft Infotech. He has 15 years of experience in Design, Business Development and Startups. His expertise is in Product Ideation, UX/UI design, Startup consulting and mentoring. He prefers business readings and loves traveling.