"Technology-based on-demand non-emergency medical transportation is the way out for driving disadvantaged patients."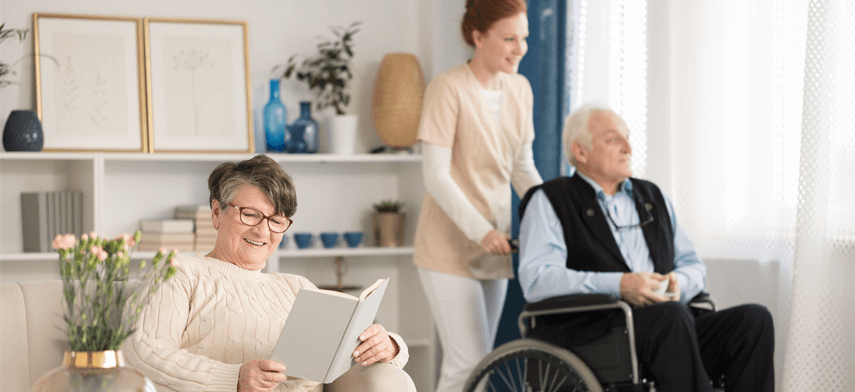 The thought of visiting a hospital can be stressful enough. But when the question of 'how do we go to hospital' pops up, it further stresses out millions of Americans who cannot drive themselves for various reasons. Whether they are ill, aged, differently abled or just non-drivers, many Americans rely on friends or family for the hospital trip.
Almost everyone needs to visit a hospital or health care center at some point of time in life and transport (or the lack thereof) to the medical facility turns out to be a big hurdle for them. Even cabs or public transportation like buses, metros, and trains may not be the best choice sometimes. Did you know over 3.6 million Americans miss or delay their healthcare appointments every year? Invariably, such delays or default on medical appointments tend to cost money.
This segment of people including healthcare seekers and accompanying individuals make for a potential business opportunity for the transport industry. There are multiple transport providers in the market, both large and small, that cater to the NEMT segment.
NEMT services are usually covered under Medicaid or by health insurance and are categorized under preventive care. The transport itself could include a multitude of modes such as wheelchairs, taxicabs, sedans, SUV, stretcher cars and even air travel if one is required. The NEMT transport arrangement is brokered by some people between the transporters, patients and the healthcare centers.
However, there are critical challenges confronted by the various players in this segment:
Tedious Process:

The transport is often originated and coordinated from the hospital premises by care managers. They call the NEMT transport service providers manually and also organize for suitable handling equipment such as wheelchairs. In case repeated calls have to be made due to non-availability or for time reasons, it just gets more tedious.

Identifying Transport Providers:

Identifying the transport providers out of a few dozen operators in a given region is another daunting task. The NEMT market is fragmented and does not provide regular business. So it is an 'also ran' business for most of them. In such cases choosing the availability and suitability can be another challenge.

Comparison between Providers:

It is not easy to strike comparisons for better quality, price and any other parameter among any selected transport providers. Availability becomes the prime factor which may override other advantageous factors in the absence of comparisons. Unsuitability of the features in a particular vehicle can be frustrating for the transporter as well as the patient.

Frauds:

Government investigators in 2016 had warned that there is "a high risk for fraud and abuse" in the NEMT program. Over the past few years, the Centers for Medicare & Medicaid Services (CMS) reported that a Massachusetts NEMT provider was jailed and fined almost $475,000 for billing for rides attributed to dead people.
Additionally, two ambulance programs in Connecticut had to pay about $600,000 to settle claims that they had provided transportation for dialysis patients who did not have medical needs for ambulance transportation. Numerous NEMT rides initiated by the hospitals arrived out of their time limits but still claimed for the services. Some of the NEMT services paid off the patients for NEMT claims although the patients drove by themselves.
The success of NEMT transportation lies in overcoming these challenges effectively. The above difficulties point to the necessity of a technology solution for the transportation of NEMT patients which could help meet all of the above challenges.
Growing Role of Technology in Non-Emergency Medical Transportation
Tech giants such as Uber and Lyft coming forward to collaborate with healthcare providers is a glowing testimony to the immensely increasing role of technology in improving NEMT services.
The sheer size of this target segment and the opportunity to make NEMT services better make it an instant case for technology intervention. It needs transport dispatch management features to act as a virtual broker between the three parties — the transporter, patient and the reimbursing agency — when the hospitals endorse the trip.
In general, the following improvements must happen shortly concerning healthcare transportation. The role of technology is imperative in each case and makes a particular impact:
Technology Advancements Similar to Taxi Solutions:

The technology advancements that enable traveling patients to visualize the whole process of taxi booking to payments while getting updates at every step can be extended to NEMT transport solutions. This makes NEMT transport services to be more reliable, cost-effective and transparent.

Application of Analytics to NEMT Services:

As the NEMT solutions gather momentum, it is good to understand the various aspects of the services provided. Especially for the paying agencies such as Medicaid or Insurance, these are essential to understanding how their budgets have been consumed and what more is needed.

Fraud Prevention:

Nearly $3 billion is spent by government on NEMT to provide roughly 103 million trips. A vast majority of low-income Americans rely on Medicaid to avail the benefits of NEMT. However, NEMT benefits prove a convenient target for elimination — especially when it comes to potential for fraud and abuse. But when the technology is used to make the booking and avail of the service, each aspect can be tracked. Technology not only helps in fraud prevention but also improves safer transportation with better transparency.

Reducing Communication Gaps:

The scenario of millions of patients missing their healthcare due to the ineffective availability of NEMT services is primarily due to communication gaps. Since healthcare providers initiate most of the NEMT transport, brokered by agencies, operated by transporters, availed by patients and paid for by Medicaid agencies, communication gaps can be galore. By ensuring that the technology solutions provide seamless communication between various parties concerned, NEMT services can be made far more effective.
In addition to the above, the new Medicaid regulations and the necessity of brokers (public, private or mixed)of any selected type require sharing of info on cost-efficiencies, quality and compliance. This is possible only if NEMT services are well backed-up by technology solutions that provide features for each one of these requirements.
How Does a Typical On-Demand NEMT Service Work?
To understand how an on-demand NEMT service works, let us look at an illustration of a popular NEMT technology solutions RoundTrip:
The user can either download the mobile app (on Android phones) from Google Play or directly enter the trip details on the RoundTrip website.
For both mobile app and website, the prerequisite is an initial sign up for the services. The user is prompted to sign in using the registered email id and password every time they need the services.
Next, the user can choose the desired vehicle based on the transport type needed, trip details and the hospital schedule/appointment.
Upon confirmation, a notification of the ride details would be sent to the patient/accompanying person.
Key Stakeholders and Benefits of NEMT Technology Solutions
An effective NEMT technology solution must-have features that address the various expectations and needs of every stakeholder involved. There are primarily three stakeholders; Healthcare service providers, Patients, and NEMT transportation service providers.
Healthcare Providers:

The healthcare service providers become part of the solution as the tedium of managing the transport booking is now shifted to the app or the internet solution. The healthcare provider or the patient can initiate the ride-booking. This will allow healthcare providers to focus on what they do the best, healthcare services.

Patients:

When patients become part of the solution, they can plan and schedule their NEMT transport or request the healthcare service provider for NEMT transport who can also use a technology solution to book transport. Patients are benefited in some of these ways.
Availability of the transport within a reasonable time frame which can be tracked.
Ensure healthcare appointments are never missed.
Better spending of Medicaid resulting in increased cost and service efficiencies.
NEMT Transport Providers

Transport providers also go through their hassles when a trip is wrongly placed or is missed due to any reasons, or to ride with empty vehicles/assets. An effective technology solution guides the vehicle driver to the correct pickup points, provides the exact times of pickup and allows visualizing the next rides much more efficiently.
Recent years have witnessed significant progress in various aspects of NEMT transportation. The list of technology players small and big is increasing and bringing to the fore exciting developments. We take a look at a few interesting ones:
Lyft::

Lyft has been doubling up as a technology solution provider as well as an integrator of NEMT transportation by allowing several transporters to join them to provide NEMT services to the needy patients and healthcare providers. Lyft services coordinate transportation services for all healthcare purposes, NEMT or otherwise.

Uber:

Uber has been one of the world's leading integrator of taxicab services and wanted to play it well in the NEMT transport segment also. The technology solutions deployed by Uber help patients or care providers to book NEMT rides for the patients in the short term or long term future (30 days). Uber claims to be a cheaper and more reliable option for NEMT services. Uber provides an online booking dashboard and an API that can integrate with a healthcare tool that can book the required transport. Uber claims to be compliant with HIPAA and privacy laws. The taxi aggregator also allows booking by the patients directly or by the healthcare providers.

RoundTrip:

RoundTrip also integrates many transporters, healthcare providers and provides technology solutions for all stakeholders to manage the NEMT rides. Any stakeholder can download mobile apps, and then they can initiate or execute a trip for healthcare purposes; alternatively, the service can be availed online too. The app also supports transport booking on behalf of patients. RoundTrip is HIPAA compliant and also integrates multiple EHR systems.

Circulation (and LogistiCare):

Circulation is one of the leading providers of the patient-centric transportation technology platform that has partnerships with many healthcare providers as well as transportation providers. Distribution was recently acquired by LogistiCare (September 2018) which also a well-known name in NEMT transportation. LogistiCare claims to have sizeable nationwide coverage of NET (Non-Emergency Transportation) services and a circle of coordinated care with state agencies, managed care organizations, transportation providers and healthcare professionals all of them connected up with their members (could be patients or healthy people).

Veyo

Veyo provides its technology platform and integrates the stakeholders through the member and provider apps. Veyo operates in 7 states (AZ, CA, CO, CT, FL, MI, and VA) and like others Veyo also provides plenty of statistics related to the services. Additionally, Veyo gathers member insights on the service patterns for better efficiencies and more effective healthcare.

Ford GoRide

GoRide is a reasonably recent NEMT transport integration services launched by Ford Motors. It caters to about 200 facilities of Beaumont health network along with the ability to pre-book transport for up to 30 days in advance. Ford uses dynamic routing, scheduling, and dispatching (RSD) software to optimize its NEMT operations in real-time.

SendaRide

SendaRide integrates Medical service providers with the individuals (patients) for their NEMT transport services. SendaRide manages its drivers and scheduling rides for the patients which can be booked either by medical providers or the individuals. The NEMT service provider also has partnerships with several medical service providers for pickup and drops.
All of the above-discussed players are popular names in the U.S. NEMT domain. All of them track vehicles in real-time using GPS and integrate the stakeholders and claim to provide multi-mode transportation. All of them claim to be HIPAA compliant and provide multi-faceted technology solutions. What differentiates them is the geographies covered, integration with EHR systems, adopted technology platforms, sizes, and partnerships. The viable choice is good news for the stakeholders concerned.
Future of Non-Emergency Medical Transportation
The keyword for transportation in the 21st is choice. -Anthony Foxx
Growing choices for healthcare providers and patients is one trend that can be foreseen. The increase in choices makes it difficult to differentiate between various players. Another emerging trend is the consolidation of these services at an analytical level that will further help drive more in-depth comparisons among the NEMT services.
Technology hasn't just kickstarted the NEMT industry but also steered it to the advanced stage that it currently is at. Technology will continue its impact in making it better by providing the members with all-around transparency, smoother trips, cost-effectiveness, and better patient experience.
Conclusion
In their healthy people 2020 initiative, the center for disease control and prevention has included transportation option as a social determinant of health. Government as well as private sector payers recognized that providing transportation to routine care will improve health outcomes and limit unnecessary expenses, like hospitalization costs. Technology enables NEMT to benefit the ill, the elderly, individuals with disabilities and other transportation disadvantaged populations while also achieving the following: no transportation barriers, no missed medical appointments, decreased impact of chronic disease, reducing costs of patient treatment and saving substantial healthcare funding.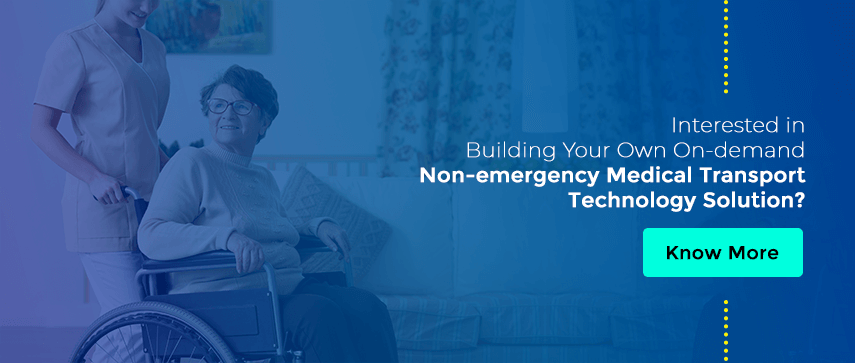 Author's Bio

Shailendra Sinhasane (Shail) is the co-founder and CEO of Mobisoft Infotech. He has been focused on cloud solutions, mobile strategy, cross-platform development, IoT innovations and advising healthcare startups in building scalable products.