The on-demand economy is mushrooming and has taken over the conventional business models faster than we thought. The combination of these services with apps has changed our lives in a better way. People no longer need to stand in a queue and wave their hands to stop the bus, Yellow Pages is no longer the only option to find the best restaurants and service professionals nearby. We are just a tap away from ordering groceries and our favorite meals at our doorsteps.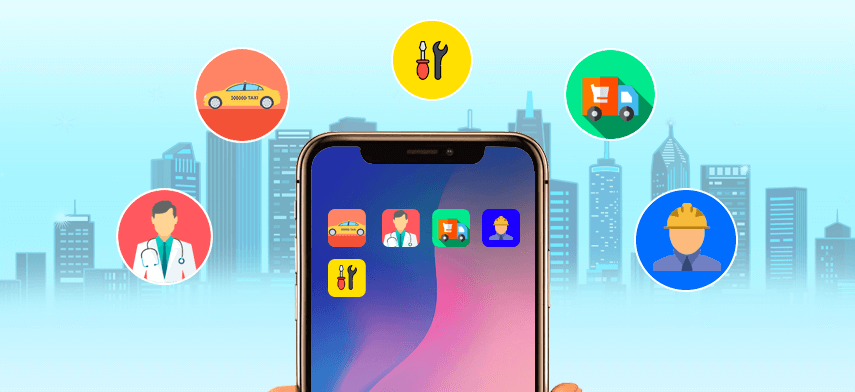 A report by Harvard Business Review states, the on-demand industry is attracting 22.4 million customers annually, who spend $57.6 billion on them. These services, besides taxi booking and food delivery, include grocery, healthcare, home services, and other hyperlocal services, etc.
49% of consumers using on-demand services are adults, rest 30% fall in the age group 35 to 55. This growth and activity will continue for the coming years too. These stats and rapid growth of the on-demand economy provide a clear picture that people are attracted by the convenience, user experience, and other benefits they get from on-demand businesses.
Before going any further, let's discuss What Is an On-demand Business?
On-demand businesses have revolutionized consumers' behavior and are changing the way we shop or transact. In other words, the on-demand economy is an activity created by tech companies to fulfill users' demands by providing goods and services in the minimal time.
On-demand business is an ideal solution for the people who seek a convenient, fast, and simple solution.
The Evolution of Current On-demand Services Market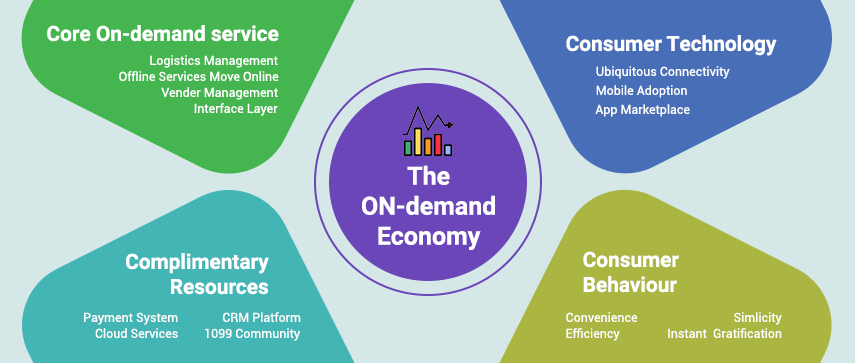 Other than the popular names such as Uber and Airbnb, there are hundreds of such service providers in today's market across the globe. While the evolution of technology has enabled on-demand app development services, it's crucial to make the communication easy between sellers and buyers.
Now, many businesses are embracing this on-demand trend by building mobile apps to facilitate a service that wasn't even imagined previously in the digital era.
On-demand Services Will Become More Personalized
Customers expect their request to be promptly fulfilled without waiting much. For many startups entering this arena, this can be a great opportunity.
Even if you enter a well-established on-demand service sector, you can still stand out amongst the rest with quicker service and better efficiency. The challenge is a lot of industries can't find a new area to capture. In the coming future, personalized service is all that will matter.
Impact on Businesses
Believe it or not, but the on-demand economy is everlasting and it's definitely not going to end anytime soon. You need to embrace it before your contenders do.
All a customer needs in a service or product is responsiveness, personalization, and adaptability. So, you must fulfill all these requirements to expand your on-demand services.
5 Variables for a Successful On Demand Business Model
Degree of Commoditization

The degree of commoditization refers to the number of variables that are associated with a product or service in question that users care about. It means, the lesser the number of variables, the more commoditized a service or product is. With respect to Uber, its ODMS platform has a higher degree of commoditization where users only decide the type of car they want for their trip, whereas, with Airbnb, users have the option to choose booking date, the location of the listing, rent, number of days, and facilities available

Relationship Between Supply Side and Platform

A business model might need to aggregate the existing small businesses or contracting the supply. It is easy to scale the former one, while in order to contract the supply, there should be a platform which would be responsible for fixing the rules.

Pricing Structure

When it comes to defining a business model, one of the crucial factors to consider is the pricing structure. Whether one should go with the singular pricing structure for the complete platform or the one that depends on the choice of service provider. As discussed earlier, the final call depends on the degree of commoditization. The larger the difference in the product or service quality as per the service provider, the more it gets difficult to impose a standard pricing on the platform.

Scheduled vs Instant

One of the key trends that increase the value of the on-demand platform is the ease-of-living and convenience it brings to the people. But most of the time this convenience is misunderstood with the instant provision of services/goods. Whereas depending on the product or service, scheduled delivery can be proven as an equally convenient option.

Stakeholders

Most on-demand apps or platforms deal with at least 2 stakeholders. With the involvement of more stakeholders outside the platform also impact the business model. For instance, Uber deals with two key stakeholders: passengers and drivers, while apps like Postmates that don't have their own infrastructure to deliver goods have a third key stakeholder to deliver prepared meals.
Industries That Will Disrupt the On-demand Economy in the Coming Future:
Hyperlocal Delivery


25 years old John orders vegetables from his favorite grocery booking app. The request reaches to a delivery person nearby, who purchases it on John's behalf from a local store. He pays for the vegetables at the store as John would, put it in the delivery van and delivers it at John's place. For this service delivery person's employer charges a small commission from both John and the store owner.

Hyperlocal is a subcategory of on-demand economy and is all about the local supply of services and goods as per the users' request.

Healthcare

Healthcare, a global trillion dollar industry is one of the preferred choices of businesses planning to make their mark in on-demand service space. Earlier, people used to visit a doctor whenever they were not well and had to stand in a queue and wait for their chance to see the doctor. Now, on-demand apps have transformed the way a patient connects with a doctor. These apps have made possible for patients to order prescribed medicines and get them delivered at their doorsteps.

Healthcare startups are making way for huge investments by making it convenient for patients to get better medical facilities at nominal rates through a few taps on their smartphones. The coming future will definitely witness more such platforms solely dedicated to on-demand healthcare facilities with an aim of making it affordable for everyone.

Home and Local Services

With our lives becoming busier and complex day by day, who wouldn't love to get the benefits of any service by sitting comfortably at their home? With technology overtaking the traditional service seeking, people like doing everything in a digital way, whether it's paying bills, ordering clothes, or avail any home service

Now, it has become easy to book a beauty service or ordering an electricity or plumbing service just by using some apps that act as an aggregator platform between customers and the service providers.

4 Popular Startups That Are Nailing with the On-demand Business Model

After Uber's success, the on-demand economy started gaining everyone's attention, brought an economic revolution everywhere. Here is the list of companies that have gained immense success by leveraging the possible features of the on-demand business model. Let's have a look.

Satisfy Your Tastebuds With "DoorDash"

One of the latest on-demand food delivery apps, DoorDash is attracting everyone due to its immense success in a very short time span. DoorDash uses logistics services to provide on-demand food delivery from restaurants. Operating in more than 40 markets and 500 cities, Doordash provides personalized services to the users with the help of its new "Delight Scoring" system, where it shows the delivery quality for all stores on its platform.

Skip the Queue With "Doctor On Demand"

To heal America's broken healthcare industry, the Doctor on-demand app steps in the market with an idea of skipping the waiting time for patients. Operating in 47 US states, doctor on-demand connects patients with certified physicians via video chat within two minutes. Recently doctor-on-demand launched a new mental health service for the people facing a psychological problem like depressions, anxiety, trauma, and so on.

Tackle Home Repairs With "TaskRabbit"

TaskRabbit is an on-demand service app where it connects TaskPoster, (one who needs help) with the qualified and professional taskers. TaskRabbit is catching everyone's attention and allowing users to get home services done with convenience. Running in 19 cities, this on-demand home service app has brought a remarkable change in the way people used to take help for their home chores.

Get a Dog Walker On-demand with "Wag"

One of the most popular on-demand dog walking apps, Wag is making dog ownership easier than ever for everyone. With this intuitive app, dog sitting, dog walking, or dog boarding services can be demanded 7 days a week. Launched in Los Angeles, Wag provides around the clock customer support.

The Future of the On-demand Economy

If you are a startup and looking forward to leveraging the on-demand economy then it might be your one of your biggest concerns: where the on-demand economy is heading?

Undoubtedly, on-demand applications have made lives easier than ever. Empowered by smartphones, now people have developed their sense of entitlement to get things they want in a convenient, simple, and efficient manner. On-demand app development companies are leveraging technologies to offer great user-experience on their apps. On-demand economy is all set for a shining future.

If you are considering an entry into this sector and are contemplating your app-building strategy, get in touch with us to discuss your project. Allow us to leverage our experience and expertise to turn your idea into a flourishing business.

Author's Bio

Nitin Lahoti is the Co-Founder and Director at Mobisoft Infotech. He has 15 years of experience in Design, Business Development and Startups. His expertise is in Product Ideation, UX/UI design, Startup consulting and mentoring. He prefers business readings and loves traveling.