The introduction of Uber and the on-demand model of business is transforming every industry. The trend has now even extended to spheres like healthcare with apps for making doctor appointments and accessing other medical services.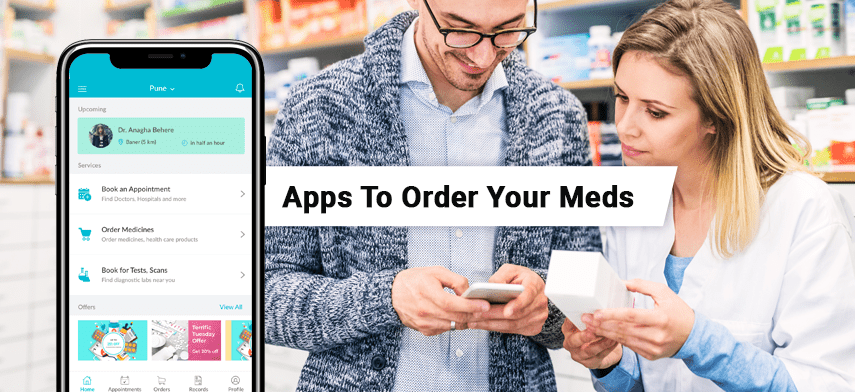 Now, you can order your medicines online through websites and apps which don't require you to stand at long queues at the pharmacy stores. You can just upload a picture of your prescription using your smartphone camera and get all medicines delivered right to your home.
The new online medicine ordering apps are even offering attractive discounts to gather large customer bases. According to the medical data analyst firm Tracxn, over 60 online pharmacies are operating in India and engaged in the delivery of medicines through websites and apps.
People also love the fact that they don't have to go to the local store and can get their medicines sitting on their couch. The online medicine apps also have other benefits which we will explore below.
Benefits of Medicine Ordering Apps
So, why should you look at creating your own medicine ordering apps? Here is a look at the benefits for both customers and businesses.
For Customers-
You can get your medicines while sitting on your couch
The apps offer great discounts and other incentives like free shipping
Get reminders about your medicine needs
Access a vast range of information on prescription drugs and medicines
For Pharmacies-
Pharmacies can have an online presence and increase their customer base
They can attract new customers and reach new geographical locations
Search medicines and look for generic alternatives
Stores can manage their inventory digitally and get helpful reminders and notifications on expiry dates
Offer different schemes and marketing campaigns to customers
Provide a superior level of customer service
Advantage or refill orders from repeat customers
Top Online Medicine Ordering Apps
What are the top online medicine ordering apps today? Here is a look at some of the more popular choices.
Practo is a trusted name in the domain of doctor appointment booking and reviews. Recently the company launched its online medicine app across 100 cities in India such as Delhi, Mumbai, Bengaluru, Gurgaon, Chennai, Ahmedabad, Pune, and Lucknow.
You can order over 40,000 medicines using the app. Practo has tied up with local drug stores and pharmacies which help them deliver prescription medicines at your doorstep right on time.
The app lets you upload your prescription using the phone camera and then it can auto refill the medicines conveniently. The system also remembers your past orders and makes them ready when you need them.
Download here: For iOS | For Android
1mg app lets you buy medicine online and also access related information regarding your prescription drugs. You can know about dosage, side effects, and other details about your medicines through the app.
The company has set up partnerships with local pharmacies that take care of fulfilling the customer needs. You can order medicines with this online medicine app in cities such as Chennai, Delhi, Lucknow, Agra, Hyderabad, Bhopal, Indore, and Bangalore.
The best part of the app is that you can enter the names of medicines and get cheaper alternatives with the same compound. The app also offers health tips from eminent doctors based on the medicines you order.
Download here: For iOS | For Android
NetMeds medicine ordering app is operated by Dadha Company which is operating in India since 1914. The online pharmacy lets you order from anywhere in the world while deliveries are made to locations in India only.
You can upload your prescription and place your order in minutes using the app. A discount of 15% is applicable on all types of medicines and the deliveries are made within 2 to 3 days. You can also avail cash on delivery service across locations in India.
Payments can be made through debit and credit cards.
Download here: For iOS | For Android
BookMeds app lets you buy products of different categories such as medicines, surgical products, orthopedic care, mother and baby care, hospital equipment, medical gadgets, protein supplements, fitness products, and more.
The service is operational across 600 pin codes in India covering places like Delhi, Hyderabad, Bhopal, Lucknow, Kolkata, Patna, Indore, and other regions. You can upload your prescription and get medicines delivered to your doorstep.
You can avail free cash on delivery and get your medicines within 4 hours of ordering. The online medicine ordering app is available in both Android and iOS.
Download here: For Android
Yodawy is the best medicine ordering app in Egypt. The app lets users search from a huge database of medicines and even suggests correct spellings to make the searches easy. You can also upload a picture of your handwritten prescription and have experts decipher the handwriting.
The company has tied up with over 500 local pharmacies in Egypt who take care of fulfilling the orders. Medicines are delivered within 30 minutes from the nearest pharmacy all across the country. The platform even allows users to access their medical insurance copayment online through their smartphones. The app also submits claims on your behalf if the insurance provider is listed in their network.
Download here: For iOS | For Android
SmartMedics can be used for ordering medicines and consulting doctors from different branches of medicine. You can order medicines online across different cities in India by calling them or using the website and mobile app.
The pharmacy will collect the prescription from your home or you can also upload a picture through the app. The app promises a discount of 22% on all healthcare products and delivers the medicines within 48 hours. There are no delivery charges and the minimum order is Rs 100.
You can pay either by card or through cash on delivery.
Download here: For iOS | For Android
Do you want your medicines within 2 hours?
WeChemist promises exactly the same and also offers great discounts on your purchases. You can purchase medicines using the mobile app by uploading a picture of your prescription. Then you need to select your address and confirm the order to get the medicines brought right to your home.
If you don't get the medicines within 2 hours, you can still have them delivered on the same day of ordering.
Ordering medicines online is a breeze with BrownPacket. You just have to upload your prescription and provide the necessary delivery details. Your medicines are shipped to you within 2 hours to 48 hours of placing the order.
You can have huge discounts on your medicines up to 22%. The service is currently available in Bengaluru, Patna, and Delhi with attractive discounts and incentives for the first time and repeat buyers.
BrownPacket partners with local pharmacies and invites drug stores to join their network to boost their sales.
Download here: For iOS | For Android
PharmEasy is one of the largest online subscription medicine portals in India. With this app, you can order OTC products, healthcare products, and medicines and also get them home-delivered within 24-48 hours. You can book health tests at your home as per the convenience.
Along with saving FLAT 20% on every order, this app offers you a discount up to 70% on health tests and packages with zero sample pickup charges. Currently, PharmEasy is operating in 1000+ towns and cities, covering more than 22000+ pin codes across India.
This app will help you with medication adherence by refilling your medicines every month. So with PharmEasy, no more hassle or worry of running out of your medicines ever. Download this app now.
Download here: For iOS | For Android
The Bengaluru-based startup, Myra Medicine delivers medicines within 30 minutes with up to 35% off on maximum products. Currently, they are working in some areas in Mumbai and Bangalore from 9 am to 10 pm.
Before ordering medicines, you can create a list through drop down option or pictures shown in the app. Once the list is created, confirm and get your medicines delivered right at your doorstep. You can pay online by debit card, credit card, net banking, and have cash on delivery option too.
Download here: For iOS | For Android
HeyCare is a leading healthcare app, designed and developed to provide complete healthcare and medical services to everyone. Along with user-friendly interface, HeyCare assures you the best services including utility features like order medicines and OTC products online, book diagnostic lab test online, set vaccination and pill reminder, and upload prescription.
HeyCare introduced an amazing benefit, Care Wallet – it allows users to get up to 30% discount on the medicines and wellness products. Users can also send money to others via Care Wallet. Currently, delivery in more than 20 cities, HeyCare assures you guaranteed delivery within 3-5 days with an exceptional 48 hours delivery in Delhi NCR.
Download here: For iOS | For Android
MedPlusMart is the online gateway to a leading OTC and general store, MedPlus.
Started in 2006, MedPlus is one of the reputed pharmacy network in India with more than 1500 stores in 7 states. MedPlus offers genuine medicines, great value for money, and superior services to the customers.
MedPlusMart app allows you order medicine you generally buy from the MedPlus store as per your convenience. Once you place the order from the app, you will get notified when it is ready, and you can pick up your order from the nearby MedPlus store. With MedPlus' FlexiRewards programme, you can get off up to 35% on medicine.
Download here: For iOS | For Android
Conclusion
Online medicine ordering apps have come as a boon to India. The business is experiencing a good profit margin even after offering discounts to customers. Patients also prefer the fact that they can order the medicines and get it delivered quickly to their doorstep.
Having an online medicine ordering app is the secret of success for any pharmacy on this date. You can also feature on the list of top ranking online pharmacies by developing your own medicine ordering app. Get in touch with us today to take your pharmacy business to a whole new level.
Author's Bio

Shailendra Sinhasane (Shail) is the co-founder and CEO of Mobisoft Infotech. He has been focused on cloud solutions, mobile strategy, cross-platform development, IoT innovations and advising healthcare startups in building scalable products.