The effectiveness of patient scheduling is critical for healthcare practice management. It assists in streamlining patient scheduling software, increasing revenue, and improving patient satisfaction. Without having proper patient scheduling software, creating day-to-day appointments, scheduling appointment follow-ups, and sending reminders can become a hassle disrupting the clinical workflows.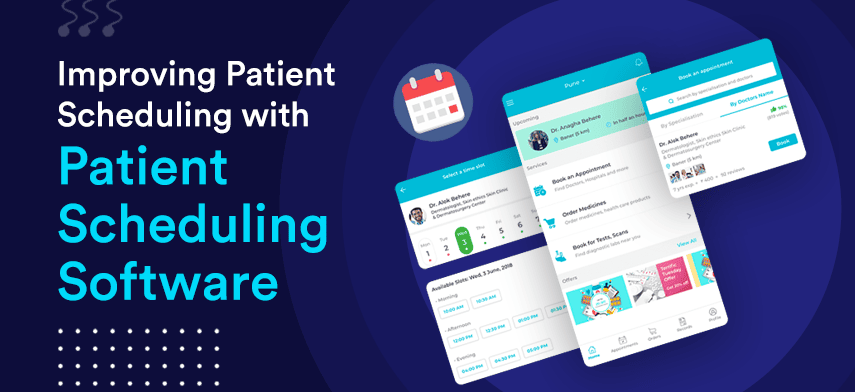 Improving patient scheduling remains a consistent goal in the healthcare market. Healthcare providers in 2022 spent approximately USD 390 million on patient scheduling systems, and by 2023, it is expected to increase close to USD 738 million. According to data, 52% of healthcare practices spend a minimum of 10 hours weekly confirming online patient scheduling appointments and returning patient calls and emails – consuming premium hours for clinical work.
The proper solution is to optimize the productivity of healthcare staff and schedule numerous revenue-generating patients and reduce the wait time of patients, in turn increasing patient satisfaction. We are going to highlight some foolproof ways to improve your business' patient scheduling system.
Understanding the Patient Scheduling System Market
The success rate of mobile-based patient appointment scheduling software is based on the data and numbers collected. According to the patient survey, more than 73% of consumers of healthcare prefer receiving healthcare updates via texts and messages, while more than 95% of texts are read often and responded to within less than 3 minutes after being received.
According to a study, 39% of patients preferred the ability to schedule timely provider appointments. So patients, don't have to spend extra money on wait time. Hence, bidirectional texting and patient scheduling software is a necessity.
Now let's understand how to schedule patients through effective patient scheduling systems.

9 Ways for Effectively Scheduling Patients with Patient Scheduling Software
The healthcare industry is heavily investing in patient communication technologies that reduce the time for preparing patients to be scheduled and registered. Messaging a confirmation to patients through reminders regarding personal information updates, completion of labwork, and making co-payments can assist in reducing the work time for healthcare professionals. These can help providers to make more time for administrative tasks when a patient checks in for their appointments.
Here are 9 ways to effectively improve patient appointment scheduling via patient scheduling software.
1
Implementing patient scheduling software
It is highly critical to enable your patients to conveniently schedule their appointments via user-friendly healthcare apps and portals. Streamlining the scheduling process helps in improving patient satisfaction and frees up extra time for providers by eliminating rescheduling, reminding, and confirming appointments by phone or email.
Reliable online patient scheduling software can help with integrating patient self-scheduling software that allows patients to schedule their healthcare appointments and follow-ups with their businesses at any given point in time. An online scheduling system provides easy medical appointment booking from new and routine patient checkups to repeat appointment services like physical therapies, X-Rays, and more.
Patient self-scheduling software and systems can integrate better patient-provider communication and automatically suggest alternatives for open schedules to patients for rescheduling their appointments.
2
Establishing a scheduling patient appointment system
Having a proper and streamlined appointment system can reduce the number of no-shows through automated scheduling systems. This system helps to call or message patients before their appointments at given intervals to confirm the date and time or completely reschedule their healthcare appointments.
This appointment scheduling system can optimize the medical scheduling system and ensures reduced workflow interruptions of healthcare practices. Setting up an appointment schedule reminder helps patients to reschedule or cancel their appointments with an approximate time frame via direct responses to the automated reminder.
Integrating business cancellation or rescheduling policies in the appointment reminder system ensures patients incur their cancellation fees beyond a certain time.
3
Integrating patient wait-list to fill up cancellations or no-shows
It is inevitable to encounter patient cancellations and no-shows. But healthcare businesses can reduce the negative impact by implementing a wait-list for patients who might require an earlier appointment. This can help to fill in any available slots and improve patient satisfaction. Creating a broadcast text message to the patient wait-list promptly can ensure timely notifying them of the available slots and allows them to confirm their appointment swiftly. Another service that can be implemented is a third-party service to manage patient scheduling appointments. Either of the two options reduces constant staff communication to fill the empty slots and saves time to ensure unscheduled appointments are booked.
4
Broadcast message to avoid unforeseen circumstances
Unforeseen circumstances and situations might arise unannounced and healthcare organizations and facilities may need to reschedule or cancel appointments for the day. In such situations, broadcasting mass messages to patients can help to save patient appointment time and have proper clearance to manage the situation at hand. This helps the staff members from calling patients for hours to relay the message for potential delays or appointment rescheduling of the day.
5
Data collection to identify opportunities
Collecting and analyzing potential data can help to identify the potential opportunities for your patient scheduling software and understand patient-flow concerns. This can help in discovering and exploring the gaps in healthcare access and bottlenecks in the workflow problems in the medical scheduling system. Using patient scheduling software with robust features of reporting can provide a clear perspective on what requires improvement in the patient scheduling appointment process.
Appointment booking applications built by Mobisoft Infotech provide reporting of appointments, enlist no-shows and cancellations, and provide revenue generation insights as required. Appointment data reports can help businesses in the healthcare sector keep a track of the opportunities and trends that contribute to making necessary adjustments in managing no-shows and cancellations and offers an effort to reduce them.
6
Leverage appointment referral systems
With healthcare facilities flooded by referrals, healthcare staff faces various tedious challenges and time-consuming tasks to call referred patients separately. This can affect staff productivity which directly risks the clinic or facilities' bottom line. This can be removed by using a referral appointment scheduling system that is automated to send messages to the referred patients for confirmation of their requirement to schedule an appointment. This helps to save time for staff and they just have to ensure routine follow-ups with patients who will complete the referral appointment.
To simplify the process, using electronic or online scheduling systems can automate sending appointment reminders to the referred patients and reduce no-show bookings. This helps to improve referral communication processes in the industry and helps providers focus on better patient care delivery.
7
Prioritizing appointments with patient appointment software
Patient scheduling appointment prioritization should be done by considering critical factors like the level of care required, the time to complete the appointment, understanding the patient's medical history, and more. Using healthcare app development companies to develop an online patient scheduling system enables businesses to create forms for patients to fill out. These forms consider the patient's conditions, medical history, and information for booking an appointment.
This gives providers a basic idea of the appointment requirements. Patient scheduling software ensures prioritizing patient appointments according to the highest level of care and treatment requirements. Patient scheduling software needs to be compliant with the HIPAA compliance security standards for the proper screening process and identify and resolve simple diagnoses without appointment scheduling.
8
Routine process automation
The prompt and proper addressing of patient queries can help staff in healthcare answer common simple questions. Having a system and process in place can help businesses to answer queries with proper attention and expertise. Having advanced patient scheduling software that automates routine replies to patient queries like appointment cancellations, confirmations, or rescheduling can improve patient satisfaction and engagement. Automated responses for simple queries can ensure instant replies for patients that improve business practice and makes the care delivery process more efficient.
9
Artificial Intelligence-enabled technology for patient scheduling software
Integrating AI-enabled technologies can ensure time-saving for healthcare staff and help in optimizing the patient appointment scheduling process. Chatbots integrated with AI automate conversation sequences that can help patients to navigate multi-step and complex patient communication independently.
New functionalities help in creating a bidirectional conversation between patients and AI-enabled technologies that are quick to adapt to reflecting information provided by patients by using National Language Understanding (NLU). AI technology improves patient-provider communications in key sectors like telehealth, insurance verification, vaccinations, portal enrollment, and more.

Final thoughts,
Improving the appointment booking process by implementing patient scheduling software can be simplified by leveraging the new technologies. These technologies are fully integrated to create a streamlined patient-provider communication platform with help of digital healthcare companies. Having an appointment booking application can help optimize the scheduling of patient processes and enables private practices, enterprise health systems, and vendors to securely communicate with patients across various channels. Automating the patient scheduling system can efficiently improve patient satisfaction and offer your business staff more time to concentrate on administrative tasks and improve care delivery services.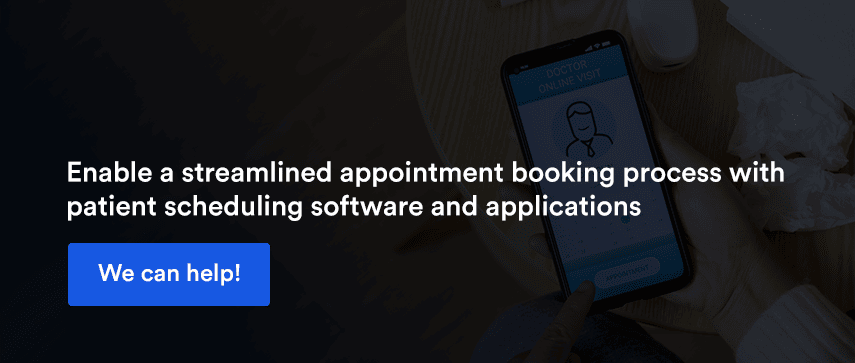 Author's Bio

Shailendra Sinhasane (Shail) is the co-founder and CEO of Mobisoft Infotech. He has been focused on cloud solutions, mobile strategy, cross-platform development, IoT innovations and advising healthcare startups in building scalable products.