Push notifications are the messages sent by mobile apps to your device and have a variety of benefits to offer in terms of user engagement and attracting traffic. But not all notifications mean the same. Good push notifications can imply alerting someone at office to avoid heavy snowfall by taking a different route to go home and a bad one is interrupting a parent with "clearance sale" when they are trying to sleep.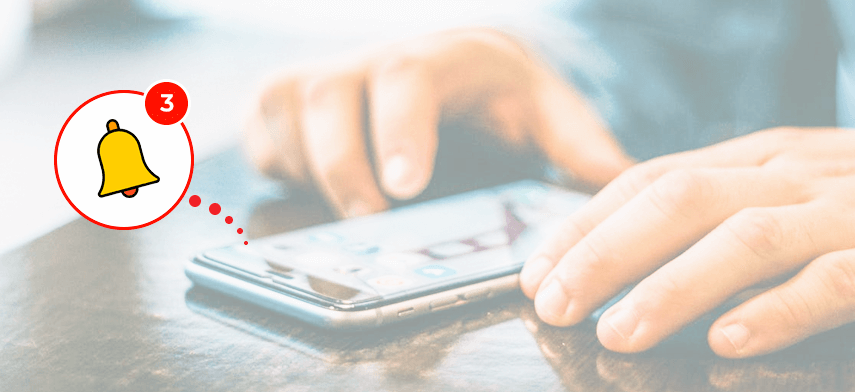 The main motive is to keep customers connected rather than annoyed. Let's take a look at the benefits of push notifications, the best ways to use them and some creative ways to incorporate it into your marketing strategy.
Why should Push Notifications be a part of your Marketing Strategy?
Engaging users
Push notifications are a great way to remind a wide customer base of inactive users who have downloaded the app but don't use it frequently or have completely lost touch with it owing to many other apps on their mobile screens.
With a friendly reminder or a message, it provides latest information about the app to users thus enhancing user engagement, increasing brand awareness as well as involvement.
Insight into customer behavior
Another benefit of push notifications are that they provide vital information about user behavior through accurate tracking of messages, exact interaction times, devices used, platforms and situations which generate the high user engagement which in turn reveals when, where, why and how users use your app.
Push notifications provide sophisticated analytics with a data on delivery receipt, open rate time and engagement.
User Friendly
Moving over to user interface and user experience, dealing with push notifications are a lot less messier than emails, much quicker to respond to as well as manage. For users, they are simple messages that provide them essential details about the app with a call to action making them user friendly and effective. From the developer's point of view, they are extremely easy to produce and on the cost front it works out cheaper than SMS.
Push notifications are effective marketing strategies which provide vital customer details, which is highly directed and specific.
Complementary communication channel
The power of push notifications alerting customers about last minute deals, coupons, offers and further updates about the app goes a long way as they form a complementary marketing channel to communicate extra with users adding value-added information.
Unlike mobile websites, mobile apps have qualities which other communication channels don't possess as they deliver notifications which are instantly seen and – unlike other marketing messages it makes the most of user interface. This is why mobile push notifications are read by 97% of app subscribers.
Some creative ways to incorporate Push notification marketing
As mobile handset growth is accelerating in leaps and bounds, mobile push alerts are an important channel for applications to communicate with and re-engage users. Technically, push notifications are an elegant mode to prompt users at the right place, right time and regarding the right piece of information. Here are some effective ideas to incorporate push alerts into your brand ensuring that they are helping, not hindering it.
1) Reminders
Why did your users download the app? It's always good to refresh old memories and remind them as to why do they have your app resting on their mobile screens by providing them regular reminders such as:
App-Specific: Send a welcome reminder to a user if he/she hasn't completed an expected action within the app. For example if it's a health and fitness related application, sending daily push reminders to users to log in their daily meals and workout patterns.
Event Reminders: If the user has registered for an event within their area, a push notification regarding the event as well as reminding them to attend it is a great way to notify them.
Game Reminders: It's been a while and the user has not logged in a latest high scores yet? Send reminders to users if the game hasn't been played in a while or if its integrated through social media, send notifications if it's a users turn in the game.
Appointment Reminders: Send prescription notifications to remind users that it is time to re-order, or to notify users that their prescription packages are ready to be picked up.
2) Emergency
Security plays an important role and more and more apps are on the rise related to sensitive material, from financial planning to home security and garage system apps. Push notifications are a great way to grab a users attention in case of any sudden emergency with ways such as:
Suspicious activity: Alerts asking users to be wary of their surrounding in case of any fishy activity. Also, banking and email applications can notify their users if any suspicious activity is taking place on their accounts.
Public Transportation: Highly effective and much needed by users banking on public transport for their daily commute to office and home. Accurate alerts notifying them about a bus running late and of delays they should be aware of can go a long way building trust and loyalty.
Natural Disaster: With the help of geo-location alerting users about natural calamities and any action to be taken, or helpline numbers to be provided are extremely helpful.
3) Driving Traffic
The main reason for implementing push notifications are to drive traffic to or back to the app. Here are a few innovative techniques mobile app developers can use to gain traffic:
Contest Pushes: By scheduling regular contests, it promotes the brand, attracts users to visit the app thus driving business.
Cross Promoting Apps: If your app is similar to many other apps in the App Store, games for example, sending push notifications that send users from an app which they have already downloaded to a similar app is a great way to market it and drive existing users to new apps.
Last-minute Sale: Flight deals, clearance sale, flat 50% off and similar last minute deals which can set cash registers ringing and drive in a large amount of users both frequent as well as lazy is best notified through wacky push notifications.
4) App Updates
Constantly upgrading your mobile application with fresh content is a great way to ensure that the app is relevant to the user and it would last on their phones for longer. Whilst some updates may be free of cost, others might require the user to purchase new features which can generate mixed opinions. With push notifications, they provide a great platform to market updates both free and paid.
Exciting Features: It's a win-win situation. Retail apps can inform the customers through push notifications about the brands they are interested in (on the basis of their shopping habits), or to quickly notify them about sales of the brands they prefer.
Paid features: If there is a new feature or update which requires payment, push notifications are extremely convenient to notify existing users about it. You can also guide the user through the payment gateway process thus simplifying it as well as adding to the sales for the brand!
Apart from the above techniques you can also use mobile push alerts for:
App Refresh: Your app can be programmed to send users a push notification without any text, which will have the app refreshed in the background without the user noticing as to what's happening.
Customized Push: You can set up automated segmented push alerts to target specific portions of your app user audience based on demographic locations or interests.
Geo-locational Push: Works wonders for brick-and-mortar retailers and restaurants as they can program their apps to send out notifications to users within the area informing them about latest offers, coupons, a new dish or even a quick reminder to drop in!
Push Analytics: With the help of analytics and tracking push notification patterns on users phones, you can monitor app opening, active, frequent and inactive users, push campaign effectiveness and much more.
Push notifications are less intrusive than other forms of customer engagement thus attracting more traffic. However, ensure that push notifications are productive and interesting, instead of annoying which can lead to the end of your app.