The chances are high that you've been to a hospital or healthcare facility owned by HCA Holdings. The group is one of the largest healthcare service providers in the US, with more than 100 hospitals.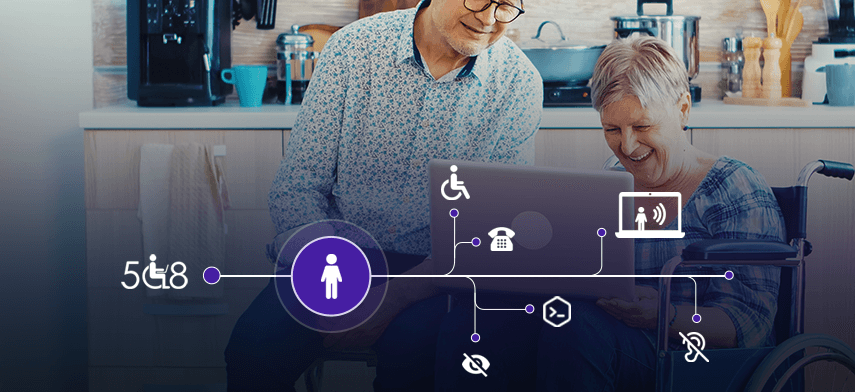 Over the years, there has been a spike in lawsuits by people suffering from disabilities, suing healthcare organizations for not having accessible websites. This has made healthcare regulatory compliance a priority for healthcare businesses.
Understanding ADA and 508 Compliances
In this digital era, accessibility and availability of correct information are of utmost importance. The regulation of information accessibility is equally important. If a person suffering from blindness needs access to necessary information, healthcare facilities need to provide compliance expertise to create an access opportunity.
At their core, ADA and 508 compliances ensure that digital information is accessible to everyone. They prohibit federal and non-federal agencies from discriminating against people with disabilities.
Let's understand what are the 508 and ADA healthcare regulatory compliance and how they can help.
Section 508 Compliance
The Workforce Investment Act of 1998 amended Section 508 of the Rehabilitation Act, which requires federal agencies to make information and communications technology (ICT) accessible to people with disabilities. Federal agencies need to create, maintain, use, and share ICT that's accessible to people with disabilities irrespective of whether they work for the federal government or not.
The three main objectives of 508 compliance are:
Federal employees with disabilities should be able to work on accessible devices, obtain the necessary information, and get online training.

People suffering from disabilities applying for a job with the federal government should be able to use a federal agency's website to get the needed information.

A disabled person outside the federal government seeking information should be able to access the agency's resources.
The Act identifies ICT as any device, system, or equipment that enables the development, procurement, usage, sharing, and duplication of digital information. Some examples of ICT are desktop computers, laptops, tablets, mobile devices, internet and intranet devices, software systems, and more.
ADA Compliance
ADA is the Americans with Disabilities Act. The Department of Justice published the ADA standards in 2021 to make all electronic and information technology accessible to people with disabilities.
ADA compliance applies to all organizations, private service providers, and public and non-profits that aren't a part of the federal government. All these entities with "places of public accommodation," such as the internet, need to comply with these requirements. The law affects the following:
Private organizations with 15 or more employees.

Organizations and businesses operating for public benefit.

All government agencies (state and local).
The seamless access to information in the healthcare sector is crucial. The implementation of both Section 508 and ADA has encouraged healthcare providers to make their website and other digital offerings more accessible. Hence, making life easier for people with disabilities.
ADA and 508 Compliance Guidelines and Their Importance
There are no clear guidelines when it comes to ADA or Section 508 compliance in healthcare. No federally codified directions exist that businesses can follow. However, it can be presumed that websites must be readable through a screen reader tool.
To eliminate the confusion, several organizations follow the Web Content Accessibility Guidelines (WCAG). While WCAG isn't a legal requirement, it acts as a platform for organizations that want to comply with ADA. Now, why is it necessary to understand ADA website compliance? Like most healthcare providers out there, having a website is a necessity. It can be used for myriad purposes, including valuable information to accepting appointments to collecting emails.
But, is the website accessible to everyone, particularly those with a disability? If not, the website could be at risk of not complying with ADA, resulting in hefty lawsuits. There has been a rise in ADA website compliance lawsuits in the healthcare sector. Digital accessibility lawsuits were up from 2,890 cases in 2019 to 3,550 cases in 2020, exhibiting a 25% year-on-year increase.
Let's look at four healthcare organizations that got sued for not following ADA healthcare regulatory compliance:
1
WellPoint, Inc
Two visually impaired persons from California sued WellPoint as their main website wasn't readily accessible. Later, the company entered negotiations and decided to comply with WCAG 2.0.
2
Tenet Healthcare
All Americans with visual impairment sued Tenet Healthcare, claiming that its website wasn't accessible via screen readers.
3
HCA Holdings
With over 100 hospitals in the US, HCA Holdings is a prominent name in the healthcare space. A legally blind person sued HCA Holdings, claiming that the websites of some of the HCA hospitals websites had accessibility issues.
4
CAC Florida Medical Centers
A legally blind person recently filed an ADA lawsuit against CAC FMC, claiming that their website isn't accessible through screen readers.
Federal law permits fines up to $75,000 for the first ADA violation and up to $150,000 for additional violations. With ADA lawsuit cases on the rise, complying with ADA and Section 508 is compelling from a legal standpoint.
That said, businesses and companies shouldn't make your ICTs accessible just to dodge a hefty lawsuit. According to CDC, more than 60 million adults (26% of the population) in the US live with a disability. By complying with Section 508 and ADA, it makes the lives of disabled persons easier. They can effortlessly access the information they need and better manage their condition.
Some other reasons why your website and other ICTs should be compliant with Section 508 and ADA are:
Noncompliance can put you at risk of losing funding, contracts, and assistance from government bodies.

Noncompliance can hurt your reputation as a healthcare business, which can adversely affect how the general public perceives your organization.

You can lose patients with disabilities, which are more than 60 million in the US alone.
The Contrast Between ADA and 508 Compliances
Both Section 508 and ADA focus on making ICTs accessible to people with disabilities. But there are some differences.
508 Compliance applies only to federal entities, while ADA applies to all public, private entities, including K-12 schools, colleges, and universities.

508 compliance also oversees government websites, along with activities and ICTs owned by the federal agencies. Whereas ADA covers employers with more than 15 employees, including state and local governments, and it applies to labor organizations.

When it comes to websites, ADA-compliant websites can be created with the help of WCAG guidelines, WCAG builds the 508 compliant websites in-house.
In a nutshell, both Section 508 and ADA are standards that ensure seamless accessibility of digital information to disabled persons.
But as discussed, no clear guidelines are governing ADA and Section 508. Therefore, WCAG comes into play. Curated by the World Wide Web Consortium, WCAG consists of standards that provide website owners and companies with the guidelines ensuring accessibility to people with disabilities.
WCAG has three tiers of healthcare regulatory compliance:
Level A

: Includes basic accessibility features, implementing requirements necessary for individuals with disabilities.

Level AA

: Includes an extension of Level A features, focusing on identifying and addressing the biggest hurdles for disabled persons

Level AAA

: Eliminates all hurdles in web accessibility that disabled individuals could face
Apart from the three tiers, WCAG has three versions: 1.0, 2.0, and 2.1, of which 2.0 and 2.1 are mainly in use. WCAG 2.0 is widely used. According to WCAG 2.1, your website should be:
Perceivable

Content should be easily perceivable. Alternatives to text, such as audio or assistive technology are required for assistance.

Operable

Navigation should be seamless, and the website should offer keyboard accessibilities to people with various disabilities.

Understandability

Content should be readable, predictable, and easy to comprehend.

Robust

Content should be accessible on multiple devices and platforms.
WCAG isn't a statutory or healthcare regulatory compliance body, so complying with it isn't mandatory. But it can serve as the goalpost for organizations that want to comply with Section 508 or ADA.
Mobisoft Infotech makes compliance with Section 508 and ADA a seamless process. We develop websites and digital products that comply with WCAG, ADA, and Section 508 guidelines. We also deploy 508 compliance testing and 508 testing tools to ensure your site is compliant.

Final Thoughts,
Compliance with WCAG, ADA, or Section 508 isn't a single step. It's an ongoing process that needs to be continuously upgraded into ITCs to cater to the requirements of disabled individuals. Mobisoft ensures seamless integration of health regulatory compliance requirements into the operational system. Hence, ensuring better outcomes and enhanced customer experience.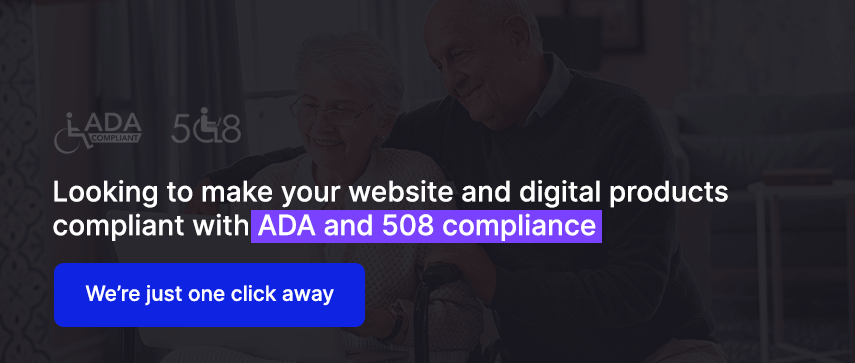 Author's Bio

Shailendra Sinhasane (Shail) is the co-founder and CEO of Mobisoft Infotech. He has been focused on cloud solutions, mobile strategy, cross-platform development, IoT innovations and advising healthcare startups in building scalable products.