Businesses around the world are relying on technology to ensure the safety of employees, expedite information distribution, and maintain continuity. In addition, governments have also invested in up-and-coming technology in the fight against COVID-19 pandemic. Here's more to it.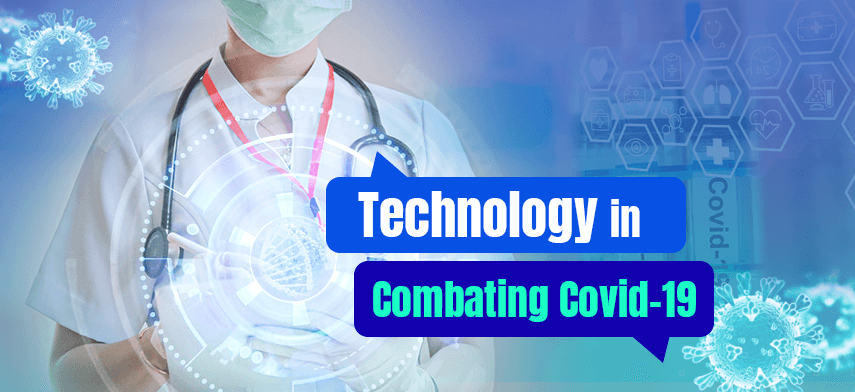 How Technology is Helping in Combating COVID-19?
Financial advisors, utility service providers, retailers, and others who relied on in-person communications, are among the most hit in this pandemic. However, many businesses escaped slowdown. And much of the credit goes to digital readiness and technology change in business.
Companies are adopting collaboration tools to support working from home and retailers are using contactless payment and delivery methods. With social distancing enforced, the use of drones for supplies is on the rise too.
So, here are eight ways how prominent the role of technology in businesses have been during the ongoing pandemic: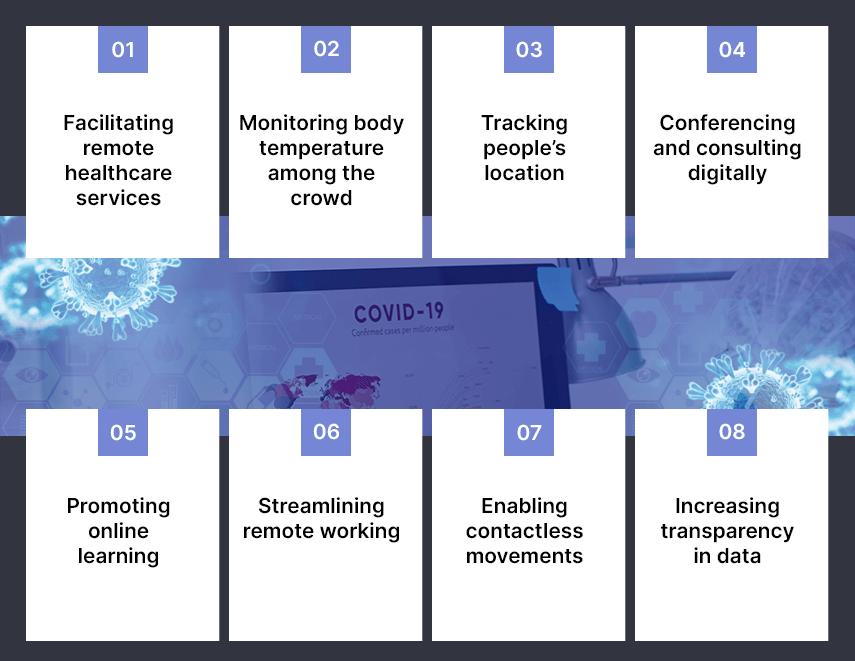 1
Facilitating remote healthcare services
In China, autonomous vehicles are delivering medicines and other essential goods in the affected areas. Apollo (a vehicle platform by Baidu) collaborated with Neolix to deliver supplies to a hospital in Beijing. In fact, Apollo cloud services are available to healthcare organizations for free. In addition, another company – Idriverplus – has deployed its automated fleet of street cleaning vehicles to disinfect hospitals.
Antwork drones, built by a Japanese company Terra Drone, were used to deliver required materials in the virus-infected Xinchang city. Drones are transporting equipment and medicines in other countries too. And in California, Nuro R2 robotic vehicles are delivering food and protective gear to a field hospital and other quarantined patients.
2
Monitoring body temperature among the crowd
Airports around the world have installed full-body infrared scanners to monitor passengers. These thermal imaging systems detect abnormal body temperatures and identify probable infected people.
Many countries, like India and China, have installed these infrared scanners in selected high traffic railway stations too. China's Baidu designed an AI-powered infrared system to monitor a large population. It installed one such system at Qinghe railway station in Beijing. It can screen up to 200 people per minute without any chaos. So, apart from the full-body scanners, infrared thermometer guns are also used in banks, offices, hotels, retail stores, and other public places.
3
Tracking people's location
Technology is helping manage the mayhem by keeping track of infected individuals and whom they have interacted with. Aarogya Setu app in India is using a smartphone's Bluetooth and GPS to detect other users nearby and alert if anyone is COVID-positive. The app keeps a log of the locations the device is present.
On the other side, Apple and Google have developed a system to use Bluetooth transmissions for contact tracing. The data is stored on the phone and accessible through official apps of health organizations. Italy has launched its Immuni app, based on this Apple-Google API.
In the same vein, Singapore is working on developing a wearable device for all its residents.
And the government in China has installed CCTV cameras at various locations to monitor those who are quarantined. That is to say, tech companies are also testing AI-based facial recognition systems to track infected people.
4
Conferencing and consulting digitally
In this worldwide outbreak, technology is bringing video conferencing and networking together for digital interactions. Virtual events have replaced the in-person ones. Google Cloud Next '20 conference was hosted online under the name Digital Connect. Followed by, Collison, a North American tech conference, went virtual with the help of digital tools.
Fintso, a web-based financial software, is helping independent financial advisors to communicate with their clients effectively. National Health Service (NHS) has made Microsoft's video conferencing software – Teams – available to all its staff in the UK. They use instant messaging and audio/video calls to share updates of the patients from anywhere. Many doctors in China have started using Zoom for online consultations.
5
Promoting online learning
Schools and university campuses have opted for online tutoring mode. Many institutions are using video conferencing tools like GoToMeeting and Microsoft Teams, others have built dedicated learning platforms. Hence, many independent online learning websites have seen significant growth in their user base during this period. BYJU'S, an online tutoring platform in India, reported a 200% increase in new enrolments.
6
Streamlining remote working
Companies use technologies like virtual private networks, collaboration tools, and cloud conferencing to manage remote working seamlessly. More employees are now successful in adapting the practice of working from home. For example, Cisco improves its Webex software to support the businesses and offers them 24/7 assistance. Project management tools like Trello and team communication apps like Slack have also made it easier for teams to work remotely. Apart from providing more flexibility in work, technology is also saving commute time for remote workers.
7
Enabling contactless movements
Technology has also enabled safe movements in many places around the world. Self-driving vehicles, robots, and drones are being used worldwide to deliver essential items. To maintain social distancing, people are inclining towards online shopping and ordering. And the emerging technology in business is helping online retailers, food aggregators, and restaurants to make contactless deliveries.
The growth of e-wallets and other digital payment methods has also paved the way for a truly contactless delivery ecosystem. Customers place an order, make their payment online, and an agent delivers it at the door. Many companies are focusing on picking and dropping goods at designated locations, instead of hand-to-hand deliveries.
8
Increasing transparency in data
Miscommunication and sharing wrong data during a virus outbreak can be catastrophic. And technology is playing a role in fighting against it. Popular services like Google, Facebook, and YouTube are creating a transparent scenario by displaying accurate information to the users. Artificial Intelligence (AI) and Machine Learning (ML) are being used to identify fake news and keep them from spreading.
Besides, other social platforms have joined hands with the World Health Organization (WHO) to provide verified facts to users and businesses. In India, telecom operators are playing coronavirus caller tunes to spread awareness.
How Is The Government Employing Technology During The Pandemic?
Using technology in business has helped companies to be in touch with customers and employers. And governments are turning towards technology to contain the spread as early as possible. Data-driven analytics, coupled with AI and ML, are being used to track the cases and provide on-time support.
Monitoring coronavirus cases

The South Korean government used a combination of records to track the movement of infected ones. Data from credit card transactions, smartphone location logs, CCTV recordings, and others were cross-referenced for confirmation. The government in countries like China and Ghana too have launched contact tracing through mobile phones.

In Liechtenstein, biometric bracelets are being developed for citizens. The aim is to monitor COVID-19 in real-time and keep track of potential cases. Similarly, in Hong Kong, quarantined people are provided with wristbands to track their activities. During this global pandemic, technology has provided a two-way communication medium between governments and citizens.

Mobile apps are increasingly used to maximize awareness as well as tracking. In India, the government has recommended downloading the Aarogya Setu app to keep a watch on potential hotspots of the virus growth. The app is available in 11 regional languages. And a toll-free Interactive Voice Response System (IVRS) has also been implemented for citizens who do not use smartphones. The Indian government is also using railway reservation data and airline booking records to monitor the quarantined. In America, the government is seeking aid from tech giants like Facebook and Google about possibilities regarding the use of location data from smartphones.

Providing critical support

Apart from tracking location, governments are also taking help from technology leaders or service providers to ensure on-time support and consultation. The UK's NHS staff team is using Microsoft Teams to be in touch with their peers and other doctors. Through messages, calls, and video conferences, they are sharing regular updates.

In China, remote-controlled robots are being used to examine infected people. From performing ultrasound scans to collecting mouth swabs, these robots are proving to be a superb aid to the medical staff. Italy, similarly, used robots to monitor patients' health and deliver food.
How Has Technology Changed Consumer Behavior?
The virus outbreak, social distancing, and lockdown have affected the purchasing pattern too.
More people are turning towards online stores. This trend is observed across all nations, including the US, India, and Japan.
As per the research conducted by Accenture, the online buying activity of the infrequent eCommerce users is expected to grow to 160%.
Also, the customers are getting in touch with local stores over social media and messengers. The use of digital payment solutions and contactless home delivery methods have seen an exponential rise during the coronavirus crisis.
With the switch to working from home, employees have adapted to their new environments. And the increasing use of social media and online streaming platforms, both have led them to new ways to entertain online.
Apart from watching shows, many people have developed new hobbies and skills online. 48% of the consumers are learning new skills or taking online education as per the above Accenture research. And 62% are trying new recipes while at home. All such activities have been possible thanks to the developments in Information and Communications Technology (ICT).
How Has Technology Impacted Operational Processes of Various Industries?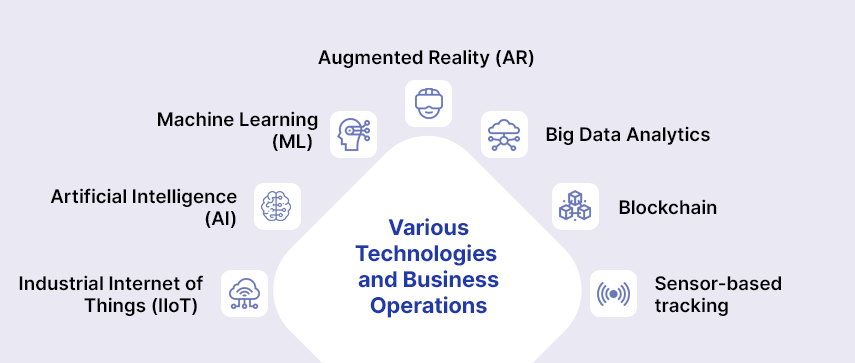 Technological advancements have brought significant benefits to day-to-day operations during this COVID-19 outbreak. From reducing human intervention to increasing productivity and minimizing errors, technology in business plays a critical role. Here are some emerging technologies which have impacted the industrial processes:
Industrial Internet of Things (IIoT)

With support from sensors, analytics, and high-speed network connectivity, the Industrial Internet of Things (IIoT) is being used for remote management and assistance in real-time. You can build a digital twin of your factory and control it remotely. With AI and ML, you can also create a predictive maintenance schedule.

Artificial Intelligence (AI)

Industrial IoT, AI, and deep machine learning go together. Couple them with recognition of a face, other patterns, and movements, and you will be able to leverage machine vision. You can thus delegate routine tasks to robots and supervise them remotely. As they master skills, they can run more complex setups.

Machine Learning (ML)

Through continuous learning and predictive analysis, ML and AI technology in business, collectively help industries to be on time. Machine learning algorithms can ensure production and supply chain efficiency by processing data and improving themselves over time. You can employ smart robots to automate many tasks.

Augmented Reality (AR)

With AR headsets, wearables, and associated software, experts can create projections and train on-site workers and robots remotely. Through a combined setup of AR software, virtual overlays, and IoT devices, different teams can collaborate and maintain regular business operations without being on-site.

Big Data Analytics

Big data enables businesses to make informed decisions through analysis of data related to production, waste management, demand patterns, and others. By implementing suitable big data analytics, companies have improved performance and streamlined their business operations.

Blockchain

From cost efficiency to data privacy, Keeping records to save time and blockchain technology in business brings various benefits. It is a distributed ledger with tamper-proof records. And you can track the transactions and deliveries online, without errors, while also keeping your suppliers, customers, and employers well-informed.

Sensor-based tracking

Real-time sensor-based tracking prevents misinformation and miscommunication. It helps in mapping products to the exact location and managing a supply chain globally. You can use sensors to monitor real-time status, track a product location, and provide accurate information to customers even without human involvement.
How Will Technology Continue Redefining Business Post COVID-19?
During this global crisis, the use of technology in business is reducing the spread of the virus, while keeping businesses afloat.
Usage of digital payments, delivery by autonomous vehicles, and adoption of remote working tools are growing. And this growth will continue post-COVID-19 as well.
Self-driving autonomous vehicles have proved their efficiency in delivering supplies in virus-infected areas. And seeing them on roads will soon be normal. They can be used in delivery, pickup, or movements in hazardous environments.
The usage of drones has also been fruitful during this ongoing pandemic. From surveillance and monitoring to delivery in remote areas, drones are being deployed for a multitude of tasks. And the commercial adoption of drones is bound to grow with time.
Also, the dependency on cloud services will continue to post the coronavirus crisis. Cloud technology in business has enabled a seamless transition to work from home. And it is aiding in remote management of facilities too.
Telecommuting and remote workforce collaborations will be more common than ever. Many businesses, thus, need to invest in creating secure dedicated networks online.
With the developments in AI and ML, IoT devices, too, will continue to flourish. They are already proving their efficiency in industrial tasks. AI-based virtual assistants and smart medical chatbots also will see significant growth in the post COVID world.
Wrapping It Up,
Technologies like AI, ML, IoT, and Cloud have provided a boost to the operational efficiency of businesses. And the pandemic has made businesses grow out of conventional strategies and incorporate more technology in day-to-day business. And you can expect a digital business transformation post this COVID-19 crisis. So, get working on building a digital infrastructure, and be prepared to thrive in the new normal.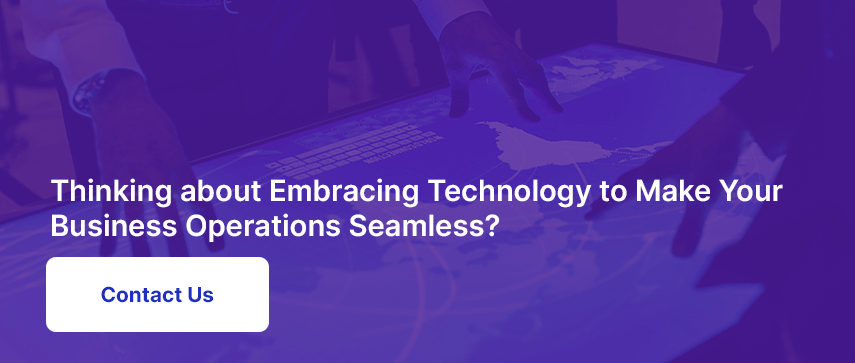 Author's Bio

Shoeb Ahmad, with an experience of 22 years in Digital World, heads Digital Marketing at Mobisoft Infotech. He has a rich experience in SEM, SEO, Social Media & other verticals of Digital Media. He also has been a consultant for a variety of industries, enterprises & startups. He loves reading & traveling. He often writes on various forums since he believes 'Knowledge increases by sharing.'