One of the greatest challenges in healthcare for providers continues to be chronic disease management in the United States. According to a recent report on chronic diseases provided by the NCBI, it has been estimated that approximately half the adult population in the US suffers from chronic conditions, and close to about 33% of the entire population is currently living with more than one chronic condition.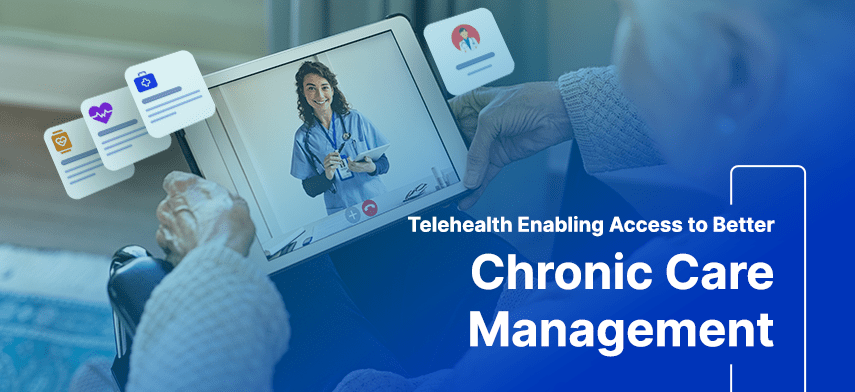 For the ones suffering from chronic ailments, the delay or failure to gain access to on-time care can result in serious health risks. For avoiding these outcomes, healthcare facilities and organizations are seeking better ways to provide safe chronic care management to their patients. Here, telehealth plays a crucial role, as healthcare providers can offer chronic care management services to their patients from a distance with assistance from smart tools. Hence, reducing visits in-person.
Let's take a look at how telehealth is propelling chronic care management.
Pivotal Role of Telehealth in Chronic Care Management
In March 2021, the United States recorded the highest number of COVID-19 cases in the world, with almost 1.9 million Medicare beneficiaries infected and exposed to the virus. With the high burden of chronic diseases, a vast number of Medicare members are surviving with chronic conditions.
The pandemic posed an additional threat for these individuals in specific as the access to vital health services were interrupted paired with a heightened risk of contracting the novel coronavirus.
Another vast population who require access to healthcare are presently living in rural regions. The distance they need to travel to reach their appointment and see their essential health providers have become difficult given the current situation, especially for those living with chronic diseases and ailments.
The pivotal role played by telehealth focusing on chronic care management has given patients and Medicare beneficiaries leverage to communicate with their providers virtually. Therefore eliminating travel time to visit healthcare specialists and providers, increasing the accessibility to healthcare from the comfort of their home.
Telehealth has changed the healthcare landscape significantly in the last few years, especially during the pandemic. Providers and medical professionals were quick to implement the telehealth solutions in their existing systems to continue to provide better quality care delivery. The influence of the ripple effects of telehealth has enhanced patient interaction like compliance, satisfaction, engagement, access, and more. The chronic care management software is transforming telehealth technology tools and producing better care access in 2021.
Key Factors of Telehealth Chronic Care Management Ensuring Better Care Access
As mentioned above, telehealth has been a pivotal standpoint in the development of the healthcare sector. Some of the key factors of telehealth chronic care management include:
1
Telehealth increases access to patient monitoring
Telehealth monitoring services provide a plethora of assistance including medication, different behavioral and cognitive therapies, and assisting patients with chronic conditions with lifestyle changes for rapid improvement. Healthcare providers can now provide remote patient monitoring for chronic disease management. Telehealth allows them to keep a track of their improvement and update guidelines accordingly.
2
Telemedicine for chronic disease management tracking new chronic symptoms
Patients diagnosed with chronic conditions are exposed to sprouting new symptoms. This can be a sign indicating the start of a new chronic ailment or the disintegration of their condition. With telehealth technology tools, patients experiencing these new symptoms can easily connect with their medical professionals and can be guided into the adjustment in treatment and suggestions without having to book an in-person appointment. Thus, telehealth ensures better delivery of quality care on a timely basis.
3
Reducing hospital readmission by enhancing in-home care
With an 81% hospital admission rate for patients with chronic ailments, it is considered the most expensive healthcare access. With telehealth chronic care management software, healthcare professionals can easily monitor the patient's condition and requirements. Ultimately, reducing hospital readmission factors and enhancing in-home care reception, and decreasing the expenses from both provider and patient ends.
Medicare Chronic Care Management Assisted by Telehealth
Reports published by the Centers for Disease Control and Prevention states that individuals with specific chronic conditions like chronic kidneys, type-2 diabetes, chronic pulmonary disease, obesity, and more are more likely to contract the COVID-19 virus. Medicare beneficiaries are more likely to be acquainted with chronic ailments and COVID-19 impacts individuals with chronic conditions disproportionately.
CMS acknowledges that Medicare care management is one of the most vital components when it comes to primary care telemedicine services. With the rise in Medicare chronic care management, it is projected that Medicare beneficiaries will significantly grow in the next few years. Medical practices and practitioners are switching to CCM programs for improving their patient outcomes and enhancing revenue in practice with telehealth modalities
Implementing Telehealth Modalities in Chronic Care Management Programs
Telehealth being a major transforming factor for chronic care management programs has specific modalities. These modalities allow healthcare providers and patients to connect via telehealth technology tools for delivering quality care services.
1
Asynchronous Modality
Asynchronous modality includes storage and forward technologies where texts, images, or patient data are accumulated at a particular time. Later, responded and interpreted. Patients portals usually facilitate this communication between the patient and their providers through secure messaging.
2
Synchronous Modality
Synchronous modality utilizes real-time telephonic or live streaming audio-video interactions and communications with patients via phones, tablets, laptops, etc. In certain cases, peripheral medical tools including digital stethoscopes, ultrasounds, otoscopes and more can be used by healthcare providers. These can be implemented on the patients by the provider, while a consulting medical professional evaluates the data remotely.
3
Remote patient monitoring
This telehealth modality offers direct transmission of the patient's clinical quantification from a safe distance. It need not be real-time and healthcare providers can easily provide necessary solutions to the problems.
Potential Uses of Telehealth in Chronic Disease Management
Telehealth monitoring services assist in facilitating public healthcare mitigation and provide strategies even during the pandemic. Telehealth in chronic care management helps HCPs and patients in opting for safer teleconsultation services. Hence, reducing exposure to the potential infection. It reduces the pressure on the existing healthcare system and mitigates the use of PPE kits for healthcare providers and professionals.
Remote access to healthcare preserves patient-provider relationships when in-person visits are considered redundant and impractical. The potential uses of telehealth in chronic care management include:
Patient screening for those who have coronavirus symptoms referring them appropriate for telehealth services.

Offers reduced risk urgent care access for COVID negative individuals, recognizes people in need of additional medical assessment or consultations.

Access to primary care telemedicine to care specialists and providers, that includes behavioral and mental health, chronic care management, and prescription/medication management.

Offering support and training to patients diagnosed with chronic conditions through nutritional counseling and weight management solutions.

Provides access to participation in physical, occupational, and other modalities of therapy as a "hybrid approach" in place of in-person care delivery for optimal health outcomes.

Allows access to monitoring medical signs of specific chronic medical ailments, like blood pressure, glucose level, and other remote patient assessments.

Engaging patients who have difficulty in accessing care facilities. Especially those living in rural regions and individuals with limited transportation accessibility.

Proper follow-ups with patients post-hospitalization.

Delivers advance counseling and care planning for both patients and providers for documentation purposes in case of a medical crisis.

Provision to non-emergency care for residents residing in long-term care facilities.

It allows training and educational value to healthcare providers through professional medical consultation strategies in locally unavailable areas.

Final Thoughts,
Telehealth in chronic care management offers a vast pool of benefits to the patients as well as to the providers. Preventive and primary care access paired with extended resources incurs better health outcomes overall. Telehealth offers various platforms and access to care reducing hospital readmission and fewer visits to emergency rooms. Hence, reducing the overall expenditure on healthcare. Ensuring enhanced access to care delivery improves patient satisfaction, and helps patients to achieve their healthcare goals. When providers are focussing on moving forward with evidence-driven and effective value-based care, a chronic care management program is crucial for the upliftment of patients with chronic ailments. Thus, improving the overall efficacy of the healthcare system.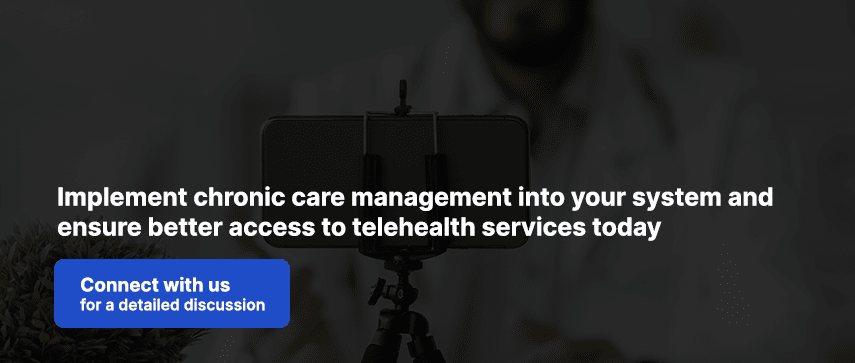 Author's Bio

Shailendra Sinhasane (Shail) is the co-founder and CEO of Mobisoft Infotech. He has been focused on cloud solutions, mobile strategy, cross-platform development, IoT innovations and advising healthcare startups in building scalable products.