Telehealth services have become a well-known entity in the healthcare market. The main reason people are opting for telehealth is due to the convenience of virtual care delivery.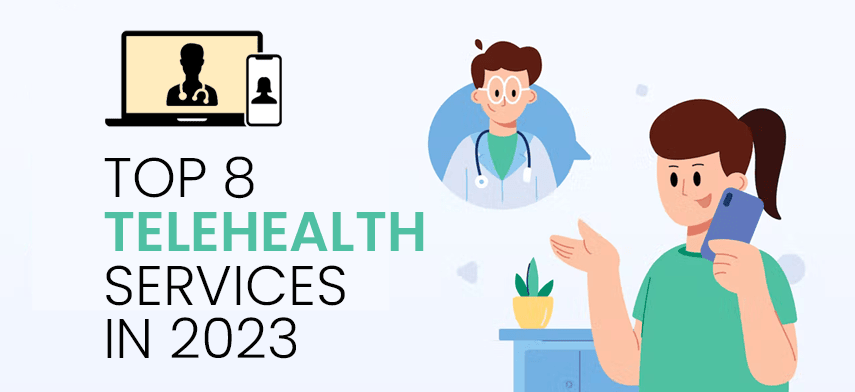 According to Fortune's business insight, the telehealth market demand by 2026 is set to hit USD 185.6 billion. The drive behind the telehealth market is due to the COVID-19 pandemic that spiked the requirement for telemedicine systems. Some of the key considerations are extremely essential to piston the telemedicine and telehealth market. these are the cost-effectiveness, availability, patient outcomes, reimbursement policies, cloud solutions, on-demand telemedicine specialties, and and store & forward telehealth technologies.
Telemedicine, considered one of the best medical specialties among many virtual care delivery services, is it allows the approach for healthcare professionals that reaches the patient easily. New medical facilities like telemedicine solutions include telemonitoring, telehealth nursing, etc., to provide great job opportunities.
This provides patients with opportunities and saves them time and marginal costs.
Let's take a look at the top 10 swiftly growing telehealth services that will continue to make a consistent change in the virtual healthcare delivery service sector for 2023.
Top 8 Telehealth Services Improving Virtual Care Delivery in 2023
1
Teledentistry

Telehealth in healthcare has added a new aspect to teledentistry. It is a specialized sector of preventive care that has been progressing in relevance and value. According to the American Dental Association, more than 42% of individuals don't visit dentists at all, and on the contrary, 85% of people have recognized the importance of dental health. Being a top 10 diagnoses in primary care, telemedicine specializes in improving better patient-provider communication for oral health.Especially, for those who are unable to visit the dental facilities for their appointments.
The advantages of teledentistry include:
Providing information exchange through telecommunication and consultation in improving patient outcomes.
Providers interact efficiently with peers, leading to mutual agreements regarding patients' treatment plans and priorities to increase treatment response.
Having the appropriate teledentistry integration leads to successful advancements in dental health. Family dentists can serve their patients as a guide for special programs that promote dental treatment via other teledentistry specialists. Telehealth services will continue to enable rural, aging, and Medicaid access and offer people painless consultations through virtual care services.
2
Teleradiology

Another leading new medical specialty of telemedicine is teleradiology. Teleradiology has an extremely competitive market with its highly-efficient niche. Being AI-powered, with customized 3D imaging, teleradiology has integrated mobility and cloud solutions, making it simple for experts to assess and provide the necessary results. This is considered one of the best medical specialties in saving the lives of many by offering early detection with advanced digital telehealth services and healthcare solutions.
The advantages of teleradiology in telehealth services include:
Telehealth technologies in teleradiology specialize in providing an opportunity to work in distant and remote places to analyze images collected by ER teams, especially in rural areas.
Teleradiology enhances productivity and efficiency in workflows are some of the key benefits of teleradiology.
Teleradiology in the future will provide groundbreaking achievements in the healthcare systems. The early detection requirements, on-time intervention, and preventive surgeries will increase the demand for CT scans over other radio-diagnostic tools and techniques. With data integration available on smart devices with cloud-based healthcare information systems, allows experts to give their opinions about CT scan findings across multiple platforms.
3
Psychiatric Telemedicine

Psychiatric telemedicine or telemental health focuses on providing mental health services with credibility, readability, and ease of access. The American Psychiatric Association has been assisting psychiatrists by establishing telepsychiatric programs to improve patients' mental health treatment, outcomes, and support. With COVID-19, mental health concerns were on the rise, hence, the usage of psychiatric telemedicine increased by tenfolds. The licensing requirements have also been relaxed so patients can access every telemental health provider across different healthcare platforms.
With psychiatric telemedicine, several benefits can be attained in the healthcare workflow. It includes:
Individuals suffering from mental health issues may go through dangerous behavioral changes. Hence, to mitigate these risks and the sense of isolation, teleconferencing via virtual care platforms can provide continual mental health assessment.
Telehealth for psychiatric care services includes telenursing and telemonitoring for remote patient monitoring purposes that provide high-risk areas which are unsuitable for residential mental health practitioners to visit, like military troupes, international space stations, and submarines.
Moving forwards, individuals with mental health concerns need to receive immediate care and constant monitoring to prevent any worsening of their current conditions. The Pandemic has shed light on the much-needed requirements for telehealth services, especially in psychiatry and telemental healthcare specialization. Adopting methods like psychiatric telemedicine in healthcare will provide accessibility to video/message therapy and improve patient engagement on business platforms for healthcare organizations. It is possible to attain proper documentation and prescription management through monitoring behavioral health and improving the treatment outcomes of patients in reduced time and cost-effective ways.
4
Teledermatology
The role of teledermatology plays an important role in the integration of telehealth services. It explores plenty of promises through the premise of teleconferencing and information technology that has transformed the world view of dermatological care delivery access to underserved and inaccessible areas.
Teledermatology offers patients and providers an opportunity where:
Teledermatology reduces the time and improves consultation probabilities with more than one expert, even with remote patient monitoring at different locations.
Dermatologists, telehealth nursing teams, and primary care physicians learn about the various aesthetic procedures via teleconferencing models, real-time store and forward telemedicine specialty programs, and enable their skill acquisitions to a greater extent.
The future of teledermatology is seen as a cosmetic rise in the telehealth sector, where it is rapidly becoming a demanding telehealth new medical specialty. Only a handful of specialists are available to conduct teledermatological procedures in the domain, but the increased knowledge will continue to demand more clients prefer teledermatology over in-clinic cosmetic surgery visits.
5
Telepathology

Another new medical specialty in telemedicine that allows electronic analysis and transfers digitized images instead of the specimen slides acquired in the lab and contributes to the growth of the telemedicine revolution is telepathology. Telepathology provides training and education, primary diagnosis of histopathology, integrates frozen-section analyses, empowers second opinion diagnostic procedures, and improves access to telehealth services in underserved communities.
The future of telepathology looks toward the adoption of advanced telehealth technologies and solutions in cost-effective and time-saving services but also immensely increase and accelerate the early stage of diagnoses for many diseases. Telepathology will also increase the rapid pathological examination incurring prompt interventions. These benefits collaboratively benefit telehealth services and magnify the substantial demand for these best medical specialties in the healthcare market.
6
Telecardiology

Telecardiology has made it possible for virtual care providers to analyze telecommunication information exchanges of ECG and EEG records. Telecardiology will improve the delivery of cardiac treatment provided in the primary care space. Teleconsultation among family providers and cardiologists will reduce follow-up visits, enhance early detection of critical conditions, and provide home-based telenursing services for critically ill cardiac patients.
Cardiac patients in the future will keep opting for remote patient monitoring for vital sign improvement and arrhythmia to improve the quality of life and decrease hospital readmissions. The COVID-19 pandemic has raised the demand for telemonitoring in cardiac patients and offers better care outcomes in a limited time. Telecardiology is set to save multiple lives in the coming years.
7
Pediatric Telemedicine
Telehealth in healthcare has been specialing in improving the lives of children across the globe. Telemedicine incorporation in pediatric practices reduces in-person visits to clinics, eliminates stress and induced anxiety, and absenteeism expenses for providers and caregivers. Hence, it has reduced the time children miss their classes in school. Pediatric telemedicine offers school-based telehealthcare solutions, management of chronic conditions in pediatric telemedicine solutions, provides child counseling and education for improved hygiene practices, and quality care delivery service to children virtually.
The future role of pediatric telemedicine will empower healthcare providers and staff with resources that require a safe and responsible view of the patient's medical history and records. Besides, the telehealth approach will further provide doctors to treat patients due to the significant reduction in wait time with reduced face-to-face follow-ups. This will help providers give patients the required attention and time.
8
Opthalmology Telemedicine

Optometry and Opthalmology telemedicine through on-demand digital treatment assists in communicating with patients at their locations. This can minimize patient exposure to other diseases. This will assist in linking the right patient to the right providers at the right time with virtual Opthalmology care delivery services. Ophthalmology telemedicine practitioners highly prefer viewing telehealth services as an asynchronous (store & forward) tool for diabetic retinopathy screening in patients. Benefits and opportunities of Opthalmology telemedicine in adversity can be of immense help for seasonal and/or destructive displacements.
The future role of Opthalmology telemedicine will continue to play a critical role in avoiding and eliminating irreversible vision damage. It will help patients with undiagnosed eye problems by identifying them at an early stage and providing the correct treatment immediately. Opthalmology telemedicine also significantly improves remote patient monitoring in healthcare for screening and saving follow-up times and appointments for both patient and provider sends. Opthalmology telemedicine eases the use of monitoring and contributes to the healthcare systems. By implementing this approach, healthcare organizations can modify their position in the market by delivering affordable and time-saving telehealth services for both clients and healthcare insurance providers.

Final thoughts,
Telehealth services are a much-required optimized workflow in the healthcare system strengthening the various paths of telehealth specialties. It will be a streamlined and enhanced healthcare delivery solution in times of health pandemic. Today, telehealth technologies are advancing within the telehealth domain and simultaneously heading a newer frontier to reach underserved and rural communities. Hence, with digital healthcare companies like Mobisoft, we can collaborate and make patient outcomes better with advancements integrated into our existing system.
Author's Bio

Shailendra Sinhasane (Shail) is the co-founder and CEO of Mobisoft Infotech. He has been focused on cloud solutions, mobile strategy, cross-platform development, IoT innovations and advising healthcare startups in building scalable products.