Let's accept this painful fact that managing a trucking company is messy and inefficient. Most trucking owners still manage their operations using multiple phone calls and heavy paperwork resulting in complex workflows, poor business performance, and lower profits. There are numerous other challenges that the trucking businesses face today that we will discuss in more detail in this article.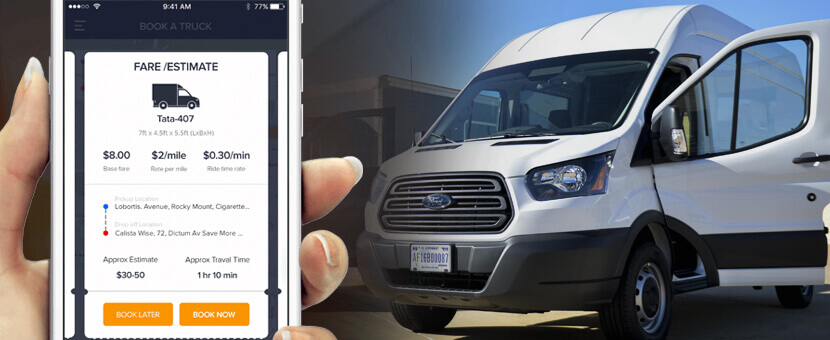 As a testament to this very fact that trucking industry is still living in the dark ages and needs a technology overhaul, Uber recently launched a trucking app called Uber Freight in the US that aims to seamlessly connect trucking companies and their drivers with shippers on tap of a button. Uber is not the first company to launch a trucking app. Startups like Cargomatic and Convoy in the U.S have already made a splash to transform the trucking and logistics operations. However, the entry of Uber is pretty significant for the entire industry.
Just like Uber for taxi apps, we are confident that the launch of Uber Freight app will spur demand for a new category of apps in the market popularly known as "Uber For Trucking" apps.
Now let's dive deeper into some of the serious challenges faced by the trucking and freight industry and how adopting Uber for trucking apps can solve them.
Challenges Faced By The Trucking Industry
Cumbersome operations
Trucking business owners or carriers can easily get overwhelmed by the number of tasks that they have to perform to get a shipment right. Taking new load orders, assigning them to the right drivers, ensuring timely deliveries, managing emergencies and what not. The majority of the businesses still use to and fro phone calls from brokers to get new business, wasting a lot of valuable time that can be allocated to other crucial business functions.
Empty trucks – Lost revenue opportunities
Underutilization of available load capacity is another serious challenge faced by the carriers. Trucks often move with less than target load and many return fully empty on their return leg of their trip, basically burning much higher fuel per unit load. Getting freight trucks to be fully loaded on return trips has become a hefty task which if properly executed can unlock new revenue opportunities and better resource utilization overall.
High brokerage fees
The middleman or the broker in the trucking industry usually takes hefty commission fees for bringing new business. Because of the heavy dependence of carriers on these brokers for getting them new shipment requests, they usually agree to their demands resulting in lower profit margins or higher shipping costs for customers if they decide to put the load on them. There are many industries which can do better with a digital marketplace and the trucking industry is surely in need of one.
Security issues
Carriers often have little or no information on the location of their trucks and drivers as no tracking technology is being used. Using phone calls is time consuming, error-prone and distracting and creates a critical communication gap. Owing to lack of control and tracking, issues like misuse of trucks, shipments being stolen, delays in delivery have become common. Handling emergency situations also becomes difficult.
Poor customer experience
In this age of on-demand services, people have gotten used to speedy, on-time deliveries whether it is for a food order or a package from an e-commerce store. The trucking shipment industry is yet to catch up. Deliveries delays, incomplete orders, damaged items, high shipment fees only create a poor customer experience. Expecting real-time delivery tracking, regular notifications, simpler shipment bookings may seem a big ask in that scenario. However, mobile technology and Uber for trucking apps present a tremendous opportunity to bring a complete overhaul of this critical logistics industry.
We at Mobisoft believe in a problem-solving mindset leveraging mobile technology. The challenges faced by the trucking industry are highly suited to be solved with logistics and trucking mobile apps and the launch of Uber Freight further backs this approach. Let's see how.
Benefits of an Uber Freight Like App For The Trucking Industry
A trucking business has three key stakeholders. The carriers or the trucking business owners, the drivers and finally the customers. Let's see how an Uber for trucking platform can benefit everybody.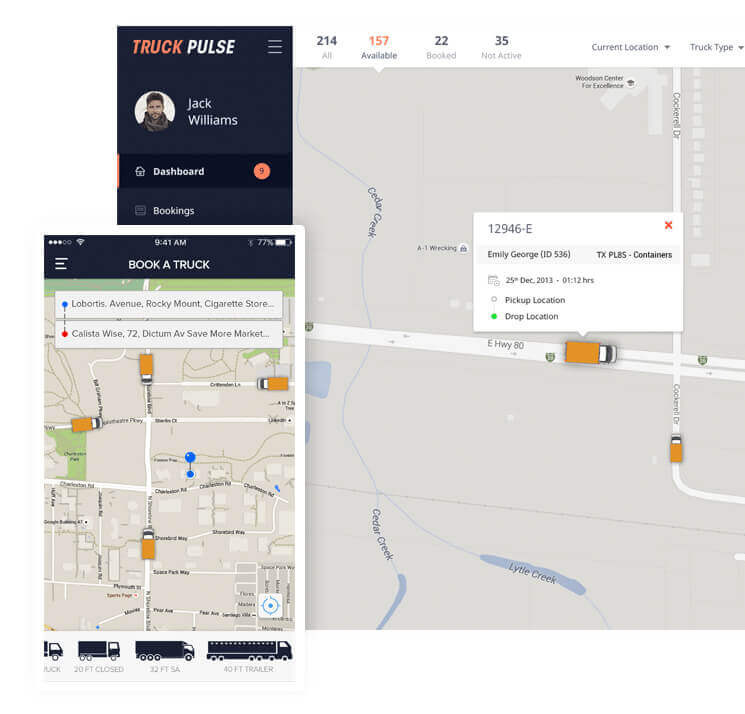 Benefits For Carriers
A smarter middle man to work with
No more wasting time taking phone calls from brokers. No more haggling over commission rates. Carriers get a digital mobile channel to receive new load requests from their customers and automatically or manually assign them to the write driver. Everything can be managed through a browser-based admin panel, simplifying workflows and overall making lives much simpler for business owners.
Increased efficiency, better profits
No half-filled or underutilized trucks. The trucking dispatch software intelligently connects a truck driver to multiple shipping loads to be moved in the same direction. Think of it as a UberPool for shipments. Better truck utilization ensures higher profits per mile. Sounds awesome right?
Real-time tracking and much better control
No more blind spots in operations. Carriers can track their drivers and trucks in real-time from their admin panel. They can create predefined routes, set speed limits and track any violations. Everything from the bills of lading to gas refill costs can be easily logged from the driver app and made available to the carriers in a digital and easy to manage format. Collecting all sorts of data also unlocks new opportunities for analysis and optimization.
Happy customers
Say no to losing customers to a bad service experience. Offering a Uber Freight like mobile app to the shippers ensures a much better shipment booking experience. Carriers get more business from existing customers and acquire new ones, overall growing their business faster.
Benefits For Drivers
Get new requests from an app
Drivers get a dedicated app to get new load pickup and drop requests from their owners or carriers. This gives them much more flexibility and simplicity. They get a new request, have the choice to accept or reject and get on the trip as per the schedule. No frills experience.
Everything needed to complete a job in one place
Once a truck driver accepts a load request, he gets complete details about the pickup location, time of pickup, shipment destination, load weight and any additional instructions needed to get the job done. Built-in navigation, traffic alerts, delivery time estimation and more make the process much smarter.
Logging bills made convenient
Drivers are required to get the bill of lading signed, get delivery confirmation from customers, record trip length, add gas refill bills and tolls. All this can be done from the driver app completely replacing paper-based workflows.
Payments and performance tracking
Drivers can view their job history and their payment status in one place. Performance reports, updates from carriers and other helpful insights are also provided.
Benefits For Shippers
Seamless bookings
Shippers get an intuitive mobile app to easily schedule a shipment booking providing necessary details like pickup, drop, load weight and additional instructions. They get upfront fares or can request a quote. Bookings for immediate needs or bulk bookings are also possible.
Shipment tracking & alerts
Once a shipment is booked, the shipper gets real-time alerts on the progress from truck arrival to delivery. Live tracking feature ensures that customers know exactly where their packages have reached.
Payments & receipts
Shippers can pay securely from their app once their package has been delivered successfully and get a proper receipt detailing the charges. The upfront fare feature ensures no surprises.
Ratings & feedback
The app allows the customer to share their feedback on the shipping experience and request help for any issues.
Why Should Carriers Have Their Own Custom Developed Uber For Trucking App?
One Size Doesn't Fit All.
Trucking companies come in all types of sizes with varied business needs. Some may want automatic load matching feature while others may want manual dispatch option. Working with an experienced trucking app development company to get their app built can have several advantages for carriers.
Customization
Carriers can choose the features they want. From the driver and shipper app to the web admin panel, they can have everything custom-built to their requirements. Offering customers a web booking option, web dashboard for drivers and anything else also becomes possible.
Branding & design
With the carrier's logo and unique design, the app is able to stand out, makes marketing more effective and bring new customers on board.
No platform fees
Being a part of a platform like Uber Freight is not a bad idea at all if a carrier is small and wants to leverage their reach to gain new customers. However, over the long run, the commission fees can significantly hurt their profit margins.
Better control
Large and mid-size truck carriers would want better control over their operations rather than leave it to a trucking platform. For them, the initial investment in trucking app development can pay huge dividends with better profits, better control, custom features and a stronger brand overall.
The Opportunity Is Too Big To Miss!!
We saw how the trucking industry is plagued with challenges and how Uber for trucking apps have tremendous potential to bring a change. The mobile revolution has disrupted many industries. Those who chose to be a part of it have excelled and those who didn't take it seriously are struggling to keep their business running.
Mobisoft is all about helping businesses and industries leverage the power of mobile and digital to adopt the disruption and grow faster and smarter.
Check out our own Uber for trucking app development solution for logistics and trucking companies.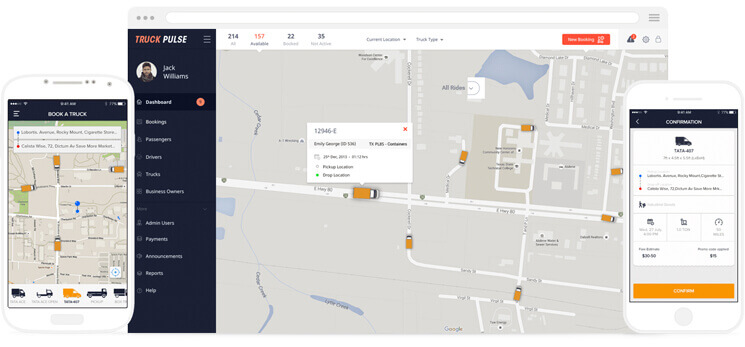 Author's Bio

Nitin Lahoti is the Co-Founder and Director at Mobisoft Infotech. He has 15 years of experience in Design, Business Development and Startups. His expertise is in Product Ideation, UX/UI design, Startup consulting and mentoring. He prefers business readings and loves traveling.