The concept of virtual healthcare is surfacing the market due to the increasing number of working people and advancement in technology. Virtual healthcare can be defined as virtual visits to physicians through video calls, chats, or phones. And this is all possible because of the audio and video connectivity enabling the virtual meeting from anywhere. Sometimes a patient is away from the city, or unable to reach the clinic due to various surrounding factors. In these cases, the videoconferencing with an off-site healthcare practitioner is the most convenient option.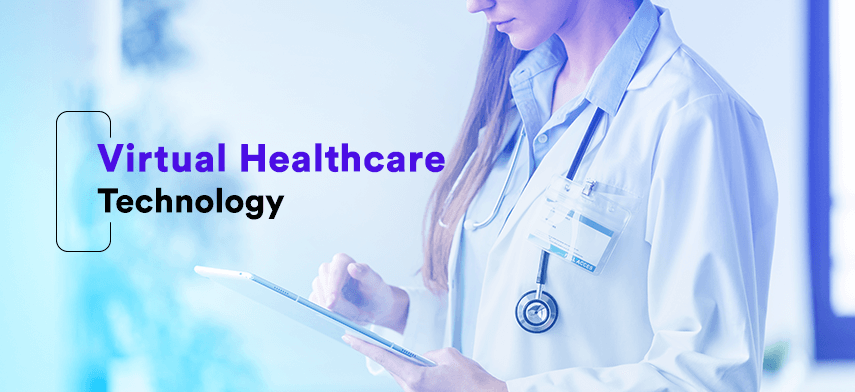 So far, virtual healthcare is majorly used for consultations, status reports, meetings, check-ins, and not the complete diagnosis and treatments. However, with the advancement in technology, the virtual healthcare methods are exploring the other detailed implementation as well. It even allows physicians to monitor their patients in remote areas. In fact, it is gaining popularity in the treatment of diabetes and hypertension, where it reduces the chances of rehospitalization due to lack of transparency and improper communication between the physician and patient.
How Is Virtual Healthcare Different From Telehealth And Telemedicine?
Virtual healthcare is interchangeably used with telemedicine or telehealth, at times. But they are not the same. It won't be wrong to say that virtual healthcare is a subset of telehealth, which comprises technology-driven and remote healthcare. It combines all the methods implemented by the healthcare experts, including keeping a check on vitals after the surgery, report after the in-person visits, discussing further treatment options and plans, etc.
However, in the comparison between telehealth vs. telemedicine, the latter one is a domain that does not require seeing the patient in person. Instant messages, notification, audio, and video platforms are used to interact with the patient, provide medical aid, suggest them with the exercise and therapies, and recommend the local physicians to the patients. Thus, telemedicine is used to deal with common ailments and manages chronic illnesses to a large extent. As healthcare experts are utilizing the healthcare tools to provide the best of care for their patients, it is important to know the terms correctly to have a clear insight into the digital healthcare tools being used.
Nevertheless, virtual health technology has some irreplaceable benefits, such as follows:
Virtual healthcare makes patients active, informed, engaged, and more conscious of healthcare plans, accountability, and health monitoring.

It enhances the coordination between the payer and healthcare provider due to transparency in the process and easy verification of the expenses.
However, it holds some major issues as well. Let us have a look at the challenges to be tackled while implementing virtual care.
Challenges Faced By Virtual Healthcare
Even though the virtual healthcare sector is estimated to be quite lucrative from revenue purposes and highly beneficial for the patients in staying connected with their healthcare experts, certain drawbacks need to be kept in mind while investing in the technology. In fact, these issues also give the opportunities to implement newer innovations such that they can be minimized or eliminated. Let us see some of the challenges in virtual healthcare: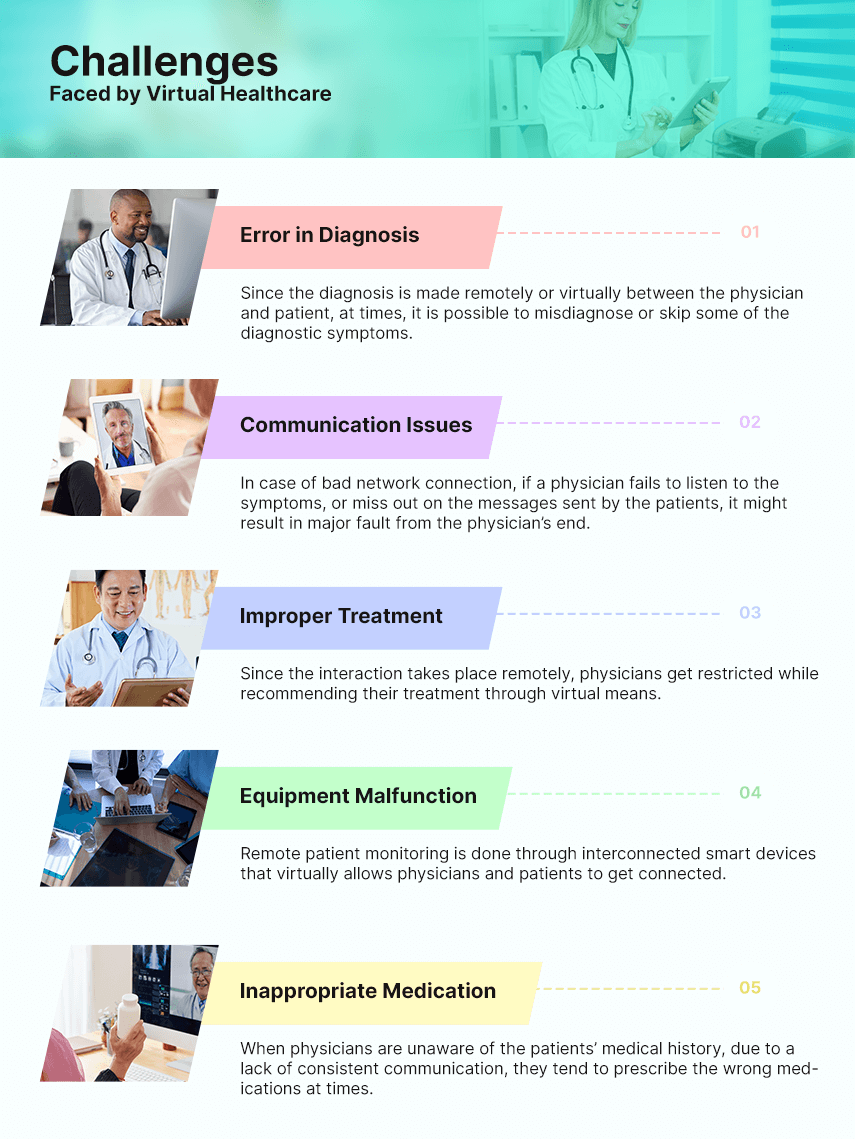 However, these challenges and issues can be managed with proper implementation of existing technology and coming up with innovations. It would be safe to say that investing in this technology is clearly beneficial due to its over-powering benefits and applications.
Let Us Have A Look At The Major Applications In Use:
With constant monitoring of vital signs and metrics, it becomes easy for healthcare providers to keep track of the patient's health status.

It provides easy communication between physicians for improved information sharing and better patient care.

This is one of the most convenient ways to monitor patients with chronic diseases and send them notifications from time to time. It even allows physicians to monitor patients' healthcare.

It also acts as virtual healthcare service for underprivileged populations along with better access to physicians.

The method of remote patient monitoring helps healthcare providers to understand the patient's symptoms and its medical status, based on which they can future design the treatment plans.

It provides easy solicitation of outcomes reported by the patients for future reference.
With these applications, it would be interesting to know the upcoming trends that are likely to take virtual healthcare technology by storm. These trends provide lucrative opportunities for companies that are willing to invest in the domain for better revenue and growth.
Leading Trends Affecting The Industry
Trends in the virtual healthcare sector are sure to bring a disruption in the market. Though there are a lot of them changing the face of healthcare, some of the key trends are as follows:
1
Increase in Physician Adoption
With the growing awareness about technological advancements, more and more physicians and healthcare centers are adopting virtual healthcare technology and its tools. Healthcare experts are now welcoming this disruptive method to treat the patients, as they gradually realize its advantages. Some of the basic advantages include reduced readmissions in hospitals, effective ways to connect with patients, and provide primary treatment remotely with virtual care.
2
Lesser Administrative Work
Without telehealth and virtual care service, all the patients' records had to be documented on papers and files. This hassle is eliminated by the digitization of the virtual healthcare industry. It allows the details to be stored and processed digitally, reducing the headache of maintaining the physical records. Besides, physicians can stay at home and provide virtual consultation, which saves them from the issues of traveling to the clinics and checking the patient's in person on some busy days.

3
Better Reimbursement Facilities
As the usage of virtual care and telemedicine is increasing, the reimbursement policies are also getting better and productive. The physicians are getting paid based on a per-patient or per-month basis. This has turned out to be an attractive source of income, which is, at the same time, feasible for the patients as well. Thus, health insurance companies are also modifying reimbursement policies in a way to benefit customers.
4
Improved Access to Care
This technology has undoubtedly given broader and better access to healthcare. One can now get in touch with a physician from anywhere around the world. This increase in adoption is also credited majorly to the rise in demand by the patients. Due to busy schedules and residing in remote areas, it has become difficult these days to find time to go to a physician for consultation. As a result, they needed a solution that would bring healthcare to them without hassle, long queues, and affordable approaches.
5
Licensure Issue
This virtual healthcare technology comes with several regulations that vary from state to state and sometimes hospitals to hospitals. Earlier, when the adoption had not picked up the pace, these regulations were very strict from the telemedicine point of view. However, with increasing new entrants in the market and existing ones gaining more popularity, states are modifying their regulatory norms such that it becomes easy for the people as well as the healthcare sector.
6
Rising Influence on the Healthcare Industry by Virtual Technology
The healthcare sector is increasingly riding the wave of virtual care. The surging number of hospitals are adopting virtual care treatment methods, which keeps them connected with the patients virtually and also provides them the benefit of being available for the discussion according to their convenience. They now have the tech person to listen to their queries and get them resolved quickly without delays.
Wrapping up,
In the coming times, the care would be provided mostly at home, or through virtual settings. The healthcare sector would focus more on remote care and reducing in-person visits. The trend of value-based care is expected to pick pace in the coming years. According to the research, from 2011 to 2018, the revenue earned on outpatient was 9 percent higher than the inpatient revenue, which was merely 6 percent.
This shift can be credited to technological advancement. Besides, the emergence of technologies such as virtual health, predictive analytics, and digital consumer apps are additionally expected to uplift the growth in the healthcare industry. However, there are still a large section of healthcare centers and hospitals that still depend on the inpatient revenues for their growth. Nevertheless, gradually some of the hospitals are investing in outpatient and virtual settings. These hospitals are foreseen to get better revenue and exposure in terms of technology, in the future.
Author's Bio

Shoeb Ahmad, with an experience of 22 years in Digital World, heads Digital Marketing at Mobisoft Infotech. He has a rich experience in SEM, SEO, Social Media & other verticals of Digital Media. He also has been a consultant for a variety of industries, enterprises & startups. He loves reading & traveling. He often writes on various forums since he believes 'Knowledge increases by sharing.'