Smiles and Greetings!
App developers, marketers, and publishers are constantly looking at new ways to enhance their app monetization techniques. With brilliant monetization strategies you can earn huge revenue in the multi-billion dollar app industry. However, with hundreds of apps getting created, one has to accept that not all ventures turn out to be a hit! The kind of app you wish to make, backed by your knowledge of what works with a set audience can help you come up with the best strategies for monetization. Traditional methods might at times work wonders for your app to generate rewarding proceeds; on the other hand a few unusual and innovative strategies may as well click if you think from the user's shoes.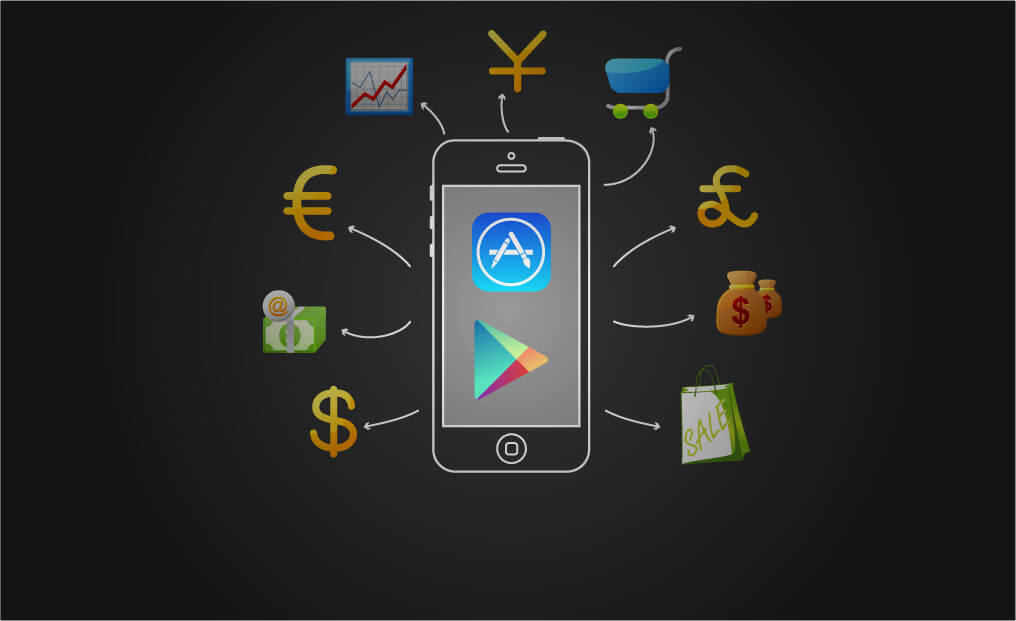 We have compiled data from a few authentic sources to bring to you the best methods of mobile app monetization. Here is our take:
Be an Early Bloomer:
Most firms do not think of monetization until their stellar work in the form of a finished app is ready to hit the store. Your strategies should be planned well in advance while the app is in the building process because this will open many revenue channels and provide ease of implementation post its launch. So, whether you wish to opt for paid (Minecraft – Pocket Edition, Sleep Cycle alarm clock), freemium (Puzzle & Dragons and Candy Crush Saga), paidmium (Grindr Xtra, Bloons TD 5), in-app advertising, or a hybrid model, know what's best. Besides, your business model can change as need permits!
Track, Analyze and Research:
Identify the goal of your app and the revenue churning strategies. If you think from all dimensions, you may approach the right people to do the job reducing overheads. However, do not limit your strategies to a stipulated region.  It needs to be flexible enough to withstand all weathers!
In-app Purchases (IAP):
We would like to bring to light the February 2014 report from Distimo for its appealing statistics. The report states, "In January 2012, in-app purchases from free apps generated only 46 percent of revenue in the Apple App Store in the United States. In January 2013, this share had already increased to 66 percent, and in November an all-time high of 81 percent was reached."
The best examples to fit this theory are the highest-grossing apps, namely Candy Crush Saga and Cast of Clans. Although In-app Purchase is not the sole revenue generating strategy for these gaming giants, they are nevertheless top grossing in the iOS app store.
Employ Multiple Monetization Techniques:
A majority of apps that are running high on revenue or are average performers apply more than one method of gaining revenue. The decision to use multiple monetization strategies is in itself a valuable move. These tactics not only unfasten many channels of revenue earning but also help identify the effective revenue models.
For instance, the messaging service provider Line earns money from three different sources – free-to play video games, stickers and official accounts created for celebrities and businesses to send promotional messages.
In the same contour of Line, Kakao Talk, a dominant messaging app in South Korea, adapts to similar techniques that of Line. It has come to light that they have been experimenting with seven to eight projects to hit upon new sources of revenue. Besides other services like music distribution and e-commerce are possible ways to bring in revenue. WeChat on the other hand included an electronic payment feature to the app in order to make money in the form of small handling fees from transactions made through the app.
Build a Family of the Apps:
The idea behind this is to generate a "family of apps". The apps that have already created a mass-appeal in the competitive markets can vouch for an upcoming newbie. This is as good as a recommendation that can work in favor of the new app, which further results in accomplishing a large and devoted user base. The trust factor of the user is tested in this case, which bounces back to the author company.
Sales Commissions through Sponsorship/Promotions:
To beat the challenges coming from the traditional in-app purchase technique one can opt for sales commission, which runs in the lines of affiliate marketing. If you have a substantial audience you may point them to a few carefully selected purchases and in return get rewarded with percentage-based commission. This method can boost your revenue to a great extent. Besides, some of the downfalls of in-app purchases can be conquered through Sales Commissions.
Analytics:
To increase your mobile base, it is best to know who your users are and where they come from. This would enhance your view of looking at the app and understanding the user. It also helps identify areas of improvement and optimize your market success.
When thinking of monetization you need to be tactful enough to ensure that the main purpose of your app is not diminished but is enhanced. In-app ads, subscriptions, e-commerce sales which distract the audience should be used only as the last resort. You need to ensure that the feeling of harassment does not creep into your valued customers. Enhancing the user experience should be the prime goal of you app. Monetization techniques need to revolve around this goal for your app to attain popularity and also serve the purpose.
In-House News
Mobisoft Infotech makes it to Houston Fast 100 for 2014!
Our rapid expansion in the mobile and web industry has earned us a place on the Houston Business Journal's 2014 Fast 100 list of companies. We wish to keep up the growth and provide the best services to our clients.