Home Cooks
A social platform to commercialize home-cooked food and connect the home-cooks with food lovers
"They say that in the army the coffee's mighty fine;
It looks like muddy water and tastes like turpentine!
Gee Ma, I wanna go...
Oh Lord, I wanna go Hoo-Hoo-HOOOOME EH!"
Yes, it is home calling for many when it comes to savoring some traditional and authentic recipes you have relished all your childhood. No matter what part of the world you are put up with, there is no comparison to homemade food and no commercial eateries can revive the taste of what even a simple home meal can do.
If you think we are talking about another food app, you have just pulled the trigger. Nevertheless, there is a twist to this app. It is an app that can bring home cooked food on the table for you!
The App Story
We all crave for home cook food because of its nutritional value, hygiene, satiety level, and love with which the food is wrapped under. The changing times and technology has bestowed new wings onto people who are excellent home cooks, as the exposure these patrons are getting these days is immense. We have an app now that can make home cook food available to you with ease and as per your likings. Yes, you have heard us right. An app that can help you check some delicious, traditional and exquisite cuisine; track the location, and if the place seems convenient for your visit, just drop by!
How different is the app from its contemporaries?
Food apps are quite common these days, which caters for all your food requirements. Be it delivery of the food at your door steps to finding the right eateries. With the number of food joints and restaurants increasing each day, we humans are spoilt for choices. However, they all lack a personal touch that one finds in home cooked meals. Savoring on homemade foods is an exciting endeavor and thereby the concept of creating such a platform in itself has been very ingenious. Besides it also serves as a means of earning for all those gifted souls who wish to have an extra income source but owing to cash crunches cannot take the plunge or more so end up doing meager jobs.
Technology has once again made lives easy for humans to access even the simple joys of life. Attaining homemade foods or commercializing the entire process is one of them.
Branding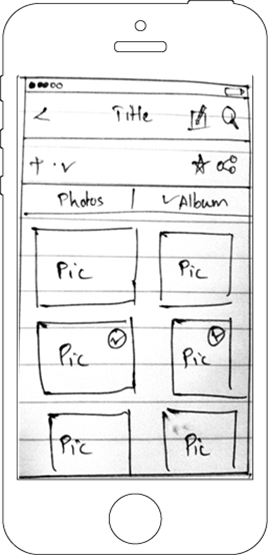 Prototype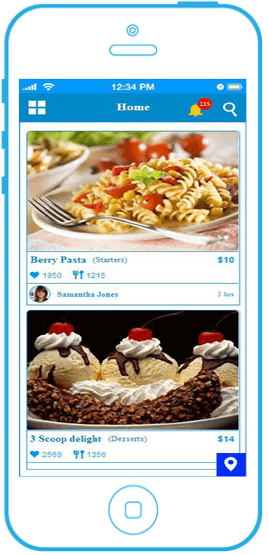 Wireframing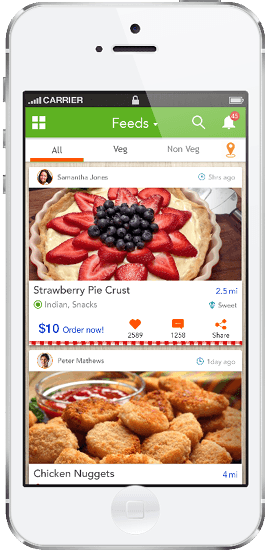 Final Product
App Features
Technically there are two registered users of the app. One is the visitor who checks the cuisines with the intention of savoring it; if the menu, price and place seem convenient. The other user is the person who posts their dishes and makes it public for people to view and get it touch with you.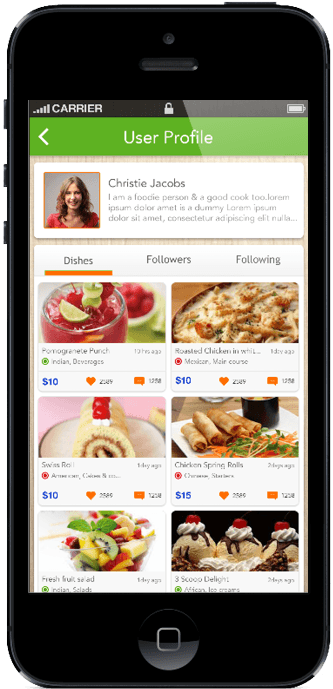 It enables users to showcase the various foods through images that they can prepare for commercial return

Users can view feeds, search for popular dishes as per their set criteria, sort the menus on the basis of popularity, location and recently posted menus.

The map view spots the exact location, where users can gauge the distance from their current location; beside it also provides the price of the dish and its name.

Users have an option to receive push notifications as per likes, comments and cuisines a new user has posted

The order tab will give the contact details of the place where the dish is available.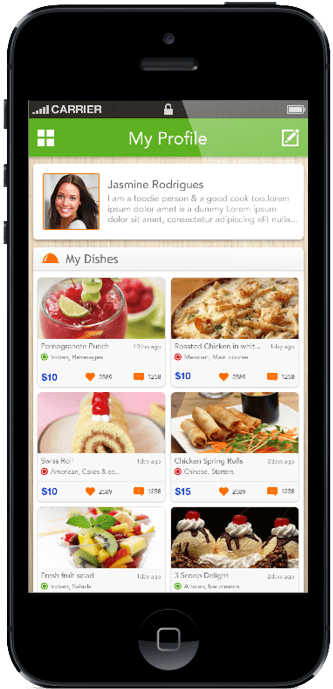 The owners can share homemade dishes with friends and acquaintances via facebook, twitter, google plus, pinterest and path. Nonetheless, one can see the delicacy only if it is open for public view

You may like, unlike and add a comment on other users dishes; besides the owner can even edit and delete their own dishes

Once a dish is ordered, owners are bound to receive notifications or more so get a direct message from clients

It works on iPhone and Android applications.
The App at a Glance
'Home cooks' app is a blessing for those, who have a liking for a sumptuous home cooked meal. They come with added flavors and more nutrition, thus most diet conscious people do not think twice to dig into homemade pastries and confectionery as they come sans the added preservatives and additives that are used to increase the shelf life of any food item. A user has to just download the app in order to get started. With homemade food at your mercy, the app is certainly the one for all the food lovers!