One of the pioneers in local search and one of the world's leading innovators of online business listing syndication and online identity management solutions for SMBs and enterprises, Universal Business Listings (UBL) has served over 200,000 businesses and more than 3200 resellers in the United States, Canada, United Kingdom and Australia. Currently, there are over 72,000 active subscribers leveraging the UBL platform to deliver certified business profiles and rich, relevant content to consumers.
UBL's Legacy System
UBL's powerful, proprietary solutions empower business owners and UBL's resellers with a cost effective method for ensuring the distribution of owner-verified business listing information to online consumers through the UBL distribution network, comprised of over 300 leading web directories, search engines, social networks, mobile applications and other web-based sources of business listing data.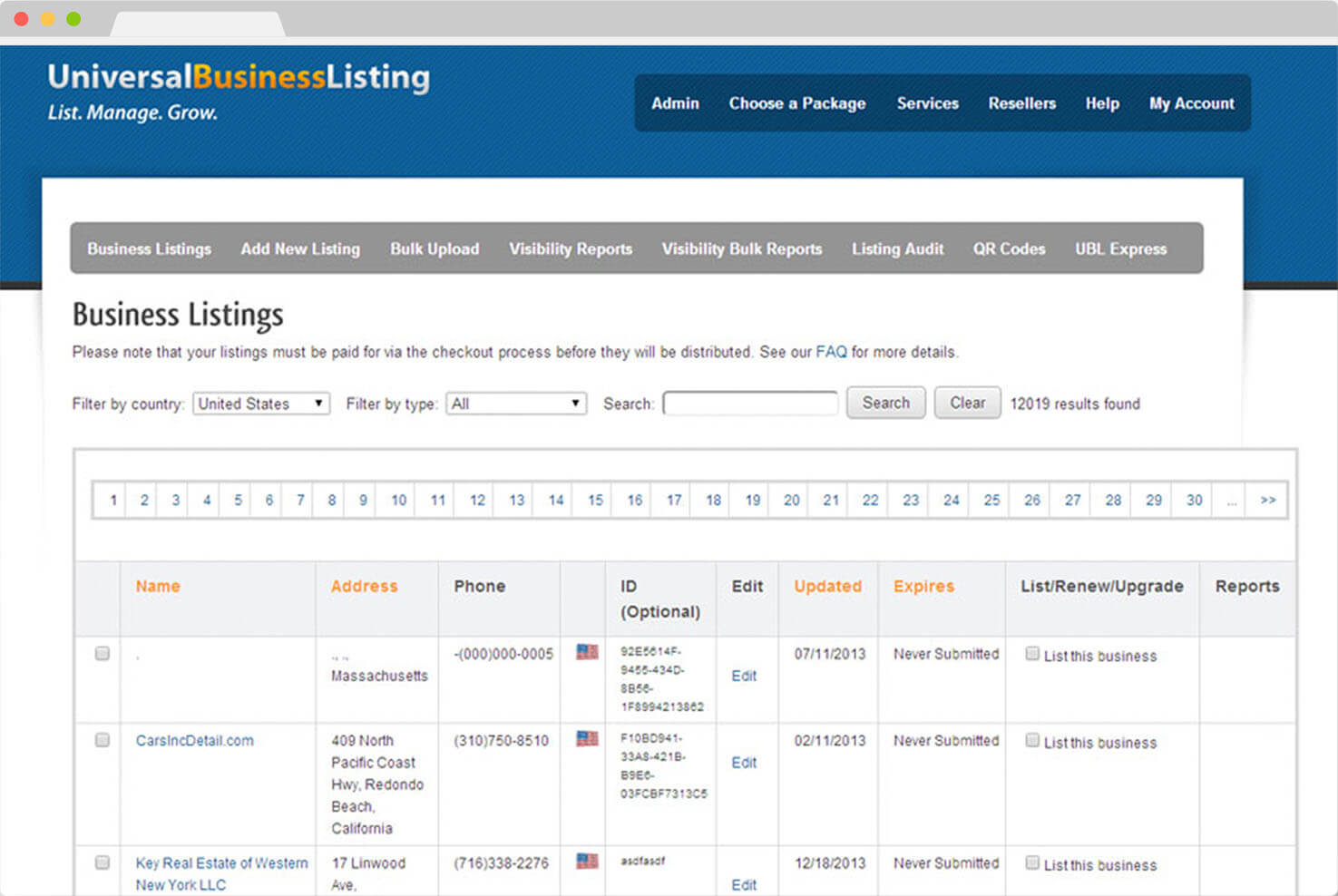 Legacy Application
The Problem
UBL's existing portal was very slow to respond to the already logged-in users leaving them frustrated with the waiting time at the portal. UBL therefore decided to go in for a new dashboard with a brand new UI and a highly responsive system that would calm its irate clients and convert their frowns into smiles.
The Challenges
To handle a huge number of clients and their multiple business locations at the same time

Making the portal work well despite the large data handling and multiple report generation

To design screens with a new responsive layout so as to make them easily accessible from multiple devices – like phones, tablets and desktops.

Development of a number of reports and external integration of reporting services for quick, real time business analytics
Web App Objective
Mobisoft Infotech had a mandate of building a new dashboard for UBL's clients. The business owners would be able to monitor the results of their digital marketing strategies and better them. UBL's new portal would thus help businesses maximize their digital marketing and get the most out of their spends in quick time.
The MOGIC (Mobisoft Logic) – Our Approach
Our mobility excellence team worked on the complete design and development of UBL's new dashboard with reporting and listing management included.
Design
The aim was to build the portal with a fluid UI and great usability.
Development
UBL's new portal was developed with an agile method of development based on iterative and incremental development, where requirements and solutions evolved through collaboration.
End-user Benefits
This new dashboard would offer end users and UBL's registered business owners with the following benefits: Simple and easier way to check, monitor and control online business presence. Visibility across multiple business locations through a single window Promote the business more effectively and in quick time Increase and effectively manage online presence and strategies by providing end users with the option of detailed ranking reports, review and visibility reports of various locations of their business. Save business owners the effort of registering scores of websites

Get a higher ranking by achieving a consistency in listings across all sites

Get listed in the major search engines and directories
Our Take
UBL was looking for a team that could develop a web application with a benchmark performance and delivery and an enhanced UI that could effectively work across multiple devices. The Mobisoft Infotech team with its experience in developing responsive applications for multiple devices like tablets, PCs and mobile devices developed a new dashboard that delivered to the point.