At-home service providers have felt a big blow due to the COVID-19 pandemic. However, things are slowly getting back to normal as rules are being relaxed. Find out how you can safely reopen your business and provide services once again. The pandemic has brought the job market and businesses to a standstill, with lesser people opting for smaller gatherings and reduced exposure. While clients have found it hard to trust an outsider inside their homes, there is also a growth in on-demand services, especially when it comes to doorstep delivery.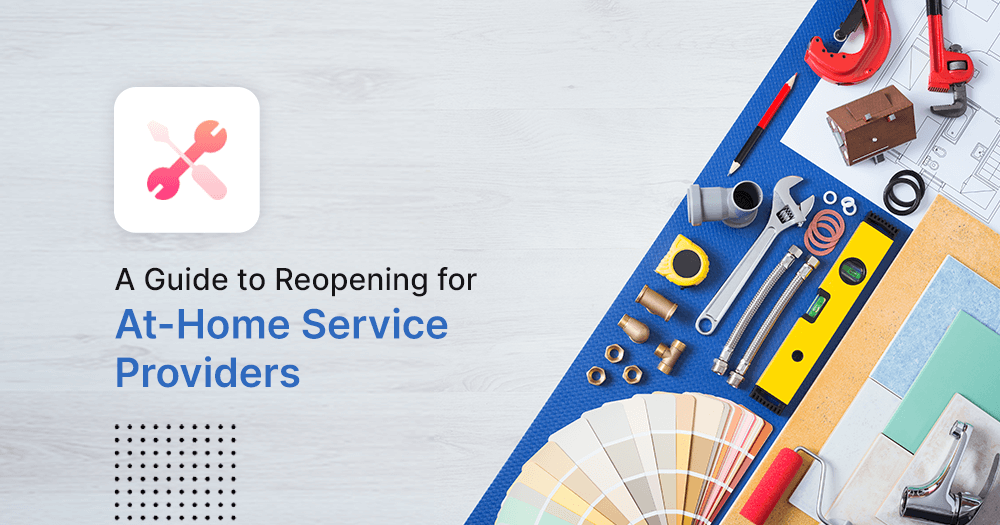 As the rules are being relaxed and eased, there is a window for at-home services in the maintenance and construction sectors to resume services, although it requires well-planned careful measures to avoid infection and maintain distancing.
At Home Service Providers and Services Offered
On-demand at home services – a new norm – offer a variety of services that covers home designing, maintenance, repairs, plumbing, etc. The most sought-after on-demand home services would be in the maintenance sector, home design, and beauty and wellness sector. The easiest way to get these works done is by finding a suitable on-demand home services provider that offers the service you need.
So, the next time you need to get an electrical appliance or your plumbing network repaired, or simply make a few changes around your home, you just have to find the right home service professionals who will get it delivered right at your home with proper safety measures.
Impact of COVID-19 on "At Home Service Providers and Employees"
The advent of COVID-19 has brought about new rules in the society, which began with complete lockdowns and suspension of businesses and services. With difficulty detecting the virus and its exponential spreading rate, it was advised to maintain social distancing and use face masks to avoid exposure.
At home service providers have faced a hit as clients no longer wanted to bring another person into their household, with the impending risk of infection. This meant a fall in major home repair services. A survey of at-home service providers found that 22% of them had stopped receiving customer calls. 37% agreed they faced a massive drop in new projects.
However, on-demand home services such as home deliveries for foods and groceries, and at-home beauty and wellness services did show a rise in demand. The three most popular sectors with greater customer demand are beauty, wellness, and maintenance and repair sectors. Therefore, service providers are aiming to focus more on developing these areas.
COVID-19 has hugely impacted employees with the need for extra precautions and lower job opportunities than usual. Employees now have to be cautious about their clients' health conditions, regularly monitor themselves for symptoms, and take appropriate measures for keeping themselves safe.

How Can Service Providers or Businesses Protect Themselves, Employees, and Their Customers?
A business that withstands and thrives in this pandemic will be one that can adapt to the growing demands for safety without compromising the quality of service. As an at-home service provider that provides on-demand home services, you need to plan ahead for restarting your services with optimum safety. You will have to ensure protection for your employees and customers because only strict measures can help you get back to where you were before the dip in the market.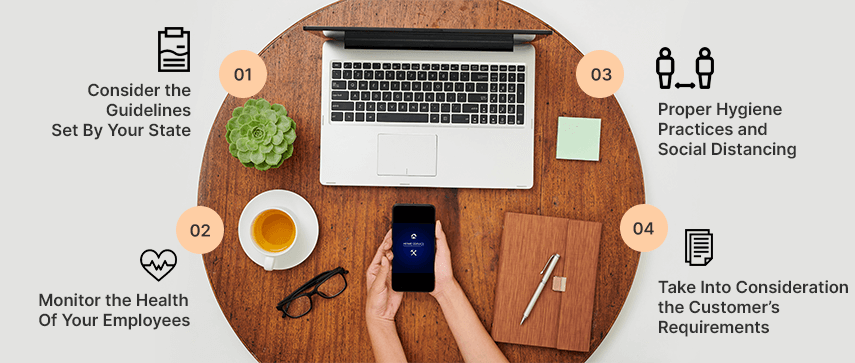 Consider the Guidelines Set By Your State

Your reopening is dependent on the state where you operate, as each state has its own guidelines for different industries. Each state has particular workplace sanitation requirements, some including the use of PPE and gloves for employees. In such cases, adhere to the regulations, as it avoids your customers and employees from being exposed to the virus.

Monitor the Health Of Your Employees

Once your state is prepped to open up businesses, you need to work on general hygiene practices for your employees. This could include providing sanitizers and masks and encouraging frequent handwashing and covering themselves while coughing or sneezing. Constantly keep track of the health of your employees, and make sure you do not send in symptomatic employees for providing services, thereby putting the health of your customers at risk.

With the risk of contracting the virus, it is best to monitor the health of your employees, which will help you diagnose any possible symptoms and give them the required care. One of the main issues faced by the workforce is the lack of paid leave, prompting them to keep working and resulting in transmission. As an ideal employer, it is necessary to address their sick period and consider providing paid leave. This is especially crucial for at-home service providers who provide home maintenance services as improper diagnosis may lead to putting the health of your customers at risk.

Proper Hygiene Practices and Social Distancing

For home service companies and at home service providers, the risk of infecting customers is also prevalent, and the best precaution for this is to practice social distancing. Maintaining a minimum distance of 6 feet from the clients in the working environment is suggested by the CDC. They can take strict measures to enforce this practice and the use of masks and PPE for the employees.

It is always best to make your employers aware of safe and hygienic practices and enforcing a safety protocol to be followed while on the job. This helps secure the health of your customers and employees.

Take Into Consideration the Customer's Requirements

Apart from your employees, you need to consider the demands of your customers and aim at providing them the perfect experience. One way to do this is to urge both parties (employees and customers) to engage in safe practices such as strictly following social distancing guidelines and canceling an appointment if either exhibits symptoms of the virus or has been exposed to another infected person.

As an empathetic at home service provider, you may also want to keep in mind the economic situation of your customers, as a major section may be facing job insecurity. Keeping this in mind, you may want to consider making amendments in your service that fit the needs of the customer and provide an affordable service. The best way to do this is to ensure that you provide top-notch service at an affordable price that does not put the clients at risk.
How Can Employees Protect Themselves and the Customer?
1
Measures For Self
As an employee, you need to ensure that you do not exhibit any symptoms before entering the working environment. Before beginning a work shift, take your temperature. If it exceeds 100.4 F, stay at home, and isolate yourself. This is key to prevent further spreading until you are sure that it is entirely cured.
If you have been exposed to a customer who later tested to be COVID-19 positive, then inform your supervisor of the same regardless of whether you display symptoms. In such an event, avoid working for a period of 14 days.
2
Check Up On Your Customer
Before visiting the client for providing their on-demand home services, have a conversation with them regarding their health conditions. This includes enquiring whether they have been with or exposed to any person suffering from COVID-19 in the past 14 days and whether they show signs of fever. If they do have a high temperature, check for other symptoms such as cough, fatigue, or shortness in breath. There are many more symptoms for the virus; to know more, check out the symptoms of Coronavirus as listed by the CDC. If your client exhibits these symptoms, has been exposed to a person diagnosed with the virus, or has tested positive, cancel your appointment and help them access telehealth.
3
Follow Safety Practices During the Job
It is crucial for you to evaluate yourself for symptoms before proceeding to the client's place. Once everything is sorted out with yourself and the customer, make sure you maintain at least 6 feet distance from all people and pets at your customer's home. COVID-19 is asymptomatic for many individuals, which means you are at risk of contracting the virus even if the person seems healthy and does not exhibit any infections. Request your customers to use a mask in your presence while doing so yourself. This helps prevent transmission from an infected person. If you have multiple appointments, change your mask before each one.
If your job is not one that requires gloves, wash your hands with soap and water for 20 seconds, frequently. In case soap and water are unavailable, use a hand sanitizer with at least 60% alcohol content as you enter the customer's home, before making any physical contact, and before and after putting on or touching your mask. Make sure you do not touch your eyes, mouth, and nose.
If you test positive for COVID-19 after visiting a customer or begin to show symptoms, contact your supervisor, and provide the necessary information about the client. Your employer will have to notify all the customers you visited so that they can take the appropriate measures. For more information, check out the Top 10 Tips For Protecting Your Health As An Employee.
What Can a Customer do to Minimize the Transmission of COVID-19?
As a customer, you can always opt for online home services that get tasks done quickly and easily. However, the current pandemic requires you to be more cautious and opt for on-demand home services that come with a seal of trust and safety. There are well-laid out guidelines by the CDC regarding hiring at home service providers, and a gist of it follows.
Before the arrival of your service provider, check in with your local health department to check if your state or community has an order that restricts on-demand home services. If there is such a stay-at-home order, check the necessity of the service and try to reschedule. If not, proceed to the next step, performing a self-evaluation of your health and checking for COVID-19 symptoms. If you display symptoms such as high fever, worsening cough, or difficulty in breathing, cancel your appointment, and get medical help.

If you or any household member were exposed to someone with the virus in the past 14 days, wait for 14 days since the exposure to schedule home maintenance services.

In the event that there is someone in your house who is at a higher risk of contracting the virus, such as older adults or those with existing medical conditions, it is best to prevent them from being inside the home during the appointment.

Once you are clear of all the above scenarios, you may proceed with the appointment. It is best to get a pre-service consultation before your service provider arrives. Having a conversation with your service provider and relaying the exact nature of the service you require helps them get to tending to the problems right away, without having to waste any time. This helps you get the work done faster, with a lesser exposure period.

Discuss the precautionary measures you want the service provider to abide by before coming over to your place and reach an understanding. Make sure they are healthy individuals with no exposure to any infected persons or suspected cases in the past 14 days and do not exhibit any symptoms themselves.

Maintain a distance of 6 feet from the service provider. Avoid conversations indoors to minimize the risk of possible transmission via air droplets and fluid particles. Use a mask when in their presence, and remind them to use one as well. Avoid touching your face, mouth, and nose, and wash cloth masks after each use.

Clean and disinfect surfaces such as doorknobs, switches, handles, and countertops both before and after the service provider arrives/leaves. For optimum protection, use a disinfectant that meets the

EPA criteria

mentioned. Wash your hands with soap and water after disinfection. Other than that, frequently wash your hands or use a sanitizer with a minimum alcohol content of 60%.

If you test positive for COVID-19 or develop symptoms after your appointment with the at-home service providers, inform the provider and seek medical attention. For further guidelines on how to deal with symptoms and a positive diagnosis for COVID-19, go through the guidelines and recommendations by CDC.
Cleaning and Disinfection for Non-Emergency Transport Vehicles Used in Providing At Home Services
Cleaning and disinfecting your vehicle is as important as keeping yourself safe from exposure to the virus. Non-Emergency vehicles are used for a variety of purposes, including by your employees to travel to and from their workplace in case of at-home service providers, and sometimes even for transporting suspected infected people. Therefore, it is necessary to disinfect your vehicle from time to time, and there are a few ways to do so.
For hard, non-porous surfaces inside the vehicle (this includes armrests, door handles, hard seats, and seat belt buckles), use soap and water to clean the surface first (if dirty) and then proceed to use the disinfectant. Appropriate disinfectants include alcohol solution containing at least 70% alcohol, diluted bleach solution used for household purposes, and other EPA approved products.
For porous and soft surfaces of your vehicle like fabric seats, use suitable disinfectants from the EPA-approved list of appropriate disinfectants.
If you have electronic apparel such as tablets or similar objects with a touchscreen, disinfect them after cleaning off any visible dirt. Disinfection can be done by sprays or wipes with a minimum of 70% alcohol content.
If your job requires you to wear gloves, or you used a disposable PPE and gloves while cleaning and disinfecting the vehicle, remove and dispose of them after cleaning. Follow this with a thorough, 20-second hand wash using soap and water. If you used a non-disposable gown or normal clothes while cleaning and disinfecting, wash them and set them to dry immediately, and wash your hands after you have handled the laundry.
How Can Technology Play a Key Role in Providing On-Demand Home Services Amid the Pandemic?
Based on the current situations, any at-home service provider must focus on providing efficient services safely. The best way to ensure maximum safety and efficiency with on-demand home services is to develop a home service provider app. Customers seeking on-demand home services are looking to get their jobs done faster and efficiently. Mobile apps are the ultimate solution for providing handy, easy to use service options for your customers. Not only can you develop it with a friendly user interface, but you can also make it easier than the regular process of hiring home service professionals. When developing a home service provider app, ensure that your clients can immediately access the online home services you offer and schedule appointments with ease.
Having an app that offers multiple products and services all in one place makes you more favorable to customers as they are looking to get more done with lesser efforts. On-demand home services can flourish, provided they use technology to their advantage and utilize it to provide a seamless delivery of online home services.
According to a report by Technavio, on-demand home services are expected to grow at a CAGR of approximately 49% in the period of 2017-2021. Keeping in mind this possible boom, it is wise to develop a home service provider app early on, troubleshoot any issues that may arise, and aim at providing efficient services with appropriate safety measures.
Conclusion
In today's fast-paced world, on-demand services present high scopes of opportunities. The pandemic has led to lesser people opting for public spaces and widespread exposure, causing them to switch to online home services. As an at-home service provider, you can raise your stakes at success by providing services to customers easily and quickly. One way to do this is to develop a home service provider app that displays the services you offer and helps the home service professionals and customers to get in touch. This also helps you develop safer practices for delivering your services.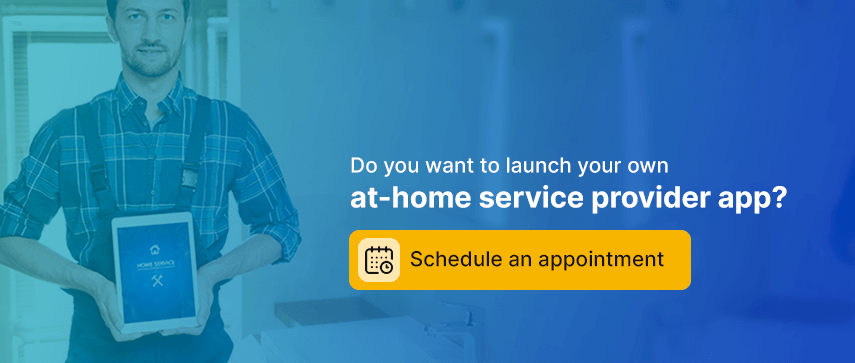 Author's Bio

Shailendra Sinhasane (Shail) is the co-founder and CEO of Mobisoft Infotech. He has been focused on cloud solutions, mobile strategy, cross-platform development, IoT innovations and advising healthcare startups in building scalable products.