Android is by far the most popular operating system (OS), with 2.5 billion active users across the globe. Its origin dates back to 2008, with the arrival of Android 1.0 that didn't have a codename. After the Android 1.5 Cupcake release, Google started giving dessert-based nicknames to every version, such as Android 1.6: Donut, Android 2.0 to 2.1: Eclair, Android 4.0: Ice Cream Sandwich, Android 8: Oreo, etc. And in September 2020, Google launched a new OS known as Android 11. Today we will discuss what's new in this latest OS, compared to Android 10.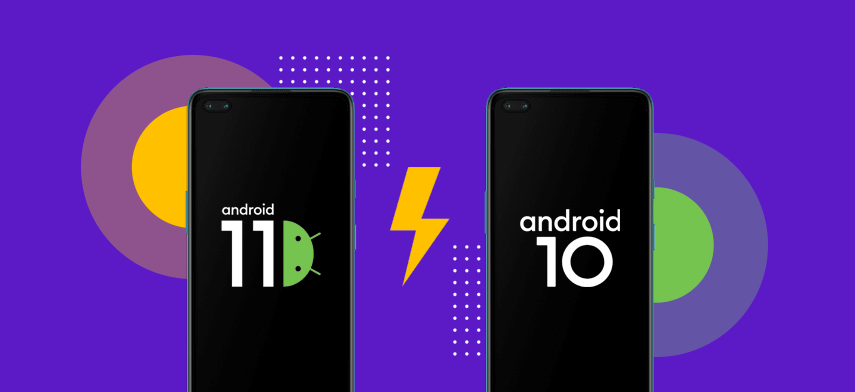 All About Android 11 and its New Features
Android 11 comes with a new set of changes over Android 10 and is inspired by how people use their smartphones in day-to-day affairs. While Android version 10 introduced features like focus mode and dark mode, the Android 11 update adds up to these features by allowing users to modify them further. As a result, Android users can have a much more personalized experience with Android 11 as the OS can be customized to their own tastes.
This new version of Android brings a lot of desirable shortcuts and features for its users to give them a seamless experience. So without any further ado, let's take a look at some of these exciting features.
1
Prioritizing Conversations
In Android 11, communication and messaging apps are given priority. You can read and respond to messages from several apps quickly from the notifications shade. You can also 'Star' important conversations that can break through the do not disturb mode and show up on the lock screen. There are two separate kinds of notifications called alerting notifications and silent notifications, and you can choose which ones need to be kept active.
2
Chat Bubbles
With the new version, you can pin chats so that they appear on top at all times. This allows you to keep the conversation going in the form of bubbles and helps you multitask. To enable this feature, all you have to do is find the thread from the notifications and long-press it. Then, select the option to use the chat bubble. This option can be used with the most popular communication apps installed on your phone.
3
Screen Recording
Android 10 reviews were filled with demands for a built-in screen recording feature, and the new devices loaded with Android 11 have the screen recording option as a stock tool. You can choose to record sound from only your device, mic, or both. You can access the option to record from the notifications tile to make the process much quicker.
4
One-Time Permissions
You now have the option to give app permissions to access device locations only once. This way, you don't have to give apps lifetime access to use phone state information, and they must ask for permission to use the information every time they are used. There is also the option to reset permissions on your apps which allows you to clear permissions from all apps you haven't used in a while. You will also be notified when this happens so you can keep track.
5
New APIs
Two new APIs are introduced to enhance the user experience. The first is the 5G state API, which gives an update regarding whether the user is available on a 5G network or not. The other is an API that reads data from the hinge-angle sensor on foldable devices. The applications on your device will now be able to adjust themselves to fit the screen properly if the device has an angled hinge.
6
Check Refresh Rate
The smartphone industry now has several devices with high refresh rates, and the new Android version allows users to check the screen refresh rate on demand. You can access the information under developer settings. The developer option also allows you to check the refresh rate of your device on the top of the screen with real-time monitoring depending on the performance of your mobile phone.
7
A New Way to Share Files
Android has come up with its own version of Airdrop, known as nearby share or quick share. It has the potential to work with multiple android devices, Chromebooks, or any devices running the Chrome Browser. For Google Pixel models, you can copy and share information such as texts effortlessly, making communication and conveying details much easier than before.
8
Smart Replies and Keyboard Auto-Fills
On Pixel devices exclusively, the messaging app suggests quick replies concerning the conversation. The keyboard also keeps track of the information you enter and helps you quickly fill in forms with passwords or addresses. This option can be turned off and on based on your choice and is only available on the Google Messages app. The aim of this feature is to generate short messages that save time and help you keep the conversation going.
9
Camera Improvements
With the 3P optimizations implemented by Android, your phone camera will work much better with apps like Snapchat. Developers can also use new APIs for muting phone vibrations from notifications or ringtones when the camera is in use. The Android 11 version of the stock camera also supports camera HAL, allowing developers to test new apps using the latest version of Android Camera2.
10
Digital Wellbeing
You can schedule when your phone switches to dark mode, and use the new bedtime mode feature. It silences your device when it's time to rest, and your screen switches to grayscale. You can also track screen time during the night and sleep to calm ambient sounds and use the sunrise alarm feature that gradually increases the brightness to start the day.

All About Android 10
Android 10: Q made its first market appearance in mid-2019 and was released at the end of the year. Since then, introduced phones have the OS version pre-installed and are backed by plenty of features that can change the way you use your Android devices.
So, before we start differentiating this version from Android 11, let's check out some of its most important features.
Sound Amplifier

One of the most noticeable changes in Android Q is the presence of a new hearing experience, be it lectures, TV, or music. The presence of the sound amplifier allows you to boost the volume, turn down background noise, and fine-tune the audio to achieve a fully personalized hearing experience. Through this, headphone usage brings a lot more clarity than before.

Gesture Navigation

Android 10 started allowing users to get rid of the navigation buttons at the bottom of the screen by using gestures to switch between applications. The simple gestures have made it easy to get around your phone without relying on buttons and compromising the screen size. You can swipe to go backward, home, or even pull up the stock assistant on your device.

Privacy Control

Firstly, you can start adjusting all your privacy settings in one place, making it much more convenient to access app permissions, account activity, and personal data. Next, you can decide what data is to be stored on your device and for how long it's retained. With this, you get a personalized experience while browsing the internet,e.g., recommended searches in relation to what you've been searching for recently. You can also choose when your location is shared, permanently or never.

Focus Mode

This is yet another excellent, usable feature added to increase productivity. Focus mode allows you to pause distracting apps and turn off notifications so that you can give your attention to what is important. Its highly customizable functionality enables you to decide the apps you want to mute and bypass. All you have to do is take a couple of minutes to set up the apps to silence, and then, the focus mode is simply a tap away.
Comparison Between Android 10 and Android 11
Now as you have come across the key features of Android 10 and 11, let's compare them and find out their key differentiating factors that'll help you understand both versions in a better manner.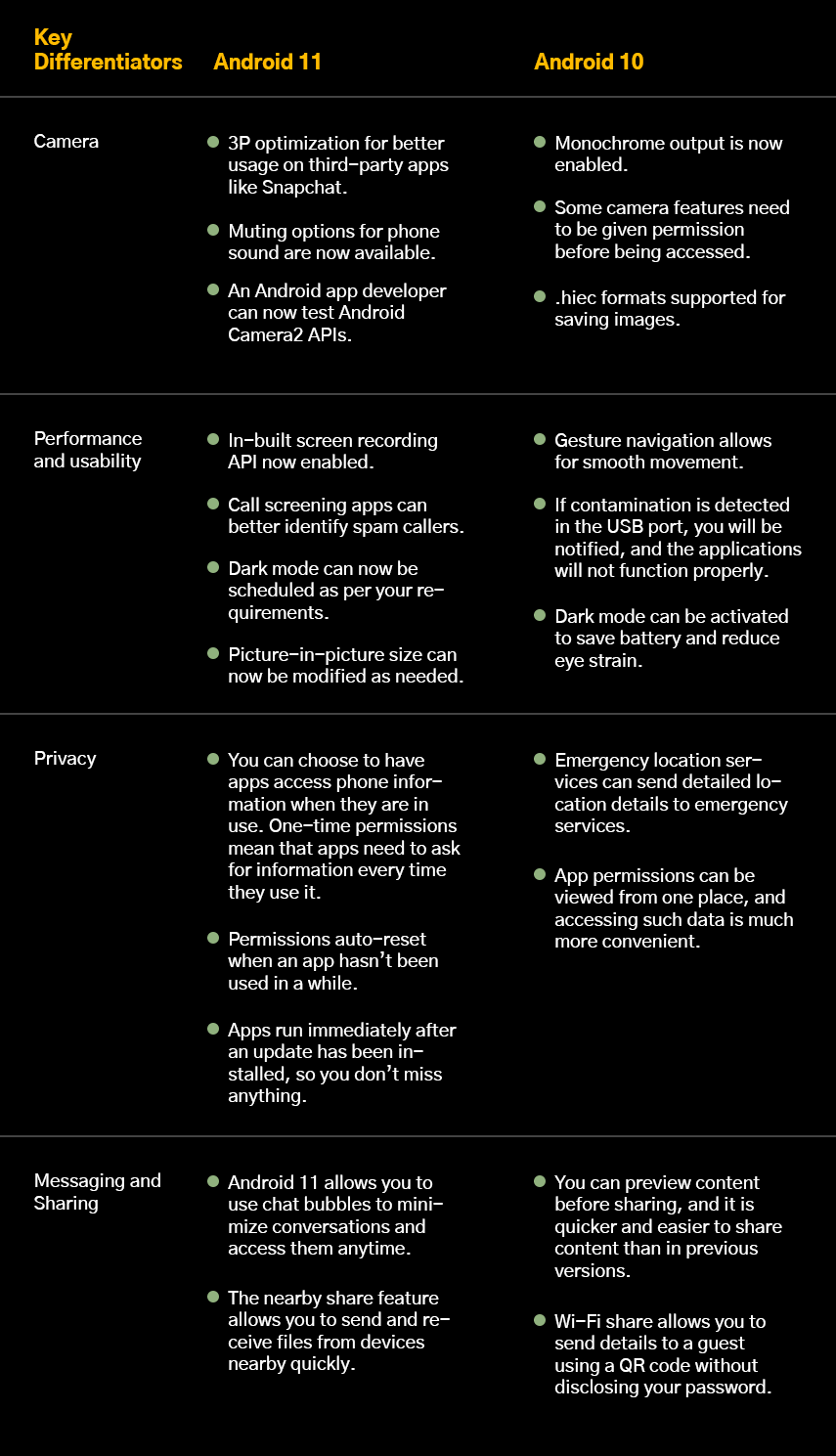 Apart from all this, there are several other differences between both versions that are explained below.
In android 11, the Wi-Fi and Bluetooth setting show permanently at the top of your screen for fast connections and easy management. This is not available in Android 10.

You can choose to auto-connect/ disconnect from a single network in Android 11, which is not possible in 10.

You have the option to schedule dark mode to turn on at a custom time, while Android 10 only allows you to turn dark mode on and off.

Android 11 gives you several options to effectively manage your storage, while Android 10 only allows you to free up space from the settings tab.

You can change the ringtone and notification volumes together, dismiss media-sound control from the notification tray, and monitor external speakers from your phone itself with Android 11, while Android 10 lacks these capabilities.
What's Ahead in Android?
Android 11 has been on the market for a year now, and the third quarter of 2021 could see the arrival of Android 12. This new version will support AVI format for images. In addition, a built-in gaming mode will be present to optimize devices as required.
The Material You design language in consideration is expected to further personalize the user experience by presenting an alive and breathing experience that aims at connecting with the user's emotions. Lastly, the option to change the complete UI based on the selected wallpaper is also in the works.
Importance of Android App Development for Business Considering Android Trends
Instant apps are becoming increasingly popular in the context of android app development. These don't take up any extra space on the device and allow users to 'trial run' the app without installing it.
IoT is expected to undergo a massive boost, with 75.44 billion gadgets expected to be connected to the internet by 2025, and cost-effective solutions will be key to drive smart gadgets like watches, smart TVs, and other wearables. The main reason behind this is the rise of the 5G network, and businesses will have to update their software to integrate smart devices as well.
Business apps also need to support foldable OLED screens in 2021 and beyond, since Google has announced support for it, and several key players like Amazon Prime and Spotify have already made their apps available for these new devices.
Final Thoughts
With all the above, you should have surely understood that both Android 11 and 10 focus on making the usability of your devices more streamlined. Indeed, they have a unique set of similarities and differences that you need to learn about to build an app that your target audience would love. So to get the best possible outcomes and develop future-ready applications, you can get aligned with our Android app development company and choose our hire Android app developer services.
Author's Bio

Nitin Lahoti is the Co-Founder and Director at Mobisoft Infotech. He has 15 years of experience in Design, Business Development and Startups. His expertise is in Product Ideation, UX/UI design, Startup consulting and mentoring. He prefers business readings and loves traveling.