How many visitors and guests walk into your manufacturing plant every day?
It's hard to keep a count even with a visitor log, you could say. Then you must be able to imagine how difficult will it be to find out who is in your plant right at this moment doing anything they want – stealing stuff, breaching your privacy, robbing your intellectual property or harming your employees or equipment!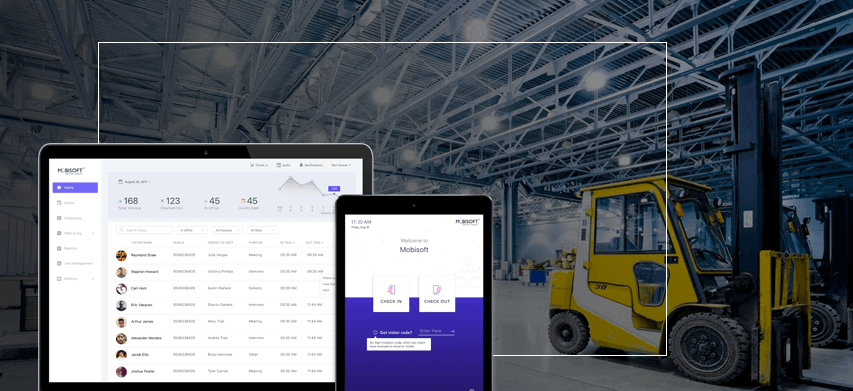 Challenges of Visitor Management in Manufacturing Facilities
A paper-based visitor log where people just have to sign in to gain entry into your facility provides many loopholes compromising your security and safety.
You have contractors, guests, temporary employees, and a wide range of people walking in every day. How do you differentiate between them and allow them to visit only the areas they are supposed to?
It takes up a lot of effort and time for the reception staff to sign in guests, issue them handwritten badges and notify the intended hosts which is clearly not an efficient way. How do you speed up visitor management and keep control of every person entering your facility?
The answer can rest with a visitor management system for manufacturing facilities!
How Can Visitor Management System for Manufacturing Facilities Help?
For one, it can help improve your security and safety in the plant.
A visitor management system for your facility makes it secure through various ways some of which are common to all industries. However, manufacturing industries have specific challenges so the solution should be designed to meet those needs.
With a visitor management system, you can-
Verify Identity of Every Visitor

Anyone can pass by providing false information in paper visitor logs, and there is no way of checking for authenticity. Electronic visitor management systems can scan IDs like driving license, passports, and verify the identity of each person walking in.

Stop Unwanted Entry

You have the option to check the integrity of your visitors against potential watch lists – like a database of local robbers and criminals. The system will alert you if the ID of someone matches the watch list and provide additional details like a mug shot, crime details and so on.
You can also create your own banned list and scan visitors against it to stop their entry.

Track Visitors in Historical and Real Time

Once a visitor completes the sign in process, you can begin tracking him in real time. You know his:
– Name
– Have his picture (you can set up a camera with your visitor management software)
– Information fetched from ID
– Details of the host
– The current location of a visitor and his duration of stay

Each visitors can access the information easily, through a user-friendly dashboard. The system also alerts you in case any guest has overextended his permitted stay limit.

All information is stored in the system database for you to access anytime whenever you need to know the historical patterns of your visitors.

Restrict Access

Your manufacturing plant can have areas inside them which are off-limits to some visitors. The entrances to such areas can have a separate kiosk where only authorized guests will be able to sign in to gain access.

The visitors can be given permission-based access allowing them to enter only where they are required.

Protect your Property

Manufacturing facilities are results of huge investments, and it becomes necessary to protect them from theft and vandalism. You cannot rely on paper-based solutions for ensuring the safety of your employees, equipment, and intellectual property.

Your lobby and reception areas are the first barrier of defense you can set up to prevent unauthorized entry. With a kiosk or iPad based sign-in process and identity verification, it becomes difficult for anyone to just walk in posting wrong information in paper logs.

Create Visitor Badges



Visitor badges with the name and logo of your organization deem that the visitor is authorized to be inside the facility. You can also print the badges with visitor image, the name, person they are visiting, duration of access time, areas to access, visitor's pick up point, and other information.

The visitor management system can be programmed to print different badges for contractors, temporary employees, and delivery boys. The badges also have a technology to trigger a visual sign when they expire.

Your staff can easily spot anyone without a proper badge and call security.

Meet Government and International Regulations

Many manufacturing facilities have to comply with regulations associated with visitors like confirming their citizen status mandated by the government. You may also be able to meet other compliance policies like ITAR, PCI or GMP.

There may be other health or safety regulations that you need to comply with. With features like ID scanning and identity verification, it becomes easy to meet and ensure such compliance issues.

During an audit, you can also prove that you have a proper visitor control and authentication system in place which is never possible with a paper-based approach. You can also quickly generate reports to present during the audit as proof in seconds.

Satisfy Internal Compliance

Your facility may require your visitors to sign some legal document before they can step inside. It can be an NDA or confidentiality agreement or some health and safety agreement depending on your business.

You can present contractors and visitors with such documents on the login interface of the kiosk or tablets. The devices can also capture the digital signature of the visitor and use it to sign the documents. You can then store these in the database of your system.

Facilitate Emergency Responses

All your employees get notified when there is an emergency but what about the visitors?

During emergency responses like evacuation, you need to have the exact headcount to ensure everyone is safe. If you had to find every visitor in a big manufacturing plant by scanning a paper book, it would take hours.

However, with a computerized visitor management solution, you already know how many visitors you have, where they are located and if they have already signed out or not. With this instant information, the emergency team can get everyone out of the building efficiently in time.

Easily send notifications to employees with details to enable faster rescues. Ensuring compliance can become a lot easier than you would think.

You can satisfy both internal and external compliance and regulatory issues with a visitor management system. From presenting legal documents to meeting audit needs, the solution helps in every aspect.

Enhance Efficiency

Having an electronic visitor management system for manufacturing facilities improves the efficiency of your receptionist (if you even need one!) and your overall business process.

Quick Sign-In

Using the tablet or kiosk sign in the process a visitor can scan his ID and have all the information entered into the system automatically. You don't need a person to type in the details manually!
You have all the information stored in a database so that the next time the process becomes even quicker.

Pre-Registration

If you are expecting a visitor, you can enter his information into the system before he arrives. This way the guest is delighted to go through a sign-in process that takes only a few seconds!

Host Notifications

When a visitor signs in at the entrance, the visitor management system sends a notification to the intended host. Your guests are not kept waiting and receive professional treatment from your end.
Hosts are also notified during emergencies about their current visitors so that the evacuation process goes effectively.

Electronic Record of Visitors

You have the complete record of every person that walked into your facility from the time you implement your visitor management solution. The system can be made to pull up visitor details of a specific date from 2 years back within seconds by searching the database.

Now think how long it would have taken to turn all the pages in a paper visitor log to get back to that date and get the details. You can search and find anything in seconds with access to ready information.

Analytics

Visitor management analytic tools and third-party applications will help you find trends and patterns from the visitor database according to your needs. With the insights, you can make informed decisions about the safety and security of your facility.

Reporting

You can generate various reports like daily visitor list, monthly deliveries in a few seconds using the software. The reporting options can be customized based on your preferences too!

Digital Signature and Photo Capture

The digital signature and photo of the visitor stored in the database can be used for various purposes. You don't need to take their pictures or names every time.
Your Manufacturing Facility Needs to Let Go of the Paper Visitor Log…
And adapt the visitor management system for manufacturing facilities!
It controls unauthorized access, protects your property and investment while helping you meet compliance issues. The whole process of visitor management becomes streamlined and practical with a reliable visitor management solution which saves you time, labor, and money.
Mobisoft offers a fully customizable and branded visitor management app for iPad or Android tablets and a powerful web-based administrative panel. With our reliable visitor management solution, streamline your visitor check-in process and stay protected all the time.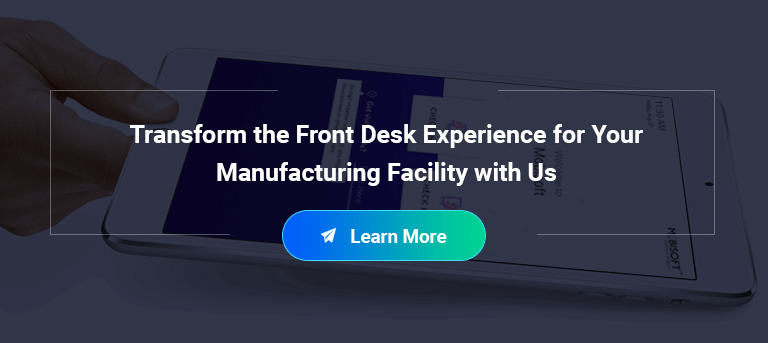 Author's Bio

Nitin Lahoti is the Co-Founder and Director at Mobisoft Infotech. He has 15 years of experience in Design, Business Development and Startups. His expertise is in Product Ideation, UX/UI design, Startup consulting and mentoring. He prefers business readings and loves traveling.