Having stayed in Hyderabad since childhood Pratish Kumar knew owning a car was the only way a person could take his family for outings, meetings, luncheons, or long trips. After all, that is how his father and his grandfather took his family for outings. However, now he has one more option – of driving or renting different cars but not owning even a single one of them.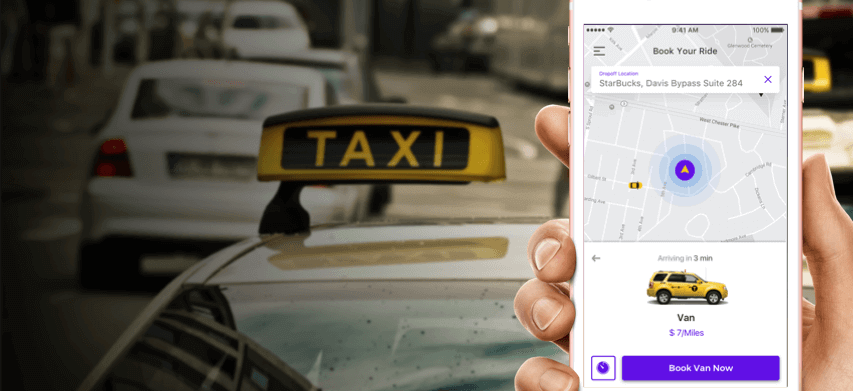 This is made possible through on-demand car rental apps and services that provide him cost-effective access to any vehicle. Pratish is a part of a growing number of young professionals who see the immense convenience of the online car rental services.
The Current Potential
Businesses are increasingly recognizing the lucrative opportunity across the length and breadth of India presented by the rise of the car rental economy. The interesting thing to note is that only 10% of the car rental market is organized. The remaining 90% remains a potentially unorganized market waiting to be tapped via technology-driven solutions. This presents a huge opportunity in both – self-drive car rentals as well as chauffeur-driven car rental services.
The current model of a car rental business is dotted by common characteristics across India – unregulated, transactional, low margin, and operationally intensive. A handful of online car rental businesses like Zoomcar, Carzonrent and Ola Rentals have gained significant traction in this space. The market is wide open for new entrants and they can build a robust vehicle/car rental startup with specific use cases and vehicle categories.
Car Rentals – A Popular Choice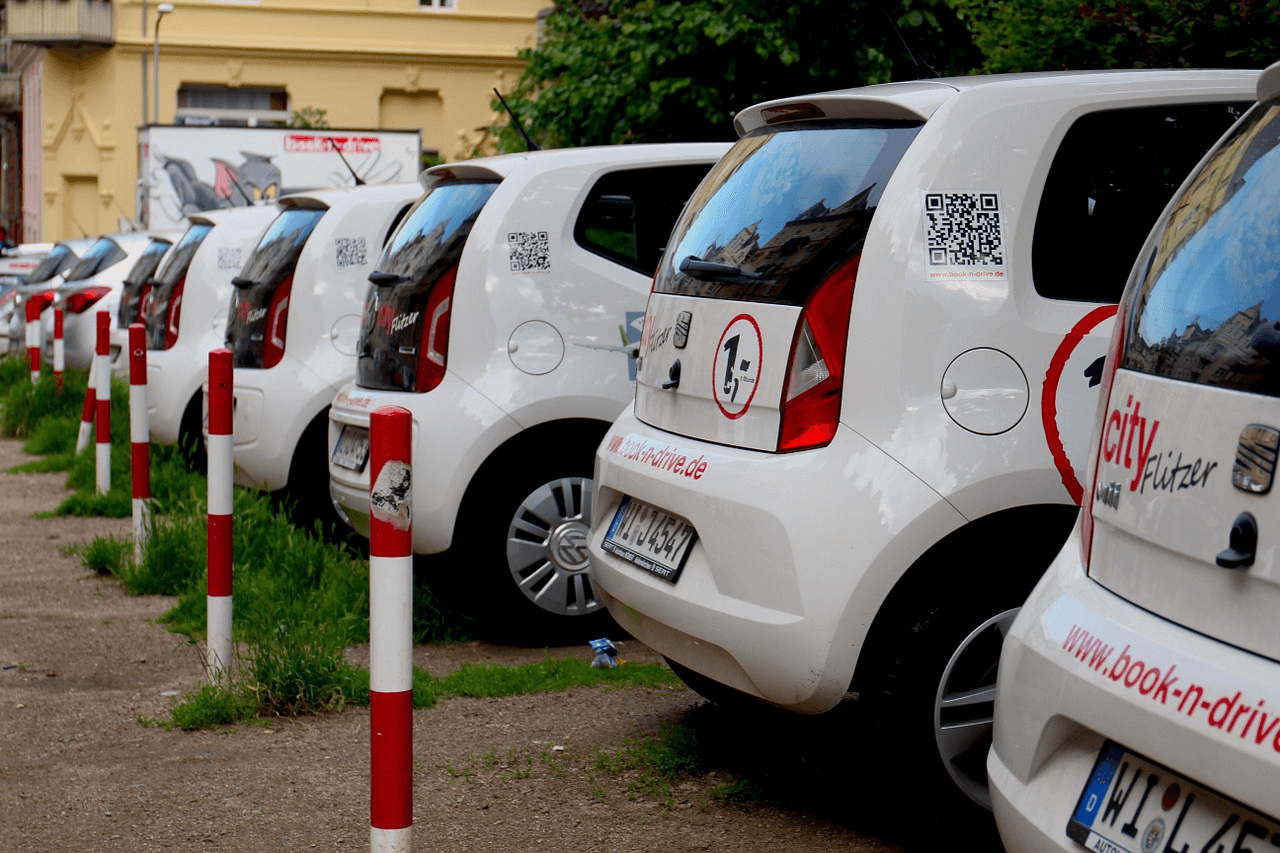 India's highway connectivity has improved from 76818 km to 100087 km in just 4 years ending 2015. This shows the improved pan-India connectivity that the nation now enjoys. Driving enthusiasts would want to explore the unexplored in India and for this, they need easy and affordable access to vehicles through rentals. The term that was virtually unheard of even a couple of decades back is now emerging as a new recreational avenue for the small family of today's times.
The parallel emergence of social sharing, smartphones, better car safety, and on-demand affordable accommodation have together aided car drives through car rental services. As compared to tour packages, travel enthusiasts now prefer to explore the land at their own pace and schedule, something that can only be offered by car rentals. It is no wonder that Zoomcar, one of the better- known car rental services in India, has ramped up bookings by 100% in 2016 through 2 million app downloads and 2500 cars on the road.
Popular Online Car Rental Apps & Services In India
Startups and vehicle fleet owners and operators can take a cue from the below success stories and leverage car rental app development expertise to launch a successful car rental business.
Myles
Owned by Carzonrent, the 21-city coverage of Myles is one of the better success stories in car rental space. From as less as 2 hours, stretching to months, you can own a Myles car for a range of service tenure.
ZoomCar
From a Nano to Mercedes GLA, this well-known self-drive car rental service provider offers a diverse range of cars for its customers.
Ola Rentals
Launched in June 2016, Ola Rentals provides multiple types of vehicles – from SUVs to hatchbacks. The attractive pricing makes Ola Rentals a great option for those who want to attend meetings, shop around the city, go for a weekend trip, or make a family visit to a function or event. Claiming a market share of 60%, Ola Rentals is one of the biggest players in the car rentals segment in India.
Uber Hire
The time-based on-demand car rental service from Uber is great for those who have to make multiple stops while driving across the city. Once their pilot run in Kochi was executed successfully, it launched full scale in Feb 2017 with operations across 8 cities.
ECO Rent A Car
It offers diverse services like cars on rent, cars for corporate employees, transportation for company staff, and cars for specific events. It specializes in high-end luxury cars available on its rolls.
Must Have Features In A Car Rental App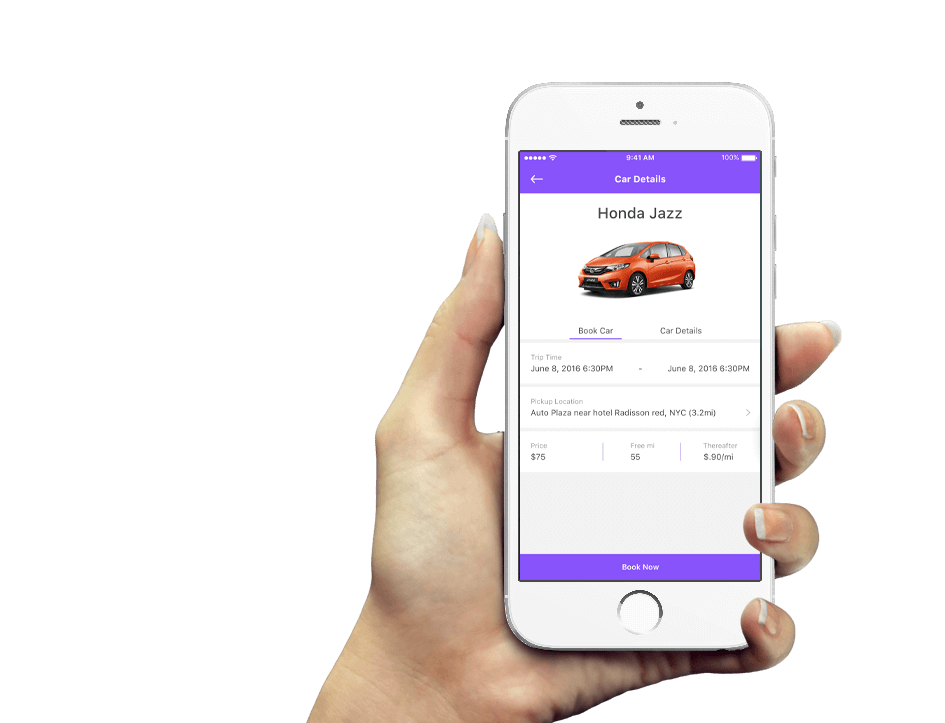 As mentioned earlier, technology integration is core to the success of a car rental business. Hence it is no surprise that all major players in this segment have invested heavily into making technology the competitive differentiator.
By allowing customers to rent a car from an app online, a rental business can grow manifold.
Basic features

Check the different types of available cars in proximity.
Use GPS for accurate location tracking
Set pickup/drop location
See ETA and driver details
One-time addition of user contact and payment details
SOS button

Location services
Features like real-time tracking help the company to locate the driver and the car. It also helps the customers when they are booking a ride.
Seamless onboarding
Allow users to quickly login or signup and get started with booking a ride in seconds. Provide support for social logins.
Push notifications
Real-time notifications for customers to stay updated about important stages from booking confirmation to payments.
Review system
Get useful customer feedback on their car rental experience and continuously improve the service.
Payment integration
Ensure that all major forms of payments are incorporated in the vehicle rental app development process. These include debit card, credit card, netbanking, and new age payment methods like mobile wallets and UPI.
Take the case of Avis. Its car rental platform aims to put all customer interactions and touchpoints on the mobile. From invoicing and payments to user contracts (where the customer can directly sign on the mobile device). Ensure that a maximum of customer interactions are deployed on just one type of device so that ease of access and user experience remains at an all-time high.
Being aware of these features will help you offer a seamless car rental app experience for your customers.
When you are starting off a new car rental business, you need to have a viable business model in place. Let's check out some of the important points here.
Main activities

Sales and Marketing
You need to improve the visibility of new car rental app service on social media, websites, and app stores.
Operations
You would have to boost fleet by enabling drivers to attrite from another service and offer initial discounts and deals to lock the partnership. The drivers need to be trained on ethics, values, and core competencies around your brand identity.

Brand value proposition
Define the value you propose to deliver to both – drivers and customers.Drivers – Enhanced bottom lines and reduced idle time will be a good USP to add more drivers to your network.Customers – You can propose offering of low- cost transportation that is easy to access and safe to use.
Market segmentation
You can cater to any or all of the below segments of customers.

On-demand customers in proximity to the cabs.
Casual travelers with one-time use (e.g. weekend outing travelers).
Corporate car rentals
More…

Key costs overheads

Fixed cost – Salaries, office rent, car maintenance and upkeep costs, insurance, and paperwork costs.
Variable cost
Sales and marketing costs, commissions, agent charges, etc.

Key resources
You need to factor in some of the initial investments mentioned below.

Skilled capital
You need to have a team of IT operators, sales and marketing heads, leading their own teams.
IT infrastructure
24×7 Customer care, website, mobile apps, booking system, and driver/fleet management system.
Fleet strength
Cars across different segments (hatchbacks, sedans) and price points (regular, luxury).
Physical infrastructure
Office space, IT setup, laptops, network coverage, security coverage.

Key revenue drivers

Revenue stream
Car rentals, car advertisements, in-app purchases, and online advertising.
Revenue influencers

Geographical or city-wise coverage
Volume of cars rented out.
Number of regular passengers booking the vehicle through the app.
How Can A Technology Partner Help Your Car Rental Business?
Many vehicle rental companies focus on differentiating based on price. Rather they should differentiate themselves the on value provided to customers. This essential need can be met with the help of on-boarding a competent car rental technology expert that has extensive experience in developing cutting-edge logistics apps for businesses and startups.
With technology, challenges around shorter registration time, accurate geo-location tagging, and faster checkout can be easily eliminated.
The vehicle rental ecosystem is pretty complicated with a lot of interactions between car rental companies, drivers, and passengers. With the help of technology, a seamless interaction process can be enabled and thus lead to a better experience for everyone.
This way, technology helps car rental companies to enhance revenues while keeping unwanted costs low. With its advanced security and ride convenience, it also adds immense value to customers.
Wrapping Up !!
The Indian car rental industry has witnessed unprecedented growth. The traction is primarily driven by the rise of the on-demand economy that has found its way into the vehicle rental industry as well. By introducing retail concepts into car rental business (omni-channel market base, location-based value addition, mobile-centric operations, 24 x 7 tech support, and social media integration), car rentals can improve their reach further.
Author's Bio

Nitin Lahoti is the Co-Founder and Director at Mobisoft Infotech. He has 15 years of experience in Design, Business Development and Startups. His expertise is in Product Ideation, UX/UI design, Startup consulting and mentoring. He prefers business readings and loves traveling.