The current pandemic has changed everything overnight across the world. Most of the developed and under-developed countries have been affected. Businesses providing essential goods and services are struggling to serve the communities. They have to change their approaches to serve customers. Today, we will discuss one such major change, already on the rise right now. That's a distinctive service delivery approach – contactless delivery.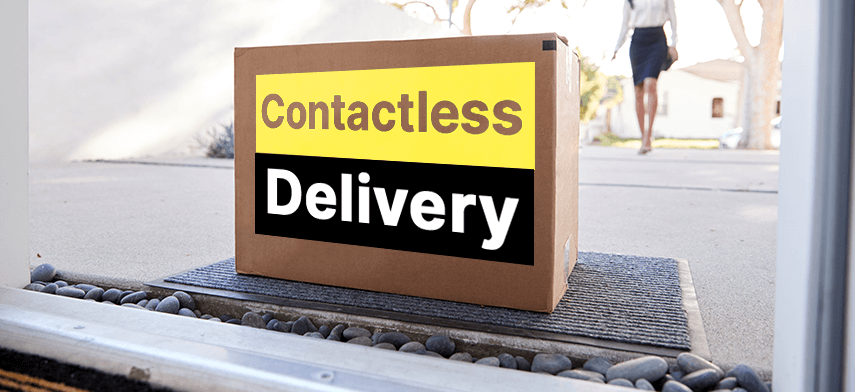 For many sectors, such as healthcare, transportation, hotels, and hospitality, eCommerce, it has become difficult to survive. They are facing enormous challenges amid the crisis. Most of the companies have to shut down temporarily, while some are trying to stay afloat. Likely, they are finding new ways to operate even during uncertain times. They are staying in touch with their customers through accelerating digital resources, i.e., in-person B2B or B2C meetings have converted into virtual meetings now. They are connecting with their customers more often to create an environment of trust and loyalty.
Food aggregators are now adopting a new alternative to deliver food services to their customers, considering the demand for food. Similarly, top eCommerce companies are also introducing this new option known as contactless delivery. Also practicing safe social distancing measures and complying with hygiene and safety norms.
So, Let's Explore the Concept – Contactless Delivery
What is Contactless Delivery?
The simple meaning of the concept is no direct contact with employees, delivery partners, and customers. The core objective of the novel idea is to deliver essential services in a safe and protected manner. It includes regular sanitization of the offices/buildings, equipment, warehouses, employees, packaged goods, and delivery partners. It is also known as "No Contact Delivery" and "Zero Contact Delivery" concepts.
Contactless delivery is just a unique idea to make the delivery at the customer's place as per their convenience. Whereas, direct delivery to customers in their hands is avoided in this approach, keeping a distance of at least 6 feet.
Following this new normal, food delivery platforms can deliver an order at the customer's doorstep or any place suggested by them, rather than knocking the door. Customers can decide the area and timing of the delivery; the delivery executive notifies them via text message, call, or email about the order collection. Finally, the payment is also made through a website or a third-party app to facilitate no-contact delivery. Service providers want to ensure safe and convenient services for their customers by ensuring contactless and cashless delivery services. This helps to reduce interpersonal contact.
How Contactless Delivery Works?
Although, many delivery companies like food delivery companies have started opting for a contactless delivery option to ensure safety. Let's understand the standard process of contactless delivery. How it works for food delivery apps if a customer places an order through an app:
1
Go Online
Visit Website or Open App.
2
Place an Order
Browse options and select your dishes from your preferred restaurants you want to order.
3
Contactless Delivery Option
Click on the "Contactless Delivery" option or indicate the same in the comment section.
4
Payment
Complete the payment using a card or third party payment system.
5
Delivery of Your Order
Receive the delivery of your order at your doorstep as per your instructions.
Get the notification via a message or call from the delivery executive. Receive the order as per your instructions on a clean surface. In fact, the executive will also wait until the collection of your order.
Contactless Delivery Methods
Several organizations have started implementing different contactless delivery methods as mentioned hereunder:
OnClick Button

Companies can implement an "OnClick Button" of contactless delivery on their website and mobile apps so that customers have to click the button and receive the order as per their preference.

Delivery Instructions

Companies can implement a new text box in the app or website for zero contact delivery requests. In this method, customers have to fill the delivery instructions in the comment box while placing an order so that they can receive the delivery as per their requests or notes.
Highlights of the Concept: Major Crux on Caring
The concept fulfills the need of customers in times of crisis like lockdown or curfew. Millions are in isolation. They want their daily basic requirements to be attended with care. This novel concept is a boon for them. So without further delay, let us have a look at its highlights:
Safety and Hygiene
The contactless delivery service is transforming the customer experience in today's uncertain times to ensure 100% safety. They have fewer reasons to step outside their homes amid the lockdown. Hence, they want services to be delivered from a trusted service provider who can make them feel safe when everything is uncertain and overwhelming.
Businesses, on the other side, are now embracing this change with innovations to limit the person to person contacts. They are implementing precautionary steps to provide reliable services to their customers. Food aggregators are sanitizing their entire facilities, including equipment, packaging materials, and vehicles used for distribution. Few of them are screening their employees and delivery agents on a regular basis. In short, service providers have implemented strict protocols to minimize human contact, while performing their duties such as using sanitizers more often, routine health check-ups, and providing training to delivery agents. About maintaining safety and hygiene, such standard measures are now adopted by many service providers.
Trust
The normal life of each individual has come to a halt in times of crisis, and it is impossible to trust anyone. But businesses can create an environment of trust for their customers through zero contact delivery service. They have to implement a set of guidelines to be followed by business associates, employees, and agents.
Businesses can gain a deep understanding of customer needs and preferences as they are now buying online. They can execute drastic changes as per the demand and serve the customers accordingly. Few of them are as mentioned hereunder:
Maintaining the quality of food, staples, and medicines.
Redefining their marketing strategies through digital options.
Automating the work process.
Preparing their employees and representatives for the new normal.
Optimizing their business network and association based on the response.
Transparency
No contact delivery service ensures timely and transparent communication with customers. Digitizing products and services touch-points enhance the customer experience. Service providers are improving their front-end and back-end functionalities on their website or a mobile app to meet the demands quickly. They are updating their availability, accessibility, and usability of their services.
Service providers are now communicating each step to customers from order preparation to delivery, such as order confirmation, preparation, delivery agents arrival and departure time, delivery status, refunds, place of delivery, etc. Updating customers through proactive notifications or text messages or a call, service providers are now ensuring consistent and courteous communication to build long term trust among their customers.
Contactless Payments
In this turbulent time, most service providers are now promoting cashless transactions by going digital with payments. It can be considered as the backbone of the online purchase system. It is crucial to run the business safely by receiving the payment through a smooth payment system and delivering quality services. The novel concept has been adopted to make everything digital, so is the payment system to avoid in-person contact. Service providers are not updating their system that supports multiple payment modes like net banking, credit cards, debit cards, and third-party payment systems.
"The new norm is impressive and practical for everyone, meeting demands for convenient delivery."
Guidelines to Set up a Contactless Delivery In Your Business Operations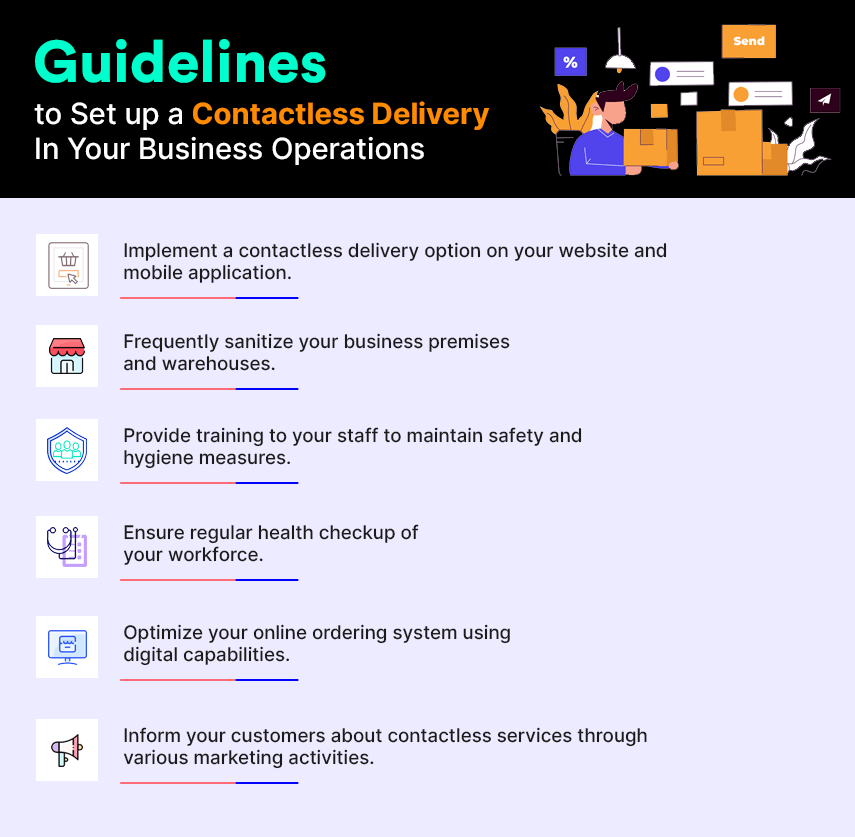 It's time to shape the new normal by implementing the contactless delivery framework in your work process. No matter, you are a restaurant or a grocery supplier or any eCommerce platform, here are the guidelines to set up no contact delivery service in your organization:
1
Contactless Delivery Option in Your Website or App
The first and foremost task is to implement the "Contactless Delivery" option on your website and mobile app. As presented earlier, you can implement either an "OnClick" button or add a "Textbox" to enable the contactless delivery service. As per your convenience, you can implement any methods. Most importantly, that functionality should be clearly visible to the customer. Absolutely, you should inform customers about this new option in the app and the website. So that they can choose the option at the time of placing an order.
Mobisoft Infotech has recently updated a unique delivery management software solution with this new feature to meet the current demands. This new change has helped all the clients related to food chain business, eCommerce, and retail shopping, to enable contactless delivery service to their customers. The customizable on-demand delivery solution can be used for a wide range of delivery services. In case, you do not have any delivery system ready or operating through offline mode, then you can implement the online system in two ways; First, deploy a new delivery management platform with a contactless feature. Second, partner with a third party delivery solution provider. The Whitelabel delivery solution is ready to integrate into your system, meeting on-demand needs of the market.
You have to be ready with the following points, in case you are implementing the contactless delivery service first time.
Get equipped yourself with a vehicle to deliver the order.

Decide the workforce you want to use for the service.

Integrate a third party payment processing system for cashless transactions.

Advertising material to inform the customer about your service.

Packaging items for the order to be delivered safely at customers' place.

Training your staff to nurture courteous behavior with customers.

2
Frequent Cleaning and Sanitization Practice
With rising concerns related to hygiene, it is essential to sanitize your business premises. Maintaining good hygiene plays a significant role for those dealing with food and grocery business.
Each surface of the premise needs to be disinfected thoroughly, especially those areas having high-traffic like counters.

More often, all your electronic devices like computers, phones, printers, and your premises doors and tablets, which are being touched multiple times a day, need to be cleaned.

All delivery agents visiting your premises must sanitize their hands as they enter.

V

ehicles used by the delivery agents need to be sanitized periodically.
3
Training To Your Staff
In no contact delivery service, providing training to your workforce is of utmost importance. Most importantly, you need to take extra precautions when you have to deliver food safely to your customers.
You need to train your employees on how to receive and execute orders.

They must know the functionalities of digital solutions implemented for zero contact delivery service.

T

hey must ensure the delivery location, any instructions, and communication manners with customers

at the time of receiving an order.

Providing training related to the online collection system will help them to collect amounts via digital mode, thereby avoid human connection.

Provide training on how to do packaging for safe delivery.

Create an environment where each employee has to maintain a distance of 6 feet.

D

irect them to work in multiple time horizons.

M

ake it compulsory for employees to wear masks and gloves.

Establish the habit of washing hands frequently.
If you are associated with the restaurant business, then follow the below practice:
Provide training to

your chefs s

o as

to avoid contact with each item once they are prepared.

Maintain zero contact with dishes backed from the oven.

Use sanitized and clean cooking utensils.

Exercise

the usage of spatulas or tongs to pack the cooked food.

Use containers that need lesser hand contact.

Avoid serving uncooked dishes like salad.

Apply the sticker on dishes that are ready to deliver.

Utilize tamper-evident containers or packaging.

Create a no-contact menu.
Training for your delivery agents or drivers:
Follow all the safety and hygiene procedures prior to picking up orders.

Their vehicles should be sanitized frequently.

Provide training related to communication with customers, like notifying them about the delivery of their order.

Drop off the order as per the delivery instructions.

Maintain a distance of at least 6 feet to avoid direct contact with customers.

Use hand sanitizer or wipes after delivering an order.
4
Regular Health Checkup
You need to focus on your employees' health while continuing your services. Inform them about maintaining hygiene guidelines and safety measures. Ensure they use an adequate number of paper napkins, disinfectant wipes, and cleaning supplies frequently. If anyone of them shows a minor symptom, immediately insist on staying at home. You need to make sure your sick leave policy is flexible enough for your staff. Regular health check-ups of your employees can identify symptoms before they become serious.
5
Optimize Online Ordering System
Digitize your entire ordering system. It is more efficient than a typical traditional offline mode, i.e., via a phone. You can make your own online ordering system or use a third-party system also. It helps you to make an ideal contactless delivery service provider. You can upload your menu or list of items available at your store. Customers can select the items from the list and pay online. And adding a feature of the contactless delivery option will enable them to receive their order conveniently.
6
Market Your Service
Undoubtedly, you need to inform your customers of your digitized service. Inform them about your online system with this new option, through your website, social media, or offline marketing activities like posters in response to the novel coronavirus outbreak. Share the entire process of your online contactless delivery system through marketing.
Conclusion
As we all are navigating this tough time, meeting customers' expectations and embracing innovations can help you set the new normal for your entire business operations. Implementing a contactless delivery service can help you to continue your business operations and service lines open for your customers. You can survive in such circumstances. In short, you have to take precautionary measures, to implement this new option as explained above. Going digital, training your staff, maintaining hygiene and safety in your premises will help you to run your business effectively.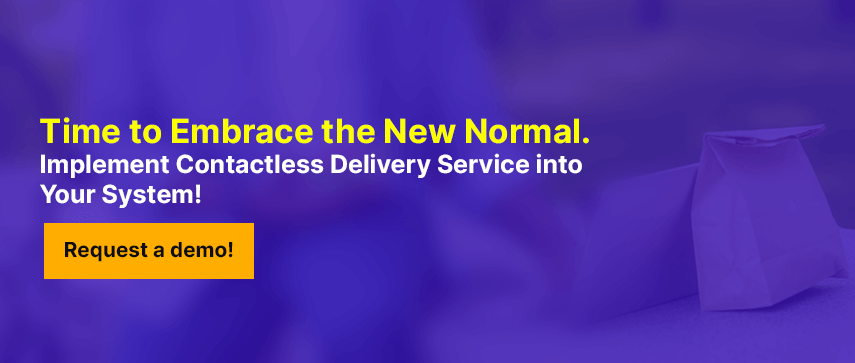 Author's Bio

Nitin Lahoti is the Co-Founder and Director at Mobisoft Infotech. He has 15 years of experience in Design, Business Development and Startups. His expertise is in Product Ideation, UX/UI design, Startup consulting and mentoring. He prefers business readings and loves traveling.