Healthcare professionals are recognizing the growth in online healthcare services to improve their reach. Digital health tools such as AI and IoT devices have changed the landscape of online healthcare significantly, and small physician practices need to adopt these tools as well. In this article, we'll be discussing the trends and practices in telehealth for small physicians practices and healthcare professionals.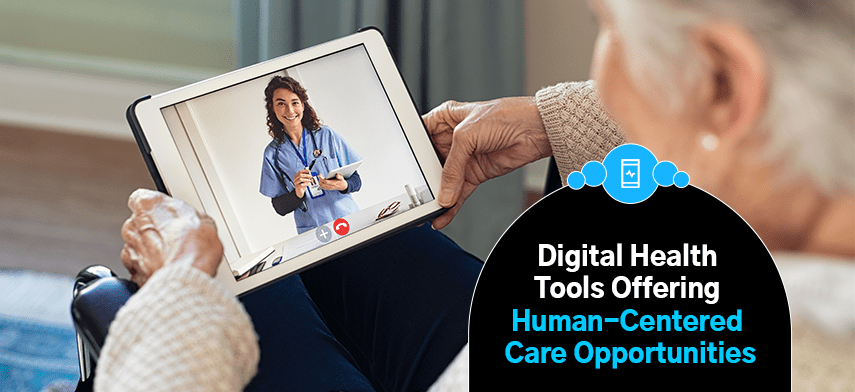 Staying One Step Ahead of Viral Healthcare
According to Deloitte, a major part of the healthcare industry will be moved online by 2024. At least a quarter of most well-being services would shift to online modes within the next two decades. While the pandemic has created obstacles in healthcare by preventing in-person visits, it has also encouraged the growth of telehealth. Services like online consultations, real-time monitoring at home, and reminders prior to appointments are something that patients consider normal now.
Hospital admission costs can be reduced due to remote patient monitoring, and patient satisfaction and recovery rates can significantly improve since the logistics no longer create a problem, or increase costs. Accessibility to the best physicians has skyrocketed since they can maintain a flexible schedule online, and patients can now avail healthcare more conveniently than ever. Interoperability will be of the essence in making the system easier to access. Having details like patient data, clinical and financial information on the cloud will save time and costs, and also make the system more efficient. Making the entire system available on the cloud will be key to ensure it is working for everyone.
Healthcare professionals, especially small physician practices should accept telehealth and online healthcare methods as the norm and should see the positive impacts of it. Online consultations can expand their reach to patients in different cities, and countries. Moreover, it also saves time and costs for the doctors. Access to healthcare can be improved for the entire society since all that is needed is an internet connection to consult a top physician.
The Shift in Demand for Small Physician Practices
The CDC reported a 154% increase in telehealth visits in 2020, and this number goes to show how quickly the demand for online consultations has increased due to the pandemic. Not only is the entire system more convenient for patients, but physicians and nurses are also less exposed to diseases in a hospital environment. As a result, the demands placed on the working hospital staff have also decreased and scarce supplies of protective equipment are also conserved.
Healthcare scheduling software has enabled quick and convenient appointment scheduling for patients. The entire process is now cloud-based so that the system is not only reliable but also scalable as per the needs of the private physicians. The mobile phone can now be used as a caregiver mechanism so that doctors and patients have more access to each other. Electronic health records (EHR) also make it much easier for doctors to monitor their patients and their conditions more efficiently.
In places where doctors are in short supply, access to caregivers has increased despite the risk of infection. For small physicians and private practices, mechanisms to extend healthcare beyond hospitals and into homes, or other safe areas are the future. This will allow the patients to access in-person visits without having to be exposed to a hospital environment, or deal with the long waiting queues either. Small clinics or even home-based settings can be used as solutions so that the consultation process is as streamlined as it can be without posing a lot of risk to either party.
Bridging the Gap in the Digital Services for Small Practices
The AMA believes that digital health tools will be under pressure to perform at a high level, due to the expectations placed on them by patients and doctors alike. According to a study conducted by EY, the use of telephone and video calls for virtual care rose from 20 to 80% in the pandemic and is also the reason why they lost as few patients as possible despite the physical barrier. A survey by Accenture showed that more than half of the doctors are willing to learn new technologies and healthcare analytic tools. As a result, the future is starting to look increasingly remote for the health industry.
So, here are some of the digital health tools that are taking digital care forward:
1
Telehealth
Online video consultations are the most preferred way of seeing physicians in 2021. All that is needed for small physicians, or caregiving teams in hospitals is an internet connection and a computer to connect with a patient no matter how far they are.
2
Clinical Apps
Mobile apps are being used by people now more than ever to access healthcare. So, doctors making themselves available on these platforms will be benefited since their reach and visibility expands.
3
Digital health tools
Digital health tools such as personal apps also allow patients to:
Store personal health information relevant to the consultation.

Record vital signs regularly through the use of IoT devices and remote patient monitoring solutions.

Calculate caloric intake as required.

Schedule reminders for medicines and check-ups.

Record physical activity, including your daily step count and calories burnt in the process.
4
Personal Health Records (PHR)
A PHR app can be accessed by patients anytime through any internet-based device such as a phone or a laptop. It allows them to maintain information about their health that is fully controlled by them. Regular records allow doctors to assess the situation better when it comes to online consultations. E-prescriptions can also be prescribed based on their situation, through the use of PHR.
5
Remote monitoring
Healthcare communication tools have reached their peak in the form of remote monitoring. Devices that measure and transmit data such as blood pressure, blood glucose, sleep monitoring, posture, and heart rate are essential physician's tools when it comes to online monitoring. For older people, these digital health tools make life even easier since the entire process is automatic.
6
Patient Portal
An email is not a very secure way of conveying medical records to a clinic or a physician. This is why a patient portal is one of the best healthcare risk management tools. It allows the patient to communicate with a doctor or a nurse when required and also helps them store sensitive medical data securely. These records can be accessed by another physician of the same system if the patient wants a second opinion and gives them consent. Patient portals can also help the consumers review their test results and summarize previous visits. Lastly, they can request prescription refills as and when needed to have easy access to medicines they need.
Capitalizing the Momentum in Digital Health
The high-quality online interactions between physicians and patients through online mechanisms are the way forward. Care coordination can be enhanced dramatically in the upcoming years, through devices such as smartwatches that convey vital signs in real-time.
Patients save about two hours on average per virtual visit, in comparison to physical visits. Formalities such as registration, payment, and waiting in lines take up most of their time which delays the consultation a lot. Not to mention, the stress of traveling to and from the doctor's chamber can also be detrimental to the patient when they are battling illness.
Digital tools are also enabling early detection of high blood pressure, sugar, and body temperatures. This allows doctors to intervene at the earliest and save crucial time. More digital tools such as home-based testing and accessible care have made it possible for older, senior, chronically ill patients to access healthcare as conveniently as possible. Capitalizing on this momentum, medicine can be much more efficient since patients are more connected to their caregivers than ever.

Post-COVID Triggers: A Sprint Forward for Smarter Digital Healthcare
According to a survey conducted by EY, 49% of people who have used telemedicine are willing to continue availing of online consultations. The pandemic has shown us that in-person visits are not essential when it comes to healthcare practices. Convenience and speed are the key factors going ahead and will be the metrics that evaluate health technologies in the future.
The same report by EY continues to state that the use of online consultation services such as phone calls, video calls, virtual consultations, and digital communication pathways will remain at a higher level than before. 81% of physicians plan to incorporate quality improvement tools in healthcare into their practice, and 63% are expected to make significant investments into digital health technologies in the future.
The reliable team at Mobisoft can help private practices and small businesses in healthcare software development as per their needs. Depending on the specialty of their practice or the demands of the clinic, Mobisoft can tailor a complete software solution so that private practices can offer the same care as hospitals.
In conclusion,
Digital health tools are paving the way for telehealth and small physician practices in the years to come. The pandemic has shown us that we don't need to walk into a doctor's clinic to have a proper diagnosis. These services can be availed through the comfort of the patient's home, without compromising on the quality of healthcare.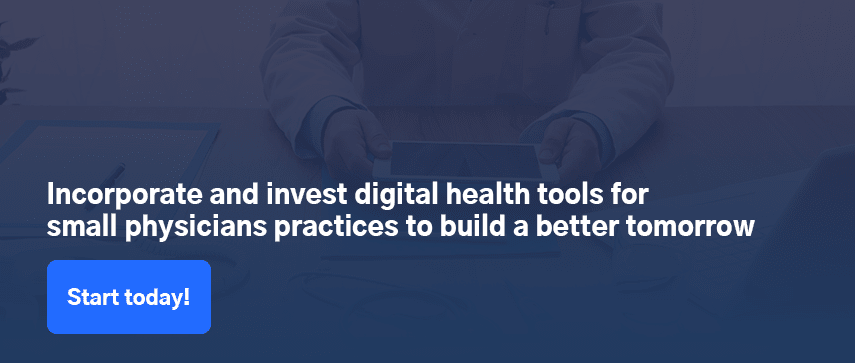 Author's Bio

Shailendra Sinhasane (Shail) is the co-founder and CEO of Mobisoft Infotech. He has been focused on cloud solutions, mobile strategy, cross-platform development, IoT innovations and advising healthcare startups in building scalable products.