Realizing the potential of telemedicine services, most of the healthcare organizations – hospitals, clinics, individual practitioners, and healthcare startups are rapidly shifting their business models to deliver value-based healthcare services. On the other side, healthcare consumers' behavior patterns and preferences are also evolving continuously. Hence, healthcare organizations must have to stay one step ahead of this shift and adopt digital healthcare capabilities in the form of telemedicine, which we are going to discuss today.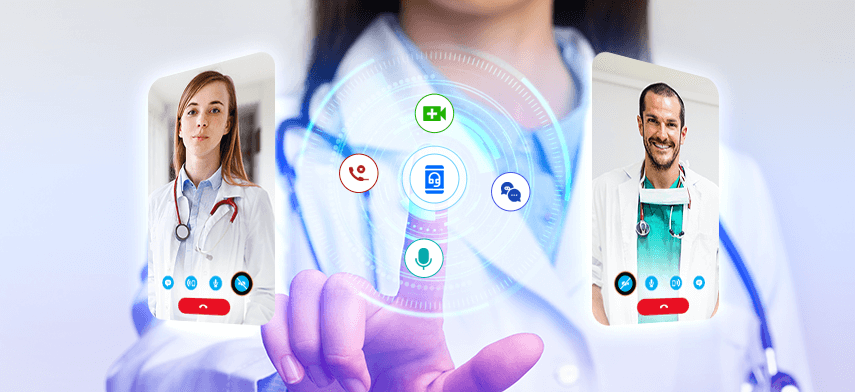 Various healthcare organizations have started adopting telemedicine to balance their consumers' demand and multiple business opportunities; because telemedicine has great potential to address the challenges posed by the socio-economic changes affecting the healthcare industry.
Initially, telemedicine was developed to provide virtual healthcare to rural areas with limited healthcare resources, but later on, it has been accepted as the means of providing quality healthcare services. Telemedicine uses evidence-based software and hardware that measures the health sign of individuals. It also uses information and telecommunication technologies to facilitate healthcare services at a distance. It gives faster, timely, convenient, and affordable virtual healthcare access. We have already discussed what telemedicine is and how it is beneficial to healthcare organizations in one of our blogs. So without further ado, we will discuss other essential elements of telemedicine that each healthcare organization must consider before adopting this digital healthcare platform.
The growth of telemedicine is the result of numerous advantages that it offers to both healthcare organizations and consumers. It overcomes all the barriers to healthcare accessibility. It provides a robust solution to aiding all the requirements of healthcare organizations.
But How Healthcare Organizations Can Implement Telemedicine Technology?
It is always the most challenging task to implement new technology for any healthcare organization; because, there are numerous stakeholders involved, ranging from patients, medical specialists, hospital and clinical staff, to other partners. However, many organizations have started investing their time and resources for implementing digital healthcare technologies like telehealth, telemedicine, and EHR considering the patients' demand for virtual healthcare. Hospitals, clinics, and healthcare startups can find below-mentioned step by step practices to implement telemedicine:
Best Practices To Successfully Implement Telemedicine Technologies For Your Healthcare Organizations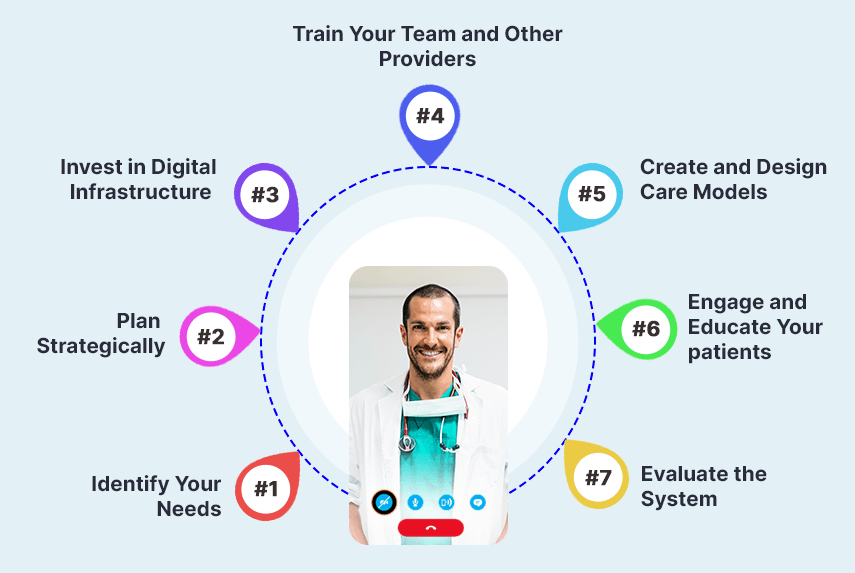 1
Identify Your Needs
First, identify and assess the needs of your organization and the communities you serve. Also, look into your digital requirements like current and future digital capabilities for providing services that need to be set up at your place. To have a solid foundation, it is important to determine the scope and nature of the unmet needs of the market. Because a thorough mapping of your needs at the initial phase will help you to not only mitigate any risks associated with your business but also achieve your goals by identifying what services are needed and served accordingly.
2

Plan Strategically

Developing an ideal strategy that meets your medical practice needs and organizational goals is one of the fundamental factors to consider. Strategize few things like aligning your business goals, managing the entire virtual operations, developing a timeline to implement the technologies, data management, set up of digital capabilities, infrastructure, rules and regulations, reimbursement plans, maintenance, workforce, partnership, networking with healthcare specialists.
3
Invest In Digital Infrastructure
You have assessed your requirements for hardware, software, and any other digital infrastructure to implement telemedicine platforms. Consider interoperability, implement cognitive technologies by finding your right technology partner who will understand your needs, and help you to achieve your goals. Contracting with technology partners will help healthcare organizations to focus on their goals faster as compared to traditional care models. They can utilize the services of technology partners and serve consumers effectively.
4
Train Your Team And Other Providers
The trained workforce will be able to deliver virtual healthcare services effectively. Teach your staff and related medical providers to use and manage technology. Allow them to practice and closely resemble actual medical practices. To benefit the consumers, healthcare organizations can train their team to maintain the medical data, manage administrative tasks, and provide consultation virtually. Make your team capable of using all the communication tools like video consultation, of the platform so that they can connect with patients easily and provide healthcare services as and when needed.
5
Create And Design Care Models
Create, design, and develop the experience-based care models that will help you to deliver quality healthcare services through telemedicine. It is always advantageous to plan your care models to receive organizational ROI and growth. Decide your care models based on the following criteria: customer segment that you want to serve, the value proposition of your services, distribution channels or technology partners, revenue streams, costing structure, key resources and partners, and healthcare activities. Designing a care model based on these criteria will help you to address the healthcare challenges of societies.
6
Engage And Educate Your patients
Inform your patients about telemedicine services and educate them about the use of technology for any healthcare problems. Market your services on different online and offline distribution channels and enjoy the benefits.
7
Evaluate The System
To evaluate the effectiveness of the system, it is important to track the outcomes of the entire process. You can ask for feedback from your patients and the team about the effectiveness of the platform. You can quickly identify the gaps or analyze the opportunities to expand your services as per your evaluation system.
So, the practices mentioned above are of the utmost importance to successfully implement telemedicine in your organization. It will help you to deliver timely and affordable services to your consumers, as per their requirements.
Let Us Explore A Few Telemedicine Products And Services That Healthcare Organizations Can offer To Consumers
The digital ecosystem has allowed healthcare experts to move the continuum of quality healthcare services outside the hospitals or clinics via different care services such as for diabetic care management, mental health, behavioral health, plus family practice. Telemedicine solutions have become an integral part of preventive care, diagnosis, treatment, and management of health to meet consumers' expectations. Hence, healthcare providers have to invest in telemedicine products, services, equipment, and devices; few of them are listed hereunder:
Digital Diagnostics

Digital Biomarkers

Sensor Technology

Software-driven solutions

Health Assessment Tools

Medication Adherence Tools

Remote Patient Monitoring Tools

Smart Devices to Measure Health

Pacemaker

Artificial Pancreas
How Telemedicine Is Redesigning Healthcare Management Systems
The delivery of healthcare has changed dramatically, as the healthcare sector joins forces with the digital ecosystem. The entire process of healthcare management has become digitized i.e., digital therapeutics (DTx) – one of the software-based solutions can treat a specific disorder or disease thorough evidence-based medications. Exponential advances in healthcare technologies and an array of innovative healthcare tools are redesigning the healthcare management system. Let us understand which factors or differentiators have reshaped the healthcare sector by utilizing telemedicine technology: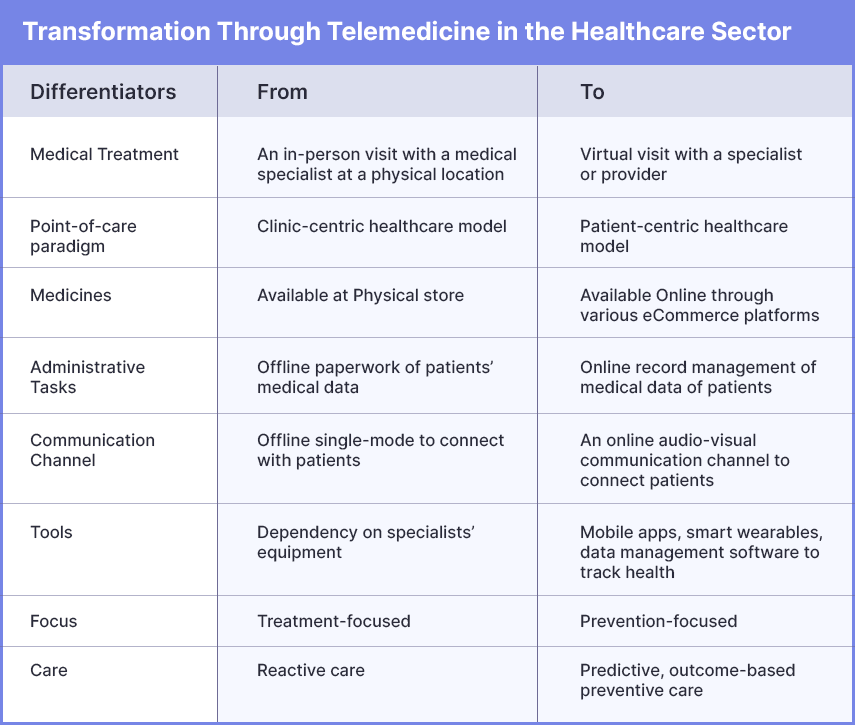 Apart from the factors as mentioned above, there are other factors also that have contributed to redesign the healthcare management system i.e., convenience, affordability, accessibility, cost-effectiveness, security, and efficiency of the technology. Furthermore, understanding how consumers' access technologies for their healthcare needs and overcoming the barriers of online communication through digital medicine solutions will help healthcare organizations to serve their consumers adequately.
Healthcare Organizations Should Smartly Invest In Digital Healthcare Technology To Generate Higher Roi And Yield Long-term Benefits.
The Underlying Growth Opportunities For Healthcare Organizations
The digitally-enabled system has centrally changed the healthcare management system and delivery of care. Additionally, healthcare technology is becoming more popular with a drastic change in demand, preferences, behavior patterns of healthcare consumers. There are immense growth opportunities for healthcare organizations by,
Embracing digital healthcare innovations

Providing affordable and easily accessible value-based care services

Focusing more on patient-centric healthcare
If we analyze the growth of the healthcare sector, the below figure explains everything about it:
The global healthcare market was valued at $8,452 billion in 2018 and is expected to increase at a CAGR of 8.9% to $11,908.9 billion by 2022.

Technological advancements and increasing disease due to modern – busy lifestyle will drive healthcare growth.

The healthcare services and pharmacy market is expected to grow at CAGR of 9.3% and 6%, respectively.

The top opportunities in the healthcare sector will gain $2,873.6 billion of global annual sales by 2022.

Market-trend based strategies for the healthcare market for growth include the adoption of digital tools, payment models, collaborations, medication development, and hybrid technology.
Healthcare organizations are collaborating with industry leaders to provide value-based care, to take advantage of the lucrative opportunities of the industry, and to grow in emerging markets. Now, let us evaluate the market size of telemedicine as per the latest industry report:
Global Telemedicine market size was valued at $34.28 billion in 2018 and is expected to grow at a CAGR of 23.5% by 2026, nearly $185.66 billion.

The increasing support from the government for healthcare information technology and infrastructure will contribute growth to the telemedicine market.

Major growth drivers of the telemedicine market as per the report are:

Preference for a virtual consultation

Reimbursement policies

Electronic Health Records (EHR) integration

Adoption of advanced telemedicine technologies

Better investment opportunities

Mobility and cloud access

Higher demand for home care and healthcare facilities
Apart from the trends mentioned above, disruptive technologies such as IoT, Blockchain, AI, smart wearable technology, data technology will continue transforming the telemedicine market. Healthcare organizations can take advantage of emerging technologies of telemedicine for different purposes and strive for growth. Few examples have been given hereunder:
Use of Artificial Intelligence (AI) Machine Learning (ML) for analyzing clinical data from patients' health records to provide care recommendations.

Use of Internet of Medical Things (IoMT) to monitor and store health signs of patients.

Use of Biosensors to detect characteristics of blood, tissue and other parts of the body.

Use of Big Data Analytics for remote patient monitoring.

Use of telemedicine Chatbots to connect with patients when required.

Use of Virtual Reality (VR) to advance communication interface.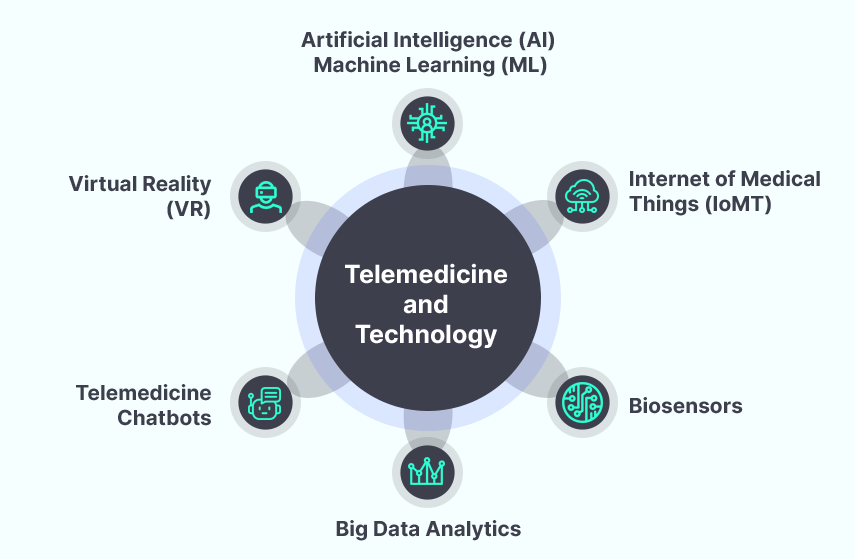 So, What Will Be Your Long-Term Organizational ROI If You Leverage Telemedicine Technology?
Looking at this promising technology, meeting your consumers' needs and providing value-based healthcare services will become simplistic. The adoption of telemedicine will enable greater flexibility to achieve business goals. You can use the most cost-effective options that will match your consumers' demand. So, the untapped opportunities of the telemedicine will yield results for healthcare organizations as mentioned hereunder:
Increased Brand Value

Marketing your services will create awareness in your target market, enabling you to get in touch with various healthcare stakeholders and the consumers. You can establish your brand by connecting more and more numbers of people. Ultimately, it will help you to create a positive brand image in your target market.

Lasting Business Relationships

You can enhance your business relationship by collaborating and working mutually with healthcare stakeholders. So that you both can join the forces together to provide value-based care. Building long-term relationships with service providers or other stakeholders play a critical role in your success.

Enhanced Portfolio

You can have an updated portfolio of your multiple healthcare services in your account with a telemedicine platform. Existing services supplemented by advanced services integrated with technology will help you to advance the quality of your services, which is directly related to your brand positioning.

Enhanced Consumer Experience

Communication through digitally-enabled solutions will help you to connect your healthcare practitioners with consumers from different regions (including rural areas). Organizing appointments, virtual meetings, and managing health data saves time, which results in the enhanced consumer experience.

Internationalizing Your Business

Digital platforms will let you expand your reach nationally (urban, suburban, and rural areas) and internationally. By understanding the demand, preferences, behavioral patterns of your target audience from any region of the world, you can offer quality telemedicine services to them. With mergers, acquisitions, and partnerships, you can also add more digital capabilities and expand your business presence by applying various business models.
Conclusion
Advances in technology have changed the way consumers receive healthcare services in multiple modes. Today's healthcare consumers have become advanced. They expect easy access, transparency, and convenience in healthcare services, and telemedicine meets those expectations in the best possible ways. This digital medicine platform bridges the gap between healthcare providers and consumers. Hence, collaborating with telemedicine service providers will be advantageous for healthcare professionals to improve consumer experience and achieve their organizational goals. They need to think beyond the boundaries of providing healthcare services in four walls and embrace the changing dynamics of the sector. They need to think about personalizing and providing patient-centric healthcare services by leveraging innovative digital solutions, as technology has an enormous potential to impact various aspects of healthcare. So, what are you waiting for? Improve your current healthcare delivery system with telemedicine services.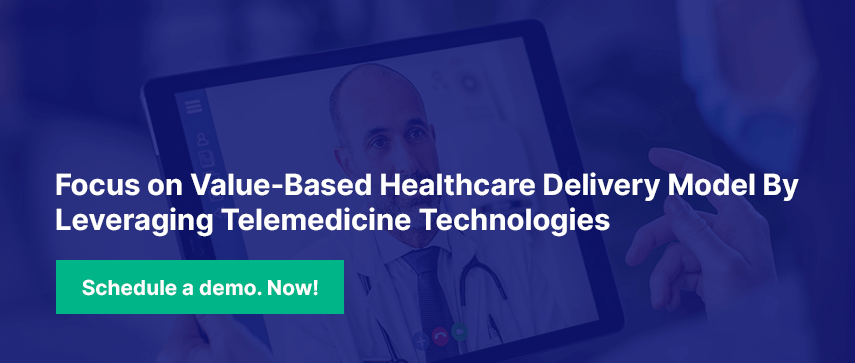 Author's Bio

Shoeb Ahmad, with an experience of 22 years in Digital World, heads Digital Marketing at Mobisoft Infotech. He has a rich experience in SEM, SEO, Social Media & other verticals of Digital Media. He also has been a consultant for a variety of industries, enterprises & startups. He loves reading & traveling. He often writes on various forums since he believes 'Knowledge increases by sharing.'