Being a part of the healthcare industry and its business, it is essential for each person to keep up with the ever-growing transformation in digital healthcare app development services. Determining the right healthcare app development or customizing a healthcare solution for one's business is right now worth investing time. Finding the right healthcare mobile app developers to work with is still one of the crucial and most challenging parts of the healthcare sector.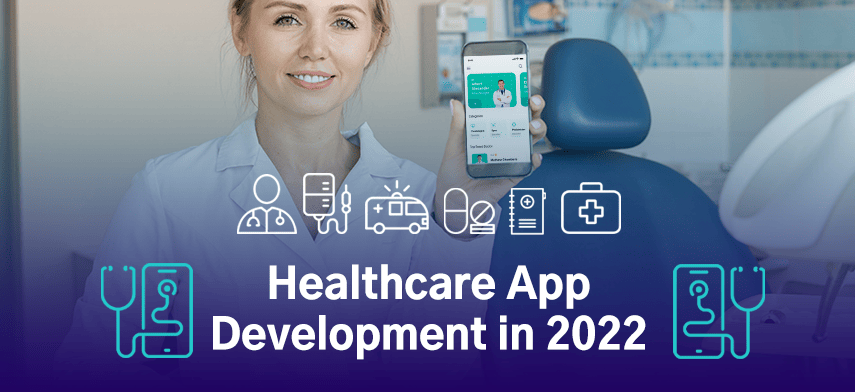 Acclimating to the digital healthcare transitions, healthcare organizations and facilities are looking towards more reliable, flexible transitions with a mindset that requires risk-taking. The health market is said to reach a total of USD 5.6 trillion by the year 2026. The healthcare industry is still getting accustomed to the new technological advancements to drive growth. At this moment, it is important to learn the modern landscape of healthcare app development services. AI, Telehealth, Wearables, Machine Learning, and more such technologies are offering better care delivery. Similarly, providers are streamlining their workflows with the help of AI-powered systems.
Let's dive in and see how the digital transformation in healthcare shows more refined growth in 2022.
Patient Requirments in Healthcare Mobile App
For the growth of mobile healthcare app development, it is crucial to take note of what patients require from them. Patients look for the most basic functionalities in healthcare mobile apps, which include the ability to cancel or schedule an appointment, accessibility to medical records, and apps that enable them to request prescriptions. Through data research, it has been observed that nearly 11% of healthcare mobile apps offer either one of the functionalities.
When it comes to healthcare mobile application development, it has to take into account all probabilities and functionalities in a user-friendly way to the patients. These two are critical components when developing mobile healthcare apps. Certain tips can help to understand what your organization should focus on when developing a healthcare mobile app for your business.
1
Efficient access to functionalities
Having functionalities in healthcare mobile apps is a unique quality to have. But it has to be easily and efficiently accessible for the end-users, the patients. They will not use an app that is time-consuming and disrupts their day-to-day activities. Patients are in search of apps that save their time for scheduling, canceling, or changing their appointments to the doctors. The success of mobile healthcare apps is to provide that efficient accessibility to reduce the time for a simple appointment booking procedure.
2
Offering detailed and actionable information
The statistics of healthcare app downloads show that patients are receptive to mobile health platforms. Patients are inquisitive about learning their conditions, what causes the symptoms, and then apply necessary actions based on the available opportunities. Designing your healthcare app where patients can seamlessly gather their required knowledge through detailed and actionable information can help improve app engagement and increase revenue generation.
3
Enhanced communication with providers
Healthcare app development is being done in a way where patients can now easily interact with their required healthcare professionals. Roughly 75% of hospital visits include basic follow-ups and routine checks which can be done via phone calls or video visits. Initiating an app development process that provides such an interconnected platform via telehealth services can effortlessly integrate better communication between patients and doctors.
4
Building a patient community
Patients want to feel included and interact with others on a common platform. It is the reason why many healthcare mobile apps have a community feature in their services. Providing a social interaction platform for patients can be a positive way to improve and enhance healthy behavior and better health outcomes. The social in-app feature in healthcare apps can motivate patients to follow a healthy schedule. Building a patient community via mobile apps can help people connect with others facing similar health conditions and concerns. Thus, helping patients feel comfortable and be a part of a supportive community, building better engagement for your organization.
5
Implementing better digital experience
Today's consumers are expectant of a smooth and seamless digital user experience. If a satisfactory user experience isn't achieved, the healthcare app can fail to create a lasting first impression. Mobile apps need to have an excellent UI/UX feature that provides unique data visualization capacity which patients retain for better engagement. Keeping the target audience in mind when starting a healthcare app development project can help to enhance the overall UI/UX of the app.
6
Integrated with wearable devices
Health trackers, smartwatches, and other wearable devices are right now dominating the healthcare market. The rapid adoption rate of wearable devices has created a positive opportunity in the healthcare application development sector. These apps can be easily integrated with such devices. Wearable devices help to gather crucial data and information regarding a patient's health, including heart rate, posture control, blood sugar, sleeping patterns, and other physical activities. The future trends in healthcare implicate that wearable devices provide patients with more knowledge regarding their fitness and provide a sense of control towards their health and well-being.

Future Trends of Healthcare App Development in 2022
Healthcare app development has been trying to regain the opportunity to blend and analyze the various data required to develop predictive medication. The future trends in healthcare app development in 2022 are observed to be more patient-focused and gaining the attention of users through their services. Hence, the emergence of future trends in healthcare is empowering people to understand their treatment and prevention options through predictive analysis.
1
IoT for medicines
Health monitoring tools required to analyze physical activities are gaining recognition each year. With the rapid growth of the aging population, devices like heart monitors and the likes can provide quick analysis of impending cardiac conditions. It can help to reduce the pressure on the healthcare systems and their workflow. WHOrecognizes this development in the healthcare sector, especially with the correct HIPAA compliance in place, can improve the effectiveness of prescribed healthcare via precise prescriptions of providers. The information collected with the health of the Internet of Things (IoT) can benefit medical personnel, patients, and specialists. This can contribute to better patient independence, enhanced treatment, and better use of medicines with lower costs of healthcare.
2
Offer medical support and mobile health with healthcare app development
The growth of healthcare app development and mobile applications are now becoming essential aspects of one's life. Smartphones have become an easy way for the growth of digital healthcare services. The factors contributing to the progress of mobile health technologies are the hike in lifestyle-related ailments and patient awareness regarding the possibilities of mobile medicine. With healthcare app development, applications can help to monitor a patient's condition and provide necessary interactive sessions with their providers.
3
Combining assistance from AI and humans
One of the future trends in healthcare observes that AI technologies are radically transforming the modern medicine structure and healthcare application development services. In certain places including the US and Europe, AI has already been implemented to automate work and service provisions. The combined assistance of humans and machines was well-observed during the span of the pandemic. AI helps to recognize the primary symptoms of a disease, helped to maintain the electronic health records, and assisted patients with their questions. Hence, it improved and accelerated the clinical services at lower costs. The potentiality of human-machine interaction is still far-fetched, but healthcare researchers are finding new ways to improve this level of care delivery service for uninterrupted collaborations for healthcare industries.
4
Implementation of Beta versions
The global implementation of new technologies due to the rapid spread of the uncharted pandemic showed that products and goods cannot be static anymore. The real-time testing of products has been developed parallelly with their usability. Experts are labeling it as the "eternal beta version" and observed how easily people were trusting the widespread growth of technology and services, even though they were incomplete. Consumers are learning that products require updates directly from the manufacturers, and the experience indefinitely affects the refinement of these products. Hence, the future trends of healthcare depend on the refinement of technological advancement in the healthcare industry. Healthcare facilities and organizations are developing digital products and services by accounting for the constant expansion of their functionalities. When launched into the market, healthcare app developers need to be reliable to protect the internal healthcare ecosystem and provide support to the tester community. Granting the constant changes in products and services to make them comfortable for users is a chance businesses have to take.
5
Robots required for disinfection
Robots in healthcare have gained a massive amount of recognition due to the mass infection of frontline workers. Providers and staff of an organization can assign and instruct them with routine tasks including temperature measurement of patients and sterilization of rooms. Robots cannot replace medical specialists and professionals, but they can continue their capacity expansion. Organizations and facilities under the healthcare industry are planning o implement a combined workforce of robots and humans to change the patient care landscape. The new challenge that may emerge from this combination in the future, is choosing a workforce that blends well with AI and the people involved. App development healthcare services are set to modify their requirements according to the workforce that gets implemented in the necessary sectors of healthcare.
Wrapping up,
The healthcare sector will keep adopting newer technologies to improve patient care delivery services. It is crucial to understand the necessities of patients and what they require from healthcare app development prospects. Having a healthcare mobile app provides the incentive for the patient and it delivers better user satisfaction and enhances patient health outcomes. With Mobisoft Infotech's expertise, developing the right app for your business can help your business have that clarity and edge in the healthcare market.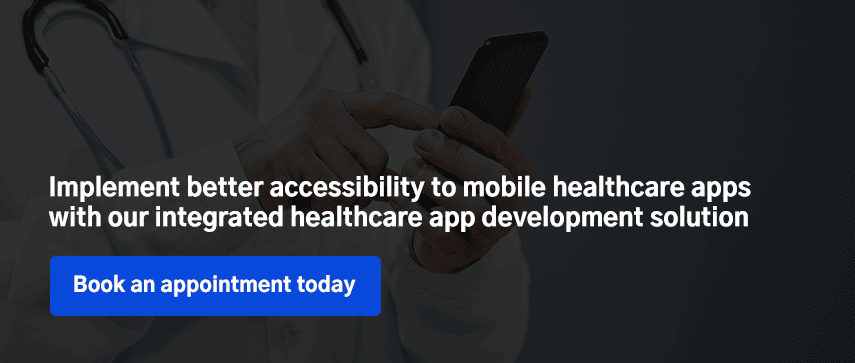 Author's Bio

Shailendra Sinhasane (Shail) is the co-founder and CEO of Mobisoft Infotech. He has been focused on cloud solutions, mobile strategy, cross-platform development, IoT innovations and advising healthcare startups in building scalable products.