The popularity of healthcare application development over the years has eased access to healthcare, improved health monitoring, enhanced technological development in the industry, and offered higher access to medical requirements to patients and providers.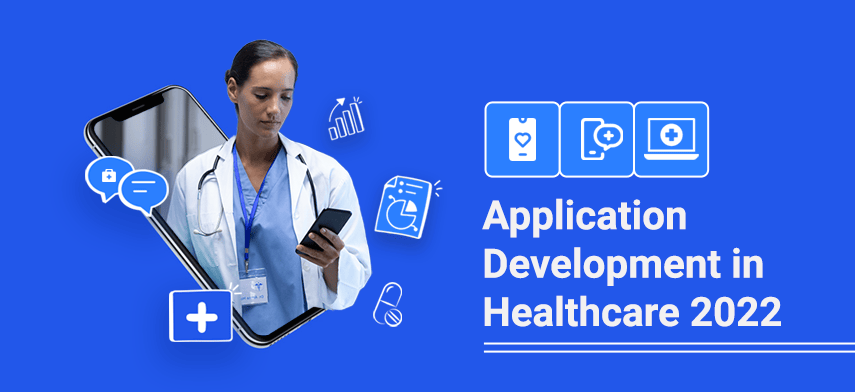 Due to the above reasons, the healthcare application market is set to achieve a goal of USD 100 billion by 2025. The growth of mHealth applications has also seen a massive increase in several use cases in the healthcare industry over the years. Enterprises and startups are increasing their investment in building healthcare frameworks and developing healthcare applications. The increased use of medical and healthcare applications is opening newer avenues in the healthcare sector, helping them leap into the future of digital health app development.
Healthcare application development has benefited providers and patients by connecting them to ease the burden on healthcare providers. They also allow healthcare providers to know more about the symptoms of the patients they are treating and provide a digital description if necessary. Healthcare applications offer faster diagnosis, improving patients' overall care.
To summarize, healthcare application development services are exceptional in creating better healthcare accessibility for patients and providers with an inclusive range of improvements that can be brought to the apps for medical services.
Healthcare Market Overview
The evolution of digital health app development in the market has been rapid. The dynamic of options between healthcare providers and patients is becoming convenient with healthcare application development services. During the COVID-19 pandemic, the drastic surge further into developing a healthcare app increased the overall market value of the healthcare industry.
According to market research, the global digital health app development market is likely to reach USD 102.35 billion by 2023 compared to USD 28.320 billion in 2018, at a 29.30% CAGR.
Apart from the growth in the market size, there has been an overall surge in usage of healthcare applications due to the pandemic. The number of healthcare applications downloaded during this period increased by over 60% worldwide. Additionally, according to Statista, there was more than 50 thousand healthcare application on Google Playstore and over 53 thousand healthcare application in the Apple Store by the first quarter of 2021.
Digital health investors 2020, invested in custom mHealth application development in the industry summing up to about USD 21.6 billion, which is by far a vast amount that has been invested in the healthcare industry. These statistical analyses indicate the popularity of healthcare software development and why stakeholders are investing so much into the digital growth of the healthcare market.
Prevalent Challenges in the Healthcare Industry
Despite the growth of the market size in the industry, several healthcare providers still require to think before launching healthcare frameworks and applications on the market. There are various reasons why healthcare application development services are still facing challenges in creating groundbreaking and impactful apps for healthcare stakeholders. It is crucial to understand why healthcare software solutions are struggling with building a lasting impact for people when launching medical applications.
Let's take a look at the prevalent challenges in the healthcare industry when launching healthcare apps.
1
Absence of detailed focus on one domain
Healthcare businesses that are entering the mobile healthcare domain often fail to understand that stakeholders in the industry are different from super application stakeholders providing multiple channels in a single application. When a patient or provider installs a healthcare application, they always look for redressal of one issue that can have many different cords. They install a healthcare app to find solutions for one issue instead of multiple solutions. Instead of having an app that solves multiple issues on a surface level, healthcare apps addressing one issue at a time becomes an utmost requirement for healthcare providers.
2
Non-Compliance
There are a variety of healthcare compliances that are responsible for maintaining the mobile health domain. Healthcare app developers must know HIPAA compliance as it provides direct safety for healthcare applications. HIPAA or Health Insurance Portability and Accountability Act offers provisions for maintaining the user data and checking the authenticity of the data retrieved from patients, information gathered from healthcare providers, and provides advice provided in the application. It can be difficult to get a seal of approval when applying for HIPAA compliance, but the complete absence of it can lead to trouble with the law, and stakeholders not believing in the system. The approved seal of an FDA or HIPAA-compliant badge can turn away necessary stakeholders from investing in the application.
3
Security deficiency
There are several examples and stories of data breaches and cybersecurity attacks due to insecure data storage and security infrastructure. Even though security is one of the top priorities in the healthcare industry, there are only a few applications that take the security of data seriously. HIPAA compliance solves several problems with security but healthcare companies need to take security-first models more seriously.
4
Negativity regarding mobile health domains
While there are solutions to control the above-mentioned challenges, there is still some negativity regarding the mobile health domains due to valid reasons. There have been incidences that have shown ineffectiveness in the healthcare market. The severe cases where correctly algorithm mobile applications were not able to identify the diagnosis due to inefficiency of the app.
5
Existence of multiple devices and channels
With the existence of multiple devices and channels in the market, interoperability of these devices has become a key challenge for top healthcare app developers. It has become a difficult and crucial situation to ensure the privacy of medical data is not flowing towards cloud channels that can be breached easily. These concerns are validating stakeholders in the medical industries to switch from legacy systems to mobile healthcare application development.
Now that we know the key challenges healthcare industries are facing, let's understand why HIPAA compliance is important.
Significance of HIPAA Compliance in Healthcare Application Development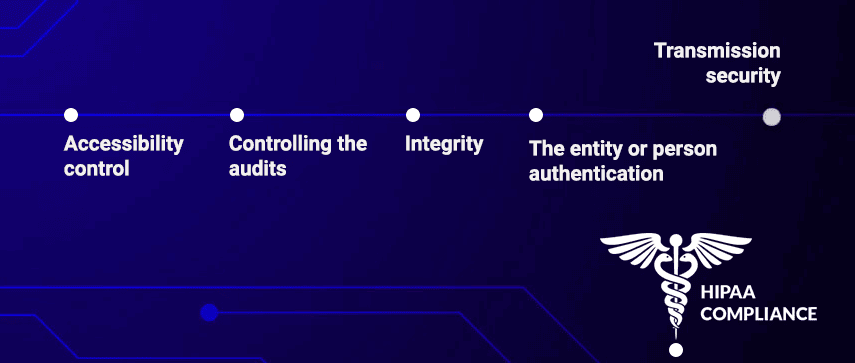 HIPAA compliance was adopted in 1996 as a critical piece of legislation creating a shift in the way healthcare data is approached. The Health Insurance Portability and Accountability Act was put in place to provide patients with better control of their healthcare information, ensure proper health data privacy and accessibility, and provide protection to health insurance coverage. Permission-based accessibility to multifactor authentication for HIPAA-compliant storage. A lot of work is done to ensure reliable and robust data protection. The 5 components of HIPAA include:
1
Accessibility control
Controlling access to healthcare application development services and information within the apps are necessary measures to decrease the overwhelming amount of healthcare data breaches due to the lack of access control. The first pillar of HIPAA can provide rights to access Electronic Protected Health Information (ePHI).
2
Controlling the audits
The second pillar is related to regular audits related to security. The HIPAA-compliant solution for healthcare needs to generate detailed reports of audits for ensuring proper visibility of data in the system. This can help healthcare providers to stay ahead of suspicious activities by changing the passwords, taking note of successful and failed logins, adding new users, firewalls, and more.
3
Integrity
The hacking incidents have demonstrated how health data integrity can be very easily breached. The unintentional or accidental changes in ePHI can provide a poor quality outcome when it concerns patient safety. The third pillar of HIPAA is to protect the ePHI against unauthorized alterations critically. Data corroborations that can be included for healthcare software development can include checksum verifications, double-keying, and digital signatures.
4
The entity or person authentication
Recent research has shown that more than 80% of data breaches are due to weak or compromised healthcare credentials. The first line of defense can be strong authentication implementation to protect businesses containing healthcare solutions to ensure patient data safety. Authentication provides an identity for the person or entity who are the end-users for health data. It can be set as a password or a pin, it can be something the person possesses like a key or a token, or a unique biometric identifier.
5
Transmission security
Data traveling to and from healthcare apps can become vulnerable. Unsecure health networks can simplify data breaches. To ensure proper network communication end-to-end encryptions (E2EE) need to implement during data transmissions, there should be a secure communication protocol (SSL, TLS, etc), and a message or data authentication code.

Principle Aspects of Developing Mobile Healthcare Applications
Your healthcare business must know the best practices in healthcare software development. Here's a list of principle aspects when developing a health app.
1
Determining the target audience for your digital benefits
The COVID-19 pandemic pushed healthcare industries and stakeholders to work collaboratively. This created an immense opportunity for new healthcare behaviors to grow, especially the digital and online healthcare tools. An effective transformation in digital healthcare strategy determines the concept of what needs to be accomplished and for whom. For healthcare app developers, the design in technology, developing, and procuring of the application caters to the stakeholders and patients with digital health tools. Developers and businesses need to know about new medical software applications that will change the sets for medical staff and how they can affect patient engagement.
1
Implementation of strong security compliance for healthcare frameworks
Security in healthcare applications consists of maximum value and it has been emphasized throughout the years in digital healthcare. Regulations placed for data privacy and cybersecurity risks are enough to motivate healthcare organizations to implement medical UI designs for the systems. Security is the primary specification. From a consumer's perspective, security compliance provides complete trust and transparency in sharing personal healthcare data and information. Encrypted healthcare application development services are compliant with communication that has high standards of security for providers which is essential for data privacy protection.
2
Design scalability
Launching the first version of healthcare software, the software targets must solve specific problems for specific users. It is also necessary for healthcare organizations to make applications and systems that are scalable from the start. Delivering value for intended users can enhance the chances of intended users becoming your target audience and expand your use cases over time. The pandemic provided evidence when telehealth platforms experienced an increase in growth. The scalability in design increases the capacity, and feedback from new users, patients, and providers.
3
UX design in healthcare for vital accessibility
User experience in healthcare application development has its separate set of challenges, a good UX design in healthcare should enable providers and practitioners to focus more on patient care and engagement and less on clerical work. UX design in healthcare requires paying close attention to target users and determining the right satisfactory outcomes and experiences.
Bottomline,
By the end of this, you must have understood the different aspects of healthcare application development in healthcare organizations. It is essential to know how these factors can help you plan according to your requirements and mobile healthcare application development. This is where healthcare application development companies like Mobisoft can help you with excellent healthcare application development solutions. We can offer expert healthcare business ideation and guidance, identify tour revenue streams, determine the reliable tech stack for your apps, extend your development teams of experts, architecture and iterative development and design at a higher scale, and leverage the cloud technologies for enhanced scalability and flexibility.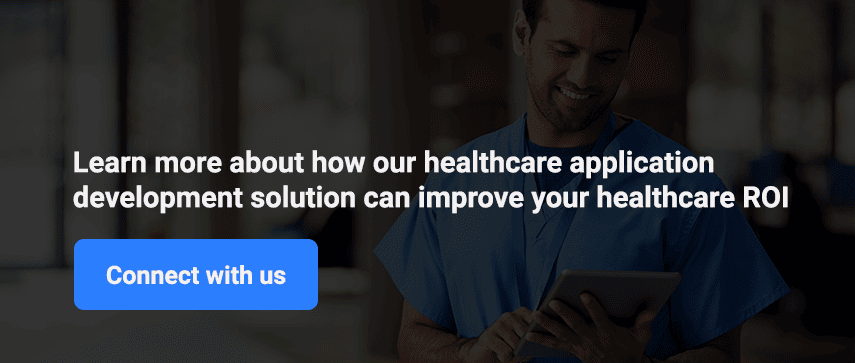 Author's Bio

Shailendra Sinhasane (Shail) is the co-founder and CEO of Mobisoft Infotech. He has been focused on cloud solutions, mobile strategy, cross-platform development, IoT innovations and advising healthcare startups in building scalable products.