Matt Jackson, Research Director, Institute of Governance, Canada, speaks of a common issue reverberating in the healthcare domain globally. He says that the healthcare sector is highly fragmented. A single patient might encounter multiple touchpoints like the hospital, community clinics, individual physicians, specialists, diagnostic centers, outpatient clinics etc. But the level of connectivity and collaboration among them is low.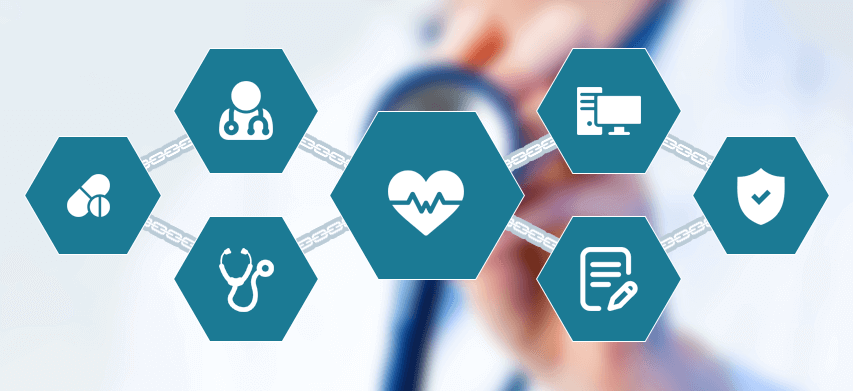 How good would it be if all these touchpoints could securely access specific patient data and collaborate seamlessly to enable faster and more efficient caregiving?
This is exactly the value proposition of Blockchain in healthcare. Be it sharing diagnostics/past history data or sharing with the pharmacy about the medications taken, Blockchain can provide a secure way to distribute data without the fear of being struck by external hacks. But is it capable of revolutionizing the healthcare industry for the better? Let's find out.
A Brief Background on Blockchain
The three major components of Blockchain are: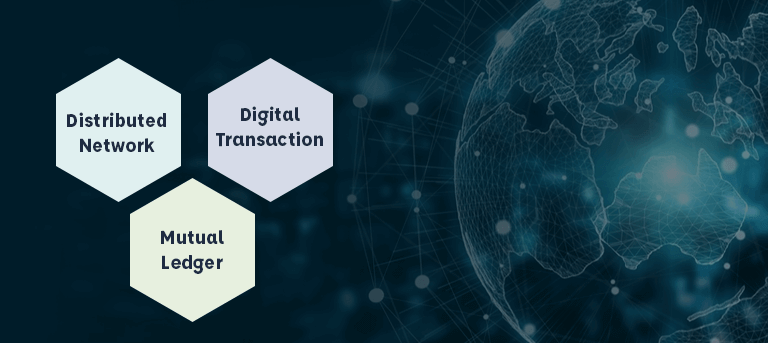 Distributed Network
Blockchain has a dispersed P2P structure which contains network participants wherein every member stores a copy of the Blockchain with the authority to authenticate and verify digital transactions for a particular network.
Mutual Ledger:
The participants of this network keep track of the current digital transactions in a mutual ledger. They administer the algorithms and authenticate the planned transaction. After the majority of the members have authenticated this transaction, changes are then made to this ledger, thus making it foolproof.
Digital Transaction:
Any type of information or data or even a digital asset which can be stored into a Blockchain classifies as a digital transaction. Every transaction that takes place is recorded into a block and every such block contains a cryptographic hash that adds all these transactions in a linear chronological order.
This generation's biggest innovation has to be the Blockchain technology that plays a vital role in cryptocurrencies like bitcoin. This same technology has its uses in a range of verticals. One such vertical is healthcare. Paired with Blockchains foolproof technology, the healthcare industry has a right and modernized future to look forward to. This innovation has the capability to solve some of the most critical issues that the healthcare industry has to deal with.
How Can Blockchain Be Utilized in Healthcare?
Claims Negotiation:

Since it works on a confirmation exchange, mediclaim can be auto-verified by the system wherein the network agrees upon the way that contract is executed. Since there is no central authority, it reduces the chances of fraud.

Supply Chain Management:

Contracts made with the help of Blockchain can aid healthcare organizations in supervising the demand and supply cycles, ensuring the contract is a success or if they are facing any setbacks.

Interoperability:

One of the key advantages of Blockchain is interoperability (exchange and use of data across multiple authenticated systems). With advanced APIs, EHR interoperability and data storage can be made an efficient process. As an outcome, different pre-validated healthcare providers on the Blockchain network need not incur additional cost overheads to reconcile data across different systems
Other than that, Blockchain has the ability to give the revenue cycle management, drug supply management as well as clinical trials a total makeover. It can also prevent any related fraud.
Here Are Some of the Major Issues Solved by Blockchain:
Issue: Drug Traceability

The most critical problem that the healthcare industry faces is drug forging. As per the Health Research Funding Organization (HRFO), around ten percent to thirty percent of medications in developing countries are not genuine. The hit to US pharma companies is worth a staggering $200 billion a year.

The main cause of concern is not the fraud but the effect it takes on the patients that take those drugs. These counterfeited drugs offer varied outcomes on patients as compared to the original drugs. Rather than helping the patients recover this may worsen their condition.

Blockchain Solution:

In the Blockchain system, all drug transactions are fed into it and made impossible to change. As such, it is anything but difficult to distinguish false drug merchants. You can utilize either private Blockchain (where the credibility of the movement of drug from the labs to the patient is strictly maintained) or public Blockchain. In a private Blockchain, since the distributor himself enters the data about the medication, there is no chance to doubt the authenticity of the medication. This kind of transparency can only be offered by the reliable databases like Blockchain.

Once a drug is created and moves from the producer to distributor, wholesaler, and retailer, the blocks in database keep getting updated at every point of transition. If, by any chance, there is an act of counterfeit, backtracking would be simple and effective.

Issue: Patient Data Management

As per HIPAA norms, all patient health information (PHI) need to pass a minimum amount of security, privacy, and integrity. The challenge occurs when patients need to share the data with third parties (pharmacies, hospitals, or physicians).

Blockchain Solution:

Blockchain creates a unique identifier for each block of PHI information with a unique patient ID. Utilizing an API, the pre-authorized entities can get the essential data without uncovering a patient's identity. Similarly, a patient gets to choose whom to provide access and whether this access will be either full or halfway. Moreover, patients can provide authorization for specific third parties to access the PHI.

Issue: Data Security in Clinical Trials

Clinical trials are utilized to decide the adequacy of specific solutions which cure particular ailments. The hypothesis testing and R&D entail a lot of data about data collection, research, findings, reporting, and analysis. Since a scientist has full control over his portion of the research, there won't be any way to determine data leaks or unauthorized modifications. Such malicious acts can totally damage the integrity of the research work and alter outcomes to disastrous effects.

Blockchain-Based Solution:

This innovation enables clients to demonstrate the legitimacy of any record enlisted in the system. Scientists get proof of presence and can verify it to be true as it needs pre-validation by multiple nodes before entering into the block.

So once entered, it can be easily determined to be authentic. Also, there is no scope of unauthorized alteration or modification because of the immutable architecture of Blockchain.
Advantages of Blockchain from a Business Perspective:-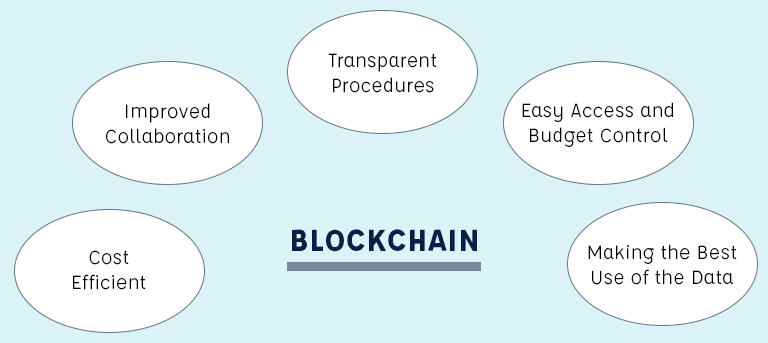 Cost Efficient:

The centralized architecture of Blockchain makes it easy to share data without losing track of accountability and responsibility in case of data breaches. This factor drives immense advantages like cost-effective medicines, accurate diagnosis and in the long run, more productive caregiving for different diseases.

By using the Blockchain innovation, the healthcare suppliers can work at the same time with the assistance of systems with enabled shared access. Cost efficiency in Blockchain implementation is primarily driven by advantages such as accurate tracking and secure nature of the database.

Improved Collaboration:

Public healthcare is largely dependent on smooth collaboration among different parties involved in patient health care. Mutual understanding of trends and insights uncovers hidden opportunities to make healthcare all the more effective.

Blockchain makes this aspect fruitful. Its distributed architecture enables different stakeholders to participate in meaningful research and boost patient care.

Transparent Procedures:

Healthcare is directly associated with the lives and well-being of a person. It criticality guarantees a set process to be followed to make the health care procedure a successful one. With Blockchain, physicians and healthcare institution administrators can enable HIPAA certified PHI sharing as well as keep a total track of the distributed data.

Additionally, it eliminates data leaks and hence boosts the overall security of the transparent processes. Lastly, it facilitates the smooth transition of the drug from labs to the patient without compromising on its authenticity.

Easy Access and Budget Control:

The continuous availability of granular approval processes and simplified access incredibly empowers the suppliers/researchers. By automating the routine procedures, Blockchain facilitates the healthcare business to obtain optimum utilization of valuable human resources. What's more?

This advantage is delivered at every stage of the drug transition from labs to patient
With Blockchain, the overall process can be broken into smaller parts, helps monitor the budget, brings down organization costs, and permits a superior usage of allocated assets and finances.

Making the Best Use of the Data:

Though there are different purposes of digitally gathering healthcare data, it is more crucial to make the best use of it without making the procedures complex or challenging. For that reason, the compatibility of data across different systems is vital.
Blockchain helps to maintain the compatibility and thus adds sanity to the overall process.
Advantages of Blockchain from the Patient Administration Perspective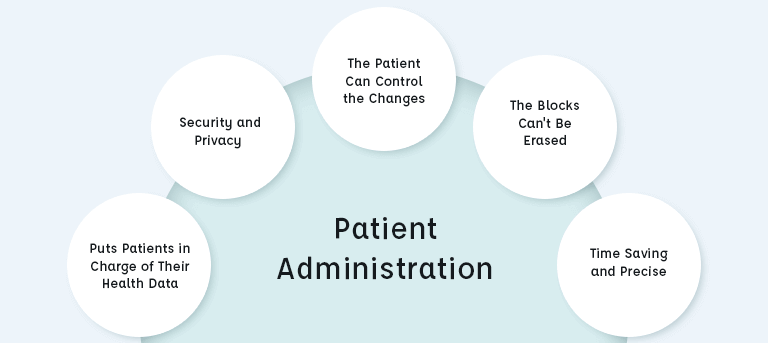 Puts Patients in Charge of Their Health Data:

A Blockchain-based medicinal service puts patients in charge of their medical data. They are the main entity with the key to their data. Once the patient's data is placed in the system, it ends up being permanent and protected from unauthorized modifications.

The system is secured by a network of PCs spread over the world, and once the data is modified, patients naturally get notified to accept or reject the changes.

Security and Privacy:

Conventional Healthcare databases are discrete, disconnected, and isolated making them targets for malware and other online dangers and hacks.

With Blockchain technology, patient data is shared and distributed across PCs for extra security. The Blockchain ecosystem has its own security while conveying data over numerous systems.

The Patient Can Control the Changes:

At the point when patients move toward becoming Blockchain participants, there is no central authority to control their data. Patients utilize cryptography to settle on what should be included in the system by agreement. As a member, they can keep an identical copy of all transactions in the system. When data is modified, it is refreshed over the whole system.

The Blocks Can't Be Erased:

Patient data stored in the Blockchain is permanent and system validated. There is a great deal of transparency in the system. This enables patients to feel secure and can settle on what sort of data they have to impart to third parties.

Time-Saving and Precise:

Blockchain-based healthcare has reduced the cost of accessing the healthcare related services. The technology lessens the time it takes to oversee insurance payments, and the cost will reduce since it's simple to validate the data and other information. Decreasing the number of middlemen implies better healthcare at a lower cost.

Lowers the Cost of Settlement:

With Blockchain healthcare, there is ensured smooth data exchange and interoperability. With the introduction of Blockchain empowered IT systems, patient healthcare data will be secured and quick to access.

It will also empower consistent data exchange accordingly bringing down the cost of compromise and time it takes to collect data from the traditional databases. With the help of the keyless signature system, data storage and dispersal has become real in the healthcare industry.

Transparent Billing:

Transparency in billing administration is another patient advantage that Blockchain offers. There is a considerable measure of fraud in the healthcare segment where billing has improved the situation for the services which were not provided.

Medicare fraud has been an issue for Healthcare suppliers as well as patients. Nonetheless, with the Blockchain systems and applications, these scams can be curtailed to great effect.
To Conclude
Blockchain is a powerful tech disruptor that can help avoid data leaks and hacks in the healthcare business. It is a safe and dependable strategy for recording, storing, and sharing sensitive data.
Caregivers will profit by executing this technology while remaining Health Insurance Portability and Accountability Act (HIPAA) compliant. This will ensure that they adhere to reliable digital protection norms for healthcare data. Looking at all these characteristics and benefits, we can conclude that Blockchain has immense potential to revolutionize healthcare.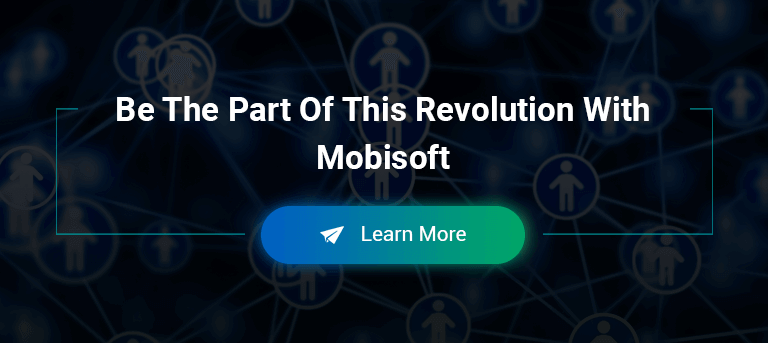 Author's Bio

Shailendra Sinhasane (Shail) is the co-founder and CEO of Mobisoft Infotech. He has been focused on cloud solutions, mobile strategy, cross-platform development, IoT innovations and advising healthcare startups in building scalable products.