The current healthcare scenario is heavily leaning towards technology. It's not just a demand from an evolving set of smartphone-owing customers. Physicians too are increasingly adopting EHRs and mHealth apps considering the immense benefits they provide to a doctor or a hospital administrator.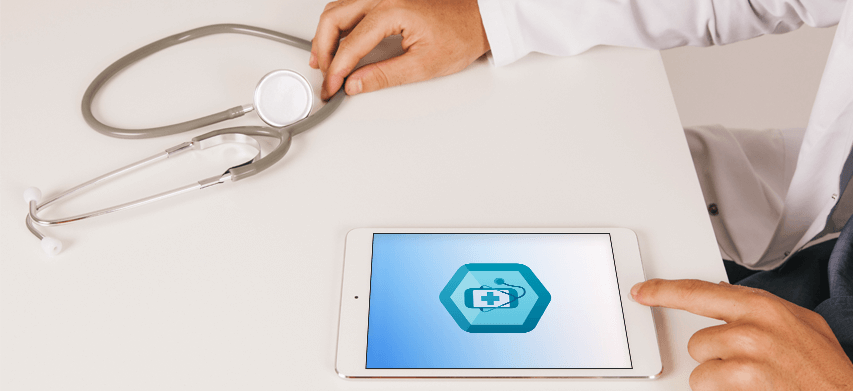 However it's equally true that the ways smartphone and mobile internet have penetrated other industries, it hasn't pervaded healthcare at the same speed. The sector has a bit of a catch up to do when compared to other industry verticals – and this is even fair to a certain degree. The strict norms of acts like HIPAA and the immensely secure patient information prone to hacks mean that mHealth adoption is cautious and extremely calculated.
mHealth – The Current State
The demand from the consumer side has always been strong for mHealth. Statistics show the number of mHealth enabled apps and wearables has zoomed from 15 million users (2013) and is expected to reach 96 million (2018). A forecast of the value of the global mHealth market from 2012 to 2020 shows that it is expected to grow from $8.3 billion (2013) to $33.59 billion (2018). The mHealth market size projection shows that the potential is definitely there from the provider point of view.
Advantages of Opting for mHealth
Better Patient Outcomes
Applications like SugarPod are prime examples of how healthcare can be delivered to patients more effectively by using the elements of AI and machine learning. mhealth apps identify unique ways to use technology already present in the patient's daily routine. Other ways in which mhealth apps can help are:

Mobile medical ID information (emergency numbers, physician contact, current medications, or allergies)

Fitness tracker

Monitoring important vitals like heart rate
Calorie counter and diet planner
Alerts on medication to be consumed

Tracking Personal Data


mHealth can help track personal data regarding various activities of a patient. These may include tracking for:

what they ate

what exercises they did/ learned about exercises
what physical activity they did
weight loss regime

Better Access to Physicians


31% of healthcare organizations currently provide a health app to their patients. Additionally, there are 30% of the organizations in the process of building a mobile health app for patients.

As more doctors embrace mHealth, the doctor-patient relationship gets a substantial boost. As patients look for better and more options to communicate with their healthcare providers, mHealth can easily step up to the task.

With these advantages, it's not difficult to grasp why mHealth gets a thumbs up by 93% of the physicians who believe it will play a key role in improving healthcare.

Tom Giannulli is an MD, MS who co-created (with CareTools) the world's first iPhone EHR tool – iChart. He has positive opinions of the current healthcare landscape and how mHealth fits in. He says that bigger practices are seeing the inclination to move from fee-for-service model to radically different value-based payment model. Examples include ACOs and patient-centered medical homes.

This fast-growing demand from consumer market (for wearable and mHealth apps) along with the above-mentioned shift means that the market is now primed to adopt mHealth faster than before.

He advocates starting small – using the tech for communication and then moving to better things after they are comfortable with the tablets and iPads. Once this stage is passed, they can utilize mHealth for better applications like accessing patient data, sending notifications and alerts, or using it as a diagnostic tool.

Some of the interesting tasks that are within the scope of functionality of a mHealth app include:

Messaging (both internally and with patients) as per HIPAA stipulations

Integrating mHealth in patient outcomes and notifications

Consolidation of voice and messaging
While these features are from a technology expert perspective, healthcare providers would be concerned with better safety levels, faster inter-team responses, and better communication with patients.
Secure Communication Needs a Rejig
Many healthcare institutions have a robust and secure messaging and communication system. But, are they efficient? Let's take the case of nurses as an example. They have to work with multiple messaging devices and systems (pagers, voice bands, mobiles, and landlines). Even within a system (say mobile), there are multiple apps to do the work. This leads to a dramatic rise in potential HIPAA violations.
The integration of clinical workflow and secure communications needs to be well-implemented.
This is exactly where mHealth steps in. It can form the backbone of secure healthcare messaging and communications.
How Is mhealth Expected to Create an Impact?
While the mhealth app has the potential to take secured messaging to a new level of efficiency, there are other angles too. Integration with EHR can easily boost the value provided by mHealth apps and solutions. Some of the gaps that mHealth can fill up are:
Communication across the institution's boundaries

Get instant (yet secure) access to patient data

Effective coordination in post discharge follow up
The results these features can drive are phenomenal – right from streamlining hospital readmissions to better patient participation in self-care. These results show that the time to adopt mHealth is, right now!
Why Go for mHealth Today?
Agreed, there are a few challenges like no existing infrastructure, issues with integration, fragmented approach within the healthcare institution, or an unmanageable number of devices and apps.
But the time is ripe to move to a technology-oriented approach to streamlining healthcare workflow and making patient care work better. With advancements happening by the minute, it makes total sense to invest in mHealth now and reap rich dividends for the long term.
The best way to go about it is to build an MVP strategy (one that is ready to deliver value but still has the potential for further improvement). This strategy can focus on 3 essentials – an infrastructure for mHealth, a chosen mobile device, and 2-3 apps.
This kind of strategy will help the institution to move from patient-level care to population health and yet be highly impactful in the delivery of stated outcomes. It can help the organization see the value at the base level and go deeper into mHealth to improve the results across the healthcare setting.
To Sign Off
This could well be the time when healthcare practitioners should stop experimenting with mHealth at the periphery of operations and move it to the core. However, for this, they need the expertise of a technology expert that knows the healthcare domain as well. Such combinations are rare. But with Mobisoft Infotech, it is different.
You can avail of high-performance technology solutions from us by leveraging our in-depth digital healthcare technology expertise. We have built a team specifically for the healthcare domain. Comprising of HIPAA certified engineers, the team is geared to deliver to you multiple mHealth applications customized to your specific provider workflow and patient care objectives. We build the apps on the HIPAA-compliant platform and keep it highly secure from unwanted security vulnerabilities.
Feel free to connect with us when your organization is ready to embrace mHealth and serve patient care needs the smart way.
Author's Bio

Shailendra Sinhasane (Shail) is the co-founder and CEO of Mobisoft Infotech. He has been focused on cloud solutions, mobile strategy, cross-platform development, IoT innovations and advising healthcare startups in building scalable products.