Growing population, aging infrastructure, lack of mobility-related resources, and inefficient transport networks are leading to higher traffic congestion, road safety, and supply of mobility services in urban areas. It has become important for cities to look for smart mobility solutions to tackle these problems. Intelligent Transportation System is one such innovative concept that enables reliable and more personalized travel experience to move around in cities. Let's have a look at the concept in detail.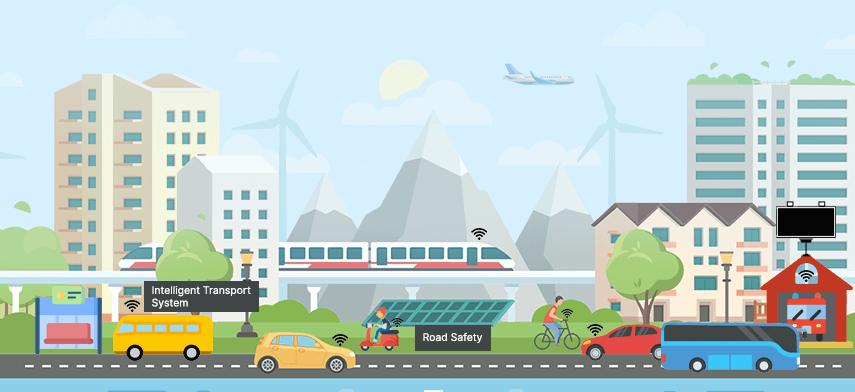 What is an Intelligent Transportation System?
Intelligent Transportation System (ITS) strives to innovate, plan, operate, evaluate, and manage transportation systems by leveraging advanced information and communication technologies. ITS refers to the use of technology to collect and analyze information related to the sector to deliver integrated transportation solutions.
It focuses on various modes of transportation, infrastructure, vehicles, traffic management, stakeholders, and smart mobility. From a holistic point of view, it rectifies errors related to transportation, infrastructure and enables systematic management of the entire transport system by leveraging a wide range of technology. It is one of the important components of many innovative transportation solutions like Mobility as a Service, Connected, and automated mobility.
Moreover, effective use of infrastructure, capacity, technology in ITS requires a lot of planning well in advance by ITS specialists. That can be implemented by collaboration or public-private partnerships. Because there are so many things that need to be taken into consideration while implementing ITS, e.g., transport modes, design, routing, vehicles, technology type, and traffic flows, to make transportation safe and well-coordinated.
What is the need For ITS?
Transport authorities continue to raise the bar for safe and hassle-free transportation for commuters, but there are other challenges that commuters face related to urban congestion, inadequate road infrastructure, aging infrastructure, road safety, inefficient public transportation, and higher energy consumption. ITS can play an important role in solving these problems and better manage and control the transportation systems in real-time.
ITS facilitates new opportunities and more transportation choices integrated with easy-to-use technology. It is a multi-disciplinary concept that presents much-needed and cost-effective transportation solutions for smart cities. ITS can,
Use resources and infrastructure effectively (existing as well as new)

Plan, design, and implement comprehensive transportation systems

Offers multi-modal, adequate, and on-demand transportation options

Enhance public transportation management and its attractiveness

Combat urban congestion

Improve road safety and security

Reduce fuel and energy consumption levels

Control and manage traffic in the cities

Make transport safe, efficient, manageable, and sustainable
Applications Insights of ITS
The global ITS market was valued at USD 26.58 billion in 2019 and is expected to grow at a CAGR of 5.8% from 2020 to 2027. Various organizations and countries like the USA, Germany, Japan have increased their investments in ITS concerning safe and smart mobility factors.
ITS mainly takes advantage of state-of-the-art technologies such as wireless and satellite communication, mobile technology, surveillance systems, electronic sensors and detectors, digital image processing software, geo-positioning navigation systems, etc. to better manage the transportation system. ITS can be deployed in several applications; some of them are mentioned below:
1
Traffic Management and Operations
Get real-time information related to traffic. It predicts traffic conditions and also responds to changing traffic conditions.
2
Vehicle Control and Speed limit
Improve driver's control by alerting about possible imminent vehicle collisions and the speed limit on the highway.
3
Traveler Information
Get all the data of transportation in a system to assist the travelers for route planning, ETAs, emergency, route guidance, etc.
4
Ramp Meter
Detect traffic density and regulate the flow of vehicles entering on a freeway on-ramp and mainline both.
5
Commercial Vehicle operation
Monitor the operations of commercial vehicles like trucks and provide safety to en route travelers.
6
Public Transportation Management
Get real-time passenger as well as vehicle information, arrival time, location, approaching vehicle, etc., for efficient operations.
7
Electronic Toll Collection
Accelerate payment process on toll stations with automatic vehicle identification, classification, and positioning system to alleviate inefficiencies.
8
Variable Message Signs
Update travelers via digital sign boards about traffic congestion, collisions, speed limit, or any event. Other applications include parking management, traffic signal coordination, transit signal priority, traffic cameras, weather monitoring, traffic data collection, traffic data centers, freight and fleet management, vulnerable user system, multi-modal trip planning.
How Intelligent Transportation System Works?
The state-of-the-art technologies have a major influence on the functioning of ITS. Let us understand how it works:
Data Acquisition:

Automatic data acquisition using high-level hardware devices and software is the first stage here for strategic planning and implementation of ITS. Transport specialist collects the data related to traffic, infrastructure, and vehicles. Technologies used at this stage are sensors, detectors, video image processors, GPS, vehicle identifiers, etc. to obtain traffic flows, congestion, vehicle-related situations and to make suitable decisions further.

Data Processing:

At this stage, data specialists like data scientists or engineers verify, reconcile, and consolidate the data in a single place for further meaningful interpretation. By using modern data processing software and devices like GPS, sensors, detectors, real-time data processing occurs with the highest accuracy of the outcome.

Data Analysis:

All the data undergoes a procedure from data cleaning to data fusion and logical analysis with the help of software and hardware for more accurate transport system planning and to predict traffic scenarios.

Data Distribution:

The system delivers real-time transport information like travel time, speed, delay, traffic-related parameters, vehicle operation, etc., through various ways, broadcasting or electronic devices, and mobile-based technologies in order to improve efficiency and safety.

Main Benefits of Intelligent Transportation System
ITS contributes to making transportation easier and cities smarter. It enhances the travel experience by enabling real-time transit data, traffic flows, emergencies, etc. with the help of advanced communication technologies. It offers several solutions for better transport management. ITS benefits fall into mainly 3 categories as described below:
1
Safety
Powered with the latest technology like IoT, computer vision, machine learning, ITS optimizes transport-related data and operational processes. Furthermore, these technologies have the potential to integrate users, infrastructure, and vehicles on a single platform that enables the transport authorities to monitor real-time traffic scenarios, incidents, or collisions and respond promptly. ITS alerts the drivers on their roadways so that they can limit their speed or change route, which reduces congestion and preempts incidents, and enhances public safety.
2
Efficiency
ITS is all about data collection, analysis, and interpretation to make the transport system efficient and manageable. Automated technologies let the authorities control and monitor the road network, traffic flows, vehicle speed, parking opportunities, etc. consistently. This helps to identify real-time problems or any transport-related needs, which authorities can fix as soon as possible and continue managing the transport system effectively.
3
Sustainability
ITS holds the promise of enabling sustainable transportation for smart cities. It encourages public transportation usability and punctuality. Higher the use of public transport, lesser the greenhouse gas emissions in the environment. Advanced traffic incident management system in ITS quickly responds to emergencies, which reduces travel times and congestion, and ultimately air-borne pollutants, promoting sustainable transportation systems.
Other Benefits include the following:
New business opportunities because of the adoption of collaborative and public-private partnerships that results in higher employment opportunities

Improves the transportation of goods by controlling and managing the movement of commercial vehicles

Fosters innovations in the field of transportation through the development and implementation of advanced technologies and innovative field concepts

Creates economic value by seamlessly interconnecting and utilizing various components of the sector e.g. infrastructure

Meets all the accessibility and transportation-related needs of those making use of transport networks in smart cities
The way forward
Many countries are taking advantage of the intelligent transport system to solve mobility issues. The ultimate benefit of implementing this concept is to manage traffic flows, prevent potential incidents, and decrease the negative impact on the environment. The state-of-the-art technologies improve the overall performance of the transportation system. Transport authorities can take advantage of ITS for current transportation management and future planning of the transportation systems of the cities.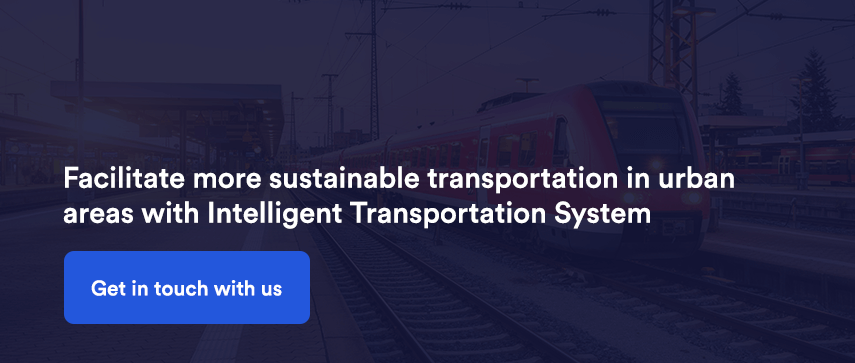 Author's Bio

Nitin Lahoti is the Co-Founder and Director at Mobisoft Infotech. He has 15 years of experience in Design, Business Development and Startups. His expertise is in Product Ideation, UX/UI design, Startup consulting and mentoring. He prefers business readings and loves traveling.