In June 2020, Apple introduced iOS 14, the latest update. The update includes significant changes like design changes, interface modifications, app updates, and the addition of a few other features. Some of the updates are quite unique to Apple, including widget support, Smart Stack feature, and many new customizations. Let us see those updates in detail.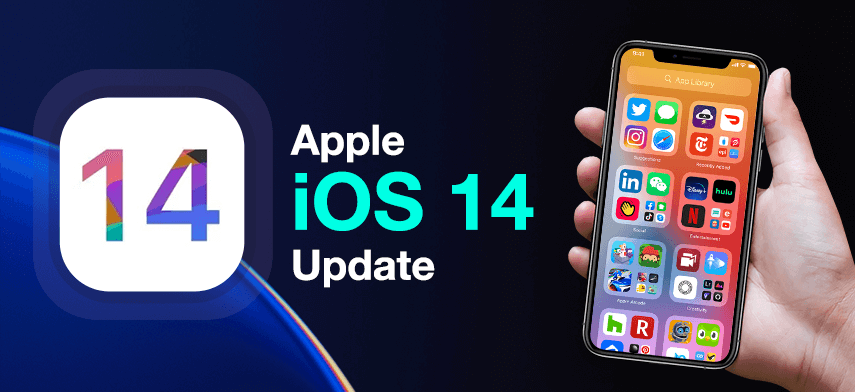 Know Everything about iOS 14 Updates
The first noticeable change in iOS 14 update is the App Library. This interface helps to add apps to the home screen or in the library. The Siri interface and phone call will no longer cover the entire screen. If you are a FaceTime user, you will love the Picture-in-Picture mode introduced.
App updates
Apps in iOS 14 come with new updates or even drastic changes. Some of the top changes to note are:
Siri comes with keyboard dictation and the ability to send your audio messages through the internet.

App Clips help to use apps' features without the need for downloading the app to your device. For instance, by scanning the code, you can make a reservation or make any purchase without the app.

The Message App allows you to pin conversation to the top. You can also find a new feature, the inline replies. This feature helps you to reply to a singular message while in a group chat.

While talking about group chat, Apple has the @mention feature to mute a specific group and receive notifications only when your username appears in any of the messages.

Moreover, the group chat photo customization is possible with emoji or image.

The Memoji feature provides you new stickers, headwear, age options, face covering, and other facial structures.

Apple Watch now has support for Health Checklist and Sleep Tracking.

Weather App provides next-hour precipitation notification, extreme weather updates, and others.

Third-party accessories and product support is an additional add-on for your Find My App.

You can set a third-party browser or email app as your default setting.
Maps

Apple Maps now comes with additional iOS 14 update features allowing you to get directions, much easier. The app has cycling directions, suitable for cyclists and bikers. It shows the street's elevation, presence of stairs in the route, and how busy the route is while providing the best direction. If you own an electric vehicle, you can benefit from the EV charging stop route options. You can customize it to show the EV charges suitable for your charger and vehicle model. You can also find red-light cameras and speed cameras along the route, and the app will notify when you come closer to speed or red-light camera.

Curated Guides feature of the update allows you to have a list of new attractions and restaurants in the area. You can now start your car with your Apple Watch or your phone, thanks to the Digital car key feature. You can disable the car key via iCloud if you lose your phone. Next year, Apple plans to introduce a U1 chip, which allows you to unlock your car without your phone in hand.

The new Map features of Apple released last year are now available in other countries like the UK, Canada, and Ireland. This advanced app provides detailed features like marinas, buildings, road details, airports, parks, etc. Congestion zone details are available in traffic-rich regions.

Home App

Home App becomes more automated with adaptive lighting, on-device face recognition, and others. The on-device face recognition connects with your HomeKit Secure Video Camera to let you know who is at your door. The control center allows you to have quick access to the features from the home page.

Music

The app now has a Listen Now tab to find new mixes, playlists, and artists. The feature has a self-learning technique to suggest what you like, over time. You can now search for music by mood, activity, genre, and others. The autoplay option allows the app to play similar music after the playlist ends.

Translate

The latest iOS update brings Translate App, which allows voice and text translation from and to eleven different languages. The On-Device Mode will enable you to download the translation you need for your device. The Conversation Mode allows your device to speak the language aloud. When activated, it allows your device to recognize the language and translate it into your chosen language.

Camera app update

The camera can now shoot 90% fast with four fps. The first shot takes 25% less time to shoot, and the Portrait mode shots are 15% faster. You can also choose the 'Prioritize Faster Shooting feature' to change the quality of the photo. You can also choose to take quick videos with the QuickTake option.

The Video Mode Toggle allows you to alter the frame rate and video resolution while using the app. The Night Mode now has a guidance indicator, which helps you to have a steady hold on the camera while shooting a video. The Exposure Adjustment has Preserve Settings, which allow you to lock the exposure compensation value during the entire session. You can now use the volume button while in the camera app to choose a burst photo (volume up) and QuickTake video (volume down).

The update makes the camera more efficient in reading QR codes. The Mirror Front Camera option allows you to click a mirrored selfie. You can also choose to have a standard selfie.

Photos

Now, you can add captions to your videos and photos and sync it with iCloud. The app now has better filtering, sorting, and navigation options. Memories option allows the app to pull videos and photos with relevancy. Revamped image picker enables you to choose media files to add to messages and mail. The zoom feature also has an in-depth update.

FaceTime

Apart from the picture-in-picture option, FaceTime now comes with the Attention Correction feature, which allows you to have a natural eye contact instead of looking at the camera. The app now allows you to have high-quality calls with 1080p resolution (only in devices that enable such quality). If one of the participants in a group video call is using sign language or gestures, the tile gets more prominent.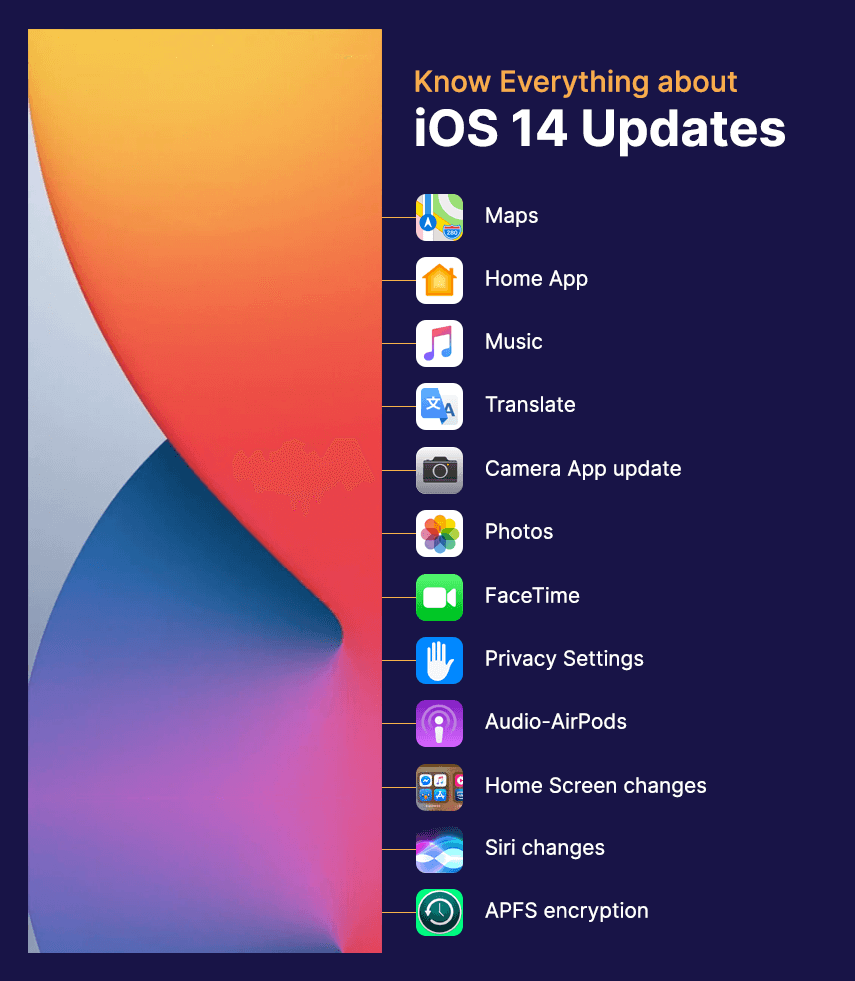 Privacy settings
The Apple iOS update brings new privacy policies and regulations. The developers must receive permission to access a device via the local network. You can also opt for limited access by providing the app, just the approximate location of your device. The new privacy policy permits the app to track the user through websites only after seeking user permission. When an app uses the microphone or camera, it indicates the recording via new icons (a dot) on the home screen.
In the future, the App Store's product pages will provide each developer's privacy practices, presented in an easily readable format. The Safari offers privacy reports to let you know about the trackers blocked by the device. If you have a saved password, the Password Monitoring setting will indicate any data breach. You can enjoy the translation feature for websites via Safari.
While connected to a local network, you can use 'Use Private Address' to avoid tracking by the network operator. You can block an app from accessing your entire photo gallery. You can provide limited access, which allows the app to access only the photo you wish.
Soon, you need not provide access to any third-party app to access your contacts. The device allows you to type the name into the app and fill the other details. The Autofill feature will pull the contact, and you need not share the contacts unless there is a dire necessity.
Now, Apple requires the sites and apps to offer the 'Sign in with Apple' option. It allows you to enjoy upgraded privacy protection.
Audio – AirPods
The newest iOS update allows your device to alter between the AirPods and the device automatically. The AirPods Pro now has Spatial Audio Feature, which enables surround sound, dynamic head tracking, and others. You will have an additional notification to indicate if the battery in AirPods Pro or AirPods is dying.
The Spatial Audio helps to provide a customized sound field, even when your head moves. It uses the accelerometer and gyroscope to adjust the sound field following your head motion. As a result, you will enjoy a theatre styled sound effect with your AirPods. The battery charging feature optimization allows your pod to manage the charging so that it spends minimal time in charge. It charges up to 80% at normal speed and waits to finish the remaining before you need it, by monitoring your usage routine.
Home screen changes
As mentioned before, the update allows widget on the home screen. Some of the default widgets available are Stocks, Weather, Calendar, Apple News, Screen Time, and others. The Widget Gallery holds numerous options, including suggestions for new widgets. It is possible to stack ten widgets, one on top of another, and access every widget via swipe. You can hide the home screen pages out of your view, in this update. If you wish to hide any individual app, you can save them in the app library.
Siri changes
Now, Siri can answer complicated questions instead of just redirecting you to any web page. Apart from the before-mentioned voice message feature, Siri can share your ETA to your contact, provide directions, and so on. Siri now understands around 65 language pairs for translation and has a natural voice for a few languages like English, Spanish, French, Japanese, German, and others.
APFS encryption
You can connect an external drive to your device and access the password-protected files in the drive. The device is now capable of supporting devices with APFS encryption.
Apart from these, there are changes to Podcast, Remainder, Voice Memos, Weather, and others. Additional features updated are
Better augmented reality with A12 bionic chip

Body pose and hand detection features

On-device dictation

VoiceOver recognition

Sound recognition for detecting a crying baby, water, doorbell, and others
Is your iPhone getting an iOS 14 update or not?
According to Apple, this new update is available for iPhone 6s and recent models. This update will be available for compatible models for free. If your model is compatible with iOS 13, you can install iOS 14 on your device. You can receive iOS 14 if your model is any of the following.
iPhone 6s, 7, 8, 11

iPhone 6s Plus, 8 Plus, and 7 Plus

iPhone X, XS Max, XR, and XS

iPhone 11 Pro and Pro Max

iPhone SE (2020 model)

iPhone SE (2016 model)

iPod touch (Seventh generation)

When will iOS 14 be released?
Are you psyched for the new update? The update received the first preview at WWDC (Worldwide Developers Conference) in June 2020. However, the official release to the users will be in September 2020. The beta version will be available for testing to a test group. The announcement regarding the test group will be in July 2020. The exact date of the test group and official release are not available as of now. If the new iPhone enters the market in September, the update might be a part of the new release too.
How can you download and install iOS 14?
If you are planning to download the beta version, it is best to have a backup of your phone. Use your Apple ID and other required information to download the beta file. Now, let's go to 'how to update iOS'.
After download, move to the Downloads folder and click on 'Install Profile'.

Move to settings, go to General, and click Profile. Under Profile, select Profile Downloaded.

Now, move to Software Update in settings, and you will now have an option for iOS 14 download. The download size is 5GB. Plug to an outlet as it would take a considerable amount of time to complete.

After the update download, restart the phone.
Apple's other announcements
In WWDC, after the preview of iOS 14, Apple gave a peek at what you can expect in the upcoming years.
Apple Silicon Mac – Mac-based developer Transition Kit with A12Z SoC processor and macOS Big Sur. It comes with 16 GB memory and 512 GB SSD.

The transition from Intel to Apple Silicon might take two years.

WatchOS 7 allows you to watch your handwashing routine.

MacOS 7 would look more like iOS and iPad OS.

Private forums, code support, transition help, and others are now available for developers.

Digital Car Key application is a unique element in the update. It can work for five hours, even after your phone battery dies.
With these new features, Apple promises that iOS 14 will make the Apple experience more personal and helpful. The features focus on making users feel secure, optimize the usage, and find beneficial notifications beyond imagination.
iOS for Enterprise App Development
With this ever-evolving market of iOS operating systems and amazing updates launched every year, businesses, especially iOS app development companies can definitely benefit their clients by helping them create highly-secure and robust applications as per their business requirements. Mostly tech-savvy audiences or users prefer iPhone devices and enjoy the intuitive interface of iOS apps. Thus, enterprises of all sizes can take advantage of the great business opportunity that iOS has to offer. Do you want to develop iOS apps for multiple devices? Then get in touch with our team and build amazing iOS apps. You can also take advantage of our team augmentation service for your development project on a contract basis and achieve business goals.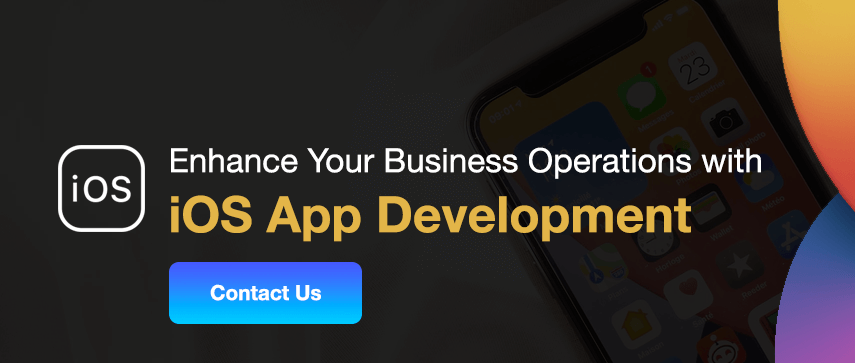 Author's Bio

Shoeb Ahmad, with an experience of 22 years in Digital World, heads Digital Marketing at Mobisoft Infotech. He has a rich experience in SEM, SEO, Social Media & other verticals of Digital Media. He also has been a consultant for a variety of industries, enterprises & startups. He loves reading & traveling. He often writes on various forums since he believes 'Knowledge increases by sharing.'