Apple has finally released iOS 16.3, making iOS 16 a worthy upgrade. The new iOS update by Apple integrated small but significant changes and added new features to the app. In today's post, we will learn about the new features and changes implemented with the launch of the iOS 16 update with its 3rd major integration on mobile devices.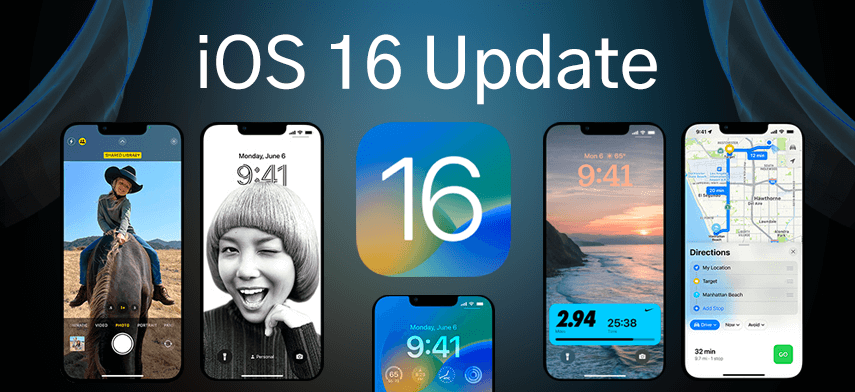 Let's take a look at all the new iOS 16 update features and the new implementations with its upcoming iOS updates.
Here's the list of the top 13 unique features coming to your iPhone:

Let's explore the latest iOS 16 update and iOS 16.3 features in more detail.
#1 iOS 16 Major Overhaul – Experience Redesigned Lock Screen, Notifications, Live Activities, Widgets, and More
In the iOS 16 update, Apple has entirely revamped the lock screen. Significant changes have been made around this part only. iPhone users can customize their lock screen the way they want – from showcasing favorite photos to changing colors of fonts, date and time, and changing the placement of elements; everything is redesigned in Lock Screen to enable immersive experiences for each user.
Interesting one, you can create multiple lock screens, each with different background, theme, and style, like setting up a data-rich lock screen when you turn the work mode on. You can customize each lock screen based on your interest and quickly switch it as often as possible.
The iOS 16 update is set to launch aesthetic choices and multilayered depth effects for photos for particular modes, specifically for Portrait Mode. This Apple feature will continue to bring forth and set the tone and mood for the Lock Screen you choose.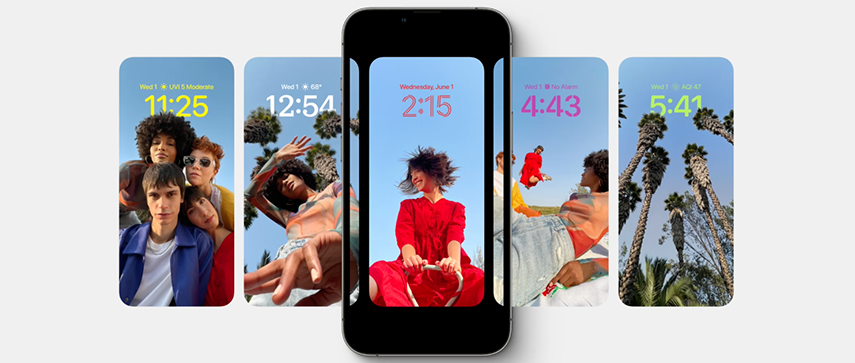 The iOS 16 update on the new Lock Screen paved the way for improvements in the notifications to show off the Lock Screen's wallpaper and create more space. Notifications will roll in from the bottom of the page enabling users to swipe up to view the complete list of updates, reminders, and notifications and swipe down to hide them.
The Live Activities on the new iPhone update is set to make notifications more ergonomic, mainly by tracking live events. Whether it is the latest football game or the most recent news updates, users can easily track the progression of these sessions and events in real-time without being burdened with multiple notifications.
This new iPhone OS feature works best with applications that send multiple notifications together. Live Activities provides a glanceable and compact view of notifications acting like a widget instead of sending several alerts. The new Lock Screen and Notifications style is much more compact than previous OS updates and less intrusive when there are multiple notifications.
Another new feature of the Lock Screen update is linking specific Lock Screens to one of the Focus Modes. Every time the Focus Mode is activated, the Lock Screen automatically changes to one set for that particular Focus Mode. This Focus mode helps in providing distraction-free work mode by adding certain widgets on the Lock Screen. Check the detailed updates of Focus modes in our next point #2.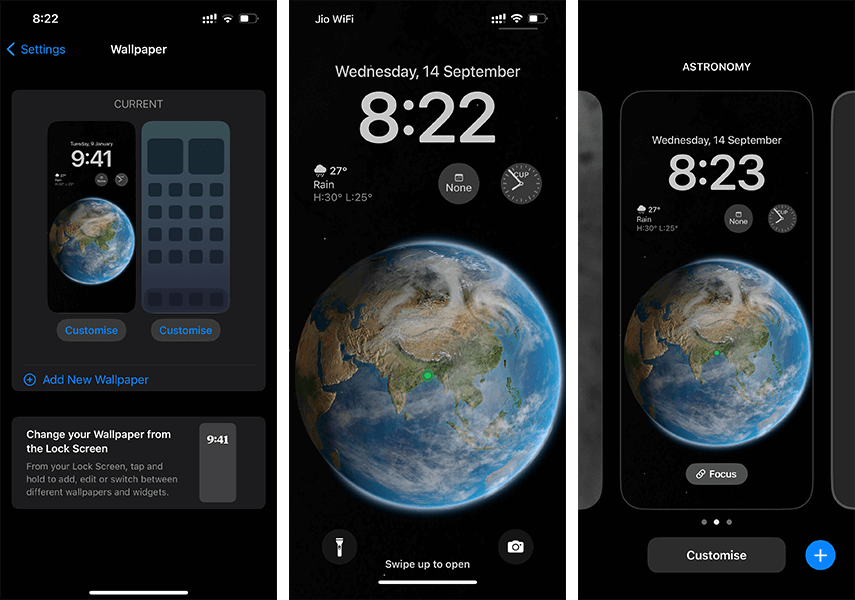 Certainly, Apple developers have an exciting opportunity to come up with new and innovative ideas with the beta phase of the iOS 16 updates as the Live Notification has modified how users interact with their devices. This new Apple feature has successfully been recognized to overcome a quick succession of notifications and derive necessary alerts that can be viewed from the Lock Screen, and actions can be taken according to the user.
So, overall, the reimagined Lock screen will enable users to –
Set lock screens from the updated Apple collections
Customize photo styles on the lock screen
Create a patterned lock screen based on emojis
Create multiple lock screens with different themes
Choose a color gradient from the color combinations
Expand Now Playing controls to a few screen view
Explore visually appealing animated notification tile
Change the notification views – count view, list view, or stacked view
Personalize lock screen based on their usage and requirements
Sounds impressive, right? Let us move towards other noteworthy feature updates.
#2 FOCUS Mode Improvements
The introduction of Focus on iOS originally debuted during the launch of iOS 15. Although, a lot of users ended up not using the Focus feature as it was time-consuming to set up on their phones. The new Apple update is looking toward changing that with the release of iOS 16 by making the Focus mode more streamlined and user-friendly.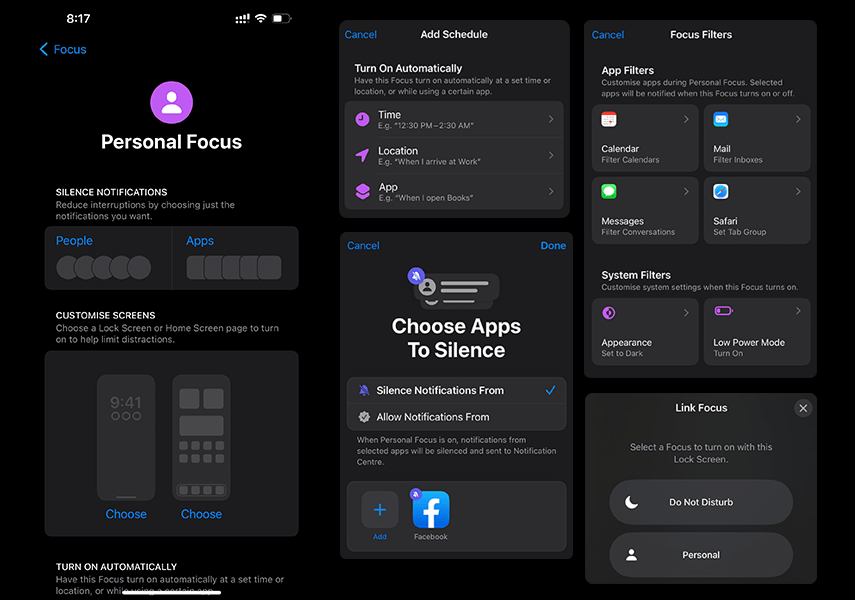 In iOS 16, while creating, editing, or customizing a specific Focus, users can choose people or apps to be allowed or be silent from notifications. This simplifies users' decision to include or exclude certain people or applications from sending unnecessary notifications with the Focus mode activated. As mentioned earlier, Focus can now be linked with the Lock Screen or Home Screen according to the user selection.
The improvement of the Focus feature travels beyond the linking with Lock Screen and Home Screen features. With the launch of iOS 16, users can add Focus filters, allowing only specific content from specific applications to pop up when Focus is on. Currently, with the new Apple software update, these filters are available for native Apple applications. Still, Apple developers have the opportunity to integrate this feature with up-and-coming APIs.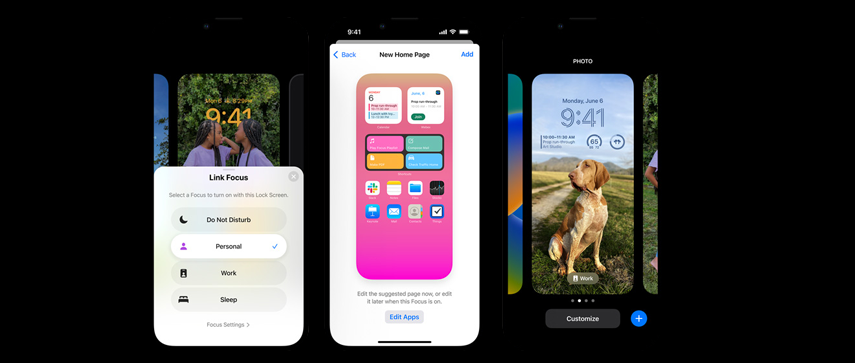 Introducing Focus filters opens up an array of additional features, including a work-related calendar to come forth or only to get notified with work emails or when opening a Safari Tab Group when in the Focus mode. The Focus system filters also allow users to turn to Low Power or Dark Mode according to their specific requirements.
Apple developers have an excellent opportunity to utilize the Focus filter APIs and create marvelous user experiences. Additionally, enabling users to customize their Lock Screen with the Focus Mode.
#3 Improvements in iMessage/Messaging App
The iMessage or Messages app on the recent iPhones and iPads is finally getting the much-needed revamp with the announcement of the iOS 16 updates. The Messages App now has in-line replies, @ mentions, pinned threads, and more. But the new iPhone update is bringing forth similar features from third-party messaging apps like WhatsApp in the midst.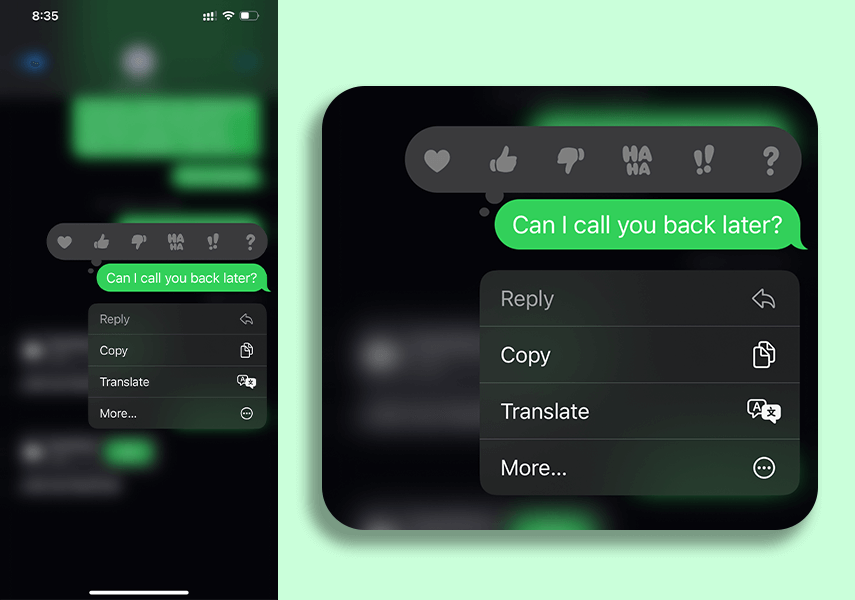 With the iOS 16 update, users will be able to edit or unsend messages with other Apple users and mark messages as unread if they are unable to respond at that moment. Not to forget, this doesn't work with standardized text messages. Both the unsend and edit functionalities have a period of approximately 15 minutes. The messages cannot be rescinded or edited when that time limit is crossed. This iOS 16 feature works well alongside SharePlay as well.
SharePlay through Messages: The new Apple update has introduced SharePlay via the Messages App. This allows users to watch their favorite shows and sessions or listen to new music while sharing it with their friends, family, and relatives during real-time texting via the Messages application. The Shared Playback feature allows control to ensure constant synchronization.
Abundant Collaborations: Users can share notes, reminders, presentations, Safari tab Groups, etc., via the Messages app and start the collaboration process immediately. This also allows seeing updates in the shared projects that are already on the thread and can easily help to keep connected with the collaborators from the app being worked on.
#4 Apple Family Sharing: iCloud Shared Photo Library
Apple iOS 16 brings forth a new option with a cloud-based photo sharing feature. This particular feature allows the users to share photos automatically with their families.
Apple Family Sharing feature allows users to set the options and specify who can be part of the shared gallery. Once this feature has been enabled, users can ask applications to share photos with others while upholding the user's privacy.
There are a few ways to utilize the Apple Family Sharing feature, such as,
Smart photo sharing ways: Users can select what they want to include on a specified starting date or choose the people in the photos. After setting up the cloud-based shared library, users can immediately share photos instantaneously from their Camera or gallery and choose to automatically share the pictures once the photo library members are in the vicinity. This helps users to get smart suggestions when uploading photos to the shared cloud-based libraries.
Synchronization, edits, and changes from everywhere: Every individual in the iCloud photo sharing library has equal permissions to edit, add, and delete pictures in a particular library they are a part of. Users can also segregate favorites, keywords, and captions to sync with the photos. With one individual organizing the entire library collectively, it can benefit everyone who is in the photo library.
Managing children's accounts: iPhone users can easily create accounts for children with the correct parental control and protocols in place from the beginning. Users can set their preferences for age-appropriate media viewing, Screen Time settings, sharing locations, and more. Screen Time feature allows the requests of kids to be sent directly to the parent's phone via Messages, so parents can either decline or approve the request.
Family Checklist: This feature on the Apple family sharing update provides helpful tips and suggestions to gain the most out of the family sharing feature. It can be updating the children's settings, turning on location sharing, or reminding users to share the iCloud+ subscription with others in the family.
#5 Live Texts, Mail Tools, and Visual Look Up
The iOS 17 update has proven the improvement in spoken dictation. This allows the new iPhone update to accurately acknowledge what a user is speaking and transcribe it on paper.
The Apple software update has also improved the Live Text feature so that it can understand the texts that are on display in videos, thereby simplifying the task of copy and pasting.
The same can be said about the functionalities of the camera in the translation app. Users can easily perform currency conversions by taking a picture of a product price tag.
The Visual Lookup feature allows the user to highlight the subject of the query. They can tap, hold, lift, and place the subject in any app they want. Apple suggested this be done on the Messages App.
The new tools with Apple's Mail are set to improve productivity. Now users can schedule email delivery ahead of time or cancel the delivery before it reaches the recipient's address. Users can set reminders to come back to any messages at a later time with the Remind Me feature. The Email tool can provide automatic suggestions on following up with an email if a response hasn't been received from the sender. With the new email update feature, recipients or attachments forgotten to be added to an email can also be reminded. This has been the biggest improvement on the Mail features after several years and it is using sophisticated and relevant tools to provide accurate and complete search outcomes.
#6 Apple Pay Support
The iOS 16 update is bringing forth a new opportunity for Apple software to expand the Apple Wallet application across various geographical areas and be utilized via digital IDs.
The Apple Pay feature called the Apple Pay Later helps users to pay via this wallet in 4 equal installments without paying a rating of interest. One can say that by buying through the Apple Pay support, users can buy Apple products with zero EMI investments. This functionality is convenient when it comes to large purchases that may be difficult to pay for in one go. Apple Pay Later will be compatible with any form of payment with the Apple Pay support and wallet.
With Apple Wallet App, users can:
Share keys securely: Users can share the keys they have in their Waller safely by using a secure messaging application. The users can decide when these keys can be used and revoke them at any given point in time.
Payment management and order tracking: The Apple Wallet app allows users to improve their payment management and integrate Apple Pay Order Tracking features to receive detailed receipts and tracking information, all consolidated in one space.
#7 Additions to Home App Features
The new Apple software update mentioned the integration of new Matter standards for linking all the IoT-connected devices and objects more seamlessly for a connected future. This new iOS 16 feature will make the devices more compatible with the Apple Smart Home Ecosystem.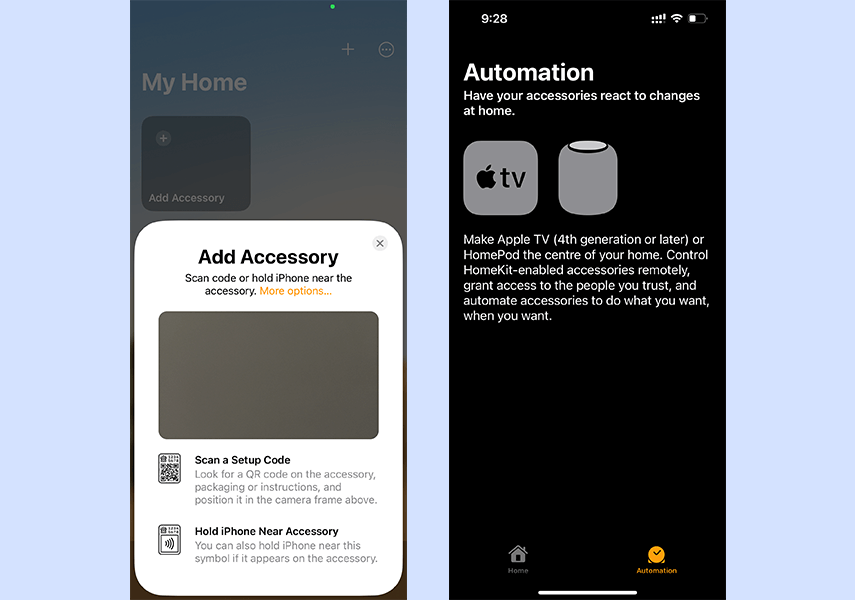 The iOS 16 update has also ushered in a new version for the Home App. The new interface has been redesigned with more unique segments to allow users an overview of some essential data findings like light, security, and temperature while viewing every connected device at once.
The Home app has been rebuilt to be more resilient and reliant on navigating all the smart home accessories in the redesigned Home tab on the all-new iOS update features list. The new categories, as mentioned above, provide more accessibility to relevant app accessories via one tap. The multi-camera view mode puts the smart home cameras at the center and on the front.
#8 Apple Maps
Apple announced the launch of iOS 16 regarding the cool new features with the Apple Map application. This was introduced a few months prior, and now it will be available to many other countries and states.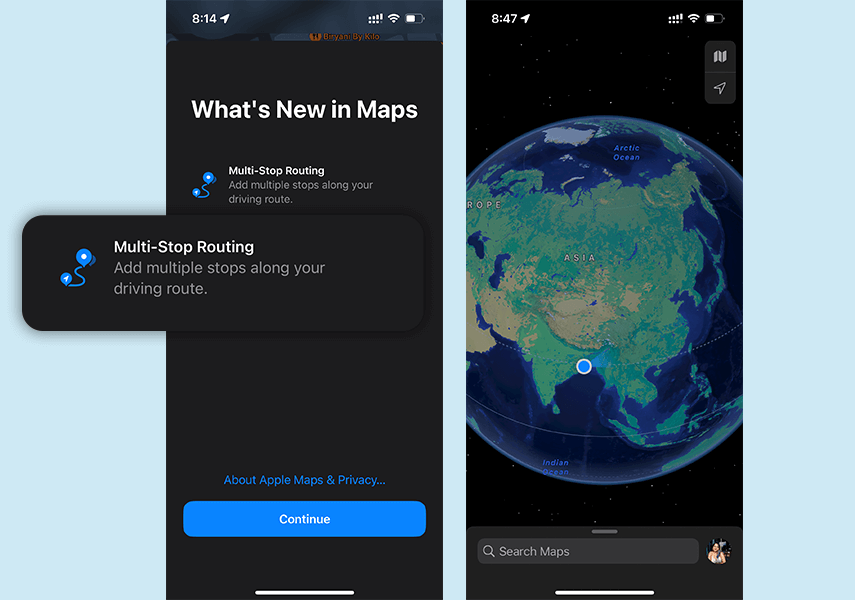 The Apple Map app with the iOS 16 update will offer the Look Around functionalities, allowing users to visualize their neighborhoods or a street in 3-dimensional viewing. This will also recognize the Multi-stop routing feature that enables users to add more than one stop on a trip (15 stops can be added for one trip).
#9 Apple's Safety Check Feature
Another one of the iOS 16 features includes Apple's announcement in AirTags back in 2021, which provided a tracking device that can be added to keychains or computer backpacks for easy location. This would work as a tracker to locate items that have been lost or stolen. To ensure user privacy, Apple sent an immediate firmware update as a preventive method to stop users from being tracked without their knowledge or awareness.
The iOS 16 update has delved deep into safety, privacy, and security with its Safety Check functionalities.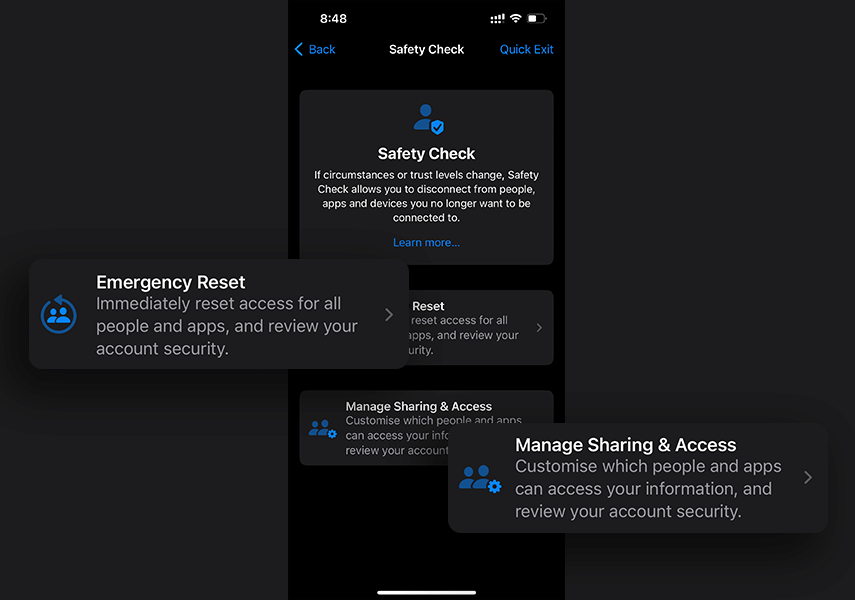 Apple is now offering more control to the users and who they decide to share or give access to their passwords for specific apps or the data for their geolocation. This safety check has also been introduced to aid and combat DV cases, where Safety Check quickly understands and revokes the data accessibility and location with previously shared users.
The new iOS update provides easy accessibility in blocking users from Privacy and Security settings and offers immediate Emergency Reset and Manage Sharing & Access Functionalities for users who require it. Users can remove the permissions to services like Messages, Photos, and private applications and restrict the device to the user's device use.
Another super thoughtful addition to the Home App is the Quick Exit button, which helps users close the Safety Check window and leave no traces when multitasking. This will be an excellent opportunity for victims of DV and abuse to remove the permits of others from their phones.
Another essential improvement and feature added in efforts to protect Apple devices from highly-efficient cyberattacks are the Lockdown Mode. The Lockdown mode is an additional safety feature that provides an extreme layer of protection to iPads and iPhones. When this mode is enabled, features, applications, and websites will have a limited security purpose to help keep spyware and malware from accessing or compromising any specific data.
#10 Passkeys
With the new iOS 16 update, signing into apps and accounts on Safari can be easier with passkeys in place. These passkeys are unique and digital modes to use and stay on a device with the maximum security protocols in place. It has been designed to replace traditional passwords.
Passkeys use Face or Touch IDs for biometric verifications for logins and iCloud Keychains to sync the data across iPad, iPhone, Mac, Apple TV, and more with proper end-to-end encryptions.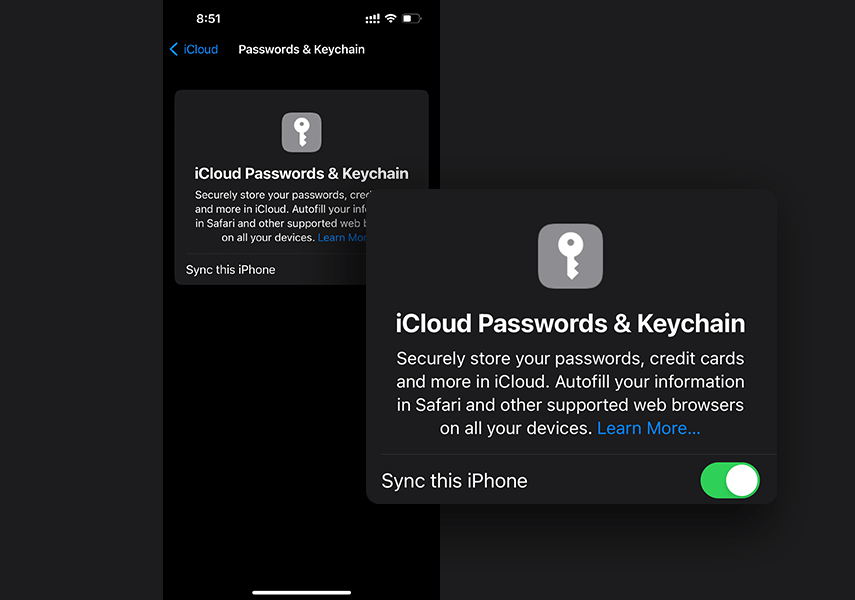 Moreover, Apple iOS 16 has also introduced the Bypassing CAPTCHA in supported applications and websites that help Apple verify the device and Apple ID system.
Practically, this new system will enhance user experience and improve the privacy and accessibility of users compared to CAPTCHAs that have been previously utilized.
An added security feature to browse safely through Safari with Passkeys. With the next-generation credentials for passkeys that reduce phishing attacks or leaking secure data, it is making browsing through Safari more secure. Passkeys are designed to replace passwords, it uses Face or Touch ID for biometric authentication and iCloud Keychain helps to sync with end-to-end encryption across the Apple ecosystem. Created with a joint collaboration with Google, FIDO Alliance, and Microsoft, Apple's passkeys will be working across applications and websites to enhance user sign-in on websites or apps used on non-Apple devices by using iPhones.
Safari has also been equipped with shared Tab groups for sharing a collection of websites and pages with family and friends, making it an effortless way to add tabs and see what others are currently viewing.
#11 iOS 16 Features on Health
Health on iOS 16 are getting quite a few changes tied with the watchOS 9 updates. The new iPhone update on health is now getting its version of the Fitness App on the Apple Watch for movement tracking and other health-related activities. The Fitness app will be better compatible with the iPhone if a user doesn't have an Apple Watch.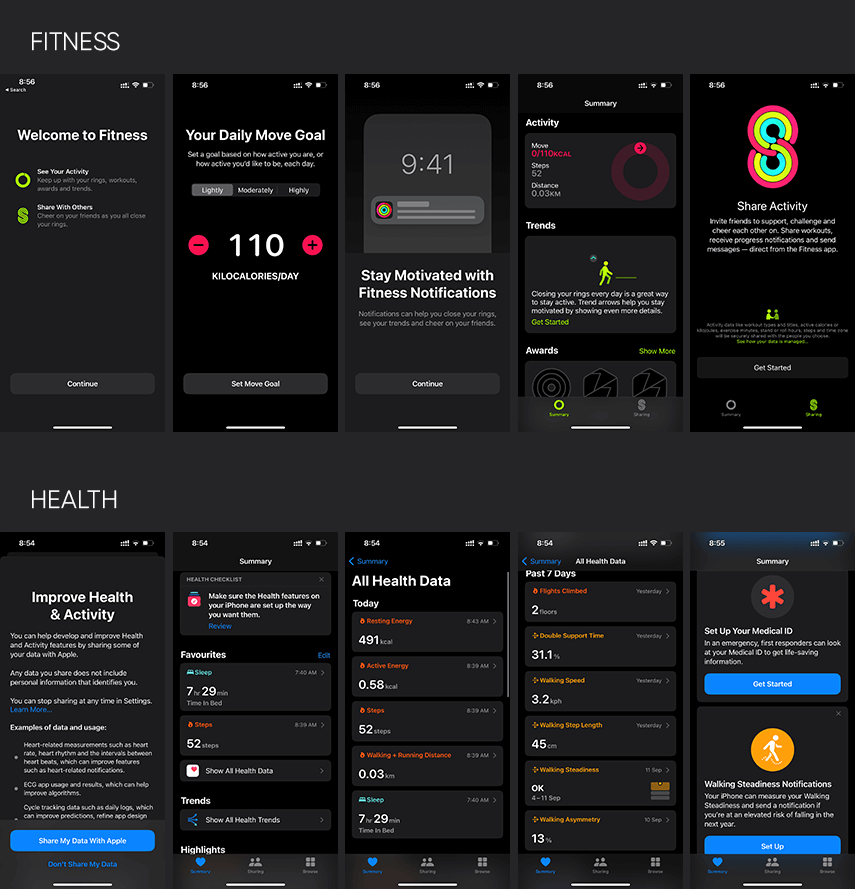 Updates on Health App: The new Apple software update on the Medications feature on the Health app offers users to track, understand, and manage their medications. This helps users stay connected with what matters to them the most and send their close ones invitations to share their Health-related information via the Health App.
The Fitness App on iPhone: The Fitness app on iPhone offers to meet and track your fitness goals without having an Apple Watch. Using the motion sensors on iPhone can also help track the steps, distances, and third-party workout sessions while providing the user with an estimate of the calorie intake to reach the fitness goals.
Medication Tracking: Apple has updated the Health App with the new tab on Medication making it simpler to track medication and doses. This can be added to the "add medication" section and reminders can be set and received on the Apple Watch. Users can manually type these medication reminders or scan the medication label. The data is inclusive of Critical, Moderate, and Serious interactions with the medicines. It will be assisting users to log in to their medication intake and share their health data with their families.
#12 Apple CarPlay
Apple has collaborated and worked with several car manufacturers to connect user phones with their cars. Apple's CarPlay feature enables users to control more functionalities in one's car with an iPhone and allows customization to the dashboard. CarPlay allows users faster access to Podcast app libraries, making it easier to download, save, and play episodes from shows users are following.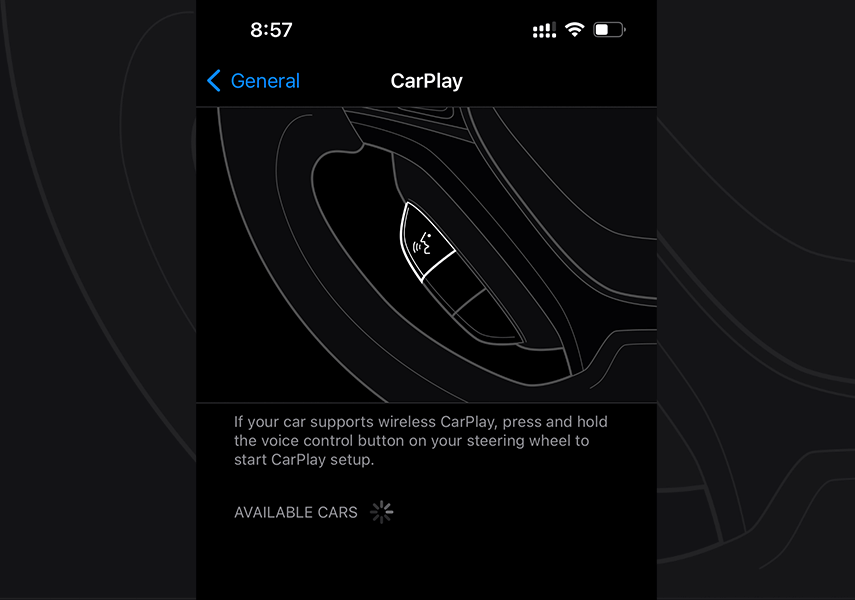 CarPlay on Apple can be accessed through the digital instrument cluster of cars and help choose between the different gauge clusters and widgets related to music and weather. CarPlay will be set for specific car models. It is designed in a way to fit various screen sizes, layouts, and shapes, all while adding support to the latest CarPlay versions by 2023.
#13 New Features for Accessibility for Navigation, Communication, and More
The Accessibility updates for the iOS 16 update include Door Detection assisting users with low vision or visual impairment to use their iPhones for navigating the last few steps to their destination. The Apple Watch Mirroring for users with motor and physical impairments to mirror the Apple Watch display to iPhone. This helps them to control Apple Watch with Switch and Voice Control. The Live Captions feature makes it easier for auditory impaired individuals to follow along with any audio content, whether on call or on FaceTime.
Additional iOS 16 Features –
Apple Pay Order Tracking: This will be enabling users to receive a detailed receipt and tracking order information in the Wallet for any Apple Pay purchases with participating merchants for the purchase.
Apple Maps: The Apple Maps have further been updated to explore the globe via improvised navigation and driving upgrades with multi-stop routing. Drivers can simply reroute with multiple stops and sync their route from Mac to iPhone automatically when ready to go. The Transit Directions will now be displaying the cost of the journey, and users can add transit card details to their Wallet.
Game Center: This feature will make it easier for users to play or compete against their friends through a redesigned dashboard that provides friends' activities and accomplishments.
Personalized Spatial Audio: This feature will be offering an enhanced, precise, and immersive listening experience. With TrueDepth camera for iPhone can help to create personal Spatial Audio profiles to deliver a sophisticated listening experience tuned and personalized for them specifically.
#14 Latest iOS 16.3 Update Bringing Small yet Noteworthy Changes
The iOS 16 update 3rd installment has implemented certain new Apple phone support features like Security Keys, Emergency SOS with Satellite options, New Unity wallpapers, bug fixes, and more. Here we will look at the new features that have been implemented with the Apple update on iPhones with iOS 16.3.
Apple ID Security Keys offers users an option to integrate third-party security keys into their existing accounts. This requires authentication when logging into a new device or accessing Apple ID. The design of Apple update Security Keys is to replace the existing verification codes sent to Apple devices (standard authentication method) when logging into other or new App devices. The Physical Security Keys for Apple ID will now be more secure with the assistance of FIDO-certified physical key implementation. This new iOS update with Security Keys offer strong security against unauthorized and phishing account access.
The introduction of New Unity wallpaper has been in honor of recognizing Black History and their culture. The new unity wallpapers celebrate Black History Month, showing unity in diversity and are celebrated in February. There will be spotlights on curated content solely addressing Black History Month, including music, shows, podcasts, and news. Apple update is also adding Unity for watch faces and iPhone wallpapers by implementing the colors of the Pan-African flag to honor their culture and their strength.
Improvements for HomePos Handoff
With Apple's latest iOS 16.3 update, there has been an improvement to the Handoff feature transferring control of music playbacks from iPhones to HomePod speakers. This is an extremely timely addition to the iOS 16 update this week, as the new Apple HomePod 2 has recently launched. iOS 16.3 is introducing a new guide that shows more clarity for HomePod users and how to use the Handoff functionalities.
Introducing Emergency SOS via Satellite Call Mode
The Emergency SOS via Satellite Call Mode is already accessible to iPhone 14 users when they require help while residing in a remote location. But the introduction to Apple update iOS 16.3 has added two new ways to access this feature. The two ways are:
Calls with Hold and Release will replace the existing Call with Hold Function, allowing users to access the Emergency SOS. It also enables the alarm after holding the power down and volume buttons together.
Another option is to Call Quietly. This enables users to make emergency phone calls without setting off an alarm to reduce environmental danger.
Global Advanced Data Protection
The previous iOS 16 update offered US iPhone users to access the Advanced Data Protection feature. This is a new iOS update providing security features bringing end-to-end encryption for Apple's iCloud storage and improving information stored on the cloud (excluding Mails, Contacts, and Calendar Data/Events). Apple announced that the upcoming iOS update would bring forth Global Advanced Data Protection to other countries with iOS 16.3 update. This Apple update has enabled Advanced Data Protection by launching the Settings app, tapping on User Name, followed by iCloud, where this security feature can be accessed.
Additional Updates with iOS 16.3
Freeform issue fixes when drawing strokes with the Apple Pencil or with the user's fingers may not appear on shared boards.
Addresses issues where the lock screen may appear blank or blacked out.
The new iOS update has also fixed the horizontal lines issue, which appeared temporarily when waking up an iPhone 14 Pro Max device.
There were fixes to the Home Lock Screen widget, which was not previously showing an accurate display of the Home app status.
Resolved Siri request issues in CarPlay that were previously not understood correctly.
Addressed Siri's response issue with requesting music.
iOS 16 Supported Devices
With iOS 16's final version for developers and now for us, the hands-on experience for the public is set to create its first impression with its official launch and an immersive user experience.
The iOS 16 update features, as announced at WWDC22, are available for installation on iPhone models and renovate the entire outlook in comparison to the previous versions of iOS.
Before discussing the detailed inclusivity, updates, and the iOS 16 release date, an essential point to understand is that this iOS 16 update feature is compatible with only the supported devices that Apple has announced. Here's a list of the iOS 16 compatible devices that guarantee a seamless OS experience for the developers and the users –
iPhone 13 series, iPhone 12 series, iPhone 11 series, iPhone SE (Version 2020), iPhone XR, iPhone XS, iPhone XS Max, iPhone 8 Plus, iPhone 8, iPhone X.
Final Thoughts,
The iOS 16 update has created a frenzy among developers and users. Its new features show that Apple is paving the way to improve the quality of life with impressive iOS updates. There have been further improvements to these iOS 16 updates for the final versions that can become even more beneficial for developers in the market.
Although the iOS 16 update has been used and implemented since the beginning of fall 2022, there are still certain features yet to be made live. The iOS 16.3 update has no doubt provided new features to enhance safety and fix bug issues, especially for the new iPhone 14. We are expected to see a new update, according to Apple iOS 16 rumors that Apple Pay Later will assist in payment breakups into four installments. This is probably a part of the iOS 16.4 update that will be released later this year. The iOS 16.3 update offers more Apple phone support and improvements in security features that will become a necessity for users with the ongoing digital transformation in the field of OS development.
It's time to develop stunning iOS applications compatible with the latest iOS 16 update and deliver impactful experiences for your target user base. You need to update your existing app with the latest iOS 16 features and test your iOS applications against API changes. For that, you can leverage our iPhone application development services to update your iOS apps.
With the support of Mobisoft Infotech's experienced iOS app developers, businesses can improve their existing iOS apps and update them with the latest Apple tools, technologies, and OS versions.
So whether you have an iPhone 8, iPhone 12, or above, the final versions are available and eligible for download. iPhone 14 has been launched with the latest OS only. Developers can start implementing the Beta testers to see how applications can run with the all-new iOS 16 updates. Connect with us for any iOS application development support pertaining to the latest iOS 16 update or upgrading your existing iOS apps.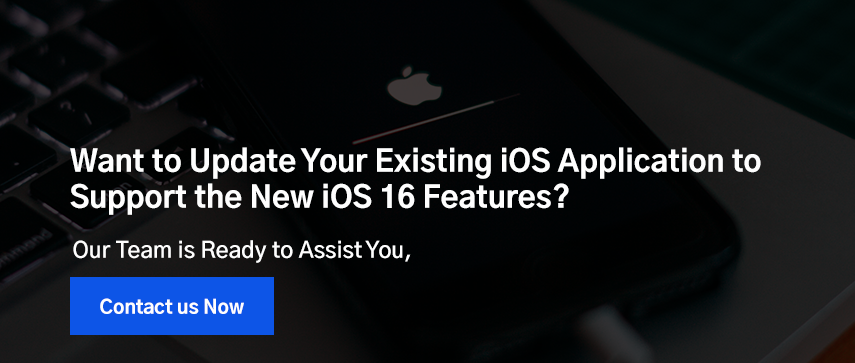 Author's Bio: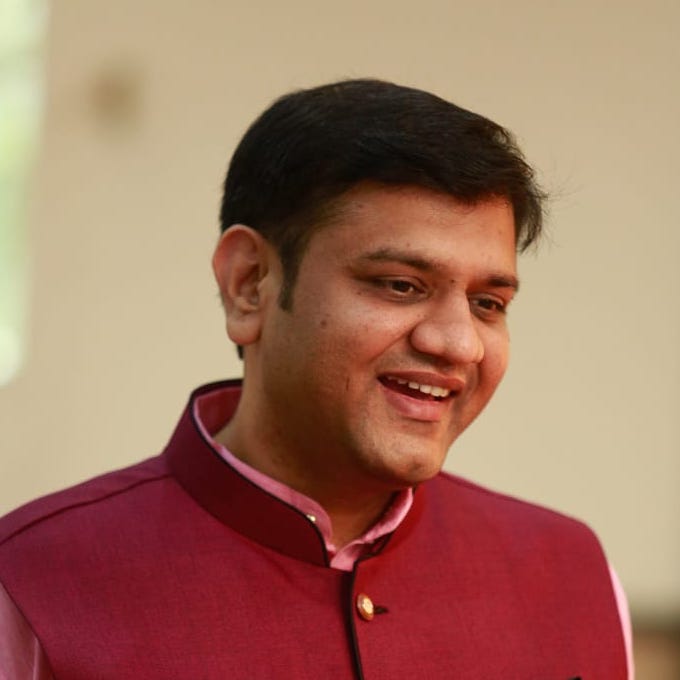 Pritam Barhate, with an experience of 14+ years in technology, heads Technology Innovation at Mobisoft Infotech. He has a rich experience in design and development. He has been a consultant for a variety of industries and startups. At Mobisoft Infotech, he primarily focuses on technology resources and develops the most advanced solutions.