Whether you spell it as ecommerce, e-commerce or eCommerce, one fact remains unchanged. And that is its huge importance in the business domain. Imagine the immense potential offered by this retail channel when the US alone accounts for $349.1 billion in e-commerce sales.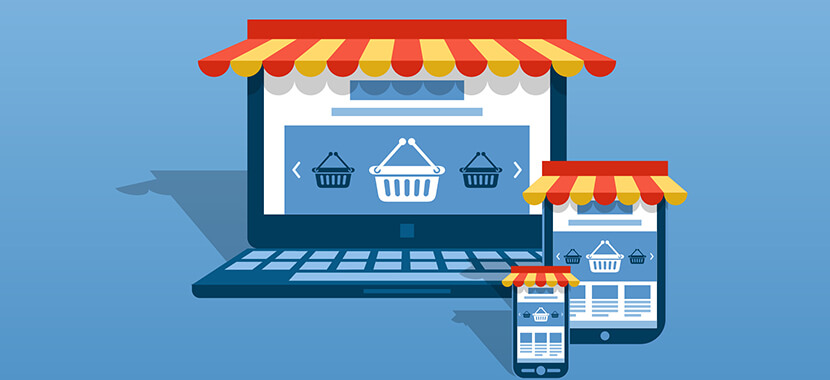 From aspiring entrepreneurs to dedicated shoppers, ecommerce has proved to be the buzzword. However, it's not all rosy when it comes to proper implementation of the technology solution or elevating user experience in this space. This explains why e-commerce constitutes just 7.1% of the total retail sales today.
Unfortunately, the challenges exist at all stages of the customer e-shopping process. Let's see some of the lesser knowns of these today:
A. Before the Shopping
No Strong Verification Measures in Place – There are practically no measures to ensure customer credentials during the login stage. Imagine the multitude of problems if a product under Cash-on-Delivery was ordered, shipped, and delivered to a customer, wasn't actually ordered by the customer? This is an actual problem that has troubled many e-commerce players for quite some time now.

Quick Tip – Fortunately, help is at hand in form of technology development. From the advent of smartphones to better internet connectivity and messaging services, many channels are available to verify the buyer's credentials before the transaction has taken place. Sending a verification code to the customer mobile upon selecting Cash-on-Delivery mode will help alleviate the issue. Additionally, using an Interactive Voice System (IVR) can help verify the address and thus authenticate the user better.
Logistics in Developing Markets – Diversity in countries like India and China (that has almost 1/3rd of the world's population) poses a tremendous logistics problem. The absence of a robust logistics infrastructure in semi-urban or rural areas is a big challenge. Be it poorly developed roads, non- standardized pin codes, difficult access to smaller villages or even lack of logistics support, the problems are many when dealing in e-commerce fulfilment for a lesser developed town or village.

Quick Tip – Ensure tie ups with government services (such as postal services in India). This offers a dual advantage – not only e-commerce players can expand their geographical reach effectively, but also bring in revenues for the government services. E-commerce owners can also integrate rural modes of transport in order to avoid last minute logistics issues in lesser developed areas.
B. During the Shopping
Integration Issues – The technology stack to enable e-commerce solution needs to gel seamlessly in order to increase the value of the dollar invested into the technology. These include order management, order fulfilment systems, customer support, and dispatch system. Even if one of the system is out of sync, it will lead to big problems such as mismatching details, inaccurate information, incorrect status checks and these all things will diminish the reputation of your e-commerce business.

Quick Tip – Utilizing an all-round contact center technology can help bring in all these functions from different sources available on a single interface and thus presenting the real-time status of the shipping. The customer support executives have all the information on their computer window whenever they are interacting with customers.
Poor Search and Navigation – The saying "If you can't find it, you won't buy it" holds true for the e-shopping customers. Poor ability to search for a product or poor navigation is considered as the primary reason for shopping cart desertion. In some cases, the search bar is either not prominently displayed or is not made available at all.

Quick Tip – Providing a categorized listing (with proper sub categories) will help the search happen faster.
Sears is the best example of providing a prominent search bar for an easy finding of products.

Have a product category page instead of a drop down menu. BodyEcology has a great example of this implementation. This led to a 56.4% revenue boost for the site because of the self-explanatory category page.

If a category needs a sub-category, then make sure you add it and keep your category listing clean. I was searching for a dinner table the other day and PepperFry made it very easy because of the logical category -> sub-category layout from where I can immediately jump to product range I want to explore.
Aggressive Sales – Shoppers want their shopping time to be as clutter- free and distraction- free as possible. Imagine having 4 pop-up ads appearing during your online browsing on an e-commerce store. Totally poor user experience and high chances of abandonment are the two most common outcomes of having pushy sales thrust on the shopper's face.

Quick Tip – Enhancing personalization is the key to earning revenues without losing the customer to your competition. List down your shoppers to first-timers, high value shoppers, or repeat shoppers, and then send out targeted marketing messages that appeal to their current state of needs.

Amazon has a great way of promoting other product based on our search and browsing history within the site. Many big players are starting to use this "If you like this, you might also like this" approach to show products more commonly purchased by other buyers who also bought the current product you are viewing on the site.
Issues with International Orders – Except the top players, many portals don't accept international orders, because they are simply too expensive to deliver – right from logistics and warehousing to fulfilment. While it is estimated that international shopping is bound to grow in the next one or two years, the fact is that there is a slow adoption towards this objective. The actual process of placing the product inside a box, labeling it correctly, and then couriering it, can be a difficult process for many smaller retailers.

Quick Tip – 3 quick ways to get around this problem –
Which products to ship – It will be better to opt for shipping lighter, non-perishable, and easy- to- ship items.

Which rule to abide by – Different nations have different regulations that cannot be violated during the e-commerce cross -border shipping of products. Check for the tradability of the item with your logistics expert and then put it up on your site for international orders. UPS has a similar list of regulations on its website.

Which country to send to – Canada or Kenya? If your e-commerce site is accepting international orders, where would you like your shoppers to come from? Obviously Canada right? Think about it. It would be wise to select one or two bigger nations and be good at it rather than spreading yourself.
Drop Shipping – Other than the obvious advantage of the cost effectiveness of the drop shipping model, there are a few other challenges too –
Concerns about product quality: Drop shippers are not that concerned about product quality. The concept might seem to be quite profitable at the first go, but won't be effective in the long run. The absence of stocking and checking will never let you know about the quality of the product inside. And you might as well ship fake products.

Unnecessary expenses: Drop shippers also charge hidden membership fees from customers, and also have to bear the burden of charge backs from consumers.
Customer Loyalty – While there are many stages during the purchase process where customer loyalty can be swayed, it is never more pronounced than during the actual shopping stage. Additionally, many businesses seem to confuse 'loyalty' with 'rewards'.

Quick tip – Rather than going for one-time offers or rewards, build the portrayal of a brand around your store. This makes the consumers feel valued and that they have achieved something substantial, timely, relevance and of meaning when they shop at your site.
C. After the Shopping
Product Returns and Refunds – When a customer returns the product for a valid reason, who should bear the costs of shipping back the product? If it's the customer, then to what extent should the charges be borne by him so that customer loyalty is not impacted? These are difficult questions that even the bigger players are struggling with.

Quick Tip – A seamless returns management can alleviate the pains of returns for both customers as well as your logistics partner. This also brings down the operational costs to maintain attractive business margins.
Ignoring Customer issues – E-commerce companies get the substantial amount of interaction with customers, with 3/4th of these being complaints or issues. Ignore these issues only at your own risk.

Quick Tip – It is vital to address these customer complaints to the best of your ability. It offers a three-pronged benefit
Customer loyalty is boosted when you are able to successfully address their concerns. They get to speak to a human being and this factor itself softens customer pains significantly

Using a proper ticketing and queueing system, you can assure your customers that their queries are a priority, even if your customer support team may be busy at the moment

Customer's user experience will go up by a notch and thus propel repeat and referral business (in form of positive reviews).
Customer retention – It is proven that getting an existing customer to purchase is easier than acquiring a new customer. As per published resources, the long term effect of the retained customer is too substantial to ignore. The benefits of a 2% increase in customer retention is equal to 10% cost cutting.

Quick tip – Some ways in which you can enhance customer retention include
Adding a customer loyalty program to make certain of repeat purchases

Use the law of reciprocity and drive a customer appreciation campaign
Send an e-gift certificate to solicit more shopping from your site.

Your margins don't allow this cost? How about a personalized handwritten thank you note instead?
Cultivate social media relationships to create more brand ambassadors for your product or services offered.
Taxation Problem



If paying taxes on your business is common then why is there such as outrage in a market like India where B2C e-commerce is as high as $24.61 billion? This question raises the issue of country specific taxation laws and how e-commerce stores are struggling to comply with it.

Quick Tip – Do not be misled by the false perception that since you are an e-commerce store owner, you can bypass national, state, regional and local laws, sales tax, value added tax, and service tax provisions.

Inventory Accounting



A critical operational Key Performance Indicator (KPI) for e-commerce store is optimizing inventory. Without this business can quickly lose their operational edge and stare at financial doldrums. Proper inventory management allows a company to operate lean and stay sustainable in the long run.

Also it needs to maintain inventory records in a comprehensive manner to make certain that the right type and volume of product is available at the right location at the right time. Errors in maintaining these records leads to non-fulfilment, financial loss, and an unsatisfied customer.
In a nutshell
Getting to know about these challenges upfront is what will serve your e-commerce needs in the long run. Addressing these problems is a concrete step in the right direction for the overall e-commerce ecosystem.
Author's Bio

Nitin Lahoti is the Co-Founder and Director at Mobisoft Infotech. He has 10+ years of experience in Design, Business Development and Startups. His expertise is in Product Ideation, UX/UI design, Startup consulting and mentoring. He prefers business readings and loves traveling. Follow him @nitinlahoti