The transportation industry is growing by the minute since the past few years. As a result, it has produced a huge scope for micro-mobility transportation and programs. This transportation system includes light vehicles, generally used for commuting over short distances. Electric cars, e scooters, e-shuttles, skate-boards, and bicycles are some of the micro-mobility transport methods. The concept was introduced in the market in the latter half of the 2010s, due to rising congestion in the urban areas across the globe.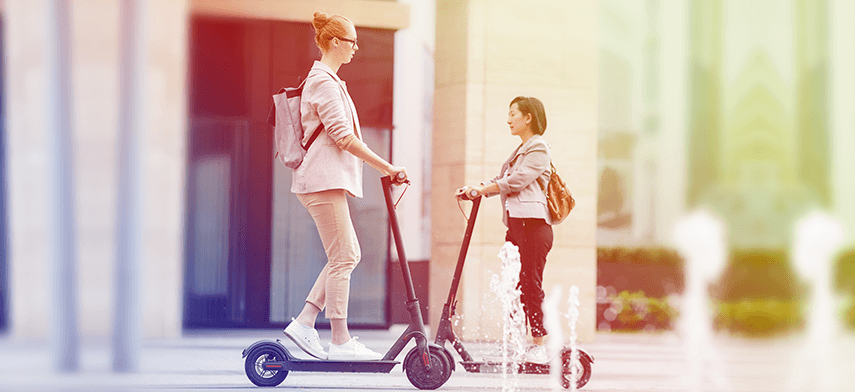 The first generation of the micro-mobility transport system made use of docks, where the vehicles were meant to be picked up and dropped for commuting. However, the second generation innovation has made it even easier for the people by making it a dockless transportation system, where one can park and pick the vehicle anywhere within the geofenced area.
Evolution Of Micro-mobility: Past and Present
The emergence of micro-mobility has turned out to be a boon for the transportation industry in urban cities. The service uses cellular connectivity and a GPS system for seamless functioning. The market has been experiencing the advent of many big and small micro-mobility service providing companies that aim to make transport hassle-free and provide quick, eco-friendly, and cheap rides to the customers. Some of these companies sustained and made a big name, whereas, some had to shut down before dawn.
With the consistent rise in urban population and increasing congestion on the roads, micro-mobility service provides a less chaotic transport facility. It also supports the overdue discussion about modifying the city street from a safety point of view and easy run of vehicles.
Following are Some of the Key Evolutions in the Industry:
Inclination Towards Electric Vehicles

In the US, over 50% of car trips are within five miles. This makes micro-mobility service a perfect fit. In fact, with the dockless transportation system, and launch of electric scooters people are increasingly preferring e-bikes and scooters for their commute. This not only keeps a check on traffic but also contributes to keeping the environment clean and pollution-free.

Importance of Electric Vehicle and Shared Mobility

With the increasing awareness about the go green campaign and with a goal to control environmental pollution, people are realizing the importance of shared micro-mobility and electric vehicles. Many micro-mobility operations platforms have been introduced across the world to provide trouble-free transport to people.

Vehicles with Better Battery Life, and Faster Charging

Electric vehicle manufacturers are consistently working on developing a longer-lasting and faster-charging battery feature. Apart from this, the number of charging stations are also being installed with greater frequency and at shorter distances.

Changes in Regulations and Rules to Adapt to New Technologies

Several cities are now working on modifying their safety regulations based on the current transportation system. The previous laws are not exactly helpful in many cities and areas after the launch of advanced vehicle systems and micro-mobility programs. Besides, giving permission to the transportation business companies who fulfill all the driver and passenger safety norms and traffic regulations, is another precaution being taken by the governments across various cities and states.

What Are The Micro-mobility Programs?
Micro-mobility programs are operation platforms that provide different kinds of micro-mobility services. Many transportation service providers are now shifting towards electric vehicles and shared micro-mobility services. These require certain protocols to be followed based on the dock or dockless commute. Also, the entire development process calls for some mandatory checkboxes to be ticked before catering to the services to the customers.
So, when it comes to emerging trends many companies are going the extra mile to deliver comfort to their customers not only in terms of smoother transportation but also in terms of a greener environment.
Challenges Faced by Micro-mobility Programs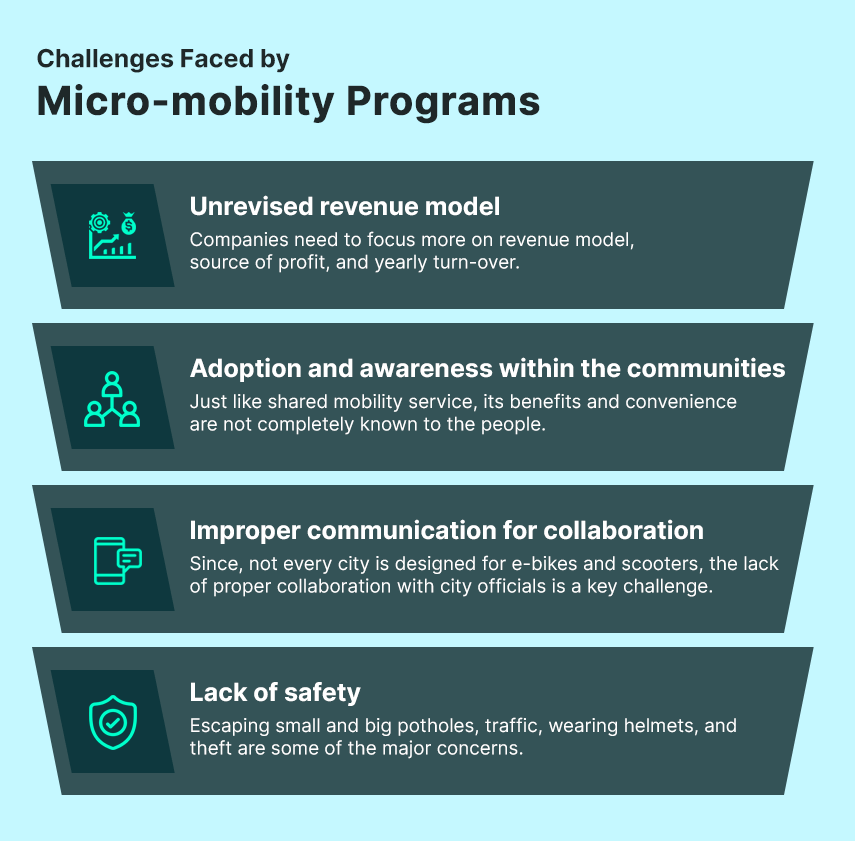 Now, even though electric vehicle transportation is picking pace, the micro-mobility market is yet to gain the required traction. Being in its nascent stage, it has its own challenges to overcome. However, with the advancement in technology and wide adoption by the people across the world, micro-mobility programs are likely to witness growth in the coming years. Several ride-hailing organizations are also making moves into micro-mobility.
According to research, in 2018, e-bikes were the most adopted solution for commuting within a distance of five miles. It registered 6.5 million trips in the mentioned year. Bike-share companies such as Spin and Lime as well retooled their vehicle fleets and electric scooters. Thus, with the rising adoption of e-bikes and scooters, the market is gradually turning toward being a success.
However, here are some of the hindrances faced by micro-mobility program:
Unrevised Revenue Model

Even though many companies are investing in the micro-mobility programs, in many cases, the revenue model, source of profit, yearly turn-over are some of the key factors that are not focussed upon. The entire business model currently revolves around the operation of micro-mobility platforms and misses the profit rate per scooter, which at present is running low.

Adoption and Awareness Within the Communities

Micro-mobility needs to be introduced on a wider scale among the various communities. Just like shared mobility service, its benefits and convenience are not completely known to the people. This lack of awareness is one of the major obstructions in the growth of micro-mobility programs to be adopted in full swing across the globe.

Improper Communication for Collaboration

Micro-mobility service providers need to communicate with the city officials about their drop-off points of bikes and scooters. Since, not every city is designed for e-bikes and scooters, the lack of proper collaboration is a key challenge. In order to adapt to a new transport system, proper communication is a must. Among this, one of the key controversies is whether the scooters belong in the streets, bike paths, or sidewalks. This also is due to improper city infrastructure.

Lack of Safety

Looking at the stats of 2017, the accident cases of e-scooters are increasing day by day. And among these cases, 51% of the injured were found riding without a helmet. Besides that, the consumption of alcohol and illicit substances was one of the common factors among these statistics.

Riding small-tired scooters need more safety as compared to bikes and cars. Escaping small and big potholes, traffic, wearing helmets, and theft are some of the major concerns for the micro-mobility service providers and the customers as well.
Some of the key efforts taken by the micro-mobility program providers are:
1
Parking Spaces and Charging Station
Cities are now modifying their infrastructure according to the prevalent modes of transportation. More parking spaces are being reserved for e-bikes and scooters and extra care is taken to avoid vehicle theft. Advanced sensor systems and maps are installed to track the vehicle location and find their way through the city. Companies are developing electric vehicle charging stations locator apps that would show the nearest charging stations and the battery capacity to take the ride to a certain distance in cases of electric cars and bikes.
2
Amenity Fleets
Certain companies are experimenting with the amenity vehicles where multiple types of vehicles are provided including electric cars, moped, bikes, and scooters, based on the parking space and usage. These fleets are for development complexes and individual buildings where you can live, work, and stay.
3
DIY Shared-use Programs
Some companies are now working on providing an all-round solution to its customers including vehicles, operations, and apps, giving faster commute, convenient parking space, and hassle-free payment methods. This accomplishes the idea of complete control over the transportation and commutation system. Although the idea is in its budding stage, and very few organizations are investing in this. Yet, it holds a lot of potential for success in the upcoming years.
4
Light-weight Vehicles
Light-weight vehicles hold a lot of importance in the micro-mobility and transportation industry otherwise. Some of the key factors making the vehicle weight an important concern are – it improves vehicle efficiency and boosts the economy, along with maintaining vehicle safety as well. Another aspect is lighter and composite materials like magnesium, aluminum, and steel are stronger than the other metals. Thus, they deal with the impact with more strength and keeps the passenger, driver, and rider safer compared to the older heavier vehicles. And lastly, it enhances vehicle performance. The light-weight vehicles are smoother to steer and have better outputs.
Future of Micro-mobility
Micro-mobility is seen as the future of the transportation industry. However, the companies investing and running in this business have a long way to go. Right from taking legal approvals, mending regulations, and spreading awareness to adapt to this new-age commute system, it is expected to be a long journey. In addition, the revenue models also need to be worked upon, in such a way that customers as well as the service providers, both get benefitted from this technology.
Wrapping up,
The micro-mobility programs launched by several companies aim to have an edge over their competitors and establish themselves as a brand in the market by configuring all the possible convenience for the customers including parking space, speed, traffic regulations, city infrastructure, fuel efficiency, charging stations, and safety. And for this, multiple industries such as IT, civil, etc. will have to come together to make it a success.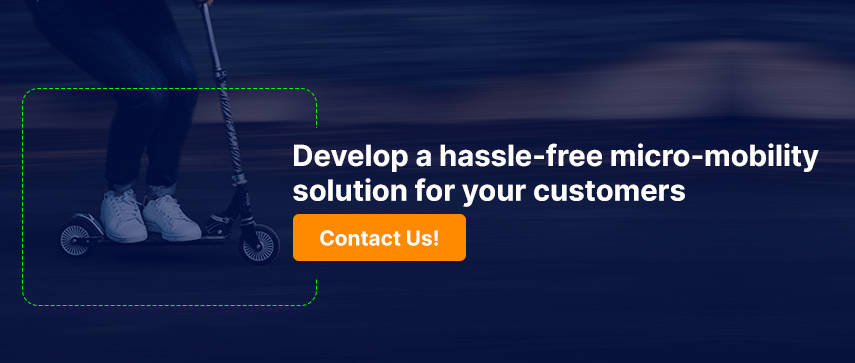 Author's Bio

Shailendra Sinhasane (Shail) is the co-founder and CEO of Mobisoft Infotech. He has been focused on cloud solutions, mobile strategy, cross-platform development, IoT innovations and advising healthcare startups in building scalable products.