Where do you go when you need to fix your air conditioner in the middle of the day? Or what happens when you have an emergency situation like a leaking pipe in your kitchen?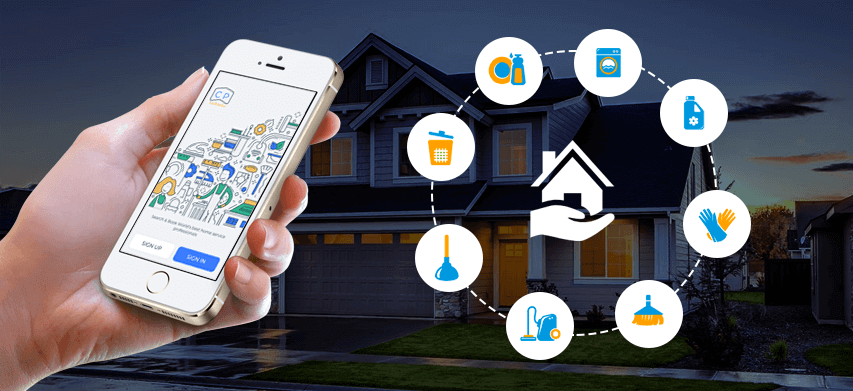 Traditionally you would rush to your local electrician or plumber or have to search around for a reliable person. But now many home service startups have come into existence leveraging the on-demand economy and eliminating the pain in finding a professional.
Here we will check the list of top 10 home service startups in India.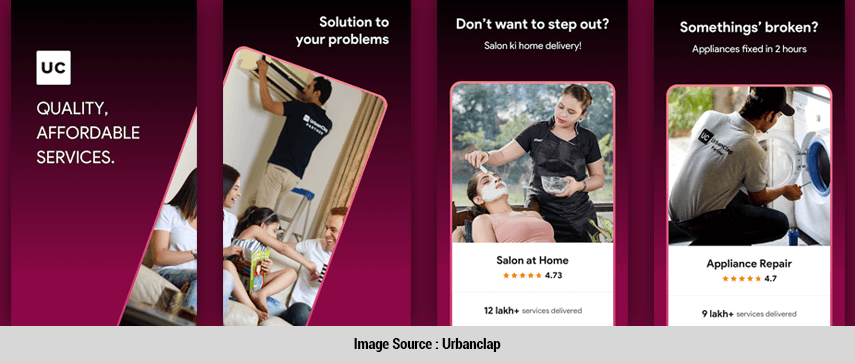 UrbanClap brings together a host of services under one roof. You can rent their service for home cleaning, interior designing and even get beauty services sitting right at your home. Established in 2014, founder Raghav Chandra, Varun Khaitan, and Abhiraj Bhal have also included innovative services like wedding photography in their list of services.
As of now, you can get UrbanClap services in Mumbai, Delhi, Chennai, and Bangalore. There are more than 10,000 professionals registered with the platform who are thoroughly verified by the company. The service has really caught on with the busy urban population with their busy life and the company crossed the mark of $10 million in revenue quite recently.
The app for the company was launched in August 2017 and within six months it posted the staggering figure of profit. It has become one of the fastest growing home services startups in India and raised 63 Crore INR in funding from Accel India and SAW Partners.
UrbanClap is known to offer heavy discounts to the tune of 1.32 Crore to attract customers. Even with the discount, the company earned revenue of Rs 45 Crore in the financial year 2017 – 2018. UrbanClap was also able to reduce its operational expenses due to increased customers it got on the platform.
Sunil Goel and Arjun Kumar created the startup HouseJoy in 2015 based out of Bangalore. Initially, the company was able to raise $4 million in the first round of funding from Matrix Partners. The company was received favorably by the Indian population who make around 4,000 orders per day resulting in 30 to 40% weekly growth of the company. Till date, the company has raised $27 million in funding from different investors such as Amazon, Vertex Ventures, and Matrix Partners.
HouseJoy has been able to write its success story by having a good business model, managed expenses and costs and efficient management. HouseJoy was able to earn revenues worth $4.72 million in the financial year 2015 – 2016, recording an increase of 66% compared to the last year. Even in the face of increased profit, HouseJoy was not able to cut down on its expenses which amounted to $15 million for 2016 – 2017. Both HouseJoy and UrbanClap have been the fastest growing companies and the top players when it comes to offering home services.
HouseJoy also offers perks to its employees and customers like free insurance and free re-work which have created a loyal customer base for them. You can hire professionals for home cleaning, pest control, painting, carpentry, plumbing, and fix your appliances and electrical elements.
When you need a helping hand in your home, you can rely on Zimmber. The company was recently acquired by Quikr for $10 million in 2017. It is based in Mumbai and founded by Amit Kumar, Anubhab Goel, and Gaurav Shrivastava.
The service is offered through their app and website and you can hire professionals for pest control, carpentry, plumbing, professional cleaning, carpet and sofa cleaning, electrical repairs, laundry, home spa, and more. Zimmber raised $400,000 in funding from co-founders of Mobi and further accumulated $2 million in the pre-series a round funding from the leading VC companies such as Omidyar Networks and IDG Ventures.
The company evaluates the eligibility of all enlisted service providers so that you can rest your worries. They also provide additional training and counseling for bridging any gap that exists in their service. You can get the service of Zimmber in the cities of Pune, NCR, MMR, and Bangalore. It has a number of top-notch investors under its belts like the Aarin Capital and various angel investors.
Available for Android
UrbanPro connects students with tutors, trainers, and institutes. The company was founded by Rakesh Kalra in 2012 and has over 6.5 lakh verified tutors and institutions associated with its platform. More than 25 lakh students and a million visitors per month can connect with educators and get coaching on popular exams like CA, MBA entrance, medical entrance, UPSC, bank clerical posts, Staff Selection Commission, TOEFL, GMAT, IELTS GRE, and more.
You can also go for IT courses in programming like C++, Java, Python PHP and Data Science. There are over 100 categories of courses and coaching programs that you can choose from. You can even go for dance and music classes and learn drawing, yoga, photography, singing, makeup, and other hobbies. The company is based in Bangalore and operates in Mumbai, Delhi, and Chennai.
Institutes and tutors can register on the platform and mention their teaching expertise. Students use the app to search for and hire tutors using the app available on Android and iOS. The company is said to have raised an undisclosed amount of funding from an angel investor from the USA. It has also gathered $2 million in 2015 from Nirvana Venture Advisors. UrbanPro is surely an innovative app that has tapped in on the on-demand economy-boosting in India.
Available for Android
Helpr is a one-stop solution for all your home care and appliance maintenance needs. You can opt for cleaning services which include deep cleaning, bathroom cleaning, kitchen cleaning, sofa and carpet cleaning. The platform also has enlisted professionals who offer pest control, electrical repairs, plumbing services, appliance fixing and repair, home and wood painting, and computer maintenance. You can also sign up for annual maintenance plans for home and appliance repairs for yearly charges.
The company has been awarded the best startup of the year award in 2015 by Coimbatore Management Association (CMA) and has over 23,000 registered professionals. Each of the staff members is evaluated and a background check is conducted including police records.
The company was founded by Vijayramkumar Veeraraghavan, Vignesh Rengasamy, and Rajesh Sankarappan in 2015 at Bangalore. You can avail their services in Coimbatore, Bangalore, Chennai, and Hyderabad.
SBricks operates in Hyderabad and Bangalore at the moment, but soon they are going to open branches in other cities like Pune, Chennai, Kochi, Visakhapatnam, and Vijayawada. The company offers home services, cleaning, laundry services, and repairing tasks through the company app which is available both in iOS and Android.
SBricks has become successful in a very short time of its existence. It has recently acquired the company HomeCues for $1 million and took over the facility management service Melway to expand their portfolio. HomeCues will be managed by SBricks but will continue with their own brand name. The company has been established by a group of young entrepreneurs who saw the opportunity in the on-demand home service market.
You can quickly book a professional using the app and fix a time and date for the job. All professionals registered with the company are licensed and they also run background checks to ensure only experts get to work at your home. You can also compare between price quotes and someone who fits your budget. CEO of SBricks, D Nithin Reddy is now standardizing the services in the chosen cities so that they can successfully replicate the model in other places.
Mr. Right has over 300 home services offered in its platform. You can start out with AC repair service, get an electrician or a plumber, clean your house or office, repair your TV, fridge and other appliances, have your laundry done, get your computer working, carry out pest control, fix your mobile, get home security solutions, wash your car, take care of packing and moving- the list is endless.
You are guaranteed to find a fair price on your job. The app has a search bar and you can directly input what you want to be done. All professionals will be from your local area and verified by Mr. Right to assure the quality of the work. You can set the date and time as per your convenience for the job to be done.
Professional can register themselves on the platform after going through the formalities and having their qualifications verified.
Childhood buddies Mayank Agrawal and Prashant Chaudhary established the company in 2013 and currently offers services in Delhi NCR region. It began operating as a home cleaning and repairing service but soon grew quickly to include such a vast range of services. They also tried out different pricing models before zeroing in on the current one. There are additional expansion plans, with Mr. Right aiming to expand to newer cities like Bangalore and Mumbai soon.
Timesaverz is another home services startup that offers home and accessories cleaning, repairs, pest control, car washing, painting and handyman for odd jobs around the house. The company employs trained professionals and delivers excellent service with the money back guarantee. You can use the website or app to book a service and make the payment. Then the professional arrives on your chosen date and time to take care of your chores. For each job you also earn a reward called minutes which can be exchanged for dining out, spa treatments, or other social events.
The company was established by Lovnish Bhatia and Debadutta Upadhyaya in 2013 with an aim to help people who are new to cities. Using a smartphone for repairing and other tasks remove all the hassles and get the job done conveniently. You can find Timesaverz service in Delhi, Noida, Gurgaon, Hyderabad, Bangalore, Pune, Mumbai, and Chennai.
The company raised its funding from leading investors like Ronnie Screwvala, a first-generation Indian entrepreneur and philanthropist, Rajesh Sawhney, founder of GSF Accelerator and internet expert Neville Taraporewalla.
Acquired by Paytm, one of India's largest leading payment gateways, Near.in is an e-commerce platform for local services. It helps users get standardized services across all home needs, skills (dance and music classes), wellness (yoga, dietician), and events (birthday activities). Founded in 2014 by Akshay Khanna, Lomesh Dutta, and Sunil Goyal, it aims to make buying services as easy as buying products.
Near.in has become a part of India's fast-growing online-to-offline space and helping customers discover service professionals such as plumber, tattoo and make-up artists locally. The company has raised $280k in funding from Marquee investors and covered more than 100 categories, including home needs, health, and wellness.
Founded by Diwan Rahul Nanda, CHEEP is an on-demand home services app that brings home service professionals and customers on a single technology-driven platform. From appliance repairs to a babysitter, it empowers users to get any home service they want in just a single click.
With the backing of Topsgroup, one of India's largest and most trusted security service groups, Cheep ensures trust and security of their customers by hiring professionals after a thorough background check.
Currently working in around 20+ cities in India, this Mumbai-based startup has generated more than 30 crores revenue till now. With Cheep, you have an option to choose from a wide range of home services, find verified professionals around your place, get quotes, negotiate with the service provider, and hire them to complete your task.
Home Service Startups Are on the Rise
The age-old centers are not going to cause you any worries anymore. The trusted home services startups with professional and qualified personnel can repair and fix everything around your home in an efficient manner. All that you need for your business is a home service app development company- that help your business get more customers.
The home service marketing niche in India is still in the nascent stage. With Indian cities seeing a significant growth, it is just the right time! Launch your own home service company by developing a high-quality home service app right now!