The coronavirus outbreak made an unpredictable impact on the economy of the world. Multiple companies had to stop their business operations. At the same time, some of the industries are looking for alternatives to generate revenue. Similarly, when it comes to the grocery industry, the effects of a pandemic are quite different. The coronavirus has created a panic situation among the users, but with the help of the online grocery delivery system, businesses have successfully managed to satisfy user intent.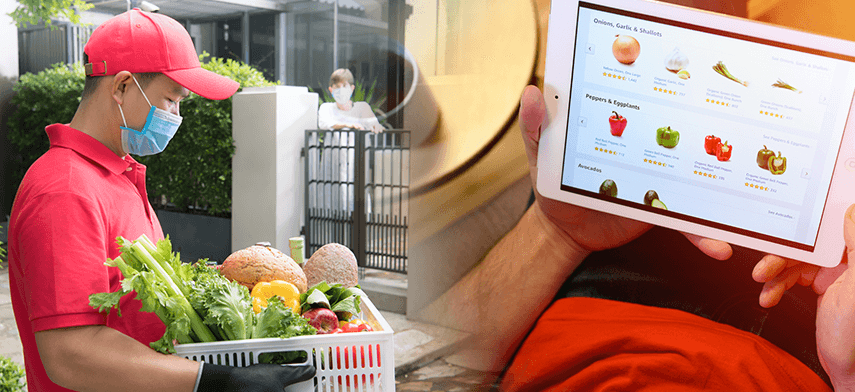 Grocery shops that have delivery management software are gaining a huge success rate at this difficult stage. The pandemic is teaching companies why they need to adopt a fresh approach to order fulfillment. The e-grocery platform has recorded a significant rise of $29.7 billion during the global pandemic period, and that's why now businesses are taking an interest in online delivery systems.
How does Delivery Management Software Help in Successful Online Order Fulfillment?
The online delivery software is a one-stop destination for all your requirements regarding grocery products and items. It has numerous applications or benefits that shall be discussed in the further sections. But first, let's start with the basics.
Importance of Delivery Management Software
This grocery delivery software is developed by going through the different development strategies. It contains all the necessary technologies and advancements to enhance the better user experience.
Using this

software

, your customers can easily order online groceries as per the availability. Along with that, it has necessary multiple payment methods which make purchasing smooth, safe, and hassle-free.

Another factor that makes this software more useful is on-time delivery. It provides your online store with greater accessibility, easy delivery procedures, and secure payment strategies. With the help of this, your store can save fuel as well as time.
How can it Help Grocery Businesses?
The advanced grocery delivery system from a software development company empowers the business by generating high revenue. It makes the business more profitable and creates a delightful customer experience. It allows the grocery business to gain control over its operations. It shall serve shop owners to continue their business operations without facing any hassle.
Today, people are strongly preferring online shopping applications. Because of the coronavirus spread, most people have fear in their mind, and that's why they are choosing online shopping rather than visiting supermarket stores. As such, the seamless integration and advancement of this software shall allow your grocery business to initiate an efficient delivery workflow even in this pandemic situation.
The Role of On-demand Grocery Apps in Online Deliveries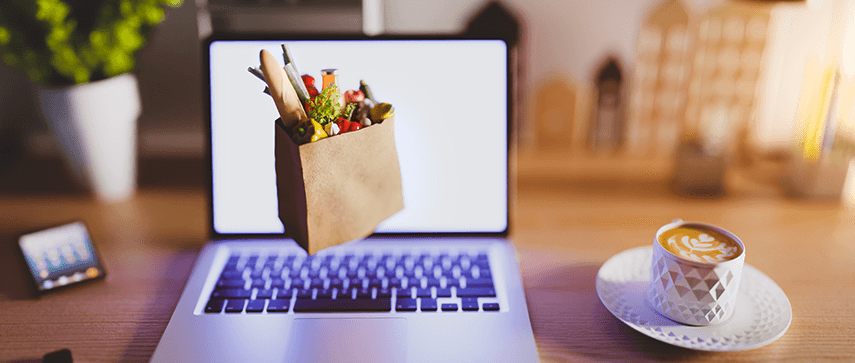 Online delivery software plays a great role in satisfying the demand for online grocery deliveries. This software has something that allows users to get a delightful delivery experience. At the same time, it helps the industry people to gain maximum traction. These grocery applications are developed with multiple integration facilities.
Because of its amazing features, it takes place in the heart of your customers. Let's define some of the major features:
Features of online grocery delivering software
Seamless Integration

The modern online grocery delivery is developed by integrating multiple systems, including OMS, WMS, TMS, ERPs, and 3PL systems. This software has the potential to offer visibility to your business and also helps to gain revenue.

Additional Feature

The online grocery application contains add-to-cart features where you can add the products. It has the top navigation search bar where you can search any products. The application also has different sections that contain different products. It minimizes the time of searching for any product.

Reviews and Ratings

The applications contain the category for posting reviews and ratings regarding the service. Your users get the privilege of rating their order-to-delivery experience and also go through existing reviews before placing their orders.

Membership

Your software can include memberships for the customers. By this, you can make a strong bond with your customers. You can also offer facilities that reward the users who continuously use your application for a long time.

Product Return Facility

The online application contains a robust product return facility. If your customers aren't satisfied with the products, then they can exchange or return the goods within a stipulated timeline.
Key benefits of online grocery providing software
1
Customize Facility
The online grocery delivery business software offers an amazing customize facility. Your users can customize searches according to their requirements with specific filters. Businesses can control all the major tasks with a robust admin panel.
2
Time and Cost-efficient
The online grocery systems are cost-effective and consume less time. This software comes with multi-model facilities, which can help your single or multi-vendor grocery business with on-demand deliveries.
3
Third-party Integration
The software also consists of third-party logistics, inventory management systems, and more that help to boost your grocery business. You can have good operational efficiencies and offer better customer service at the same time.
4
Seamless Payment Facility
By using this software, your users can experience seamless payment options. It contains different payment facilities from online to offline payment options. You can pay through credit, debit card, online money transfer applications, or cash on delivery method.
5
User-friendly
Along with the other facilities, the software is also user-friendly. It fits every screen size. It proves to be reliable and one of the easiest solutions for all the users that fulfill their requirements for groceries.

How your Grocery Business can Generate Delightful Customer Experiences?
If you offer your consumers a pleasant shopping experience, then they shall visit you again and again. So, it's important to maximize your customers' in-store experience. Every business wants to make their client happy and satisfied by providing them all the necessities. If you want to make your business more visible to people, you must gain a lot of information.
However, there are several methods that you can use to generate a delightful experience for your customer. When the consumers are unhappy with your service, then the grocery company seems unstable. On the other hand, when your consumers are satisfied, your grocery business gets more loyal and consistent customers online.
By having this delivery management system you can generate revenues and also maximize your grocery brand's reach. It depends upon everything from the appearance of your grocery app and how your customer support system interacts with customers.
Nowadays, people are more active on digital media in place of physical stores. So, if the business wants to maximize its profit, it shall be better to develop grocery applications. By developing the online grocery application or delivery software, the grocery business can gain a competitive edge.
The additional benefits of developing a grocery delivery application
There are multiple reasons that people love to order groceries from online stores. The grocery business uses this software to gain flexibility, convenience, and affordability. Here are some of the major reasons for grocery app development:
Convenience

The online grocery shopping apps provide great convenience to the users. When grocery businesses use these applications then they shall get hands-on convenience for maintaining and selling the groceries through online media.

Budget-friendly

These platforms also help your business to offer budget-friendly facilities to its users. Here a grocery business can sell their goods at a low price. No matter which type of products you have you can sell them effectively by reaching your targeted audience. Along with that, you can give extra discounts, rewards, and prizes. As compared to other applications, these are widely used by people for their day-to-day use.

Availability

Along with this, users can track the deliveries and your brand proves to be transparent and trustworthy. You can sell your products to customers 24X7. So, there is no restriction at all to sell the goods at any time and from anywhere by using the one-tap solution.
Wrapping Up
The delivery management software provides amazing benefits to the people who are doing grocery business. This software is playing an important role during this covid19 impact. It's helping the grocery business to drive the market and generate profitable outcomes like never before. Besides, the no-touch purchasing facility, cashless payment options, no-touch delivery, and on-time efficient delivery of products are enough to opt for this technology.
So, with all the mentioned above, you can say that the online delivery software brings the best of the opportunities for grocery businesses, supermarkets, grocery chains, aggregators, etc. If you plan to establish a grocery store, then you should never forget to have an online grocery delivery system onboard.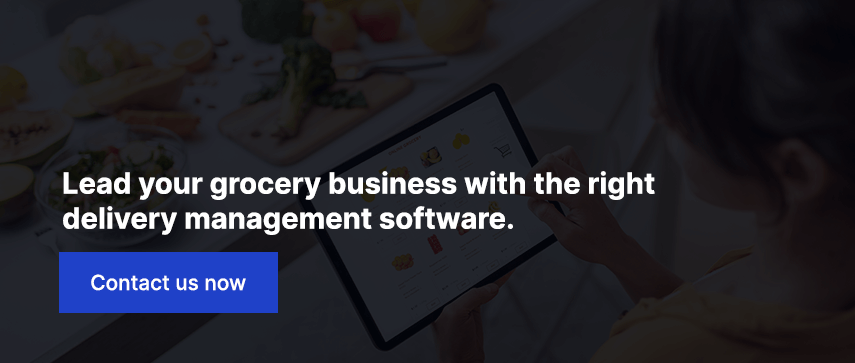 Author's Bio

Nitin Lahoti is the Co-Founder and Director at Mobisoft Infotech. He has 15 years of experience in Design, Business Development and Startups. His expertise is in Product Ideation, UX/UI design, Startup consulting and mentoring. He prefers business readings and loves traveling.