Patient health education is essential, especially when it comes to chronic disease treatment. Patients receive vital disease-related knowledge via educational support, which empowers them to participate in their health. However, the majority of individuals with chronic illnesses are unable to obtain enough education. As a result, the patient's ability to self-manage is hampered, and the disease progresses negatively.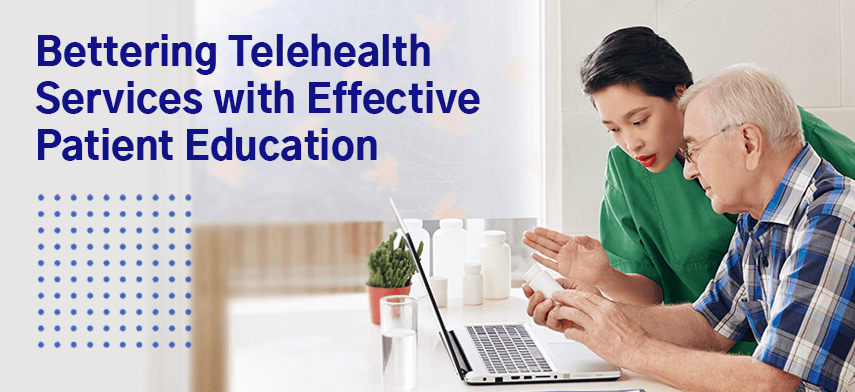 Due to various reasons, such as time, location, and expense, traditional education through face-to-face contact with a healthcare professional has become less viable and convenient. we will look at the importance of patient education in healthcare and how it has influenced patients' overall health.
Significance of Patient Health Education
Patient health education can assist providers in informing and reminding patients about how to self-manage their care and avoid unnecessary readmissions properly. Better information can also help patients make informed decisions and also avoid unnecessary hospital visits.
Patients are more likely to participate in actionable solutions and interventions when they are more interested and engaged with their doctor or nurse and understand how to take precautionary and preventative actions. Covid 19 has been a catalyst in the emergence of telehealth patient education. Patient health education programs should be a crucial component of health organizations', as evidence suggests that "the more clearly an illness is understood, the more likely an individual will feel comfortable with their care and stick to prescribed treatments.
Other top advantages of Telehealth education include:
Healthcare cost reduction through elimination of face-to-face meetings.

Prevention of chronic illnesses like asthma, cancer, and diabetes.

Time-saving for Clinicians to attend to other matters.

Improvements in inpatient experience due to shared knowledge and closeness with health providers.
Challenges Eliminated Through Patient Education Technology
Continuously changing laws, an uncertain marketplace, staff shortages, and the prospect of hefty penalties all make it increasingly difficult for healthcare organizations and clinicians to spend time treating patients with limited resources. As populations age, experienced workers become harder to retain, and more time is spent on administrative problems, the fight to fill that resource gap gets more difficult each year.
Patient education is one of the essential instruments at your disposal. You'll be better equipped to confront these issues and achieve the most excellent possible outcomes for your patients if you make the most of your health education content. Below are a few problems solved through patient education technology.
Limited resources

It takes a lot of time and money to create and manage health data. This allows employees to access patient education while also ensuring that information is accurate and up to date. You can save money and time by using an API-based patient health education solution. You won't have to wait for software upgrades, and the health information you're providing will be the most up-to-date. You can avoid headaches and heartache by knowing that your health content is evidence-based and is routinely reviewed and updated by medical specialists. With API-based patient health education solution providers like Mobisoft, nurses can focus solely on caring for patients rather than worrying about patient data and medical history.

Cross-state licensure

State licensure processes have hampered cross-state consultations and prevented healthcare professionals from operating in other jurisdictions where their knowledge is required. Telehealth patient education systems have addressed this by allowing hospitals to grant medical qualification towards telehealth providers by a method known as "privileging by proxy," implying that a Joint Commission-accredited facility can accept privileging decisions from another authorized facility for "distant site" telehealth providers.

Risk of penalties for nurses

Health care providers who use patient education have a lower probability of incurring costly penalties such as readmissions and low patient satisfaction scores. The Centers for Medicare and Medicaid Services (CMS) withholds funds from healthcare organizations that fail to fulfill specific requirements for "meaningful use" of health technology, which involves exchanging electronic health information in a way that enhances treatment quality. Providing accurate, straightforward patient education aids in meeting various Meaningful Use requirements, including enhancing care coordination and involving patients and families in their health. Patient education at all care sites has also been demonstrated to enhance HCAHPS scores, which can help you keep your Medicare payments.

Staff to-do list and overwhelming work-loads

Your employees will be able to work more efficiently if patient education is integrated into clinical workflows. When your patient education solution uses personal data to give the most appropriate content to each patient, care becomes more simplified. When you can show surveyors that every patient is getting the information they need, processes like accreditation and future surveys improve. Patient health education is more likely to be offered consistently and reliably when accessible and easy to find. Furthermore, each delivery's record-keeping is automated, ensuring that you and your team are always prepared to create documentation. Clinicians' burden is reduced across the board when patients are engaged and taught about their health.
Breaking the Barriers in Patient Education with Patient Education Technology
Telehealth education is a technique to get around the obstacles that face-to-face interactions present, which are both time-consuming and costly in the long run. Patients benefit from virtual education content such as medication reminders, health-related surveys, and encouraging messages.
Telehealth services will almost certainly become commonplace in various ways in the future. But how does a company know if it's ready for new or expanded telehealth services right now? If a provider meets the following criteria, telehealth services may be implemented:
Part of an integrated delivery system.

A part of a system with multiple hospitals operating from centers of excellence dealing with specialties significantly benefitting telehealth services.

Providing services to a rural community.

Providing services to nursing homes or assisted living centers.

Providing services to a rapidly growing senior population.
Telehealth services are still not widely used, even though more states and healthcare providers build telehealth networks and improve technology. Issues with speed and connectivity, limited reimbursement through Medicare and commercial insurers, cross-state licensure, up-front expenditures, opposition to change among healthcare professionals and patients, and security and privacy concerns are significant roadblocks to adoption.
Valued Outcomes by Implementing Telehealth Technology Education
Clinical indicators, patient knowledge, quality of life, self-care, and healthcare utilization are some of the results that determine the efficacy of digitally transmitted patient education. Patients who receive virtual instruction demonstrate similar or better results than those who receive traditional therapy. Patients with diabetes, for example, show significant changes in fasting blood sugar, average glucose management, and postprandial glucose levels after completing a virtual instruction program.
In general, virtual education patients had higher or similar quality of life improvements than control patients. There are higher adherence and compliance to medical prescriptions thanks to telehealth education. This demonstrates that patients are taking better care of themselves.
Comprehending Clinician Education and Implementations
Clinician training is a prerequisite that ensures that patients are well cared for. Client Success always emphasizes the importance of patient education within the platform during training sessions, discussing how it benefits the patient by allowing them to learn more about their condition, resulting in increased patient engagement and independence, preventing the patient from returning to the hospital.
Patient education programs are required when developing a telehealth program for any providers using the platform. The Mobisoft training plan is divided into various steps, each of which is designed to expand doctors' knowledge.
Demonstration before training

: A high-level overview of the patient-facing solution and the Clinician Connect web portal will be given at the kick-off session.

Plan out clinician training for all teams

: Departments and branches, among other things. The Telehealth Client Success Manager and "Telehealth Champion" are in charge of creating interest in the telehealth program and its strategy/vision.

Break down workflows

: Telemonitoring hours, patient identification, eligibility criteria, discharge criteria, monitoring structure, and so on in a clinical discussion.

Clinician Education (virtual or onsite)

: All teams participated (case managers, field nurses, and office-based nurses). Before the formal program launch, there are always some kick-off presentations.

Final thoughts,
As technology grows every day like wildfire, all service delivery sectors must abide, including the health sector. Telehealth has proven to be one technology that has been of great help to health care providers and all parties involved. Patients have become more educated, while doctors and clinicians have become more strategic with well-organized programs. Some of the hindrances to patient health education in face-to-face situations like lack of time by doctors, interior and hard to access locations by patients, and the high costs incurred to conduct face-to-face training have now been drastically reduced. Getting a telehealth software application is also very easy, with providers like Mobisoft providing packages and training to clinicians.
We can't emphasize the importance of patient education in healthcare and how companies and organizations dealing with healthcare can provide vital information to their patients regarding their health.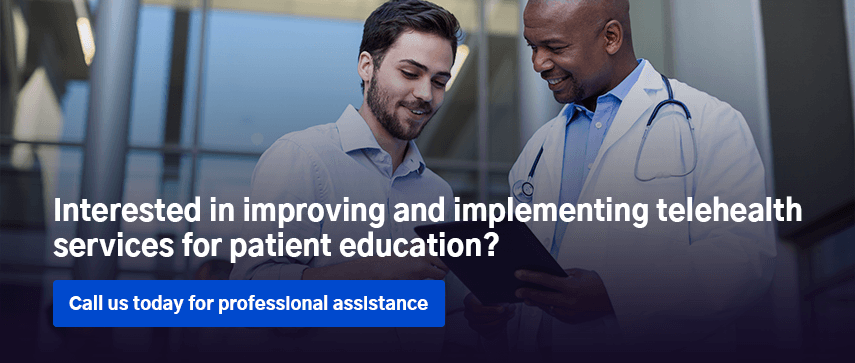 Author's Bio

Shailendra Sinhasane (Shail) is the co-founder and CEO of Mobisoft Infotech. He has been focused on cloud solutions, mobile strategy, cross-platform development, IoT innovations and advising healthcare startups in building scalable products.